Groundbreaking Report Calculates Damage Done by Fracking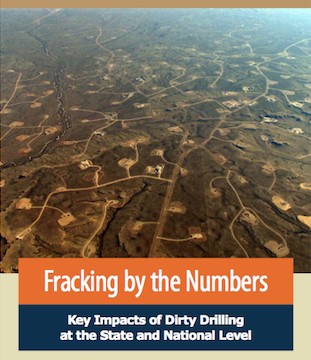 As federal policy makers decide on rules for fracking on public lands, a new report calculates the toll of this dirty drilling on our environment, including 280 billion gallons of toxic wastewater generated by fracking in 2012—enough to flood all of Washington, DC, in a 22-foot deep toxic lagoon. The Environment America Research & Policy Center report, Fracking by the Numbers, is the first to measure the damaging footprint of fracking to date.
"The numbers don't lie—fracking has taken a dirty and destructive toll on our environment," said John Rumpler, senior attorney for Environment America. "If this dirty drilling continues unchecked, these numbers will only get worse."
"At health clinics, we're seeing nearby residents experiencing nausea, headaches and other symptoms linked to fracking pollution," said David Brown, a toxicologist who has reviewed health data from Pennsylvania. "With billions of gallons of toxic waste coming each year, we're just seeing the 'tip of the iceberg' in terms of health risks."
The report measured key indicators of fracking threats across the country, including:
280 billion gallons of toxic wastewater generated in 2012—enough to flood all of Washington, DC, in a 22-foot deep toxic lagoon
450,000 tons of air pollution produced in one year
250 billion gallons of fresh water used since 2005
360,000 acres of land degraded since 2005
100 million metric tons of global warming pollution since 2005
Fracking also inflicts other damage not quantified in the report—ranging from contamination of residential wells to ruined roads to earthquakes at disposal sites.

Reviewing the totality of this fracking damage, the report's authors conclude:
Given the scale and severity of fracking's myriad impacts, constructing a regulatory regime sufficient to protect the environment and public health from dirty drilling—much less enforcing such safeguards at more than 80,000 wells, plus processing and waste disposal sites across the country—seems implausible. In states where fracking is already underway, an immediate moratorium is in order. In all other states, banning fracking is the prudent and necessary course to protect the environment and public health.
At the federal level, the report's data on land destroyed by fracking operations comes as the Obama Administration considers a rule for fracking on public lands, and as the oil and gas industry is seeking to expand fracking to several places which help provide drinking water for millions of Americans—including the White River National Forest in Colorado and the Delaware River basin, which provides drinking water for more than 15 million Americans.
Along with the new numbers in today's report, Environment America's John Rumpler added one more: the more than 1 million public comments submitted this summer to the Obama administration rejecting its proposed rule for fracking on public lands as far too weak. Environment America is urging President Obama to follow the recommendation of his administration's advisory panel on fracking to keep sensitive areas as off-limits to fracking.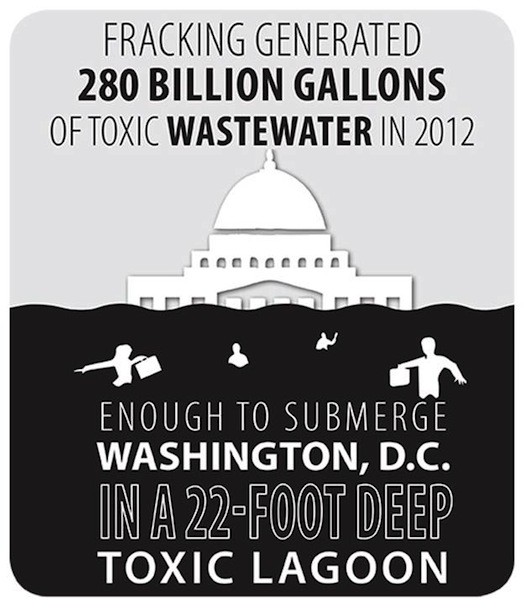 "We need decisive action from Washington to protect our communities," said John Fenton, a rancher from Pavillion, Wyoming who last week appealed to federal officials to re-open an investigation into contamination of drinking water there.
"The bottom line is this: The numbers on fracking add up to an environmental nightmare," said Rumpler. "For our environment and for public health, we need to put a stop to fracking."
Of particular concern are the billions of gallons of toxic waste created from fracking, which threaten the environment, public health and drinking water. Environment America is calling on federal officials to close the loophole that exempts this waste from our nation's hazardous waste law. Rep. Matt Cartwright (PA-17) has introduced the CLEANER Act, H.R. 2825, to close that loophole.
"The data from today's report shows that fracking is taking a dirty and destructive toll on our environment and health," concluded Rumpler. "It's time for our federal officials to step up; they can start by keeping fracking out of our forests and away from our parks, and closing the loophole exempting toxic fracking waste from our nation's hazardous waste law."
Visit EcoWatch's FRACKING page for more related news on this topic.
——–

Glyphosate, the main ingredient in Monsanto's widely used herbicide Roundup, will be added July 7 to California's list of chemicals known to the state to cause cancer, according to a Reuters report Tuesday. This news comes after the company's unsuccessful attempt to block the listing in trial court and requests for stay were denied by a state appellate court and California's Supreme Court.
California's Office of Environmental Health Hazard Assessment (OEHHA) announced the designation on Monday under the Safe Drinking Water and Toxic Enforcement Act of 1986, or Proposition 65.
Keep reading...
Show less
www.facebook.com
Keep reading...
Show less
Researchers from the Marine Animal Response Society examine one of the dead right whales. Marine Animal Response Society
Canadian government officials and marine biologists are investigating the mysterious deaths of six North American right whales. The endangered animals all turned up dead between June 6 and June 23 in the Gulf of St. Lawrence, off Canada's southeastern coast.
North Atlantic right whales are the rarest of all large whale species and among the rarest of all marine mammal species, with only about 450 right whales in the North Atlantic.
Keep reading...
Show less
Scott Pruitt testifies during his Senate confirmation hearing for EPA administrator, January 2017.
The U.S. Environmental Protection Agency's (EPA) chief of staff pressured the leader of its Board of Scientific Counselors to change her congressional testimony to downplay the impact of the agency's mass dismissal of scientists from the board, the New York Times reports.
Keep reading...
Show less
By Jason Mark
Sequoiadendron giganteum. That's the scientific name for the giant sequoia: the mammoth trees found in California's Sierra Nevada that are the largest organisms on Earth, and among the longest-lived. Biologists estimate that about half of all sequoias live in Giant Sequoia National Monument, a 328,000-acre preserve in the Southern Sierra Nevada established by President Clinton in 2000.
Now that national monument is in jeopardy.
Keep reading...
Show less
By Andy Rowell
Donald Trump this week is launching an "energy week," pushing the argument that the U.S. will become a net exporter of oil and gas.
The president and his cronies are talking about a new era of "U.S. energy dominance," which could stretch for decades to come. However, no one believes the president anymore.
Keep reading...
Show less
UN
By Colleen Curry
The United Nations has designated 23 new sites around the world to its World Network of Biosphere reserves—stunning natural landscapes that balance environmental and human concerns and strive for sustainability.
The forests, beaches and waterways were added to the list this year at the International Coordinating Council of the Man and the Biosphere Programme meeting in Paris earlier this month.
Keep reading...
Show less
Jun. 26, 2017 01:48PM EST
www.elysee.fr
By Andy Rowell
There is a growing feeling within European capitals that a quiet, but deeply positive, revolution is happening under Emmanuel Macron in France.
Macron's opinion poll rating is high, especially boosted in how the young French president has reacted to Donald Trump on the international stage.
Keep reading...
Show less
Jun. 26, 2017 12:32PM EST
www.facebook.com
Keep reading...
Show less