Groundbreaking Permaculture Film Offers Bold New Solution in Regenerative Agriculture
Everywhere you hear that we need to minimize our footprint and reduce our impact. But what if we turned that kind of thinking on its head? What if, as Bill McDonough says, instead of trying to be "less bad," we try to be "more good." What if our footprints became beneficial? What if we could meet human needs while increasing the health and well-being of our planet? This is the premise of a new movie Inhabit: A Permaculture Perspective, which will have its worldwide digital premiere on Earth Day, April 22.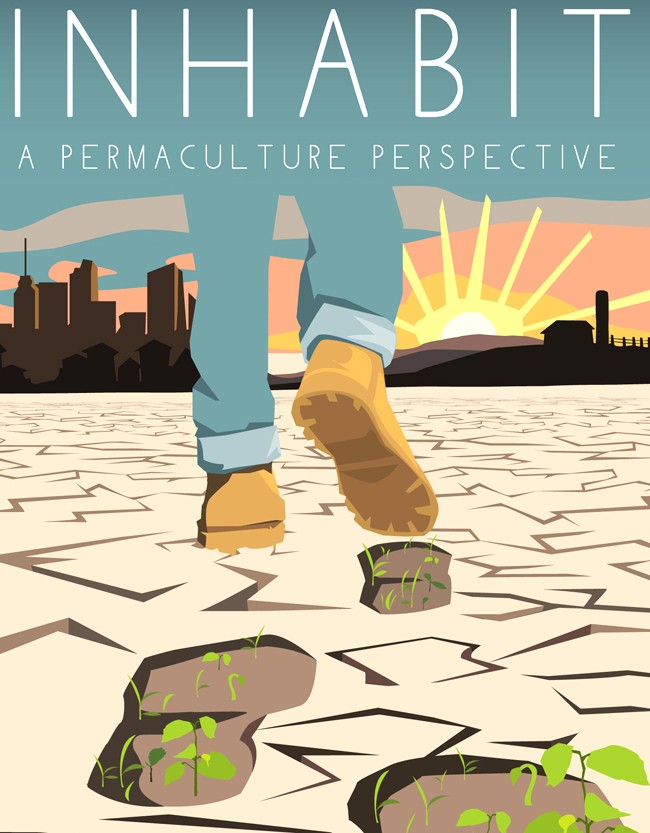 Inhabit investigates today's pressing environmental problems and offers solutions through a permaculture lens. For those who aren't familiar, permaculture is defined many different ways, but it is generally defined as a method of ecological design that develops regenerative agricultural systems by mimicking natural ecosystems. "Permaculture is a design process that's applicable in any landscape for any set of objectives," said the film.
The film offers an in-depth look at permaculture in rural, suburban and urban landscapes and ultimately offers a bold new solution. The film will be distributed by the start-up Yekra, which is making waves in the online movie market for its innovative decentralized platform of movie-viewing, which they tout as direct-to-fan.
Watch the trailer:
YOU MIGHT ALSO LIKE
The Solution Under Our Feet: How Regenerative Organic Agriculture Can Save the Planet
 China's Wildly Viral Smog Documentary Hailed Then Banned by Chinese Officials
www.facebook.com
Keep reading...
Show less
Scott Pruitt testifies during his Senate confirmation hearing for EPA administrator, January 2017.
The U.S. Environmental Protection Agency's (EPA) chief of staff pressured the leader of its Board of Scientific Counselors to change her congressional testimony to downplay the impact of the agency's mass dismissal of scientists from the board, the New York Times reports.
Keep reading...
Show less
By Jason Mark
Sequoiadendron giganteum. That's the scientific name for the giant sequoia: the mammoth trees found in California's Sierra Nevada that are the largest organisms on Earth, and among the longest-lived. Biologists estimate that about half of all sequoias live in Giant Sequoia National Monument, a 328,000-acre preserve in the Southern Sierra Nevada established by President Clinton in 2000.
Now that national monument is in jeopardy.
Keep reading...
Show less
By Andy Rowell
Donald Trump this week is launching an "energy week," pushing the argument that the U.S. will become a net exporter of oil and gas.
The president and his cronies are talking about a new era of "U.S. energy dominance," which could stretch for decades to come. However, no one believes the president anymore.
Keep reading...
Show less
UN
By Colleen Curry
The United Nations has designated 23 new sites around the world to its World Network of Biosphere reserves—stunning natural landscapes that balance environmental and human concerns and strive for sustainability.
The forests, beaches and waterways were added to the list this year at the International Coordinating Council of the Man and the Biosphere Programme meeting in Paris earlier this month.
Keep reading...
Show less
Jun. 26, 2017 01:48PM EST
www.elysee.fr
By Andy Rowell
There is a growing feeling within European capitals that a quiet, but deeply positive, revolution is happening under Emmanuel Macron in France.
Macron's opinion poll rating is high, especially boosted in how the young French president has reacted to Donald Trump on the international stage.
Keep reading...
Show less
Jun. 26, 2017 12:32PM EST
www.facebook.com
Keep reading...
Show less
Jun. 26, 2017 02:46PM EST
Keep reading...
Show less
Jun. 26, 2017 03:34PM EST
www.youtube.com
According to Bloomberg, "SeaWorld Entertainment Inc. received a subpoena earlier this month from regulators investigating disclosures and public statements by executives, including comments about the Blackfish documentary that caused a public backlash against the confinement of orcas.
Keep reading...
Show less


Get EcoWatch in your inbox