This website uses cookies to ensure you get the best experience while browsing it. By clicking 'Got It' you're accepting these terms.
Groundbreaking Court Ruling Says State Must Address Climate Change, Thanks to Teen Lawsuit
Jun. 25, 2015 11:39AM EST
In an unprecedented decision, a judge in Washington State has ruled in favor of a group of young people who filed a lawsuit last year asking that the state be required to develop a science-based plan for limiting carbon emissions in order to protect the climate for future generations.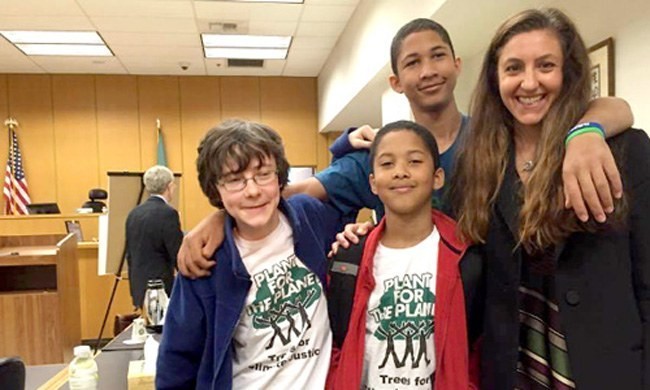 The lawsuit, Zoe & Stella Frazier v. Washington Department of Ecology, was brought last year by eight teens and preteens, the youngest nine years old, who filed a petition last June with the Department of Ecology, requesting that it develop a rule "to recommend to the legislature an effective emissions reduction trajectory that is based on best available climate science and will achieve safe atmospheric concentrations of carbon dioxide by 2100."
"Youth petitioners hereby submit this petition for rulemaking on behalf of themselves, the citizens of the State of Washington, and present and future generations of children," it said.
Last August, the Department of Ecology denied the petition although it did not deny the scientific basis for it. The petitioners filed an appeal, arguing that they had a right to grow up in a healthy environment. King County Superior Court Judge Hollis Hill agreed with them and ordered the Department of Ecology to reconsider their petition and report back to the court by July 8 whether it will consider the science necessary to climate recovery.
"Washington State's existing statutory limits should be adjusted to better reflect the current science," wrote Hill in her decision. "The limits need to be more aggressive in order for Washington to do its part to address climate risks."
The plaintiffs' attorney, Andrea Rodgers of the Western Environmental Law Center, pointed to the groundbreaking nature of the decision.
"The effect of this decision is that for the first time in the U.S., a court of law has ordered a state agency to consider the most current and best available climate science when deciding to regulate carbon dioxide emissions," she said. "The court directed Ecology to apply the agency's own findings that climate change presents an imminent threat to Washington and demands immediate action. The ball is now in Ecology's court to do the right thing and protect our children and future generations."
In a footnote to her order, Judge Hill explained why she rejected the Department of Ecology's plan to delay acting on emissions.
"Ecology suggests no change in greenhouse gas reduction standards until after an international climate conference scheduled in Paris in December 2015, thus delaying action for at least a year from the date of the report or one year and five months after the report's original due date," she wrote. "Neither in its briefing nor in oral argument of this appeal did the department seek to justify this suggested delay. The report itself states that after the Paris conference Washington would be better informed how the state's limits should be adjusted."
BREAKING: Washington State Youth Win Unprecedented Decision in their Climate Change Lawsuit! #350ppm... http://t.co/xkNVxq48iu

— Our Children's Trust (@OCTorg) June 24, 2015
The organization Our Children's Trust is spearheading such actions around the country, filing lawsuits on behalf of youth plaintiffs in every state. It also joined with two nonprofits to file a federal lawsuit but the U.S. Supreme Court declined to hear the case. And it was unsuccessful in Oregon recently where a judge ruled in May that the state has no responsibility to care for the natural environment or the atmosphere for future generations in a case brought by teenagers Kelsey Juliana and Olivia Chernaik.
"If this judge is right that the sustainability of our atmosphere is merely a question for political debate and disagreement, rather than an inherent constitutional right of all citizens and future generations, then we are in real trouble," said Juliana. "This opinion sends a devastating message to all citizens that none of the three branches of government can be trusted to ensure our future. The courts must enforce our right to a healthy atmosphere and stable climate for all future generations."
That decision is being appealed while the Washington victors celebrate the first of what advocates like Our Children's Trust hope will be a string of wins.
"Kids understand the threats climate change will have on our future," said 13-year-old plaintiff  Zoe Foster. "I'm not going to sit by and watch my government do nothing. We don't have time to waste. I'm pushing my government to take real action on climate, and I won't stop until change is made."
YOU MIGHT ALSO LIKE
Teens Sue Government for Failing to Address Climate Change for Future Generations
Pope's Encyclical Proves We Have an 'Unshakeable Moral Imperative to Act on Climate Change'
Hillary Clinton: Climate Change Is 'One of the Defining Threats of Our Time'
Plus, learn if there's one that's best for your health.
Catherine Falls Commercial / Moment / Getty Images
An invasive Amynthas worm, also known as a crazy snake worm, Asian jumping worm and Alabama jumper Tom Potterfield / Flickr
By Jason Bittel
My wife and I built a house two years ago on a few acres of woodland outside of Pittsburgh. The backyard is full of maples, poplars, briars and common spicebush. Two-lined salamanders and grumpy-looking crayfish wade among the rocks in the small stream that runs down the edge of the property. Deer, raccoon and opossum tracks appear regularly in the snow and mud. Sometimes, my trail-cam even catches a pair of gray foxes as they slink through the night.
AleksandarNakic / Getty Images
By Kate Murphy
No matter the time of year, there's always a point in each season when my skin decides to cause me issues. While these skin issues can vary, I find the most common issues to be dryness, acne and redness.

David Woodfall / The Image Bank / Getty Images
By Sam Nickerson
The U.S. Environmental Protection Agency (EPA) in April 2018 proposed relaxing standards related to how it assesses the effects of exposure to low levels of toxic chemicals on public health.
Now, correspondence obtained by the LA Times revealed just how deeply involved industry lobbyists and a controversial, industry-funded toxicologist were in drafting the federal agency's proposal to scrap its current, protective approach to regulating toxin exposure.
Steve Irwin poses with a three foot long alligator at the San Francisco Zoo on June 26, 2002. Justin Sullivan / Getty Images
February 22 is the birthday of conservationist and beloved TV personality "Crocodile Hunter" Steve Irwin, who would have been 57 years old today.
Irwin's life was tragically cut short when the barb from a stingray went through his chest while he was filming in 2006, but his legacy of loving and protecting wildlife lives on, most recently in a Google Doodle today honoring his birthday.