This website uses cookies to ensure you get the best experience while browsing it. By clicking 'Got It' you're accepting these terms.
Greenwashing Fracking's Devastating Climate Impact
Aug. 13, 2013 11:32AM EST
Climate
By Sharon Kelly
Several years ago, Utah public health officials realized they had a big problem on their hands—one with national implications as other states were racing to increase oil and gas drilling. Smog levels in the state's rural Uintah basin were rivaling those found in Los Angeles or Houston on their worst days.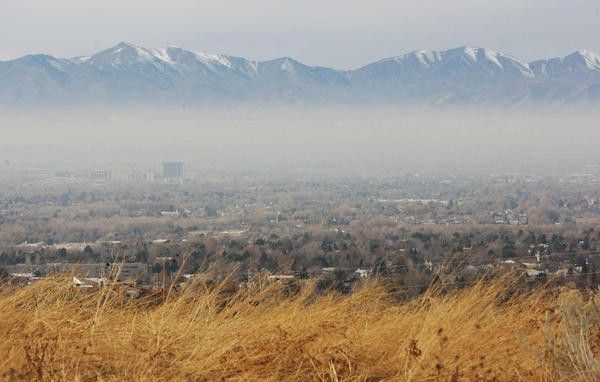 The culprit, an U.S. Environmental Protection Agency (EPA) report concluded earlier this year: oil and gas operations. The industry was responsible for roughly 99 percent of the volatile organic compounds found in the basin, which mixed under sunlight with nitrogen oxides—at least 57 percent of which also came from oil and gas development—to form the choking smog, so thick that the nearby Salt Lake City airport was forced to divert flights when the smog was at its worst.
But the haze over the Uintah isn't the most dangerous air pollutant coming from the oil and gas fields in the valley.
A string of studies by the National Oceanic and Atmospheric Administration (NOAA) show that the core ingredient in natural gas, methane, is leaking at rates far higher than previously suspected. This methane has climate change impacts that, on a pound-for-pound basis, will be far more powerful over the next two decades than the carbon dioxide emissions that have been the focus of most climate change discussions.
The smog problem is especially pronounced in Utah. But a growing body of research nationwide suggests that methane is leaking from the natural gas industry at levels far higher than previously known.
In Washington D.C., pressure is mounting to ignore these methane leaks. The oil and gas industry says there is no time to waste. We must proceed immediately with the "all-of-the-above" national energy strategy they say, code for "drill baby drill". This pressure is coming not only from the natural gas industry itself, but also from a surprising ally: the Environmental Defense Fund (EDF), which has supported natural gas development as a "bridge" from coal to renewables.
This position has drawn renewed accusations that the EDF is "greenwashing" for the natural gas industry.
"On balance, we think substituting natural gas for coal can provide net environmental value, including a lower greenhouse gas footprint," wrote EDF's Mark Brownstein last year.
The methane leaks that researchers from the Cooperative Institute for Research in Environmental Sciences (CIRES) and from NOAA recorded ranged from 6 to 12 percent of annual production—worrisome because many researchers, including those from the EDF, say that if natural gas leaks at more than 3.2 percent overall, any climate change benefit from switching away from coal for electricity generation and burning natural gas instead will be lost.
This point bears restating: the federal officials who did actual site testing found leaks of methane at least double the rate that most experts say nullify natural gas' climate benefits over coal.
Earlier this year, the EPA released a report lowering its official estimate for methane leaks nationwide to 1.5 percent, but that estimate has been criticized for relying too heavily on "industry guesses."
Unlike the EPA's estimate, the NOAA report is an on-the-ground measurement of leaks on one day in the Uintah, which produces 1 percent of the country's natural gas supply.
One coauthor of the study, Colm Sweeney, from CIRES at the University of Colorado Boulder, said he was surprised by what he termed the "huge amount" of methane emissions. "We're estimating that 9 percent of that is just leaking right out, never getting to the end of the pipeline ... to the actual user point," he told Climate Central.
The NOAA research represents one of the first major independent initiatives to take real world cumulative measurements of methane emissions from gas leaks. The researchers had to develop new methods of assessing how much of the gas had leaked, which they say can now be used by both the federal government and industry to assess leaks elsewhere.
"We used a mass balance technique, which means we follow an air mass as it moves into the region and then flows out," said Mr. Sweeney. "We look at the difference in methane between those two to determine an actual emissions rate for the region."
There has been a dearth of data about methane leaks, especially those associated with the shale gas boom. Earlier this year, the EPA's own internal watchdog, the Inspector General, called for more data on air emissions from the natural gas industry, including methane leaks. But the EPA has resisted some of the steps the Inspector's office recommended, the Inspector General wrote in its Feb. 20 report.
A few non-EPA studies this year have also provided data points on methane leaks.
Robert Jackson, a scientist at Duke University's Nicholas School of the Environment, and Boston University's Nathan Phillips measured leaks from natural gas distribution systems in Boston and Washington D.C., but have yet to calculate leakage rates based on their measurements.
Earlier this year, another NOAA study used aircraft and ground measurement and found roughly 17 percent of the natural gas produced in the LA region was leaking. The LA measurements represented the region's total leaks throughout the lifecycle of natural gas production and distribution since all of the elements involved, including drilling and fracking, distribution pipelines and end-users of the natural gas, are present in the Los Angeles basin.
Into this fray has stepped the Environmental Defense Fund. The EDF is undertaking a multi-part study of methane emissions from oil and gas drilling, studying leaks at each stage, including the use of natural gas as a transportation fuel.
In Feb. 2012, EDF published a paper that found that as long as rate of emissions from a typical well is less than 3.2 percent of lifetime production, natural gas is better than coal for electrical production. That 3.2 percent is an important number, according to EDF's report—it's the threshold at which natural gas no longer makes climate sense as a transition fuel as a replacement for coal for the nation's electricity.
EDF supports some regulation to curb methane leaks, but if the levels found in Utah, Boston and LA are indicative of leaks nationwide, it may be extremely difficult—and expensive—for the natural gas industry to achieve the extreme reductions necessary to fall below that threshold.
EDF has been aggressively touting its upcoming research as the definitive study on methane leaks, yet results from the first phase of the study have been long delayed.
Some in the research community fear that EDF is positioning itself to undermine independent research by portraying its series as the only definitive science on methane leaks.
"There are only two possible outcomes to this EDF study, after it's been peer reviewed: one outcome is that the policy currently in place involves acceptable risk, the other is that it involves unacceptable risk," said Professor Tony Ingraffea, one of the foremost experts on methane and climate change, and the co-author of a seminal paper that first called into question the claimed climate benefits of natural gas.
"It's not that policy decisions have to be made, they'd have to be unmade," if the study finds that leaks are higher than 3.2 percent, he added, citing EDF's stated support for natural gas over coal.
Since at least December 2012, EDF has said that its University of Texas-led study is due out "in coming weeks." The delays have caused speculation that either the paper ran into resistance during the peer-review process or that the methane levels found were not what the authors had anticipated.
In the meantime, EDF representatives have been giving statements to media outlets that undermine other research.
"While the Colorado and Utah studies offer valuable snapshots of a specific place on a specific day, neither is a systematic measurement across geographies and extended time periods and that is what's necessary to accurately scope the dimensions of the fugitive methane problem. For this reason, conclusions should not be drawn about total leakage based on these preliminary, localized reports [emphasis in original]," the EDF website says in regards to the NOAA study. This post was seized on by the shale industry's public relations arm, Energy in Depth, who used it to downplay the federal findings.
The EDF's methane emissions study is heavily industry funded. Those backing the University of Texas study include Anadarko, BG Group, Chevron, Encana, Pioneer Natural Resources, Shell, Southwestern Energy, Talisman Energy and XTO Energy, an ExxonMobil subsidiary.
EDF itself says that it takes "no money from corporate partners" to preserve its independence.
But according to Sourcewatch, "this is extremely misleading, since EDF does aggressively seek funding from employees, board members and investors in corporations including (and probably especially) its formal corporate partners. EDF also considers on a case by case basis whether to accept major donations from foundations set up by corporations."
The financial backing for the EDF's University of Texas study is public information and has been disclosed, meaning that their industry backing is at least transparent. What EDF has not disclosed is who sits on the review panel that will help to prepare the study for publication. Those individuals may help shape the conclusions that EDF draws from the methane leaks it records.
Even more importantly, researchers have been calling on the EDF to release the measurements it records as part of the study so that independent assessments of the data can be conducted. So far, EDF has been silent on whether it will release this data and essentially subject itself to the sort of peer review that Cornell Professor Ingraffea and Duke Professor Jackson did when they published their findings.
In terms of the long-run prospects for natural gas drilling in the U.S.—indeed for the very real chance that the energy industry is in the process of tethering our climate fate to more fossil fuel extraction for decades to come—there is no question more important than this one about methane leakages. How much of the gas is actually escaping to the environment? Are those levels as bad as coal or worse for climate change? How is all this tied to the state of renewable energy growth in America?
For now, the only thing that seems clear is that, much as Utah has a growing smog problem, clouds seem to be gathering over EDF's research.
Visit EcoWatch's CLIMATE CHANGE and FRACKING pages for more related news on this topic.
——–
EcoWatch Daily Newsletter
Protestors marched outside the Prudential Center in Newark, New Jersey on Monday, August 26, during the MTV Video and Music Awards to bring attention to the water crisis currently gripping the city. Karla Ann Cote / NurPhoto / Getty Images
By Will Sarni
It is far too easy to view scarcity and poor quality of water as issues solely affecting emerging economies. While the images of women and children fetching water in Africa and a lack of access to water in India are deeply disturbing, this is not the complete picture.
The city of Flint, Michigan, where dangerous levels of pollutants contaminated the municipal water supply, is a case in point — as is, more recently, the city of Newark, New Jersey.
The Past is No Longer a Guide to the Future
We get ever closer to "day zeros" — the point at when municipal water supplies are switched off — and tragedies such as Flint. These are not isolated stories. Instead they are becoming routine, and the public sector and civil society are scrambling to address them. We are seeing "day zeros" in South Africa, India, Australia and elsewhere, and we are now detecting lead contamination in drinking water in cities across the U.S.

"Day zero" is the result of water planning by looking in the rear-view mirror. The past is no longer a guide to the future; water demand has outstripped supplies because we are tied to business-as-usual planning practices and water prices, and this goes hand-in-hand with the inability of the public sector to factor the impacts of climate change into long-term water planning. Lead in drinking water is the result of lead pipe service lines that have not been replaced and in many cases only recently identified by utilities, governments and customers. An estimated 22 million people in the US are potentially using lead water service lines. This aging infrastructure won't repair or replace itself.
One of the most troubling aspects of the global water crisis is that those least able to afford access to water are also the ones who pay a disproportionately high percentage of their income for it. A report by WaterAid revealed that a standard water bill in developed countries is as little as 0.1 percent of the income of someone earning the minimum wage, while in a country like Madagascar a person reliant on a tanker truck for their water supply would spend as much as 45 percent of their daily income on water to get just the recommended daily minimum supply. In Mozambique, families relying on black-market vendors will spend up to 100 times as much on water as those reached by government-subsidized water supplies.
Finally, we need to understand that the discussion of a projected gap between supply and demand is misleading. There is no gap, only poor choices around allocation. The wealthy will have access to water, and the poor will pay more for water of questionable quality. From Flint residents using bottled water and paying high water utility rates, to the poor in South Africa waiting in line for their allocation of water — inequity is everywhere.
Water Inequity Requires Global Action — Now.
These troubling scenarios beg the obvious question: What to do? We do know that ongoing reports on the 'water crisis' are not going to catalyze action to address water scarcity, poor quality, access and affordability. Ensuring the human right to water feels distant at times.
We need to mobilize an ecosystem of stakeholders to be fully engaged in developing and scaling solutions. The public sector, private sector, NGOs, entrepreneurs, investors, academics and civil society must all be engaged in solving water scarcity and quality problems. Each stakeholder brings unique skills, scale and speed of impact (for example, entrepreneurs are fast but lack scale, while conversely the public sector is slow but has scale).
We also urgently need to change how we talk about water. We consistently talk about droughts happening across the globe — but what we are really dealing with is an overallocation of water due to business-as-usual practices and the impacts of climate change.
We need to democratize access to water data and actionable information. Imagine providing anyone with a smartphone the ability to know, on a real-time basis, the quality of their drinking water and actions to secure safe water. Putting this information in the hands of civil society instead or solely relying on centralized regulatory agencies and utilities will change public policies.
Will Sarni is the founder and CEO of Water Foundry.

Note: This post also appears on the World Economic Forum.
Reposted with permission from our media associate Circle of Blue.
From Your Site Articles
Related Articles Around the Web
Pexels
Mice exposed to nicotine-containing e-cigarette vapor developed lung cancer within a year.
More research is needed to know what this means for people who vape.
Other research has shown that vaping can cause damage to lung tissue.
A new study found that long-term exposure to nicotine-containing e-cigarette vapor increases the risk of cancer in mice.
Demonstrators with The Animal Welfare Institute hold a rally to save the vaquita, the world's smallest and most endangered porpoise, outside the Mexican Embassy in DC on July 5, 2018. SAUL LOEB / AFP / Getty Images
Six months: That's how much time Mexico now has to report on its progress to save the critically endangered vaquita porpoise (Phocoena sinus) from extinction.
Pexels
It may seem innocuous to flush a Q-tip down the toilet, but those bits of plastic have been washing up on beaches and pose a threat to the birds, turtles and marine life that call those beaches home. The scourge of plastic "nurdles," as they are called, has pushed Scotland to implement a complete ban on the sale and manufacture of plastic-stemmed cotton swabs, as the BBC reported.
Air conditioners, like these in a residential and restaurant area of Singapore city, could put a massive strain on electricity grids during more intense heatwaves. Taro Hama @ e-kamakura / Moment / Getty Images
By Tim Radford
Scientists in the U.S. have added a new dimension to the growing hazard of extreme heat. As global average temperatures rise, so do the frequency, duration and intensity of heatwaves.
Actress Jane Fonda is arrested on the East Front of the U.S. Capitol in Washington, DC on Oct. 11. Marvin Joseph / The Washington Post via Getty Images
Oscar-award winning actress and long-time political activist Jane Fonda was arrested on the steps of Capitol Hill in Washington, DC on Friday for peacefully protesting the U.S. government's inaction in combating the climate crisis, according to the AP.
sam thomas / iStock / Getty Images Plus
By Caroline Hickman
I'm up late at night worrying that my baby brothers may die from global warming and other threats to humanity – please can you put my mind at rest? – Sophie, aged 17, East Sussex, UK
Sheriff officials work the scene at Villa Calimesa Mobile Home Park in Calimesa on Oct. 13. Jennifer Cappuccio Maher / MediaNews Group / Inland Valley Daily Bulletin / Getty Images