This website uses cookies to ensure you get the best experience while browsing it. By clicking 'Got It' you're accepting these terms.
Greenpeace Urges LEGO to End Shell Partnership and Save the Arctic
Jul. 01, 2014 08:31AM EST
Energy
Greenpeace launched a major new global campaign today targeting LEGO for putting sales above its commitment to the environment and children's futures. This campaign will mobilize more than 5 million people to take creative action in six continents—Europe, Asia, Australia, Africa, North America and South America.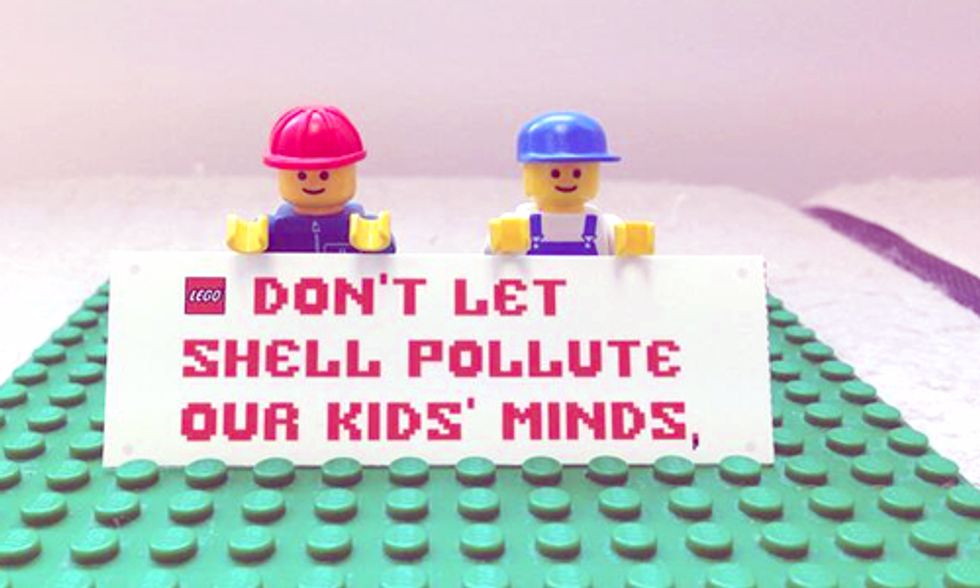 In a new report, Greenpeace urges LEGO, the world's biggest toy company, to stop making toys with oil giant Shell's branding, since Shell has dangerous plans to drill for oil in the Arctic threatening the unique wildlife that depends on it and impacting climate.
"Children love the Arctic and its unique wildlife like polar bears, narwhals and walruses that are completely dependent on the Arctic sea ice," said Ian Duff, Arctic campaigner at Greenpeace. "It's a fragile environment and an oil spill would be devastating. And of course the only reason Shell can even reach the oil is because global warming is melting the ice."
Shell's Arctic program has faced fierce criticism since 2012. In that same period 16 million Shell-branded LEGO sets were sold or given away at petrol stations in 26 countries, making Shell a major contributor to LEGO's global sales, accounting for a 7.5 percent worldwide sales uplift during the promotion. The two-year deal was valued at $116 million, according to Shell's PR company.
"Climate change is an enormous threat facing all children around the world, but Shell is trying to hijack the magic of LEGO to hide its role," said Duff. "It is using LEGO to clean up its image and divert attention from its dangerous plans to raid the pristine Arctic for oil. And it's exploiting kids' love of their toys to build life-long loyalty it doesn't deserve. It's time for LEGO to finally pull the plug on this deal. We're calling on LEGO to stand up for Arctic protection, and for children, by ditching Shell for good."
The campaign kicked off this morning, including a surge of pocket-sized protests at LEGOLAND in the UK with banners being hung, saying "Save the Arctic" and "block Shell."
The campaign is spreading quickly on Twitter, including these recent tweets:
Hey @LEGO_Group don't let Shell pollute our kids' minds. #BlockShell at http://t.co/zpgDKvor0N Thanks @UHCstudio pic.twitter.com/FjzRq0YieZ

— Save The Arctic (@savethearctic) July 1, 2014 
A #CriticalMass of @LEGO_Group protesters has displayed a banner at Piccadilly Circus in London #BlockShell pic.twitter.com/y84xc6Ivxa

— Save The Arctic (@savethearctic) July 1, 2014
LEGO say they want the best future for our kids...are they full of hot air? #BlockShell at http://t.co/zpgDKvor0N pic.twitter.com/4flzwuzlYT

— Save The Arctic (@savethearctic) July 1, 2014
Even the sharks want to #BlockShell @LEGO_Group get out of dirty @Shell business! #SaveTheArctic pic.twitter.com/N4MyReGXvU

— Sini Saarela (@SiniSaarela) July 1, 2014
LEGO people trying to stop a losing streak in the Arctic. @Lego_Group should #BlockShell at http://t.co/zpgDKvor0N pic.twitter.com/2tGnh4Tl9J

— Save The Arctic (@savethearctic) July 1, 2014 
"Children form strong emotional attachments in childhood that last a lifetime, and companies know that all too well," said Susan Linn, a psychologist at Harvard Medical School and author of Consuming Kids: The Hostile Takeover of Childhood. "Adverts aimed at children are bad enough, but branding their favorite playthings gain companies like Shell many hours and even days of their dedicated time, energy and love. We need to protect children's imaginative play from branding for many reasons, including the important need for them to explore their own ideas and develop their own world view."
EcoWatch Daily Newsletter
Pro-environment demonstrators on the streets of Washington, DC during the Jan. 20, 2017 Trump inauguration.
Mobilus In Mobili
/ Flickr /
CC BY-SA 2.0
By Dr. Brian R. Shmaefsky
One year after the Flint Water Crisis I was invited to participate in a water rights session at a conference hosted by the US Human Rights Network in Austin, Texas in 2015. The reason I was at the conference was to promote efforts by the American Association for the Advancement of Science (AAAS) to encourage scientists to shine a light on how science intersects with human rights, in the U.S. as well as in the context of international development. My plan was to sit at an information booth and share my stories about water quality projects I spearheaded in communities in Bangladesh, Colombia, and the Philippines. I did not expect to be thrown into conversations that made me reexamine how scientists use their knowledge as a public good.
Mt. Rainier and Reflection Lake on Sept. 10, 2015. Crystal Geyser planned to open a bottling plant near Mt. Rainier, emails show.
louelke - on and off / Flickr
Bottled water manufacturers looking to capture cool, mountain water from Washington's Cascade Mountains may have to look elsewhere after the state senate passed a bill banning new water permits, as The Guardian reported.
Large storage tank of Ammonia at a fertilizer plant in Cubatão, Sao Paulo State, Brazil. Luis Veiga / The Image Bank / Getty Images
The shipping industry is coming to grips with its egregious carbon footprint, as it has an outsized contribution to greenhouse gas emissions and to the dumping of chemicals into open seas. Already, the global shipping industry contributes about 2 percent of global carbon emissions, about the same as Germany, as the BBC reported.
At high tide, people are forced off parts of the pathway surrounding DC's Tidal Basin. Andrew Bossi /
Wikimedia
The Jefferson Memorial in Washington, DC overlooks the Tidal Basin, a man-made body of water surrounded by cherry trees. Visitors can stroll along the water's edge, gazing up at the stately monument.
But at high tide, people are forced off parts of the path. Twice a day, the Tidal Basin floods and water spills onto the walkway.
Lioness displays teeth during light rainstorm in Kruger National Park, South Africa. johan63 / iStock / Getty Images
Ahead of government negotiations scheduled for next week on a global plan to address the biodiversity crisis, 23 former foreign ministers from various countries released a statement on Tuesday urging world leaders to act "boldly" to protect nature.