Greenpeace Launches 'Arctic Ready' Campaign outside Shell Headquarters
Jul. 19, 2012 11:11AM EST
Energy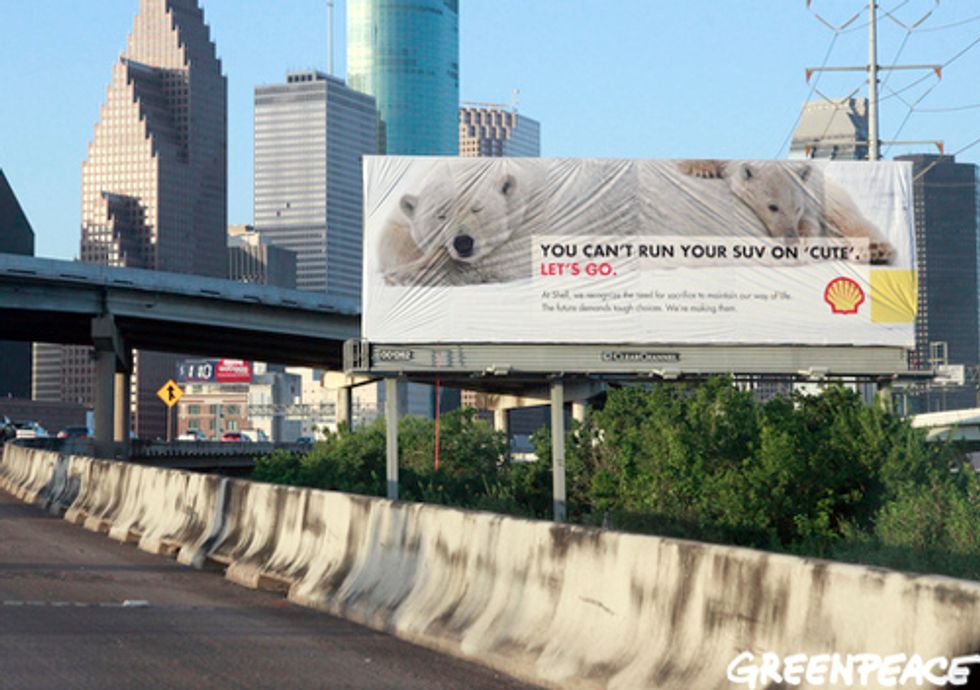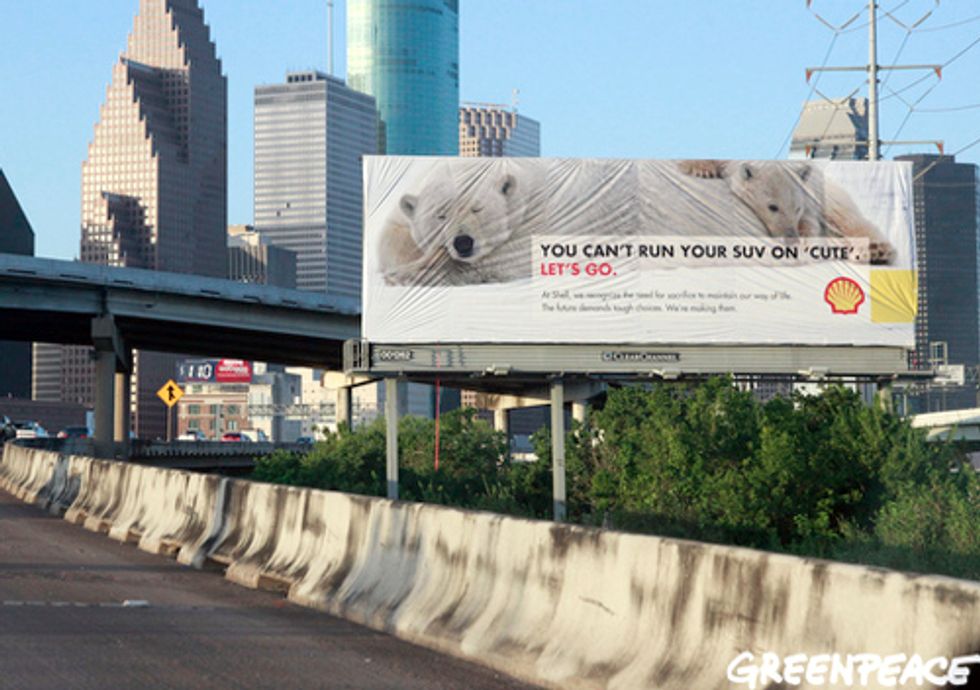 Early this morning, Greenpeace mounted a satirical billboard near Shell's Houston headquarters featuring a family of polar bears with the slogan "You can't run your SUV on cute. Let's Go." Greenpeace chose the ad from more than 10,000 user-generated online submissions to ArcticReady.com, a Web collaboration with Yes Lab designed to heighten awareness of Shell's plan to exploit melting sea ice to drill for oil in Alaska.
The site has received more than 1.8 million pageviews just in the past week, and has been featured in the Financial Times, Forbes and the Los Angeles Times, as well as a host of other outlets. The billboard has taken this online activity from Arctic supporters and placed it in front of hundreds of Houston commuters traveling on I-10 East toward One Shell Plaza.
"Shell wants to control the story of Arctic drilling, but they are quickly discovering that the public has a voice too," said Dan Howells, deputy campaigns director for Greenpeace USA. "People see through Shell's PR to the truth, that Arctic drilling is a profit grab by one of the world's richest corporations at the expense of everyone else on the planet. This campaign has given people a chance to tell Shell exactly what they think."
The Houston billboard is one of hundreds of actions around the world that activists have taken to Save the Arctic this week, including a group from Greenpeace Netherlands "taking over" Shell's Dutch world headquarters, and activists in England, Scotland, Denmark, Holland and Germany rebranding hundreds of Shell stations with #SaveTheArctic banners.
"Nearly one million people have signed the scroll to save the Arctic, and now people around the world have given Shell the identity correction the company deserves," said Howells. "The dangers of Arctic drilling are clear and the stakes are too high. Shell cannot be allowed to start exploiting the vital ecosystems of the Arctic for profit."
The oil company plans to start drilling exploratory wells in Alaska's Chukchi and Beaufort seas this August, though it must first obtain final permits from the Obama administration. The Greenpeace ship, Esperanza, is en route to the Chukchi, where it will conduct cutting-edge scientific research on the sea floor, where Shell plans to drill, showing the world what is at stake.
Visit EcoWatch's ENERGY and BIODIVERSITY pages for more related news on this topic.
EcoWatch Daily Newsletter
Related Articles from EcoWatch
Recent Stories from EcoWatch