Greenpeace Adds to List of Toxic Toys
Jan. 17, 2012 10:00AM EST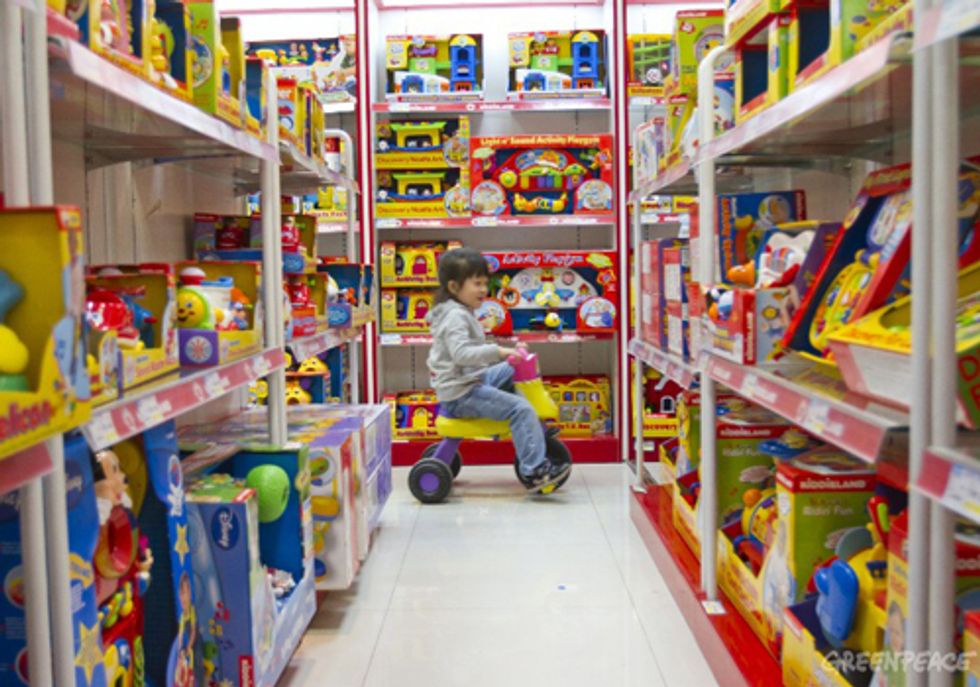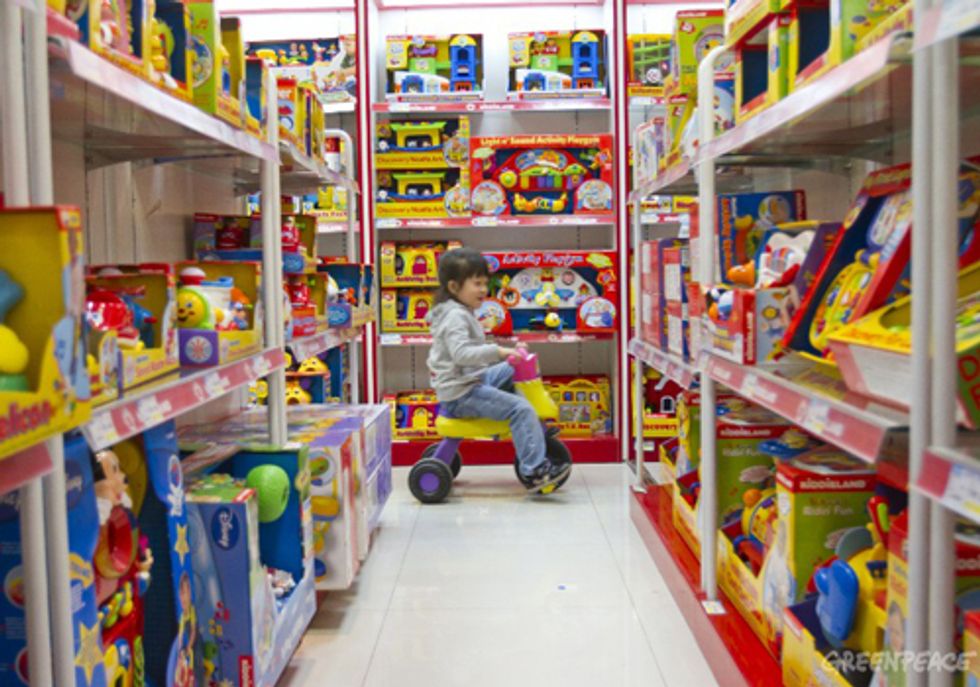 In December, Greenpeace and the International POPs (Persistent Organic Pollutants) Elimination Network (IPEN) jointly released an alarming report that found more than 30 percent of 500 samples of toys and other items contained at least one type of toxic heavy metal. About 10 percent of the samples contained lead above the Chinese regulation of 600 parts per million. The news first came out of Beijing and it was covered extensively by mainland reporters. Later, we took our show on the road and showed Christmas shoppers in Hong Kong the dangers they face in buying seemingly harmless Christmas gifts.
While in Hong Kong, our toxics campaigners, along with Joe DiGangi of IPEN, decided to get ambitious—They inspected an extra 82 items to add to our already extensive list of 500 toys, school supplies, clothing, cups and other products. Add in one pair of Winnie the Pooh slippers from Beijing and a Barbie pencil bag from Guangzhou, and that brings our list to 584.
The list gives detailed information on each of the products and the levels of six heavy metals hiding in different coatings. These heavy metals can be absorbed into the growing bodies of children and cause major issues with their development—especially mental development.
"Heavy metals in children's products pose a serious threat to kids—even the slightest bit of lead can harm a child's development," said Greenpeace toxics campaigner Wu Yixiu. "Children tend to put toys and products into their mouths, so they are more vulnerable."
For more information on the dangers of heavy metals, see this link.
In some cases, the results of our testing were absurdly high. With the Winnie the Pooh slippers, for example, the lead content reached 5,580 parts per million. Oh bother.
And the cute Barbie pencil bag? It had a lead content of 2,930 parts per million.
But perhaps the most shocking item was a cup that contained lead levels beyond 40,000 parts per million.
As scary as it sounds, you can avoid these dangerous items. We've given you the knowledge. Check our list for the things you should keep away from. Together we can get the industry to change if we don't buy their toxic products.
"The industry of children's products should take responsibility in preventing children from being exposed to heavy metals, particularly for big brands," Wu said. "They must take the lead to make change rather than harming their consumers to make a quick buck."
Greenpeace calls on the government to take immediate action to clean up these toxic products and strengthen quality supervision. The government should also adopt more stringent regulations over lead limits in children's products to keep the source of heavy metals away from children entirely.
For more information, click here.
EcoWatch Daily Newsletter