This website uses cookies to ensure you get the best experience while browsing it. By clicking 'Got It' you're accepting these terms.
Greenland's Rapidly Melting Glaciers 'Will Result in Rising Sea Levels for Decades to Come'
Nov. 15, 2015 11:12AM EST
Climate
A massive Greenland glacier that holds enough water to raise sea levels by half a meter [nearly 20 inches] is melting at speed, according to a new study.
The Zachariae Isstrom in northeast Greenland has entered a phase of accelerated retreat, and is losing mass at the rate of 5 billion metric tons a year, according to U.S. scientists.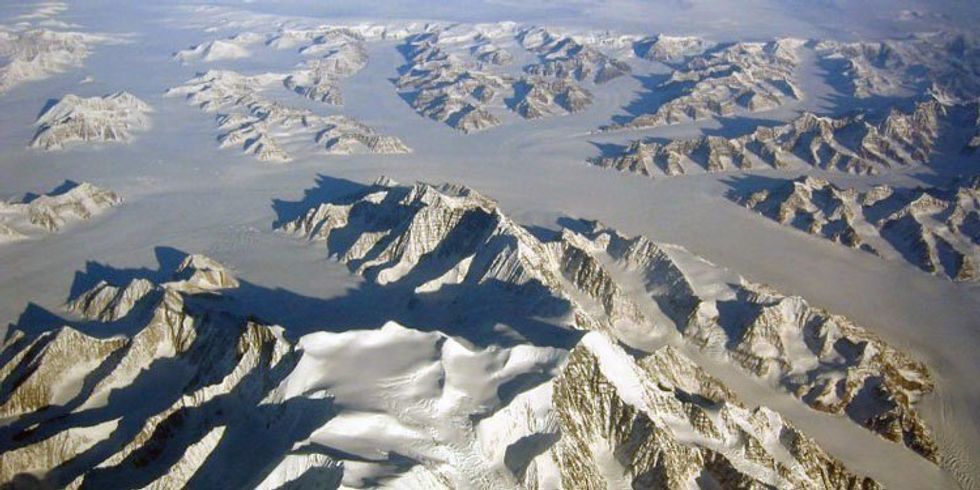 They report in the journal Science that a succession of aerial surveys combined with multiple satellite observations has established that the base of the glacier is being eroded rapidly by a mix of warmer ocean water and increasing amounts of meltwater from the surface of the Greenland ice sheet.
"North Greenland glaciers are changing rapidly," said Jeremie Mouginot, an Earth system scientist at the University of California, Irvine, who led the study.
"The shape and dynamics of the Zachariae Isstrom have changed dramatically over the last few years. The glacier is now breaking up and calving high volumes of icebergs into the ocean, which will result in rising sea levels for decades to come."
Latest alarm
This is just the latest in a series of alarms about the state of the Greenland ice cap: researchers confirmed last year that the Jakobshavn Isbrae in west Greenland, the fastest flowing river of ice on the island, had doubled in speed and then doubled again in this century, and was now moving at 46 meters a day, or 17 kilometers a year.
A Danish team last year also raised concern about the 600-kilometre Zachariae ice stream, and confirmed that ice loss in the northeast of the island was accelerating.
So the University of California study delivered a closer look and made a more precise measurement of the flow from the ice cap to the sea. Altogether the scientists looked at 40 years of measurements. After 25 years of relative stability, the glacier began to pick up speed at the turn of the century.
North Atlantic Ocean temperatures rose by 1°C between 1997 and 2010. Between 2012 and 2015, the Zachariae ice stream accelerated by 125 metres a year, every year, three times faster than the speed between 2000 and 2012. The researchers predict that the Zachariae glacier will go on retreating for another 20 to 30 years, while continuing to increase its discharge of ice.
"Zachariae Isstrom is being hit from above and below," said Eric Rignot, professor of Earth system science at UC, Irvine and another of the authors.
"The top of the glacier is melting away as a result of decades of steadily increasing air temperatures, while its underside is compromised by currents carrying warmer ocean water, and the glacier is now breaking away into bits and pieces and retreating into deeper ground."
The Zachariae glacier's neighbour, called Nioghalvfjerdsfjorden, is also melting rapidly, but retreating at a slower rate. The two glaciers between them account for 12 percent of the island's ice sheet, and if both collapsed into the sea and melted entirely, global sea levels would rise by about a meter.
"Not long ago, we wondered about the effect on sea levels if Earth's major glaciers were to start retreating," said Professor Rignot.
"We no longer need to wonder; for a couple of decades now, we've been able to directly observe the results of climate warming on polar glaciers. The changes are staggering and are now affecting the four corners of Greenland."
YOU MIGHT ALSO LIKE
Bernie Sanders: 'Climate Change Is Directly Related to the Growth of Terrorism'
Bill Nye + Arnold Schwarzenegger Confront Climate Denial Head On
Paris Climate Talks Will Not Be Canceled, Obama Will Attend
Meet the Climate Scientists Travelling by Bike and Foot from the Poles to Paris
EcoWatch Daily Newsletter
The Ernest N. Morial Convention Center in New Orleans, Louisiana has been converted to a 1,000-bed field hospital for coronavirus patients to alleviate stress on local hospitals. Chris Graythen / Getty Images
An area in Louisiana whose predominantly black and brown residents are hard-hit by health problems from industry overdevelopment is experiencing one of the highest death rates from coronavirus of any county in the United States.
A woman lies in bed with the flu. marka/Universal Images Group via Getty Images
A central player in the fight against the novel coronavirus is our immune system. It protects us against the invader and can even be helpful for its therapy. But sometimes it can turn against us.
Several flower species, including the orchid, can recover quickly from severe injury, scientists have found. cunfek / iStock / Getty Images Plus
Calling someone a delicate flower may not sting like it used to, according to new research. Scientists have found that many delicate flowers are actually remarkably hearty and able to bounce back from severe injury.
A Boeing 727 flies over approach lights with a trail of black-smoke from the engines on April 9, 2018. aviation-images.com / Universal Images Group via Getty Images
With global air travel at a near standstill, the airline industry is looking to rewrite the rules it agreed to tackle global emissions. The Guardian reports that the airline is billing it as a matter of survival, while environmental activists are accusing the industry of trying to dodge their obligations.
A National Guard member works on election day at a polling location on April 7, 2020 in Madison, Wisconsin. Andy Manis / Getty Images.
ByJulia Baumel
The outbreak of COVID-19 across the U.S. has touched every facet of our society, and our democracy has been no exception.