This website uses cookies to ensure you get the best experience while browsing it. By clicking 'Got It' you're accepting these terms.

This week I'm reviewing the year's social, environmental and economic events that have impacted human health and the environment. Today, I am reviewing the updated National Oceanic and Atmospheric Administration's (NOAA) Annual Greenhouse Gas Index (AGGI).
In November, NOAA's AGGI, which measures the direct climate influence of many greenhouse gases such as carbon dioxide and methane, showed a continued steady upward trend that began with the Industrial Revolution of the 1880s.
According to NOAA, the AGGI reached 1.29 in 2010, meaning that the combined heating effect of long-lived greenhouse gases added to the atmosphere by human activities has increased by 29 percent since 1990, the "index" year used as a baseline for comparison. This is slightly higher than the 2009 AGGI, which was 1.27.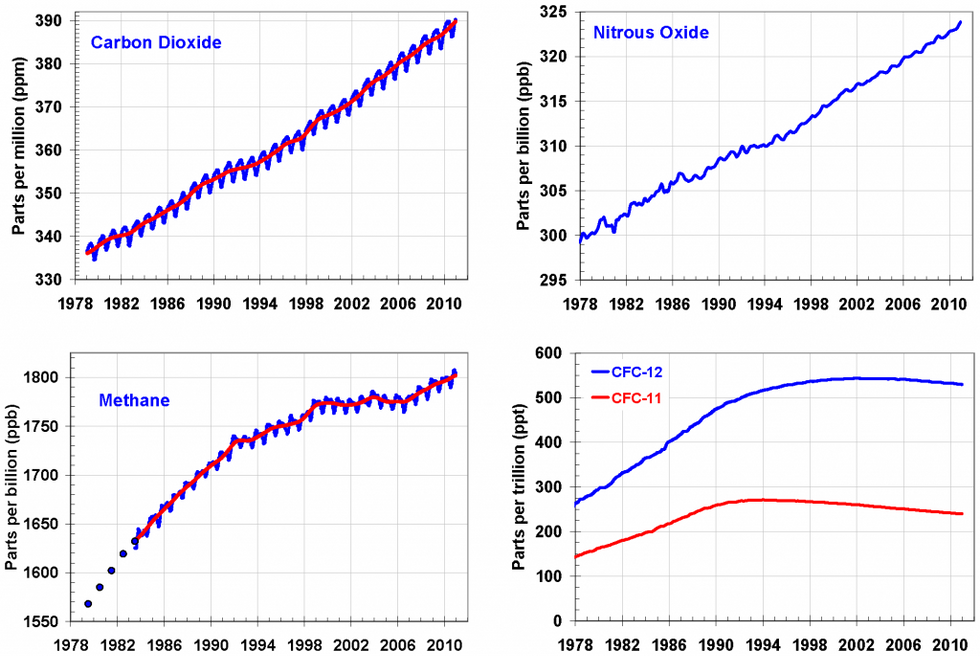 "The increasing amounts of long-lived greenhouse gases in our atmosphere indicate that climate change is an issue society will be dealing with for a long time," said Jim Butler, director of the Global Monitoring Division of NOAA's Earth System Research Laboratory in Boulder, Colorado. "Climate warming has the potential to affect most aspects of society, including water supplies, agriculture, ecosystems and economies."
Here's a YouTube video of Butler explaining the annual AGGI. He shares his concerns about the steady emissions of greenhouse gasses into the atmosphere by human activities and explains that in records that reach back 800 thousand years, we have never seen carbon dioxide levels anywhere near what they are today—more than 390 parts per million (ppm). In fact, it's only in the last 100 years that we have seen CO2 exceed 290 ppm.
If you're familiar with the organization 350.org, founded by author and activist Bill McKibben, you understand the significance of exceeding 350 ppm. 350.org's mission is based on reducing the amount of CO2 in the atmosphere from its current level of 392 ppm to below 350 ppm, the number scientists say we need to achieve to preserve our planet.
According to Butler, the AGGI is analogous to the dial on an electric blanket—that dial does not tell you exactly how hot you will get, nor does the AGGI predict a specific temperature. Yet just as turning the dial up increases the heat of an electric blanket, a rise in the AGGI means greater greenhouse warming.
NOAA scientists created the AGGI recognizing that carbon dioxide is not the only greenhouse gas affecting the balance of heat in the atmosphere. Many other long-lived gases also contribute to warming, although not currently as much as carbon dioxide.
The AGGI includes methane and nitrous oxide, for example, greenhouse gases that are emitted by human activities and also have natural sources and sinks. It also includes several chemicals known to deplete Earth's protective ozone layer, which are also active as greenhouse gases. The 2010 AGGI reflects several changes in the concentration of these gases, including:
A continued steady increase in carbon dioxide: Global carbon dioxide levels rose to an average of 389 parts per million in 2010, compared with 386 ppm in 2009, and 354 in the index or comparison year of 1990. Before the Industrial Revolution of the 1880s, carbon dioxide concentration in the atmosphere was about 280 ppm. Carbon dioxide levels swing up and down in natural seasonal cycles, but human activities—primarily the burning of coal, oil, and gas for transportation and power—have driven a consistent upward trend in concentration. 
A continued recent increase in methane: Methane levels rose in 2010 for the fourth consecutive year after remaining nearly constant for the preceding 10 years, up to 1799 parts per billion. Methane measured 1794 ppb in 2009, and 1714 ppb in 1990. Pound for pound, methane is 25 times more potent as a greenhouse gas than carbon dioxide, but there's less of it in the atmosphere.
NOAA's Annual Greenhouse Gas Index is a gauge of the climate warming influence of greenhouse gases added to the atmosphere by human activities and compared with the "index" year of 1990. The AGGI shows a steady upward trend, reaching 1.29 in 2010. This means that the heating effect of additional greenhouse gases in the atmosphere has increased by 29 percent since 1990.

A continued steady increase in nitrous oxide: Best known as laughing gas in dentistry, nitrous oxide is also a greenhouse gas emitted from natural sources and as a byproduct of agricultural fertilization, livestock manure, sewage treatment and some industrial processes.
A continued recent drop in two chlorofluorocarbons, CFC11 and CFC12: Levels of these two compounds—which are ozone-depleting chemicals in addition to greenhouse gases—have been dropping at about one percent per year since the late 1990s, because of an international agreement, the Montreal Protocol, to protect the ozone layer.
EcoWatch Daily Newsletter
Workers convert the Scottish Events Campus, where COP26 was to be held, into a field hospital to treat COVID-19 patients. ANDY BUCHANAN / AFP via Getty Images
An aerial view of a crude oil storage facility of Caspian Pipeline Consortium (CPC) in the Krasnodar Territory. Vitaly Timkiv / TASS / Getty Images
Oil rigs around the world keep pulling crude oil out of the ground, but the global pandemic has sent shockwaves into the market. The supply is up, but demand has plummeted now that industry has ground to a halt, highways are empty, and airplanes are parked in hangars.
Examples (from left) of a lead pipe, a corroded steel pipe and a lead pipe treated with protective orthophosphate. U.S. EPA Region 5
Under an agreement negotiated by community groups — represented by NRDC and the Pennsylvania Utility Law Project — the Pittsburgh Water and Sewer Authority (PWSA) will remove thousands of lead water pipes by 2026 in order to address the chronically high lead levels in the city's drinking water and protect residents' health.

ROBYN BECK / AFP / Getty Images
By Dave Cooke
So, they finally went and did it — the Trump administration just finalized a rule to undo requirements on manufacturers to improve fuel economy and reduce greenhouse gas emissions from new passenger cars and trucks. Even with the economy at the brink of a recession, they went forward with a policy they know is bad for consumers — their own analysis shows that American drivers are going to spend hundreds of dollars more in fuel as a result of this stupid policy — but they went ahead and did it anyway.
By Richard Connor
A blood test that screens for more than 50 types of cancer could help doctors treat patients at an earlier stage than previously possible, a new study shows. The method was used to screen for more than 50 types of cancer — including particularly deadly variants such as pancreatic, ovarian, bowel and brain.