This website uses cookies to ensure you get the best experience while browsing it. By clicking 'Got It' you're accepting these terms.

This week I'm reviewing the year's social, environmental and economic events that have impacted human health and the environment. Today, I am reviewing the updated National Oceanic and Atmospheric Administration's (NOAA) Annual Greenhouse Gas Index (AGGI).
In November, NOAA's AGGI, which measures the direct climate influence of many greenhouse gases such as carbon dioxide and methane, showed a continued steady upward trend that began with the Industrial Revolution of the 1880s.
According to NOAA, the AGGI reached 1.29 in 2010, meaning that the combined heating effect of long-lived greenhouse gases added to the atmosphere by human activities has increased by 29 percent since 1990, the "index" year used as a baseline for comparison. This is slightly higher than the 2009 AGGI, which was 1.27.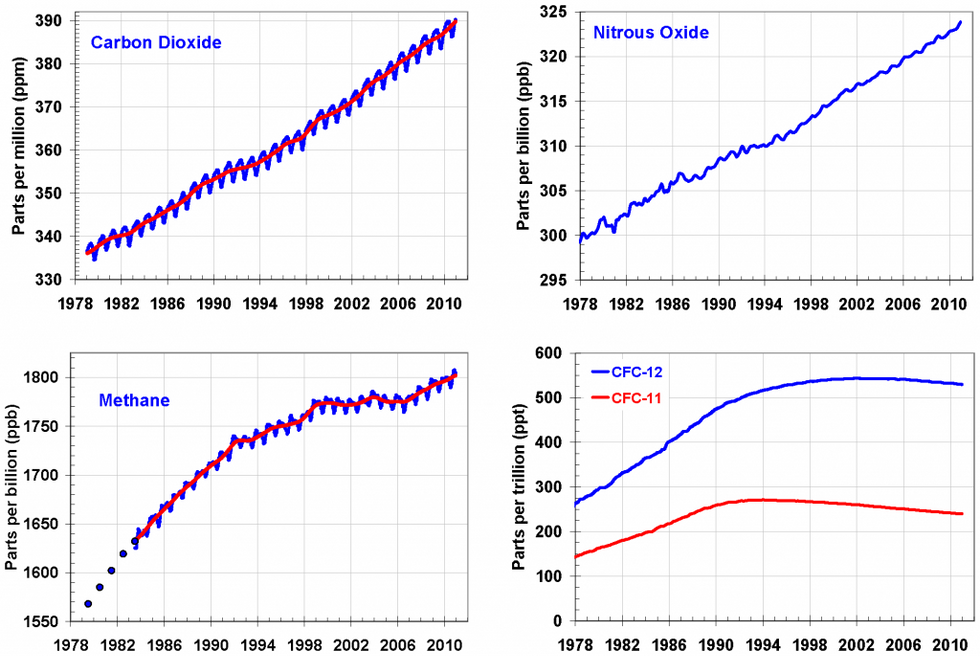 "The increasing amounts of long-lived greenhouse gases in our atmosphere indicate that climate change is an issue society will be dealing with for a long time," said Jim Butler, director of the Global Monitoring Division of NOAA's Earth System Research Laboratory in Boulder, Colorado. "Climate warming has the potential to affect most aspects of society, including water supplies, agriculture, ecosystems and economies."
Here's a YouTube video of Butler explaining the annual AGGI. He shares his concerns about the steady emissions of greenhouse gasses into the atmosphere by human activities and explains that in records that reach back 800 thousand years, we have never seen carbon dioxide levels anywhere near what they are today—more than 390 parts per million (ppm). In fact, it's only in the last 100 years that we have seen CO2 exceed 290 ppm.
If you're familiar with the organization 350.org, founded by author and activist Bill McKibben, you understand the significance of exceeding 350 ppm. 350.org's mission is based on reducing the amount of CO2 in the atmosphere from its current level of 392 ppm to below 350 ppm, the number scientists say we need to achieve to preserve our planet.
According to Butler, the AGGI is analogous to the dial on an electric blanket—that dial does not tell you exactly how hot you will get, nor does the AGGI predict a specific temperature. Yet just as turning the dial up increases the heat of an electric blanket, a rise in the AGGI means greater greenhouse warming.
NOAA scientists created the AGGI recognizing that carbon dioxide is not the only greenhouse gas affecting the balance of heat in the atmosphere. Many other long-lived gases also contribute to warming, although not currently as much as carbon dioxide.
The AGGI includes methane and nitrous oxide, for example, greenhouse gases that are emitted by human activities and also have natural sources and sinks. It also includes several chemicals known to deplete Earth's protective ozone layer, which are also active as greenhouse gases. The 2010 AGGI reflects several changes in the concentration of these gases, including:
A continued steady increase in carbon dioxide: Global carbon dioxide levels rose to an average of 389 parts per million in 2010, compared with 386 ppm in 2009, and 354 in the index or comparison year of 1990. Before the Industrial Revolution of the 1880s, carbon dioxide concentration in the atmosphere was about 280 ppm. Carbon dioxide levels swing up and down in natural seasonal cycles, but human activities—primarily the burning of coal, oil, and gas for transportation and power—have driven a consistent upward trend in concentration. 
A continued recent increase in methane: Methane levels rose in 2010 for the fourth consecutive year after remaining nearly constant for the preceding 10 years, up to 1799 parts per billion. Methane measured 1794 ppb in 2009, and 1714 ppb in 1990. Pound for pound, methane is 25 times more potent as a greenhouse gas than carbon dioxide, but there's less of it in the atmosphere.
NOAA's Annual Greenhouse Gas Index is a gauge of the climate warming influence of greenhouse gases added to the atmosphere by human activities and compared with the "index" year of 1990. The AGGI shows a steady upward trend, reaching 1.29 in 2010. This means that the heating effect of additional greenhouse gases in the atmosphere has increased by 29 percent since 1990.

A continued steady increase in nitrous oxide: Best known as laughing gas in dentistry, nitrous oxide is also a greenhouse gas emitted from natural sources and as a byproduct of agricultural fertilization, livestock manure, sewage treatment and some industrial processes.
A continued recent drop in two chlorofluorocarbons, CFC11 and CFC12: Levels of these two compounds—which are ozone-depleting chemicals in addition to greenhouse gases—have been dropping at about one percent per year since the late 1990s, because of an international agreement, the Montreal Protocol, to protect the ozone layer.
EcoWatch Daily Newsletter
Milk made from almonds, oats and coconut are among the healthiest alternatives to cow's milk. triocean / iStock / Getty Images Plus
Dairy aisles have exploded with milk and milk alternative options over the past few years, and choosing the healthiest milk isn't just about the fat content.
Whether you're looking beyond cow's milk for health reasons or dietary preferences or simply want to experiment with different options, you may wonder which type of milk is healthiest for you.
Greta Thunberg stands aboard the catamaran La Vagabonde as she sets sail to Europe in Hampton, Virginia, on Nov. 13. NICHOLAS KAMM / AFP via Getty Images
Greta Thunberg, the teenage climate activist whose weekly school strikes have spurred global demonstrations, has cut short her tour of the Americas and set sail for Europe to attend COP25 in Madrid next month, as The New York Times reported.
At least 1,688 dams across the U.S. are in such a hazardous condition that, if they fail, could force life-threatening floods on nearby homes, businesses, infrastructure or entire communities, according to an in-depth analysis of public records conducted by the the Associated Press.
By Sabrina Kessler
Far-reaching allegations about how a climate-sinning American multinational could shamelessly lie to the public about its wrongdoing mobilized a small group of New York students on a cold November morning. They stood in front of New York's Supreme Court last week to follow the unprecedented lawsuit against ExxonMobil.
By Alex Robinson
Leah Garcés used to hate poultry farmers.
The animal rights activist, who opposes factory farming, had an adversarial relationship with chicken farmers until around five years ago, when she sat down to listen to one. She met a poultry farmer called Craig Watts in rural North Carolina and learned that the problems stemming from factory farming extended beyond animal cruelty.
People navigate snow-covered sidewalks in the Humboldt Park neighborhood on Nov. 11 in Chicago. Scott Olson / Getty Images
Temperatures plunged rapidly across the U.S. this week and around 70 percent of the population is expected to experience temperatures around freezing Wednesday.
A general view of the flooded St. Mark's Square after an exceptional overnight "Alta Acqua" high tide water level, on Nov. 13 in Venice. MARCO BERTORELLO / AFP / Getty Images
President Donald Trump doesn't like wind turbines.
In April, he claimed they caused cancer, and he sued to stop an offshore wind farm that was scheduled to go up near land he had purchased for a golf course in Aberdeenshire in Scotland. He lost that fight, and now the Trump Organization has agreed to pay the Scottish government $290,000 to cover its legal fees, The Washington Post reported Tuesday.