This website uses cookies to ensure you get the best experience while browsing it. By clicking 'Got It' you're accepting these terms.
Greenhouse Gas Concentrations Reach New Record
Nov. 20, 2012 08:40PM EST
Climate
[Editor's note: Maybe it's just coincidence that on the same day this report came out, the World Resources Institute released a report finding there are 1,199 new coal power plants in the works, totaling more than 1.4 million megawatts of capacity worldwide. That's four times the capacity of all the coal-fired power plants in the U.S. With the below report confirming that greenhouse gases in the atmosphere reached a new record high in 2011, it's distressing that our world leaders are unable to address the climate crisis and reduce carbon emissions instead of increase them! It's also worth noting that the World Bank released a report this week, Turn Down the Heat: Why a 4°C Warmer World Must be Avoided, warning that if the global community fails to act on climate change, it will trigger a cascade of cataclysmic changes that include extreme heat-waves, declining global food stocks and a sea-level rise affecting hundreds of millions of people.]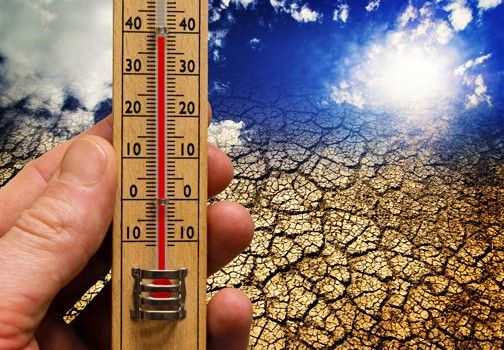 Photo courtesy of Shutterstock
The amount of greenhouse gases in the atmosphere reached a new record high in 2011, according to a press release today by the World Meteorological Organization (WMO). Between 1990 and 2011 there was a 30 percent increase in radiative forcing—the warming effect on our climate—because of carbon dioxide (CO2) and other heat-trapping long-lived gases.
Since the start of the industrial era in 1750, about 375 billion tonnes of carbon have been released into the atmosphere as CO2, primarily from fossil fuel combustion, according to WMO's 2011 Greenhouse Gas Bulletin, which had a special focus on the carbon cycle. About half of this carbon dioxide remains in the atmosphere, with the rest being absorbed by the oceans and terrestrial biosphere.
"These billions of tonnes of additional carbon dioxide in our atmosphere will remain there for centuries, causing our planet to warm further and impacting on all aspects of life on earth," said WMO secretary-general Michel Jarraud. "Future emissions will only compound the situation."
"Until now, carbon sinks have absorbed nearly half of the carbon dioxide humans emitted in the atmosphere, but this will not necessarily continue in the future. We have already seen that the oceans are becoming more acidic as a result of the carbon dioxide uptake, with potential repercussions for the underwater food chain and coral reefs. There are many additional interactions between greenhouse gases, Earth's biosphere and oceans, and we need to boost our monitoring capability and scientific knowledge in order to better understand these," said Jarraud.
"WMO's Global Atmosphere Watch network, spanning more than 50 countries, provides accurate measurements which form the basis of our understanding of greenhouse gas concentrations, including their many sources, sinks and chemical transformations in the atmosphere," said Jarraud.
The role of carbon sinks is pivotal in the overall carbon equation. If the extra CO2 emitted is stored in reservoirs such as the deep oceans, it could be trapped for hundreds or even thousands of years. By contrast, new forests retain carbon for a much shorter time span.
The Greenhouse Gas Bulletin reports on atmospheric concentrations—and not emissions—of greenhouse gases. Emissions represent what goes into the atmosphere. Concentrations represent what remains in the atmosphere after the complex system of interactions between the atmosphere, biosphere and the oceans.
CO2 is the most important of the long-lived greenhouse gases—so named because they trap radiation within the Earth's atmosphere causing it to warm. Human activities, such as fossil fuel burning and land use change (for instance, tropical deforestation), are the main sources of the anthropogenic carbon dioxide in the atmosphere. The other main long-lived greenhouse gases are methane and nitrous oxide. Increasing concentrations of the greenhouse gases in the atmosphere are drivers of climate change.
The National Oceanic and Atmospheric Administration's Annual Greenhouse Gas Index, quoted in the bulletin, shows that from 1990 to 2011, radiative forcing by long-lived greenhouse gases increased by 30 percent, with CO2 accounting for about 80 percent of this increase. Total radiative forcing of all long-lived greenhouse gases was the CO2 equivalent of 473 parts per million in 2011.
Carbon dioxide (CO2)
Carbon dioxide is the single most important greenhouse gas emitted by human activities. It is responsible for 85 percent of the increase in radiative forcing over the past decade. According to WMO's bulletin, the amount of CO2 in the atmosphere reached 390.9 parts per million in 2011, or 140 percent of the pre-industrial level of 280 parts per million.
The pre-industrial era level represented a balance of CO2 fluxes between the atmosphere, the oceans and the biosphere. The amount of CO2 in the atmosphere has increased on average by 2 parts per million per year for the past 10 years.
Methane (CH4)
Methane is the second most important long-lived greenhouse gas. Approximately 40 percent of methane is emitted into the atmosphere by natural sources (e.g., wetlands and termites), and about 60 percent comes from activities like cattle breeding, rice agriculture, fossil fuel exploitation, landfills and biomass burning. Atmospheric methane reached a new high of about 1813 parts per billion (ppb) in 2011, or 259 percent of the pre-industrial level, due to increased emissions from anthropogenic sources. Since 2007, atmospheric methane has been increasing again after a period of levelling-off with a nearly constant rate during the last 3 years.
Nitrous oxide (N2O)
Nitrous oxide is emitted into the atmosphere from both natural (about 60 percent) and anthropogenic sources (approximately 40 percent), including oceans, soil, biomass burning, fertilizer use, and various industrial processes. Its atmospheric concentration in 2011 was about 324.2 parts per billion, which is 1.0 ppb above the previous year and 120 percent of the pre-industrial level. Its impact on climate, over a 100 year period, is 298 times greater than equal emissions of carbon dioxide. It also plays an important role in the destruction of the stratospheric ozone layer which protects us from the harmful ultraviolet rays of the sun.
Visit EcoWatch's CLIMATE CHANGE page for more related news on this topic.
EcoWatch Daily Newsletter
A dead sea lion on the beach at Border Field State Park, near the international border wall between San Diego, California and Tijuana, Mexico. Sherry Smith / iStock / Getty Images
People crossing the Brooklyn Bridge on July 20, 2017 in New York City sought to shield themselves from the sun as the temperature reached 93 degrees. Drew Angerer / Getty Images
by Jordan Davidson

Taking action to stop the mercury from rising is a matter of life and death in the U.S., according to a new study published in the journal Science Advances.
Salmon fry before being released just outside San Francisco Bay. Jim Wilson / The New York Times / Redux
By Alisa Opar
For Chinook salmon, the urge to return home and spawn isn't just strong — it's imperative. And for the first time in more than 65 years, at least 23 fish that migrated as juveniles from California's San Joaquin River and into the Pacific Ocean have heeded that call and returned as adults during the annual spring run.
Protesters hold a banner and a placard while blocking off the road during a protest against Air pollution in London. Ryan Ashcroft / SOPA Images / LightRocket / Getty Images
By Jessica Corbett
Dozens of students, parents, teachers and professionals joined a Friday protest organized by Extinction Rebellion that temporarily stalled morning rush-hour traffic in London's southeasten borough of Lewisham to push politicians to more boldly address dangerous air pollution across the city.

Jose A. Bernat Bacete / Moment / Getty Images
By Bridget Shirvell
On a farm in upstate New York, a cheese brand is turning millions of pounds of food scraps into electricity needed to power its on-site businesses. Founded by eight families, each with their own dairy farms, Craigs Creamery doesn't just produce various types of cheddar, mozzarella, Swiss and Muenster cheeses, sold in chunks, slices, shreds and snack bars; they're also committed to becoming a zero-waste operation.

By Jessica A. Knoblauch
Summers in the Midwest are great for outdoor activities like growing your garden or cooling off in one of the area's many lakes and streams. But some waters aren't as clean as they should be.
That's in part because coal companies have long buried toxic waste known as coal ash near many of the Midwest's iconic waterways, including Lake Michigan. Though coal ash dumps can leak harmful chemicals like arsenic and cadmium into nearby waters, regulators have done little to address these toxic sites. As a result, the Midwest is now littered with coal ash dumps, with Illinois containing the most leaking sites in the country.

picture-alliance / AP Photo / NOAA Pacific Islands Fisheries Science Center
The Group of 20 major economies agreed a deal to reduce marine pollution at a meeting of their environment ministers on Sunday in Karuizawa, Japan.