This website uses cookies to ensure you get the best experience while browsing it. By clicking 'Got It' you're accepting these terms.
Green Sea Turtle Tumors Linked to Nitrogen Runoff From Farming
Oct. 14, 2014 07:21AM EST
Green sea turtles are an endangered species, at risk from poaching, incidental take in fishing gear and coastal development. But they also suffer from fibropapillomatosis—the leading cause of death in this endangered species—which causes tumors to grow along sea turtles' faces, flippers and internal organs.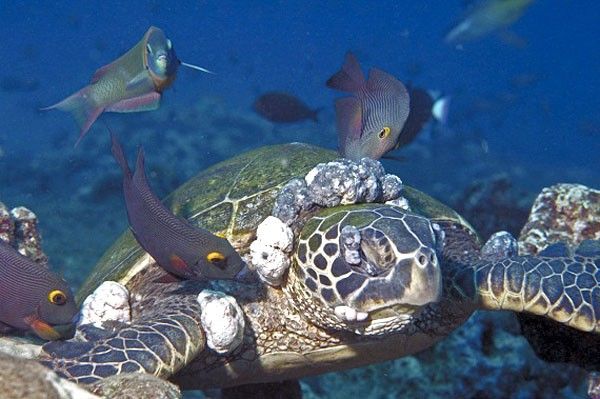 Scientists recently grew their understanding of fibropapillomatosis, finding that nitrogen pollution from urban and farm pollution in Hawaii is the culprit behind this sad disease. Nitrogen ends up in the algae that these turtles feed on, culminating in a "nutrient cascade." The authors recently published their study published in Peer J, which adds to a 2010 study that fibropapillomatosis to be predominant in areas of heavy runoff.
Excess nitrogen is stored in seaweed in the form of arginine, an amino acid. The scientists found high levels of arginine in both polluted waters and sea turtle tumors, and also found higher levels of arginine in an invasive red-algae species that can comprise 90 percent of some sea turtle diets. Because the sea turtles are herbivorous, they must consume twice as much of the invasive algae to get the same caloric intake they would from native algae, according to a Duke University press release. Researchers also found proline and glycine in the algae—two amino acids found in cancerous human tumors.
Though the sight of tumors growing on sea turtles is a sad one, the study's findings offer insight that could inform better sea turtle conservation and management. The researchers also say that their findings can be useful in protecting fish, plants and coral reef communities as a whole who also suffer from pollution.
"If research continues to support this hypothesis, we probably need to reconsider our current ways of managing coastal nutrients," study co-author Kyle Van Houtan said in the release.
YOU MIGHT ALSO LIKE
People's Consumptive Demands Undermine Planet's Life-Support Systems
35,000 Walruses Invade Alaska Beach As Climate Change Melts Sea Ice
EcoWatch Daily Newsletter
Environmental Investigation Agency
Last week, the Peruvian Palm Oil Producers' Association (JUNPALMA) promised to enter into an agreement for sustainable and deforestation-free palm oil production. The promise was secured by the U.S. based National Wildlife Federation (NWF) in collaboration with the local government, growers and the independent conservation organization Sociedad Peruana de Ecodesarrollo.
Pixabay
Leaked documents show that Jair Bolsonaro's government intends to use the Brazilian president's hate speech to isolate minorities living in the Amazon region. The PowerPoint slides, which democraciaAbierta has seen, also reveal plans to implement predatory projects that could have a devastating environmental impact.
XL CATLIN SEAVIEW SURVEY / THE OCEAN AGENCY
Hope may be on the horizon for the world's depleted coral reefs thanks to scientists who successfully reproduced endangered corals in a laboratory setting for the first time, according to Reuters.
Last week we received positive news on the border wall's imminent construction in an Arizona wildlife refuge. The Trump administration delayed construction of the wall through about 60 miles of federal wildlife preserves.
PhotoAlto / Frederic Cirou / Getty Images
Drinking water treated with fluoride during pregnancy may lead to lower IQs in children, a controversial new study has found.
National Institude of Allergy and Infectious Disease
A Greenpeace rally calls for a presidential campaign climate debate on June 12 in Washington, DC. Sarah Silbiger / Getty Images