This website uses cookies to ensure you get the best experience while browsing it. By clicking 'Got It' you're accepting these terms.
Green Party Presidential Candidate Arrested in TransCanada Keystone XL Tar Sands Blockade
Oct. 31, 2012 09:26AM EST
Energy
UPDATE:
provided by Janet MacGillivray via DeSmogBlog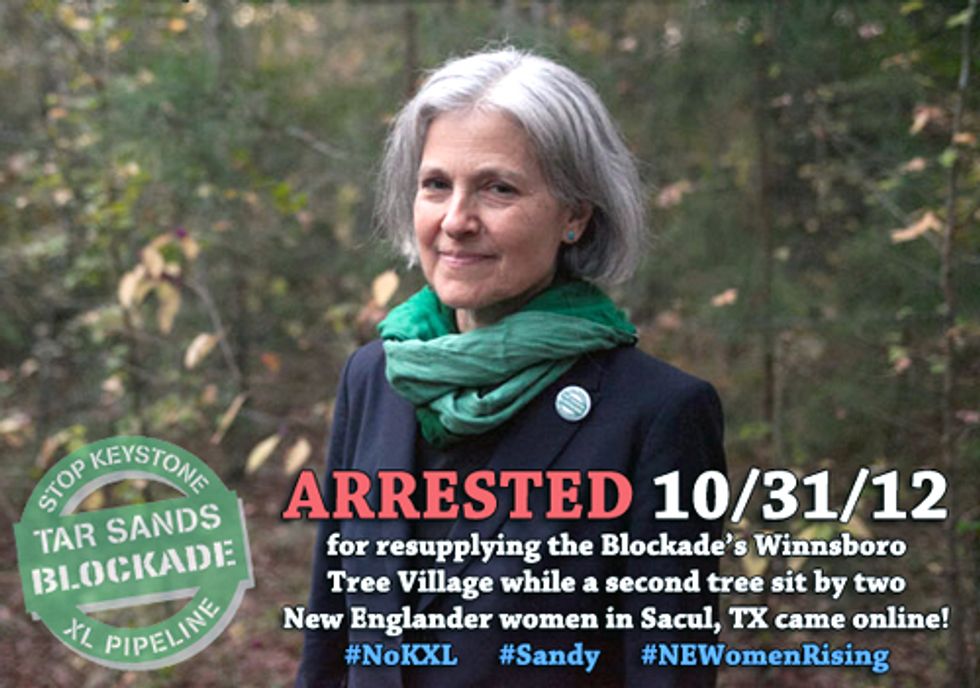 Less than one week before the U.S. election, Green Party Presidential Candidate Dr. Jill Stein has been arrested for literally walking the walk in her stance against dirty oil and corporate politicking. Dr. Stein was detained while standing with peaceful Tar Sands Blockade protestors entering the 38th day of the Texas standoff against TransCanada Corporation's Keystone XL export pipeline. She awaits processing at the Wood County jail.
In the devastating wake of Hurricane Sandy, which has killed at least 120 people in the U.S. and the Caribbean, and caused "almost incalculable" billions of dollars in damages, Dr. Stein traveled to Texas to re-supply tree sitters in Winnsboro, Texas along the southern route of the Obama Administration's fast-tracked tar sands freeway.
Stein issued a statement prior to her arrest:
"I'm here to connect the dots between super storm Sandy and the record heat, drought, and fire we've seen this year—and this Tar Sands pipeline, which will make all of these problems much worse. And I'm here to connect the dots between climate devastation and pipeline politicians—both Obama and Romney —who are competing, as we saw in the debates, for the role of Puppet In Chief for the fossil fuel industry. Both deserve that title. Obama's record of 'drill baby drill' has gone beyond the harm done by George Bush. Mitt Romney promises more of the same."
Stay tuned for more details of the arrests today, and keep up with the latest at the Tar Sands Blockade website.
ORIGINAL POST:
As Hurricane Sandy pushes further inland to devastate Appalachia and Canada, three women from New England, including Green Party Presidential Candidate Dr. Jill Stein, are risking arrest to highlight the Keystone XL tar sands pipeline's connection to extreme weather events and climate change. Dr. Stein, a Massachusetts resident, is resupplying tree sitters in Winnsboro, Texas as two women from New England launch a new tree blockade a few hours to the south near Sacul, Texas. The Winnsboro tree blockade has sustained resistance to the Keystone XL pipeline for 38 days.
"The climate is taking this election by storm, breaking the silence of the Obama and Romney campaigns that have been bought and paid for by the oil, coal and gas companies," said Dr. Stein. "Hurricane Sandy is just a taste of what's to come under the climate destroying policies of Romney and Obama. We must stand up now and call for climate solutions and green prosperity. The blockaders are heroes. They are on the front line of stopping even worse climate storms in the future."
Now blocking the Keystone XL tar sands pipeline from two new tree platforms in Sacul, Texas to the northwest of Nacogdoches are a 24-year-old duo of lifelong New England residents, Pika from Vermont and Lauren from New Hampshire. Their platforms are suspended in trees on either side of a Keystone XL highway crossing and are tied to heavy equipment, effectively immobilizing the equipment to the north and south of the crossing. Both were driven to participate with Tar Sands Blockade after witnessing the extraordinary hardship of extreme weather on their communities and extended families.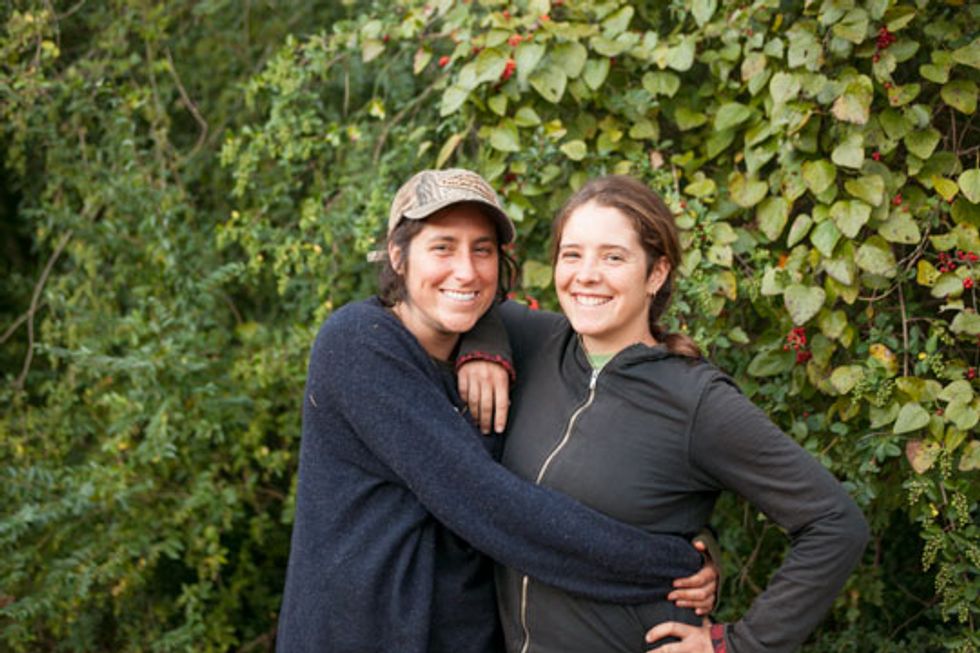 "Just a year ago, Vermont was hit really hard by Hurricane Irene. I spent months helping friends and family clean out basements and rebuild houses that were completely destroyed by flooding," shared Pika. "I have extended family in Arizona and Colorado who have been just crushed by the drought and the forest fires that have been happening in the last few years. I came here because this is one of the foremost campaigns against the most destructive resource extraction industry at the root of the climate crisis we are living in today."
Lauren added, "I've always held the environment in the fore of my mind, but I haven't always been as sensitive to the personal stories of people directly impacted by pollution as I am today. Knowing that the ruin in my home state from Sandy only stands to be amplified by the toxic, leaky Keystone XL and the extreme impact of carbon emissions from ongoing tar sands development; joining with folks from all across the political spectrum to stop it; it's a powerfully humanizing process."
Tar Sands Blockade is a coalition of Texas and Oklahoma landowners and climate justice organizers using peaceful and sustained civil disobedience to stop the construction of TransCanada's Keystone XL tar sands pipeline.
"From the protesters defending the coast in British Columbia to the coastal residents of New England, Tar Sands Blockade stands in solidarity with communities across the continent threatened by climate change," said Cindy Spoon, lifelong Texan and spokesperson for the Blockade. "Texas continues to suffer from the consequences of extreme drought and record setting wildfires. Defending our homes from destructive corporations like TransCanada is the best way to guard against a future of runaway climate change. The Keystone XL tar sands pipeline will only exacerbate the extraordinary climate challenges we face today."
Visit EcoWatch's KEYSTONE XL page for more related news on this topic.
EcoWatch Daily Newsletter
A pangolin at a rescue center in Cambodia. Rhett A. Butler / Mongabay
A man carries plastic shopping bags in Times Square on May 5, 2018 in New York City. Kena Betancur / VIEWpress / Corbis / Getty Images
White gold man-made diamond solitaire engagement ring. Clean Origin
While keeping track of the new trends in the diamond industry can be hard, it is still an essential task of any savvy consumer or industry observer. Whether you are looking to catch a deal on your next diamond purchase or researching the pros and cons of an investment within the diamond industry, keeping up with the trends is imperative.
Rep. Alexandria Ocasio-Cortez (D-NY) (C) chants with housing and environmental advocates before a news conference to introduce legislation to transform public housing as part of her Green New Deal outside the U.S. Capitol Nov. 14, 2019 in Washington, DC. Chip Somodevilla / Getty Images
Rep. Alexandria Ocasio-Cortez (D-N.Y.) took to the floor of the House of Representatives yesterday to chide Republicans for not reading the Green New Deal, which she introduced over one year ago, as The Hill reported. She then read the entire 14-page document into the congressional record.
Anti Ivan Duque's demonstrator is seen holding a placard with the photos of social leader Alirio Sánchez Sánchez and the indigenous Hector Janer Latín, both killed in Cauca, Colombia during a protest against Ivan Duque visit in London which included a meeting about fracking, environmental issues, the peace process implementation, and questioning the risk that social leaders in Colombia face. Andres Pantoja / SOPA Images / LightRocket / Getty Images
Colombia was the most dangerous nation in 2019 to be an environmental activist and experts suspect that conditions will only get worse.