This website uses cookies to ensure you get the best experience while browsing it. By clicking 'Got It' you're accepting these terms.
Green Infrastructure Helps Communities Thrive
Apr. 13, 2012 08:41AM EST
Energy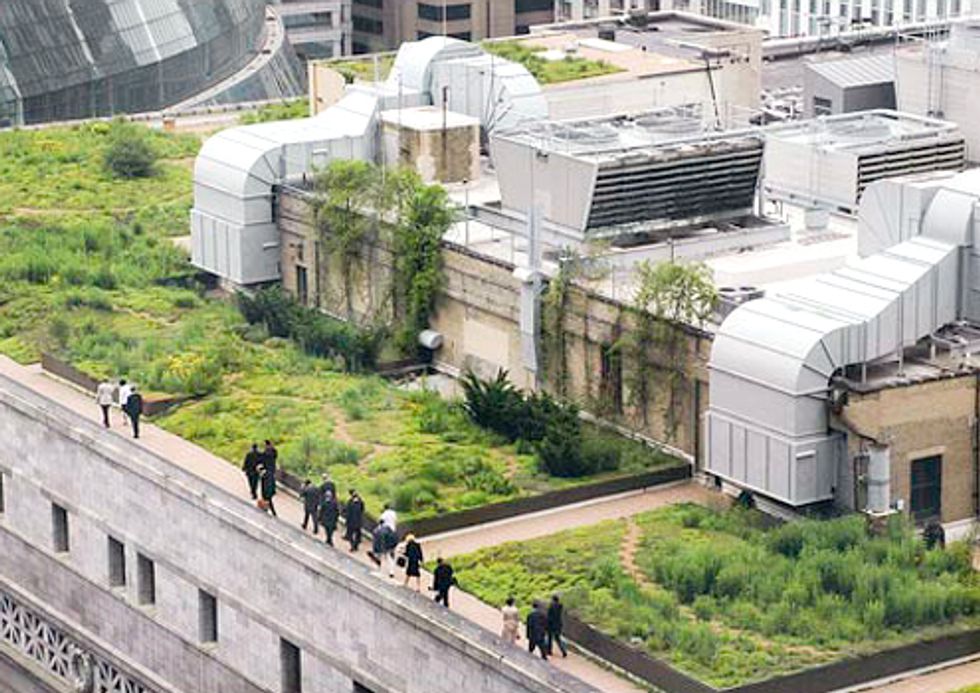 Communities looking for the most cost-effective options for managing polluted runoff and protecting clean water should choose green infrastructure solutions, according to a report released April 12 by American Rivers, the Water Environment Federation (WEF), the American Society of Landscape Architects (ASLA) and ECONorthwest.
The report, Banking on Green: How Green Infrastructure Saves Municipalities Money and Provides Economic Benefits Community-wide, demonstrates that green infrastructure practices can offer more cost-effective solutions relative to traditional infrastructure approaches. The report also details additional potential benefits of green infrastructure such as lower energy expenses, reduced flood damage and improved public health.
Green infrastructure refers to practices like green roofs, rain gardens, bioswales and pervious pavement that capture and treat rainwater and runoff. These measures reduce the amount of polluted runoff—the water that mixes with oil, pesticides and other pollutants as it rushes over streets, parking lots and yards into local streams.
"Polluted runoff is a pervasive threat to clean rivers and streams nationwide," said Chris Williams, senior vice president for Conservation at American Rivers. "Communities across the country are protecting their water resources with green infrastructure. It effectively reduces pollution, saves money and delivers other benefits like flood damage prevention and improved public health."
"WEF was pleased to be part of this important project," said Jeff Eger, executive director of WEF. "We strongly support innovative green infrastructure solutions, which can be economically effective ways to protect and sustain our valuable water resources. Case studies shared in this report should be helpful to communities around the country and are from areas where green infrastructure is already making a difference."
"For many decades, landscape architects have been helping communities large and small manage their stormwater with innovative green infrastructure solutions such as green roofs, rain gardens, bioswales and pervious pavements," said Nancy Somerville, executive vice president of the American Society of Landscape Architects. "The case studies and the cost analysis in this white paper clearly demonstrate that green infrastructure techniques are proven and cost effective at managing stormwater, preventing flooding, improving water quality and promoting public health. Landscape architects will continue to implement these projects in more and more neighborhoods across the country."
"This report addresses the real economic tradeoffs facing local utilities and developers as they consider green vs. conventional infrastructure," said Mark Buckley, managing director of ECONorthwest.
The report features case studies from cities saving money and enjoying the other benefits of green infrastructure. For example, New York City's plan to reduce combined sewage overflows will save an estimated $1.5 billion over 20 years by incorporating green infrastructure rather than relying solely on traditional gray infrastructure like massive pipes. In Louisiana, a high school in Baton Rouge spent $110,000 on bioswales and a rain garden to reduce flooding rather than the $500,000 it would have cost to re-pipe the site.
The report's top findings are as follows:
Not only can the green infrastructure option cost less, but these practices can further reduce costs of treating large amounts of polluted runoff.
Green infrastructure can help municipalities reduce energy expenses.
Green infrastructure can reduce flooding and related flood damage.
Green infrastructure improves public health—it reduces bacteria and pollution in rivers and streams, preventing gastrointestinal illnesses in swimmers and boaters.
American Rivers also launched "Get More Green," an online calculator tool that lets people determine how much money and water they can save by greening a particular rooftop.
For more information, click here.
EcoWatch Daily Newsletter
A new study shows that half of all Arctic warming and corresponding sea-loss during the late 20th century was caused by ozone-depleting substances. Here, icebergs discharged from Greenland's Jakobshavn Glacier. Kevin Krajick / Earth Institute /
EurekAlert!
The world awakened to the hole in the ozone layer in 1985, which scientists attributed it to ozone depleting substances. Two years later, in Montreal, the world agreed to ban the halogen compounds causing the massive hole over Antarctica. Research now shows that those chemicals didn't just cut a hole in the ozone layer, they also warmed up the Arctic.
Diane Wilson holds up a bag full of nurdles she collected from one of Formosa's outfall areas on Jan. 15. Julie Dermansky / DeSmogBlog
On the afternoon of Jan. 15, activist Diane Wilson kicked off a San Antonio Estuary Waterkeeper meeting on the side of the road across from a Formosa plastics manufacturing plant in Point Comfort, Texas.
After Wilson and the waterkeeper successfully sued Formosa in 2017, the company agreed to no longer release even one of the tiny plastic pellets known as nurdles into the region's waterways. The group of volunteers had assembled that day to check whether the plant was still discharging these raw materials of plastics manufacturing.
Malaysian Environment Minister Yeo Bee Yin (front 2nd L) and officials inspect a container containing plastic waste shipment on Jan. 20, 2020 before sending back to the countries of origin. AFP via Getty Images
The Southeast Asian country Malaysia has sent 150 shipping containers packed with plastic waste back to 13 wealthy countries, putting the world on notice that it will not be the world's garbage dump, as CNN reported. The countries receiving their trash back include the United States, the United Kingdom, France and Canada.
Trump leaves after delivering a speech at the Congress Centre during the World Economic Forum annual meeting in Davos on Jan. 21, 2020. JIM WATSON / AFP via Getty Images