This website uses cookies to ensure you get the best experience while browsing it. By clicking 'Got It' you're accepting these terms.
Green Car Guide: Understanding the History and Future of Hybrids and EVs
Apr. 03, 2014 08:21AM EST
Business
Without fanfare or an exact date, a collective automotive epiphany took place a decade ago. Nearly every major carmaker was in on it, except for Toyota. The Japanese manufacturer had its own environmental awakening 17 years ago when it introduced its first hybrid car.
Toyota unveiled its gas-electric engine in Japan in 1997, and then brought it to the U.S. market in 2000. It wasn't the first electric or hybrid car available in the U.S.; Honda introduced the Insight seven months earlier but in limited supply. But the Toyota Prius was the first mass-produced gasoline-electric hybrid car, and the auto industry hasn't been the same since.
Combining the increasing influence of the environmental movement, pending federal regulations for increased fuel efficiency and wishful thinking for diminishing reliance on foreign fuel, the rest of auto industry now gets it. The "greening of the mainstream" means one thing to automakers—game on.
Green Competition
The Prius, which has expanded into a family of Prius offerings, still nearly outsells all other hybrid, alternative fuel, and electric cars combined. The Detroit News reported that Toyota products represented about 60 percent of 2013 alternative fuel vehicles sales in the U.S.
According to the Alternative Fuels and Advance Data Center, since the debut of hybrid cars in the U.S., the Toyota Prius family of hybrids has sold 1,537,609 units. The remaining hybrid manufacturers combined have sold 1,550,352.
But now there's plenty of competition. Honda embraced the new technology first with the odd-looking, peanut-sized Insight. It was largely a novelty, and its lack of success was reflected in a review in The New York Times, which, in part, read that the car's style "suggested Popeye's pal, Olive Oyl, in her ankle-length dress."
In 2009, three years after Honda ended the first generation of the Honda Insight, the redesigned second generation arrived. It no longer resembled a peanut, but rather a stylish small sedan. Nearly simultaneously other stalwarts manufacturers did the same. Mainstays like the Chevy Malibu, Ford Escape, and even the Cadillac Escalade were all expanded to offer hybrid models.
Much has happened since. In 2013, nearly 60 hybrid cars and trucks were available in the U. S., with about 500,000 units sold. While expanding, hybrids sales still represented only 3.81 percent of the vehicles sold in the U.S. last year, according to the Electronic Drive Transportation Association. But hybrid vehicles or smaller car with better fuel efficiency, pending federal mandates should mean additional sales.
Green Growth
In accordance to legislation finalized by the Obama Administration in August 2012, a new car in the U.S. must average 35.5 miles per gallon (mpg) by 2016. The mpg average must increase to 54.5 by 2025.
The growth of alternative fuel vehicles is promising, according to J.D. Power and Associates, the global market research firm. It reports by 2025, more than one-third of passenger vehicles will be equipped with alternative powertrains and operated with alternative fuels. About 17.5 percent of the vehicles will be hybrid gas/electric hybrids powertrains (HEVs) and plug-in hybrids.
Plug-in electric hybrids will comprise about a five percent share. Availability of hybrid and electric vehicles will more than double the current variety by 2016 to 159 models in the U.S.
Green Promotion
It wasn't until 2010 when Nissan and Chevrolet began heavily marketing their new offering that the eco-car segment gained a national buzz. Unveiled nearly simultaneously, the Nissan Leaf and Chevy Volt competed for the public's attention with massive advertising campaigns. Nissan, which has received a 99 mpg electric equivalency for the Leaf, sponsored the cycling team of pro cyclist Lance Armstrong. It then hired the now dethroned seven-time Tour de France winner as a commercial pitchman and gave him the first Leaf. The automaker then "replaced" Armstrong with a polar bear. It lumbered through neighborhoods and hugged the driver of a new Leaf in the owner's driveway.
Chevrolet chose actor-comedian Tim Allen as the voice of its first commercial pitch for the Volt and chose an Americana theme.
"This isn't a country where plans made at 9 necessarily apply at 5. This is America, man," said Allen in the commercial. "Home of the highway, last-minute detours, and spontaneous acts of freedom. We're wanderers, wayfarers, even nomads. So doesn't it just make sense that we build an electric car that goes far? Really far."
Chevrolet, which manufactured 45,000 Volts in its first full year, said the car had driving range of up to 379 miles. It was capable of 35 miles on a full electric charge, and an additional 344 miles on its gas-powered engine/generator.
Tesla, the Bay Area-based manufacturer, debuted its all-electric, super-quick, but limited, production Roadster in 2006. It's gained substantial attention for its superior acceleration, innovation and its outspoken owner, Elon Musk.
Automakers carefully choose when and how they've debuted new models, although most often it occurs at various auto shows around the country throughout the year. Ford in 2011, unveiled the Focus Electric, C-Max Energi and C-Max Hybrid, all manufactured at Ford's high profile, overhauled Michigan Assembly plant. Honda, whose Civic has been the country's second-best selling (albeit far behind the Prius) hybrid for several years, announced in 2011 the Civic's first complete redesign, including a hybrid model, since 2006.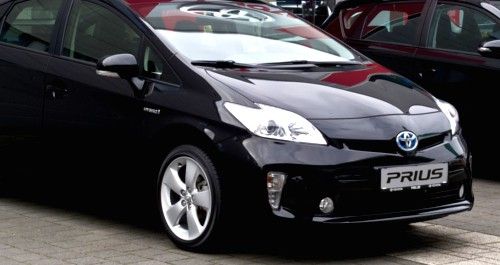 Ford was the last major manufacturer to enter the hybrid competition. Its celebrity endorser was Ed Begley, Jr. In his new collaboration with Ford, the actor, a noted environmentalist, showcased his "green" lifestyle pointedly on television and in print media. In a three-and-a-half-minute video, which debuted in conjunction with the carmaker's new electric offerings at the Detroit Auto Show, the actor poked fun at several other manufacturers' electric and hybrid offerings. But so far, the last laugh is on the eco-car industry.
Like the Toyota Camry and Chevy Malibu, the Honda Civic gas edition is perennially among the country's best-selling cars. While Honda's redesign of the Civic touting an estimated 51 mpg in 2012, Ford hoped to seriously compete with the Prius with its C-Max. It hasn't been much of a competition yet.
Green Future
The unfortunate irony is that while many additional major manufacturers, from Audi to Porsche and BMW to Volkswagen, all have hopes to provide competition for the Prius, with new hybrids and other alternative fuel cars, there's one certainty: All manufacturers embracing hybrid and eco-friendly technology are vying for a still-small share of the market.
——–
YOU ALSO MIGHT LIKE
Elon Musk Tells '60 Minutes' About How Tesla Can Change the World
White House Releases Historic Fuel Efficiency and Carbon Pollution Standards
3 Challenges to Overcome to Grow the EV Market
——–
EcoWatch Daily Newsletter
Explosions and a blaze at the Philadelphia Energy Solutions Refining Complex on June 21.
VOA News / YouTube screenshot
A fire broke out at a Philadelphia oil refinery Friday morning, starting with an explosion so massive it was felt as far away as South Jersey and Delaware County, Pennsylvania, CNN reported.
Asian elephants in Bandipur National Park, India. Mike Prince / CC BY 2.0
By John R. Platt
Some of the tiniest creatures in Myanmar benefit from living near the largest species in the area.
Eucador's Waorani indigenous people celebrated a court ruling against oil extraction on their ancestral lands.
Oregon state capitol. Tashka / iStock / Getty Images
Oregon republicans fled their state rather than do anything to stop the climate crisis. The state republicans abrogated their duties as elected officials and ran away since they don't have the votes to stop a landmark bill that would make Oregon the second state to adopt a cap-and-trade program to curb greenhouse gas emissions, as Vice News reported.
The Burbo Bank Offshore Wind Farm in the Irish Sea in Wallasey, England. Christopher Furlong / Getty Images
The birthplace of coal power is changing its ways. For the first time since the industrial revolution, the United Kingdom will generate more electricity from clean energy sources like wind, solar and nuclear power rather than from fossil fuel plants, the country's National Grid said Friday, as the BBC reported.
A chimpanzee in Ol Pejeta Conservancy, Kenya. Ray in Manila / CC BY 2.0
By Ashley Edes
Whether you find it fascinating or disquieting, people recognize the inherent similarities between us and our closest primate relatives, especially the great apes. As a primatologist I regularly field questions ranging from how strong gorillas and chimpanzees are (very) to whether monkeys throw poop (not yet observed in the wild) to how smart they are (let's just say I can't compete with their puzzle-solving abilities).