This website uses cookies to ensure you get the best experience while browsing it. By clicking 'Got It' you're accepting these terms.
Grazing Animals Could Save Biodiversity in Over-Fertilized Grasslands Worldwide
Mar. 11, 2014 10:42AM EST
A study of grasslands on six continents suggests a way to counteract the human-made overdose of fertilizer that threatens to permanently alter the biodiversity of the world's native prairies.
The solution is one that nature devised: let grazing animals crop fast growing grasses that can out-compete native plants in an over-fertilized world. Grazing works in a way that is also natural and simple. The herbivores—or grazing and browsing animals—feed on tall grasses that block sunlight from reaching the ground, making the light available to other plants.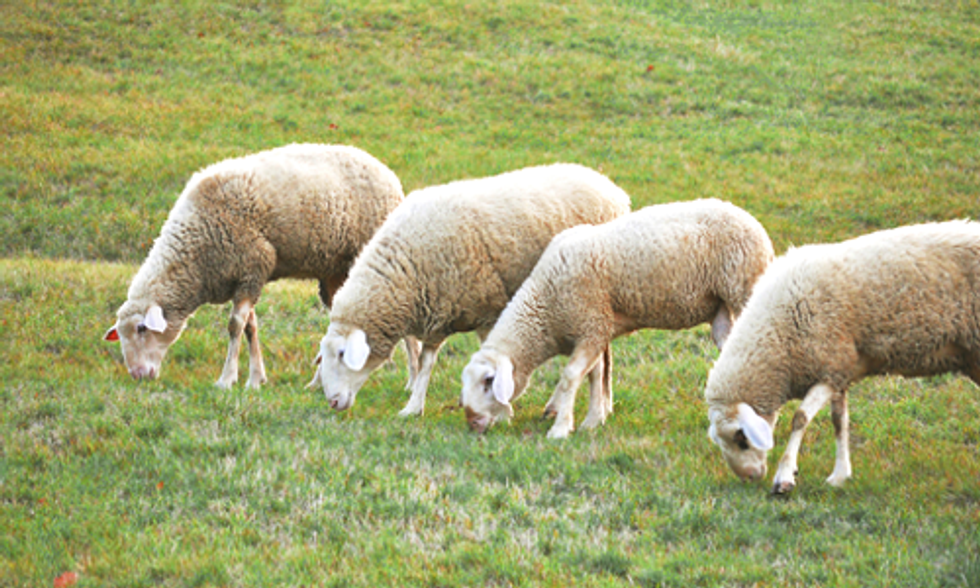 Photo courtesy of Shutterstock
That's the key finding of a five-year study carried out at 40 different sites around the world and scheduled for online publication March 9, 2014 in the journal Nature. More than 50 scientists belonging to the Nutrient Network (which participants have nicknamed NutNet), a team of scientists studying grasslands worldwide, co-authored the study.
"This study has tremendous significance because human activities are changing grasslands everywhere," said study co-author Daniel S. Gruner, associate professor of entomology at the University of Maryland. "We're over-fertilizing them, and we're adding and subtracting herbivores. We have a worldwide experiment going on, but it's completely uncontrolled."
Gruner, a member of NutNet since its founding in 2006, helped plan the worldwide study and analyze its results. Elizabeth Borer of the University of Minnesota was the study's lead author.
The UN Food and Agricultural Organization estimates that grasslands cover between one-fifth and two-fifths of the planet's land area and are home to more than one-tenth of humankind. But like all plant communities, grasslands are suffering from too much fertilizer.
As humans burn fossil fuels, dose crops with chemical fertilizers and dispose of manure from livestock, they introduce extra nitrogen and other nutrients into the soil, air and water. The excess is a special problem for grasslands, where many plants, like annual wildflowers and others, have adapted to low nutrient levels. They often struggle to compete against grasses that use the extra nutrients to grow faster and bigger.
At the same time, grasslands worldwide are being converted to pastures for domestic animals, with native grazers like elk and antelope giving way to cattle and sheep.
Ecological theory asserts that grazers can counteract the effects of over-fertilizing in most cases, but the theory has never been broadly tested, Gruner said. To do that, the NutNet scientists ran essentially the same experiment worldwide, marking off test plots in groups of four at each of 40 sites. In each group, one plot was fenced to keep grazing animals out. One was treated with a set dose of fertilizers, to mimic the effect of excess nutrients from human sources, but was not fenced so the animals could graze. One was both fenced and fertilized. And one was left alone.
The researchers did not try to alter the test sites' animal populations. In some places native animals were abundant. At others they'd been mostly replaced by domestic animals like cattle, goats and sheep. And still others were former pastures where livestock had browsed in the past, but were no longer there.
In general, where fertilizer was added and grazing animals were kept out, the variety of plants in the experimental plots decreased. Where animals were allowed to graze in the fertilized plots, plant diversity generally increased. The researchers' data analysis concluded that the grazers improved biodiversity by increasing the amount of light reaching ground level.
Grassland plants have evolved a variety of strategies to take advantage of a setting where nutrients are in short supply and inconsistently available. They may be ground-hugging, or ephemeral, or shoot up when they capture a nutrient pulse, Gruner explained. These differing strategies create a diverse grassland ecosystem.
In the human-altered world where nutrients are always plentiful, plants that put their effort into growing tall to capture sunlight have an advantage. They block the sunlight from reaching most other plant species, which cannot grow or reproduce. But grazing animals cut down the light-blocking plants and give the others a chance to bloom.
"Where we see a change in light, we see a change in diversity," said Borer, the lead author. "Our work suggests that two factors which humans have changed globally, grazing and fertilization, can control ground-level light. Light appears to be very important in maintaining or losing biodiversity in grasslands."
The effect was greatest where large animals, wild and domesticated, grazed on the test plots: cattle, pronghorn and elk on North America's Great Plains; wildebeests and impala on Africa's Serengeti; and horses, sheep and ibex in rural India. In places where the only grazers were small animals like rabbits, voles and gophers, the grazers' effect was weak and variable.
Visit EcoWatch's BIODIVERSITY page for more related news on this topic.

EcoWatch Daily Newsletter
Penguins are seen near the Great Wall station in Antarctica, Feb. 9, days after the continent measured its hottest temperature on record at nearly 65 degrees Fahrenheit. Xinhua / Liu Shiping / Getty Images
By Richard Connor
Scientists have recorded Antarctica's first documented heat wave, warning that animal and plant life on the isolated continent could be drastically affected by climate change.
The Athos I tanker was carrying crude oil from Venezuela when a collision caused oil to begin gushing into the Delaware River.
U.S. Department of the Interior
A case that has bounced around the lower courts for 13 years was finally settled yesterday when the U.S. Supreme Court upheld a lower court decision, finding oil giant Citgo liable for a clean up of a 2004 oil spill in the Delaware River, according to Reuters.
The buildings of downtown Los Angeles are partially obscured in the late afternoon on Nov. 5, 2019, as seen from Pasadena, California, a day when air quality for Los Angeles was predicted to be "unhealthy for sensitive groups." Mario Tama / Getty Images
The evidence continues to build that breathing dirty air is bad for your brain.
Wave power in Portugal. The oceans' energy potential is immense. Luis Ascenso, via Wikimedia Commons
By Paul Brown
The amount of energy generated by tides and waves in the last decade has increased tenfold. Now governments around the world are planning to scale up these ventures to tap into the oceans' vast store of blue energy.
Yellowstone National Park closed to visitors on March 24, 2020 because of the Covid-19 virus threat. William Campbell-Corbis via Getty Images
When the novel coronavirus started to sweep across the country, the National Park Service started to waive entrance fees. The idea was that as we started to practice social distancing, Americans should have unfettered access to the outdoors. Then the parking lots and the visitor centers started to fill up, worrying park employees.