This website uses cookies to ensure you get the best experience while browsing it. By clicking 'Got It' you're accepting these terms.
Grassroots Organizations Mobilize to Meet Community Water Needs Following WV Chemical Spill
Feb. 28, 2014 01:40PM EST
Last month, an estimated 10,000 gallons of the coal-processing chemical MCHM, along with an unknown amount of a second substance called PPH, spilled into West Virginia's Elk River—just upstream from a municipal water intake that serves nine counties. Freedom Industries, the company responsible for the spill, neglected to report it, despite some residents claiming to have smelled the chemicals as far back as December. After repeated complaints of a strong licorice-like smell, state inspectors literally followed their noses to the source. It wasn't until many hours later that the water company and government agencies finally warned residents to avoid any contact with water—aside from flushing toilets and putting out fires.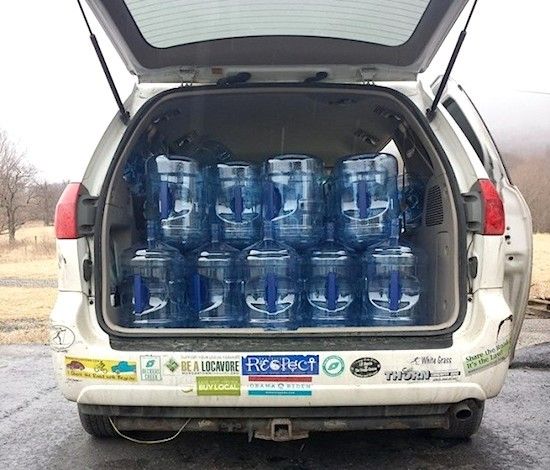 In the seven weeks since the disaster that has left 300,000 people unsure about the safety of their water, confusion and anger have mounted, and an estimated 400 people have been sent to the hospital. While government and industry have been slow to respond to the needs of the people, some remarkable community organizing has taken place, drawing on West Virginia's long, proud history of grassroots work for environmental and economic justice—including powerful work against the abuses of the chemical and coal industries responsible for the spill.
Only a few hours after news of the spill began trickling out, a grassroots group called WV Clean Water Hub had already begun organizing water deliveries through its Facebook page. That quickly turned into a massive community-organized effort supported by new volunteers, as well as long-established grassroots groups in West Virginia—including Aurora Lights, Coal River Mountain Watch, Keeper of the Mountains Foundation, Ohio Valley Environmental Coalition and RAMPS. By working to identify communities in need of clean water and supplies, as well as connecting affected communities with volunteers and donors, this wiki-style relief effort has filled the gap left by larger relief organizations.
"There is so much bureaucracy [at the larger relief organizations] that communities fall through the cracks," said Nate May, a volunteer organizer with WV Clean Water Hub. "We're hearing directly from the people who need the water. Someone will post on the Facebook page that they need water and we'll make a meme out of it. Then someone else will post when they can deliver some."
In many communities, the water was officially declared safe for all but pregnant women within a week of the spill, but residents are still experiencing adverse reactions to touching or smelling the water coming from their taps. Some government officials recommend against exposure, while others just say to be cautious.
"The stories that get me the most are the stories of mothers with children who are sick and asking why the state is not considering it an emergency," said Jen Osha-Buysse, a volunteer organizer with Aurora Lights. "I have spoken with many families who haven't been able to work in the weeks since the chemical spill. They can't just not buy water, but they also can't afford to buy food or pay heating bills in the freezing weather."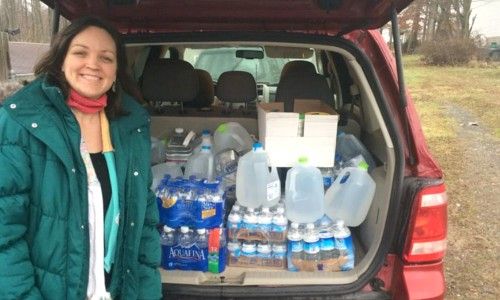 The WV Clean Water Hub has been led largely by environmental groups, which can be a source of tension in communities that have been split by the "jobs vs. environment" myth perpetuated by the coal industry. However, the crisis has inspired many to ignore politics. For instance, landscaping companies have donated the use of their trucks, while schools, Girls Scouts, local unions, doctors' offices and others have collected donations of water and baby supplies.
"We don't want to polarize or politicize it," May explained. "The concern is if we make it about our issue, then it feels like missionary work or like we're trying to buy people, but clean water is an unconditional right."
While some volunteers have encountered a few sharp questions from self-identified "coal-huggers," the reception has largely been warm.
"Giving out water has been a way to connect on a personal level and share that we both are fed up by the government and no longer trust the people in charge," May said.
Beyond the massive effort to deliver clean water, there has been an unprecedented surge of interest in organizing for long-term solutions.
"Shortly after the spill, we started a weekly roundtable of progressive groups in Charleston," said Cathy Kunkel, an independent policy consultant on West Virginia energy issues and the founder/co-editor of OurWaterWV.org. "At first our focus was just on sharing information because there was so much misinformation. Now we are looking at what a longer-standing coalition with long-term political goals might look like."
One outcome of these new partnerships was a protest hosted by the NAACP and Ohio Valley Environmental Coalition, where hundreds of consumers reverse-billed the water company that serves the nine counties affected by the spill. While the West Virginia American Water Company might be seen as an unwitting victim of the spill, the international for-profit company's blundering response has included sending tankers full of the polluted water into communities instead of usable relief water and providing only a $10 credit to customers and businesses. The action to recoup the costs of having to drive miles to collect drinking water, do laundry and take showers is just one of many examples of groups from different, often isolated areas of work coming together on this issue.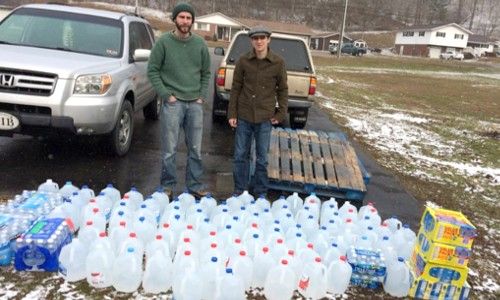 In addition to the coordination of long-standing groups, there has also been an overwhelming amount of spontaneous community organizing, including the formation of a rainwater catchment organization, a moms for clean water group, various organizations of concerned small businesses, and even a fashion show to raise money for water deliveries. These diverse responses reflect the diversity of the communities that have been impacted. While the coal and chemical industry have caused toxic water in isolated rural areas for decades, this time, reporters covering the story, public health experts, and even Public Service Commission employees in charge of water regulation are all personally dealing with blue-tinted water that smells distinctly like licorice.
"Unless you work for a coal industry attorney, this spill has hurt your business and your lifestyle," Kunkel said. "We're trying to maintain a calendar at OurWaterWV.org, and it's been a challenge. The day of the water company protest, there was another protest at the school board because several schools were opened just to be closed again after students and employees got sick from the water. It's powerful to see so much organizing."
According to Kunkel and others organizing in the area, the work has begun to focus on long-term goals over the last seven weeks, even as many organizers are exhausted with the toll of working at an emergency pace for weeks on end. Groups have outlined clear steps for politicians to take towards enforcement of the chemical and coal industry as well as beginning a campaign to engage the Public Service Commission, which regulates West Virginia American Water, to ensure that residents' health is put before water company profits.
"The relationships we developed through distributing water are an entry into working for longer term organizing in the communities," May said."We're not saying, 'I told you so.' We're asking, 'What are the problems you're facing besides the water? What happens when we draw lines between these problems?'"
Both experienced and new activists realize this is an important moment for West Virginia, and they are working to create long lasting momentum for change at the structural level.
"I've been thinking about pronoia—the opposite of paranoia—the belief that the world is in a conspiracy for your well being," May explained. "We assume that when we turn on the tap, someone is making sure the water is clean. Maybe this magical naive thinking is kind of necessary for a civil society, but we can't assume that the world is out to help us when that is not in the self interest of the people in charge."
Visit EcoWatch's WATER page for more related news on this topic.

EcoWatch Daily Newsletter
Plateau Creek near De Beque, Colorado, where land has been leased for oil and gas production. Helen H. Richardson / The Denver Post / Getty Images
By Randi Spivak
Slashing two national monuments in Utah may have received the most attention, but Trump's Interior Department and U.S. Forest Service have been quietly, systematically ceding control of America's public lands to fossil fuel, mining, timber and livestock interests since the day he took office.
Global SO2 Emission Hotspot Database / Greenpeace
A new report by Greenpeace International pinpointed the world's worst sources of sulfur dioxide pollution, an irritant gas that harms human health. India has seized the top spot from Russia and China, contributing nearly 15 percent of global sulfur dioxide emissions.
The huge surge this year in Amazon deforestation is leading some European countries to think twice about donations to the Amazon Fund. LeoFFreitas / Moment / Getty Images
By Sue Branford and Thais Borges
Ola Elvestrun, Norway's environment minister, announced Thursday that it is freezing its contributions to the Amazon Fund, and will no longer be transferring €300 million ($33.2 million) to Brazil. In a press release, the Norwegian embassy in Brazil stated:
Given the present circumstances, Norway does not have either the legal or the technical basis for making its annual contribution to the Amazon Fund.
Brazilian President Jair Bolsonaro reacted with sarcasm to Norway's decision, which had been widely expected. After an official event, he commented: "Isn't Norway the country that kills whales at the North Pole? Doesn't it also produce oil? It has no basis for telling us what to do. It should give the money to Angela Merkel [the German Chancellor] to reforest Germany."
According to its website, the Amazon Fund is a "REDD+ mechanism created to raise donations for non-reimbursable investments in efforts to prevent, monitor and combat deforestation, as well as to promote the preservation and sustainable use in the Brazilian Amazon." The bulk of funding comes from Norway and Germany.
The annual transfer of funds from developed world donors to the Amazon Fund depends on a report from the Fund's technical committee. This committee meets after the National Institute of Space Research, which gathers official Amazon deforestation data, publishes its annual report with the definitive figures for deforestation in the previous year.
But this year the Amazon Fund's technical committee, along with its steering committee, COFA, were abolished by the Bolsonaro government on 11 April as part of a sweeping move to dissolve some 600 bodies, most of which had NGO involvement. The Bolsonaro government views NGO work in Brazil as a conspiracy to undermine Brazil's sovereignty.
The Brazilian government then demanded far-reaching changes in the way the fund is managed, as documented in a previous article. As a result, the Amazon Fund's technical committee has been unable to meet; Norway says it therefore cannot continue making donations without a favorable report from the committee.
Archer Daniels Midland soy silos in Mato Grosso along the BR-163 highway, where Amazon rainforest has largely been replaced by soy destined for the EU, UK, China and other international markets.
Thaís Borges.
An Uncertain Future
The Amazon Fund was announced during the 2007 United Nations Climate Change Conference in Bali, during a period when environmentalists were alarmed at the rocketing rate of deforestation in the Brazilian Amazon. It was created as a way of encouraging Brazil to continue bringing down the rate of forest conversion to pastures and croplands.
Government agencies, such as IBAMA, Brazil's environmental agency, and NGOs shared Amazon Fund donations. IBAMA used the money primarily to enforce deforestation laws, while the NGOs oversaw projects to support sustainable communities and livelihoods in the Amazon.
There has been some controversy as to whether the Fund has actually achieved its goals: in the three years before the deal, the rate of deforestation fell dramatically but, after money from the Fund started pouring into the Amazon, the rate remained fairly stationary until 2014, when it began to rise once again. But, in general, the international donors have been pleased with the Fund's performance, and until the Bolsonaro government came to office, the program was expected to continue indefinitely.
Norway has been the main donor (94 percent) to the Amazon Fund, followed by Germany (5 percent), and Brazil's state-owned oil company, Petrobrás (1 percent). Over the past 11 years, the Norwegians have made, by far, the biggest contribution: R$3.2 billion ($855 million) out of the total of R$3.4 billion ($903 million).
Up till now the Fund has approved 103 projects, with the dispersal of R$1.8 billion ($478 million). These projects will not be affected by Norway's funding freeze because the donors have already provided the funding and the Brazilian Development Bank is contractually obliged to disburse the money until the end of the projects. But there are another 54 projects, currently being analyzed, whose future is far less secure.
One of the projects left stranded by the dissolution of the Fund's committees is Projeto Frutificar, which should be a three-year project, with a budget of R$29 million ($7.3 million), for the production of açai and cacao by 1,000 small-scale farmers in the states of Amapá and Pará. The project was drawn up by the Brazilian NGO IPAM (Institute of Environmental research in Amazonia).
Paulo Moutinho, an IPAM researcher, told Globo newspaper: "Our program was ready to go when the [Brazilian] government asked for changes in the Fund. It's now stuck in the BNDES. Without funding from Norway, we don't know what will happen to it."
Norway is not the only European nation to be reconsidering the way it funds environmental projects in Brazil. Germany has many environmental projects in the Latin American country, apart from its small contribution to the Amazon Fund, and is deeply concerned about the way the rate of deforestation has been soaring this year.
The German environment ministry told Mongabay that its minister, Svenja Schulze, had decided to put financial support for forest and biodiversity projects in Brazil on hold, with €35 million ($39 million) for various projects now frozen.
The ministry explained why: "The Brazilian government's policy in the Amazon raises doubts whether a consistent reduction in deforestation rates is still being pursued. Only when clarity is restored, can project collaboration be continued."
Bauxite mines in Paragominas, Brazil. The Bolsonaro administration is urging new laws that would allow large-scale mining within Brazil's indigenous reserves.
Hydro / Halvor Molland / Flickr
Alternative Amazon Funding
Although there will certainly be disruption in the short-term as a result of the paralysis in the Amazon Fund, the governors of Brazil's Amazon states, which rely on international funding for their environmental projects, are already scrambling to create alternative channels.
In a press release issued yesterday Helder Barbalho, the governor of Pará, the state with the highest number of projects financed by the Fund, said that he will do all he can to maintain and increase his state partnership with Norway.
Barbalho had announced earlier that his state would be receiving €12.5 million ($11.1 million) to run deforestation monitoring centers in five regions of Pará. Barbalho said: "The state governments' monitoring systems are recording a high level of deforestation in Pará, as in the other Amazon states. The money will be made available to those who want to help [the Pará government reduce deforestation] without this being seen as international intervention."
Amazonas state has funding partnerships with Germany and is negotiating deals with France. "I am talking with countries, mainly European, that are interested in investing in projects in the Amazon," said Amazonas governor Wilson Miranda Lima. "It is important to look at Amazônia, not only from the point of view of conservation, but also — and this is even more important — from the point of view of its citizens. It's impossible to preserve Amazônia if its inhabitants are poor."
Signing of the EU-Mercusor Latin American trading agreement earlier this year. The pact still needs to be ratified.
Council of Hemispheric Affairs
Looming International Difficulties
The Bolsonaro government's perceived reluctance to take effective measures to curb deforestation may in the longer-term lead to a far more serious problem than the paralysis of the Amazon Fund.
In June, the European Union and Mercosur, the South American trade bloc, reached an agreement to create the largest trading bloc in the world. If all goes ahead as planned, the pact would account for a quarter of the world's economy, involving 780 million people, and remove import tariffs on 90 percent of the goods traded between the two blocs. The Brazilian government has predicted that the deal will lead to an increase of almost $100 billion in Brazilian exports, particularly agricultural products, by 2035.
But the huge surge this year in Amazon deforestation is leading some European countries to think twice about ratifying the deal. In an interview with Mongabay, the German environment ministry made it very clear that Germany is very worried about events in the Amazon: "We are deeply concerned given the pace of destruction in Brazil … The Amazon Forest is vital for the atmospheric circulation and considered as one of the tipping points of the climate system."
The ministry stated that, for the trade deal to go ahead, Brazil must carry out its commitment under the Paris Climate agreement to reduce its greenhouse gas emissions by 43 percent below the 2005 level by 2030. The German environment ministry said: If the trade deal is to go ahead, "It is necessary that Brazil is effectively implementing its climate change objectives adopted under the [Paris] Agreement. It is precisely this commitment that is expressly confirmed in the text of the EU-Mercosur Free Trade Agreement."
Blairo Maggi, Brazil agriculture minister under the Temer administration, and a major shareholder in Amaggi, the largest Brazilian-owned commodities trading company, has said very little in public since Bolsonaro came to power; he's been "in a voluntary retreat," as he puts it. But Maggi is so concerned about the damage Bolsonaro's off the cuff remarks and policies are doing to international relationships he decided to speak out earlier this week.
Former Brazil Agriculture Minister Blairo Maggi, who has broken a self-imposed silence to criticize the Bolsonaro government, saying that its rhetoric and policies could threaten Brazil's international commodities trade.
Senado Federal / Visualhunt / CC BY
Maggi, a ruralista who strongly supports agribusiness, told the newspaper, Valor Econômico, that, even if the European Union doesn't get to the point of tearing up a deal that has taken 20 years to negotiate, there could be long delays. "These environmental confusions could create a situation in which the EU says that Brazil isn't sticking to the rules." Maggi speculated. "France doesn't want the deal and perhaps it is taking advantage of the situation to tear it up. Or the deal could take much longer to ratify — three, five years."
Such a delay could have severe repercussions for Brazil's struggling economy which relies heavily on its commodities trade with the EU. Analysists say that Bolsonaro's fears over such an outcome could be one reason for his recently announced October meeting with Chinese President Xi Jinping, another key trading partner.
Maggi is worried about another, even more alarming, potential consequence of Bolsonaro's failure to stem illegal deforestation — Brazil could be hit by a boycott by its foreign customers. "I don't buy this idea that the world needs Brazil … We are only a player and, worse still, replaceable." Maggi warns, "As an exporter, I'm telling you: things are getting very difficult. Brazil has been saying for years that it is possible to produce and preserve, but with this [Bolsonaro administration] rhetoric, we are going back to square one … We could find markets closed to us."
From Your Site Articles
Related Articles Around the Web
Aerial view of lava flows from the eruption of volcano Kilauea on Hawaii, May 2018. Frizi / iStock / Getty Images
Hawaii's Kilauea volcano could be gearing up for an eruption after a pond of water was discovered inside its summit crater for the first time in recorded history, according to the AP.
Gina Lopez, the Philippine secretary of the environment, at a meeting with residents affected by a mine tailing disaster. Keith Schneider
Gina Lopez, a former Philippine environment secretary, philanthropist and eco-warrior, died on Aug. 19 from brain cancer. She was 65.
Trump speaks to contractors at the Shell Chemicals Petrochemical Complex on Aug. 13 in Monaca, Pennsylvania. Jeff Swensen / Getty Images
Thousands of union members at a multibillion dollar petrochemical plant outside of Pittsburgh were given a choice last week: Stand and wait for a speech by Donald Trump or take the day off without pay.
By Simon Mui
States across the country are stepping up to make clean cars cheaper and easier to find. Colorado's Air Quality Control Commission (AQCC) voted Friday to adopt a Zero Emission Vehicle (ZEV) program that will increase the availability of electric vehicles in the state, improve air quality and increase transportation affordability.