This website uses cookies to ensure you get the best experience while browsing it. By clicking 'Got It' you're accepting these terms.
Dye Your Hair With 'Nontoxic' Graphene Nanoparticles? Not So Fast!
Mar. 25, 2018 07:00AM EST
Health + Wellness
Evgeny Savchenko / Shutterstock.com
By Andrew Maynard
Graphene is something of a celebrity in the world of nanoscale materials. Isolated in 2004 by Nobel Prize winners Andre Geim and Konstantin Novoselov, these ultrathin sheets of carbon atoms are already finding novel uses in areas like electronics, high-efficiency heating systems, water purification technologies and even golf balls. According to recent research published in the journal Chem, hair dyes can now be added to this list.
But how safe and responsible is this new use of the carbon-based wonder-material?
---
Northwestern University's press release proudly announced, "Graphene finds new application as nontoxic, anti-static hair dye." The announcement spawned headlines like, "Enough with the toxic hair dyes. We could use graphene instead," and "'Miracle material' graphene used to create the ultimate hair dye."
From these headlines, you might be forgiven for getting the idea that the safety of graphene-based hair dyes is a done deal. Yet having studied the potential health and environmental impacts of engineered nanomaterials for more years than I care to remember, I find such overly optimistic pronouncements worrying, especially when they're not backed up by clear evidence.
As the dye wears off, where do the nanoparticles go? Jiaxing Huang, Northwestern University, CC BY-ND
Tiny Materials, Potentially Bigger Problems
Engineered nanomaterials like graphene and graphene oxide (the particular form used in the dye experiments) aren't necessarily harmful. But nanomaterials can behave in unusual ways that depend on particle size, shape, chemistry and application. Because of this, researchers have long been cautious about giving them a clean bill of health without first testing them extensively. And while a large body of research to date doesn't indicate graphene is particularly dangerous, neither does it suggest it's completely safe.
A quick search of scientific papers over the past few years shows that, since 2004, more than 2,000 studies have been published that mention graphene toxicity; nearly 500 were published in 2017 alone.
This growing body of research suggests that if graphene gets into your body or the environment in sufficient quantities, it could cause harm. A 2016 review, for instance, indicated that graphene oxide particles could result in lung damage at high doses (equivalent to around 0.7 grams of inhaled material). Another review published in 2017 suggested that these materials could affect the biology of some plants and algae, as well as invertebrates and vertebrates toward the lower end of the ecological pyramid. The authors of the 2017 study concluded that research "unequivocally confirms that graphene in any of its numerous forms and derivatives must be approached as a potentially hazardous material."
These studies need to be approached with care, as the precise risks of graphene exposure will depend on how the material is used, how exposure occurs and how much of it is encountered. Yet there's sufficient evidence to suggest that this substance should be used with caution—especially where there's a high chance of exposure or that it could be released into the environment.
Unfortunately, graphene-based hair dyes tick both of these boxes. Used in this way, the substance is potentially inhalable (especially with spray-on products) and ingestible through careless use. It's also almost guaranteed that excess graphene-containing dye will wash down the drain and into the environment.
Here, due diligence is needed to ensure that the material is acceptably safe. This is something that goes beyond the seeming authority of a press release headline. In fact, such misleading headlines could end up being counterproductive, as they undermine efforts to demonstrate trustworthiness with consumers and investors.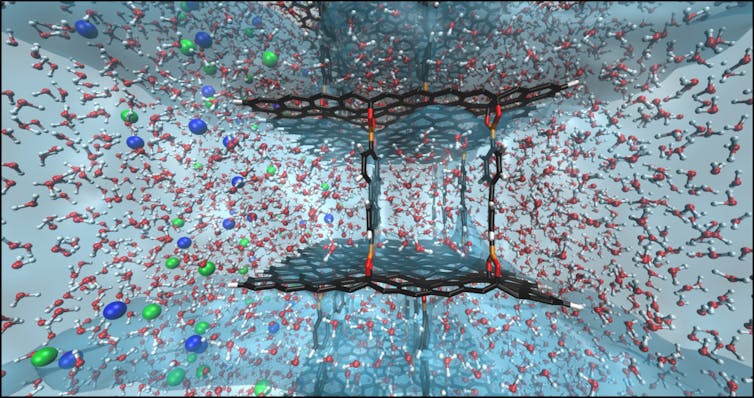 Simulation of a graphene oxide framework, pictured in black, to remove contaminants from water. Adrien Nicolaï / RPI, CC BY-NC-ND
Undermining Other Efforts?
I was alerted to just how counterproductive such headlines can be by my colleague Tim Harper, founder of G2O Water Technologies—a company that uses graphene oxide-coated membranes to treat wastewater. Like many companies in this area, G2O has been working to use graphene responsibly by minimizing the amount of graphene that ends up released to the environment.
Yet as Tim pointed out to me, if people are led to believe "that bunging a few grams of graphene down the drain every time you dye your hair is OK, this invalidates all the work we are doing making sure the few nanograms of graphene on our membranes stay put." Many companies that use nanomaterials are trying to do the right thing, but it's hard to justify the time and expense of being responsible when someone else's more cavalier actions undercut your efforts.
Here, naïve claims of safety and gung-ho approaches to promoting graphene-containing products could very easily threaten the responsible development and use of this material. And if companies pull back from acting responsibly, there's a danger that consumers, investors and even regulators will lose trust in their ability to ensure the safety of products of all kinds.
If this happens, consumers will be the ultimate losers. Used responsibly, graphene could lead to more sustainable and environmentally benign products. Yet having watched the public backlash against technologies like genetic engineering over the past couple of decades, I'm acutely aware that failing to earn the trust of stakeholders and consumers can stymie technologies, regardless of how safe and beneficial they are.
Overpromising Results and Overlooking Risk
This is where researchers and their institutions need to move beyond an "economy of promises" that spurs on hyperbole and discourages caution, and think more critically about how their statements may ultimately undermine responsible and beneficial development of a technology. They may even want to consider using guidelines, such as the Principles for Responsible Innovation developed by the organization Society Inside, for instance, to guide what they do and say.
To their credit, the authors of the dye study did give a passing mention to research on graphene safety, mostly focusing on an assumed level of safety compared to current dye products. Yet even this perfunctory level of caution failed to make it into the press release, which touted a "new hair dye that is nontoxic, nondamaging and lasts through many washes without fading."
It may turn out that graphene-based hair dyes can be developed safely. To be fair, the reported application isn't even close to commercial R&D yet, never mind the salon shelf. And certainly, there's a case to be made for substituting some of the harsh chemicals currently used in some products with more benign ones. But this won't happen while researchers and their institutions gloss over legitimate concerns and cautions with blind optimism.
Rather, by taking more care in how nanomaterial research is framed and promoted, researchers and their academic institutions could do a lot to ensure future nano-enabled consumer products are safe, beneficial, and above all, responsible.
Reposted with permission from our media associate The Conversation.
Related Articles Around the Web
From Your Site Articles
EcoWatch Daily Newsletter
EPA Administrator Andrew Wheeler signs the so-called Affordable Clean Energy rule on June 19, replacing the Obama-era Clean Power Plan that would have reduced coal-fired plant carbon emissions. U.S. Environmental Protection Agency / Twitter
By Elliott Negin
On July 8, President Trump hosted a White House event to unabashedly tout his truly abysmal environmental record. The following day, coincidentally, marked the one-year anniversary of Andrew Wheeler at the helm of the U.S. Environmental Protection Agency (EPA), first as acting administrator and then as administrator after the Senate confirmed him in late February.
A timber sale in the Kaibab National Forest. Dyan Bone / Forest Service / Southwestern Region / Kaibab National Forest
By Tara Lohan
If you're a lover of wilderness, wildlife, the American West and the public lands on which they all depend, then journalist Christopher Ketcham's new book is required — if depressing — reading.
Golde Wallingford submitted this photo of "Pure Joy" to EcoWatch's first photo contest. Golde Wallingford
EcoWatch is pleased to announce our third photo contest!

Somalians fight against hunger and lack of water due to drought as Turkish Ambassador to Somalia, Olgan Bekar (not seen) visits the a camp near the Mogadishu's rural side in Somalia on March 25, 2017. Sadak Mohamed / Anadolu Agency / Getty Images
World hunger is on the rise for the third consecutive year after decades of decline, a new United Nations (UN) report says. The climate crisis ranks alongside conflict as the top cause of food shortages that force more than 821 million people worldwide to experience chronic hunger. That number includes more than 150 million children whose growth is stunted due to a lack of food.
Eduardo Velev cools off in the spray of a fire hydrant during a heatwave on July 1, 2018 in Philadelphia. Jessica Kourkounis / Getty Images
By Adrienne L. Hollis
Because extreme heat is one of the deadliest weather hazards we currently face, Union of Concerned Scientist's Killer Heat Report for the U.S. is the most important document I have read. It is a veritable wake up call for all of us. It is timely, eye-opening, transparent and factual and it deals with the stark reality of our future if we do not make changes quickly (think yesterday). It is important to ensure that we all understand it. Here are 10 terms that really help drive home the messages in the heat report and help us understand the ramifications of inaction.
Senator Graham returns after playing a round of golf with Trump on Oct. 14, 2017 in Washington, DC. Ron Sachs – Pool / Getty Images
Lindsey Graham, the South Carolina Senate Republican who has been a close ally of Donald Trump, did not mince words last week on the climate crisis and what he thinks the president needs to do about it.
A small Bermuda cedar tree sits atop a rock overlooking the Atlantic Ocean. todaycouldbe / iStock / Getty Images Plus
By Marlene Cimons
Kyle Rosenblad was hiking a steep mountain on the island of Maui in the summer of 2015 when he noticed a ruggedly beautiful tree species scattered around the landscape. Curious, and wondering what they were, he took some photographs and showed them to a friend. They were Bermuda cedars, a species native to the island of Bermuda, first planted on Maui in the early 1900s.
krisanapong detraphiphat / Moment / Getty Images
By Grace Francese
You may know that many conventional oat cereals contain troubling amounts of the carcinogenic pesticide glyphosate. But another toxic pesticide may be contaminating your kids' breakfast. A new study by the Organic Center shows that almost 60 percent of the non-organic milk sampled contains residues of chlorpyrifos, a pesticide scientists say is unsafe at any concentration.