This website uses cookies to ensure you get the best experience while browsing it. By clicking 'Got It' you're accepting these terms.
Grandparents Tell Gov. Hickenlooper Not to Frack Their Grandchildren's Future
Sep. 10, 2013 08:12AM EST
Fracking
Concerned grandparents from across Colorado delivered a letter yesterday to tell Gov. Hickenlooper (D-CO) and other governors from across the country to say no to fracking and yes to a renewable energy future in celebration of National Grandparents' Day. The delivery took place before Gov. Hickenlooper's keynote address to the Western Governor's Association Policy Forum on Shale Energy Development in Broomfield.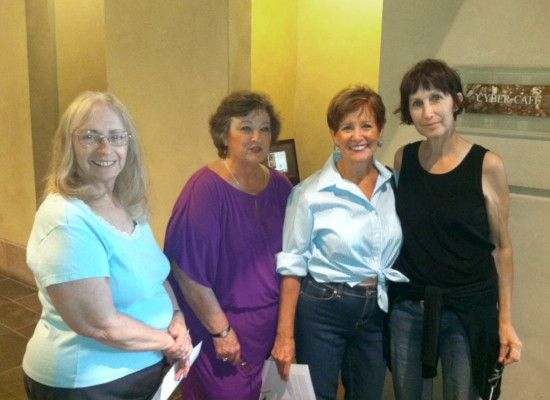 These grandparents voiced their concerns over the risks fracking, drilling and related activities pose to all Coloradans health, air, water, land, property values and their special concerns for their grandchildren and great-grandchild. They also demanded that Gov. Hickenlooper end his continued use of lawsuits to bully the people of Colorado to accept fracking next to their homes and schools.
"Yesterday I celebrated National Grandparents' Day with my two grandchildren in Lafayette," said Merrily Mazza, a retired corporate executive and current member of East Boulder County United. "Today, I'm here to tell Governor Hickenlooper to stop trying to force fracking next to our homes and schools with lawsuits. My grandchildren deserve a safe, healthy future in Colorado."
Grandparents representing the five communities (Broomfield, Fort Collins, Loveland, Lafayette and Boulder) who will be voting to protect themselves from fracking this November participated in the letter delivery, as well as grandparents from Longmont, who's community is currently facing two lawsuits from Gov. Hickenlooper in order to force fracking next to homes and schools in their city.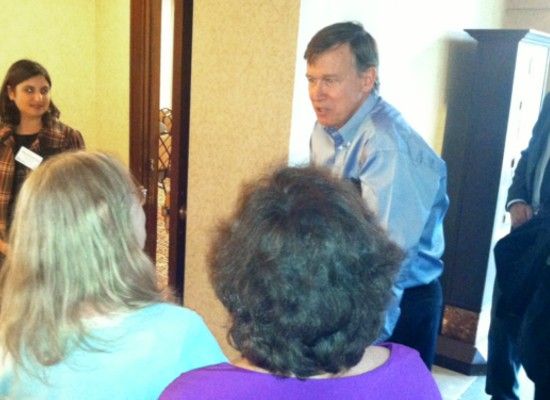 Despite gathering thousands of signatures to exercise their right to vote in each of these communities, Gov. Hickenlooper has stated he will sue any community that protects themselves from fracking and has not spoken out against the attempts of the oil and gas industry to undermine Coloradans right to vote on fracking in these communities.
"Endangering the health of our grandchildren by contaminating air and water is unacceptable," said Joan Stern a grandmother with Our Broomfield. "We want to work to protect our communities from this dangerous practice. We are appalled by the lack of leadership in our state government."
The Western Governor's Association Policy Forum on Shale Energy Development does not include one voice from residents who have been directly impacted by fracking or have been sued by either Gov. Hickenlooper or the industry for exercising their democratic right to vote. Instead, the forum appears designed to coach governors and their staffs on how to deflect community concern effectively and use industry messaging to shut out any voices critical of fracking, drilling, wastewater disposal and its associated activities.
"This forum provides yet another disturbing example of how Governor Hickenlooper is the oil and gas industry's leading cheerleader for fracking while he ignores the people who voted him into office in the first place," said Kaye Fissinger, a great-grandparent, leading member of Our Longmont and a representative of Protect Our Colorado.
The organizations participating in today's delivery are: Our Broomfield, Citizens for a Healthy Fort Collins, East Boulder County United, Protect Our Loveland, Frack Free Colorado, Our Longmont and Food & Water Watch.
Visit EcoWatch's FRACKING page for more related news on this topic.
——–
EcoWatch Daily Newsletter
By Anita Desikan
The Trump administration is routinely undermining your ability — and mine, and everyone else's in this country — to exercise our democratic rights to provide input on the administration's proposed actions through the public comment process. Public comments are just what they sound like: an opportunity for anyone in the public, both individuals and organizations, to submit a comment on a proposed rule that federal agencies are required by law to read and take into account. Public comments can raise the profile of an issue, can help amplify the voices of affected communities, and can show policymakers whether a proposal has broad support or is wildly unpopular.
Alena Gamm / EyeEm / Getty Images
Picture this: a world where chocolate is as rare as gold. No more five-dollar bags of candy on Halloween. No more boxes of truffles on Valentine's day. No more roasting s'mores by the campfire. No more hot chocolate on a cold winter's day.
Who wants to live in a world like that?
Fabian Krause / EyeEm / Getty Images
Water protectors of all persuasions gathered in talking circles at Borderland Ranch in Pe'Sla, the heart of the sacred Black Hills, during the first Sovereign Sisters Gathering. At the center are Cheryl Angel in red and white and on her left, Lyla June. Tracy Barnett
By Tracy L. Barnett
Sources reviewed this article for accuracy.
For Sicangu Lakota water protector Cheryl Angel, Standing Rock helped her define what she stands against: an economy rooted in extraction of resources and exploitation of people and planet. It wasn't until she'd had some distance that the vision of what she stands for came into focus.
Hedges, 2019 © Hugh Hayden. All photos courtesy of Lisson Gallery
By Patrick Rogers
"I'm really into trees," said the sculptor Hugh Hayden. "I'm drawn to plants."
BruceBlock / iStock / Getty Images
Thanks to their high concentration of powerful plant compounds, foods with a natural purple hue offer a wide array of health benefits.