This website uses cookies to ensure you get the best experience while browsing it. By clicking 'Got It' you're accepting these terms.
Governor's Coal Ash Action Plan Favors Duke Energy, Threatens Drinking Water
Apr. 17, 2014 03:02PM EST
Late last night, North Carolina Governor Pat McCrory released his so-called "Comprehensive Coal Ash Action Plan" claiming the legislation will "close loopholes in state law to strengthen the state's ability to regulate coal ash ponds." But comprehensive review of the proposed plan conducted by environmental experts and public interest attorneys reveals that it categorically fails to live up to the hype and meaningfully protect North Carolinians from poisoned drinking water as well as another tragic and toxic coal ash spill. Despite repeated requests by news media and environmental groups the Governor refused to release copies of the plan until 6:38 p.m.—after deadlines for most news organizations.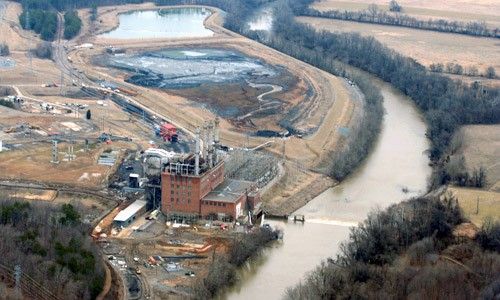 The Comprehensive Coal Ash Action Plan would allow Duke Energy to continue poisoning North Carolina, South Carolina and Virginia drinking water sources with a witch's brew of toxic heavy metals including arsenic, cadmium, chromium, lead, mercury and selenium because it allows Duke Energy to cover up coal ash ponds with dirt and leave them unattended and unmonitored on the banks of nearby rivers and lakes. The bill is a tremendous waste of time when people and the environment are threatened throughout the state. North Carolina citizens desperately need real solutions—not a papering over of the problem.
McCrory's proposal bends over backwards to accommodate Duke's discretion at every turn, providing almost infinite options for closure and leniency concerning timing, and fails to set clear deadlines and strict environmental and public health standards that Duke would need to meet. For example, there are no deadlines for initiating or completing closure or for sampling wells within a half-mile from coal ash dump sites. In general, most deadlines are left to the discretion of Duke; the few deadlines that are mentioned include a clause that allows the Department of Environmental and Natural Resources (DENR) to waive the deadline. 
The bill appears designed to moot enforcement action that may actually result in real deadlines and real solutions. Whole sections of the proposal were copied verbatim from the woefully inadequate and uniformly rejected proposed consent agreements for the Asheville and Riverbend coal-fired power plants. This language was crafted after months of close coordination between the Governor's administration and Duke Energy. They are now the subject of criminal investigation.
"This proposed bill does not require a cleanup and asks the legislature and the public to trust DENR and Duke to decide what to do with Duke's polluting coal ash pits," said Frank Holleman, senior attorney at the Southern Environmental Law Center. "The law currently requires Duke to clean up its coal ash pollution and the legislature and the public should not be asked to trust the two organizations which are currently appearing before a federal criminal grand jury about their coal ash activities." 
When the consent agreements were originally proposed by Duke and DENR, approximately 5,000 North Carolinians and more than 30 community groups unanimously opposed them as inadequate to protect public health and the environment.
"This is just another blatant example of the governor completely ignoring the voters and tax payers of North Carolina by making a gratuitous attempt to exempt his former employer from any real or meaningful requirements to clean up their toxic ash ponds," said Donna Lisenby, Global Coal Campaign coordinator for Waterkeeper Alliance.
Judge Rideway recently ruled that North Carolina law already gives DENR the authority—and the duty—to require Duke Energy to take immediate action to eliminate the source of its groundwater pollution. That state court ruling proves the governor's proposal to be a thorough waste of time.
"The governor is attempting to negotiate the terms of a weak consent agreement in the legislature. This will only serve to make the bill vulnerable to further weakening by Duke's lobbying machine," Lisenby added.
"The bill is riddled with loopholes that benefit Duke to the detriment of the health and safety of North Carolinians and their environment," said Earthjustice attorney Lisa Evans. "If the goal is to close and clean up the state's dangerous, leaking and unstable coal ash ponds, this plan is an abject failure."
"The governor's current proposal makes clear that he is happy to let Duke remain in the driver's seat rather than take charge and use the authority he already has to address coal ash pollution," said Julie Mayfield, an attorney and co-director of the Western North Carolina Alliance. "Duke and DENR also continue to act as if environmental advocates are not part of this debate. In fact, we started this debate, and the sooner Duke and DENR realize we will be part of the solution, the sooner the environment and people will be protected from coal ash pollution."
Check out these four slideshow to get a closer look at the devastation caused by Duke Energy:
[blackoutgallery id="321362"]
[blackoutgallery id="320474"]
[blackoutgallery id="320266"]
[blackoutgallery id="326556"]
——–
YOU MIGHT ALSO LIKE
North Carolina Regulators Take Legal Action Against Duke Energy for Coal Ash Dumping
Rachel Maddow Features Waterkeeper Alliance Photos Showing Duke Energy Dumping Coal Ash Into Local Waterways
Duke Energy Caught Dumping Wastewater from Coal Ash Lagoon Into Local Watershed
——– 
EcoWatch Daily Newsletter
Tuna auctions are a tourist spectacle in Tokyo. Outside the city's most famous fish market, long queues of visitors hoping for a glimpse of the action begin to form at 5 a.m. The attraction is so popular that last October the Tsukiji fish market, in operation since 1935, moved out from the city center to the district of Toyosu to cope with the crowds.

gmnicholas / E+ / Getty Images
Kristan Porter grew up in a fishing family in the fishing community of Cutler, Maine, where he says all roads lead to one career path: fishing. (Porter's father was the family's lone exception. He suffered from terrible seasickness, and so became a carpenter.) The 49-year-old, who has been working on boats since he was a kid and fishing on his own since 1991, says that the recent warming of Maine's cool coastal waters has yielded unprecedented lobster landings.
Aerial view of lava flows from the eruption of volcano Kilauea on Hawaii, May 2018. Frizi / iStock / Getty Images
Hawaii's Kilauea volcano could be gearing up for an eruption after a pond of water was discovered inside its summit crater for the first time in recorded history, according to the AP.
The Eqip Sermia Glacier is seen behind a moraine left exposed by the glacier's retreat during unseasonably warm weather on Aug. 1 at Eqip Sermia, Greenland. Sean Gallup / Getty Images
hadynyah / E+ / Getty Images
By Johnny Wood
The Ganges is a lifeline for the people of India, spiritually and economically. On its journey from the Himalayas to the Bay of Bengal, it supports fishermen, farmers and an abundance of wildlife.
The river and its tributaries touch the lives of roughly 500 million people. But having flowed for millennia, today it is reaching its capacity for human and industrial waste, while simultaneously being drained for agriculture and municipal use.
Here are some of the challenges the river faces.
By Jake Johnson
As a growing number of states move to pass laws that would criminalize pipeline protests and hit demonstrators with years in prison, an audio recording obtained by The Intercept showed a representative of a powerful oil and gas lobbying group bragging about the industry's success in crafting anti-protest legislation behind closed doors.
Reposted with permission from our media associate Common Dreams.

DESIREE MARTIN / AFP / Getty Images
Wildfires raging on Gran Canaria, the second most populous of Spain's Canary Islands, have forced around 9,000 people to evacuate.