Governor Kasich: Stop Protecting the Gas Companies!
Jun. 20, 2012 04:03PM EST
Energy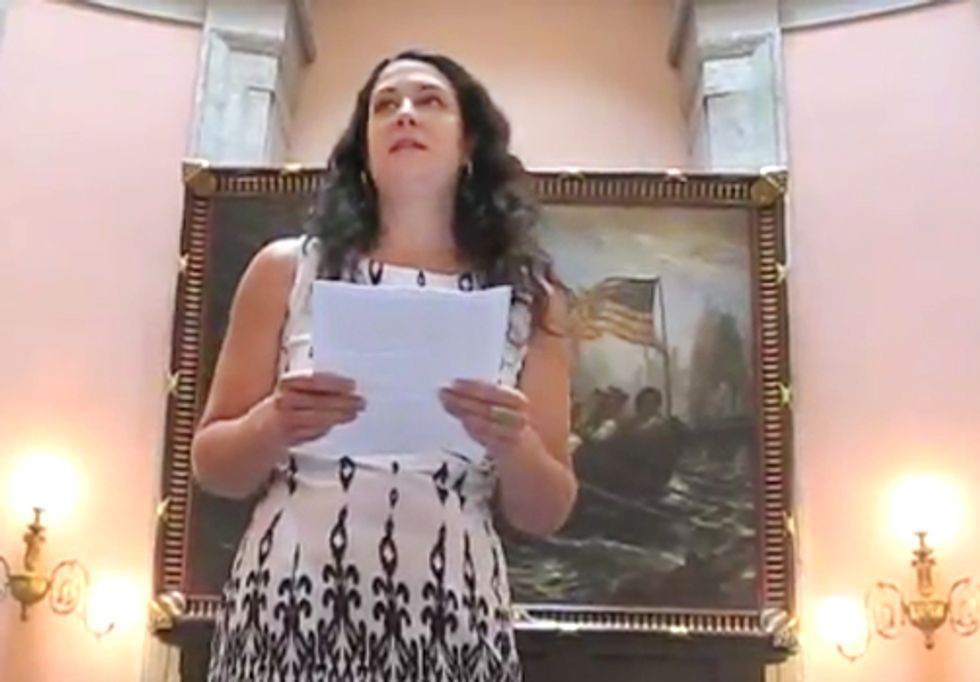 Jamie Frederick
[Editor's note: On Sunday, June 17, Jamie Frederick spoke at the Don't Frack Ohio event where more than 1,000 people marched from Arch Park in downtown Columbus to the Ohio Statehouse and occupied the rotunda. In the Statehouse rotunda, Frederick shared her story which is provided below.]

Thank you all for having enough common sense and common decency to be here today. I really wish we didn't have to be here at all. It's a real shame that on Father's Day we have to be here defending Ohio's natural resources instead of being out there enjoying them. It's a real shame that we have to come here in the year 2012 with all of the technology for clean energy that is available and defend our need for clean air and clean water. It's a real shame that we have to defend ourselves against man made earthquakes and droughts as a result of fracking. Yet here we are: trying once again to get the attention of a government that is supposed to be protecting our health and safety, but with SB 315 has once again failed miserably. This bill does nothing to protect me from from having yet one more well drilled across the road from my home. It does nothing to change what was done to me and keep it from happening to anyone else. 
I came here in January from Youngstown and spoke of how fracking has taken away my quality of life in hopes that someone would listen and stop this insane practice forever. The short version is that I unknowingly drank fracking contaminated water for several years, losing my gallbladder and developing an intestinal infection that nearly killed me. I choose now to never have children knowing the risks to myself caused by the infection and also knowing the birth defects that can be a result of the chemicals found in my water. I have experienced numerous negative health effects and suffered in extreme pain as a result of this drilling frenzy. When I spoke of these things that happened to me in January, I told the Governor and the gas man that they would not take my voice. Now it seems that they are finding a way to do just that. Although I feel better in some ways after I stopped drinking the water, I now have to deal with the contaminated air. The property that surrounds my home is owned by people who don't even live there. Why out of 62 acres that they could have chosen from, did Bocor Gas put the condensate and radioactive toxic waste storage tanks right next to my home–as close as they possibly could? How can this possibly be legal?  
I don't know what or how much is coming out of the tanks and neither does ODNR. What I can tell you is that I am losing my voice more all of the time.  It continues to get raspier, and my throat burns and now my gums bleed all of the time for no apparent reason. Allow me to mention that I am not a smoker. On days with high humidity and no moving air, I feel very tired and get headaches. My animals cough and wheeze, especially my cat, the tiniest set of lungs in the house. The tanks make an awful wailing noise when they go off, many times at all hours of the day and night. Another recent call to ODNR informs me that the tanks will do this for as long as the well is producing, possibly 20 years or more. A little charcoal filter is supposed to protect me from the BTEX compounds that are being spewed into my airspace surrounding and entering my home. When I asked for a copy of the filter-change-out schedule from ODNR, something that I thought surely they would require of these tanks, I was told that no such thing even exists. Something so basic as a regularly changed filter is not even on their radar.  A well is only required to have an inspection every 5 years. I find this all to be very lacking in common sense.  
On Tuesday the World Health Organization declared that diesel fumes cause lung and bladder cancer and are more carcinogenic than second-hand smoke. As we all know there is no shortage of diesel fumes in the shale fields. I always thought that living in the country meant having things like fresh air and peace and quiet. I was wrong. I always thought that our government was supposed to protect our basic human rights. I guess I was wrong about that too. We need clean energy jobs now that do not kill people and animals. If there had been solar panels and wind turbines surrounding my home instead of gas wells, I never would have gotten sick and I would now be called "mom."
So one more time while I still have a voice–to Governor Kasich and all of our elected officials: STOP PROTECTING THE GAS COMPANIES! I don't care how much money they gave you to look the other way while they poison our water and poison our air. You don't work for them, you work for the people of Ohio! How much longer will you continue to lie when the truth is right here in front of you? We are real people dying out here–not guinea pigs in your sick experiment! We will not stand by and let you get away with this! Fracking is Domestic Terrorism. To Homeland Security: Please Send Help! And to President Obama, if you are listening: for God's sake close Dick Cheney's Loophole once and for all!    
Below watch footage of this speech being given at the Ohio Statehouse rotunda as part of the Don't Frack Ohio event that took place last weekend in Columbus, Ohio.
EcoWatch Daily Newsletter