This website uses cookies to ensure you get the best experience while browsing it. By clicking 'Got It' you're accepting these terms.


The best of EcoWatch, right in your inbox. Sign up for our email newsletter!
Governor Cuomo: Fracking Decision 'By the End of the Year'
Dec. 16, 2014 12:22PM EST
Energy
It looks like New York state could have a decision on whether its fracking moratorium will be lifted or remain in place sooner than previously thought.
The review by the state Department of Health on the health impacts of fracking is due to be completed and delivered Dec. 31. Governor Andrew Cuomo had said he would base his decision on that report, and it was widely believed that he would make his announcement early next year. Anti-fracking activists were preparing to rally at his Jan. 7 State of the State address in Albany. But yesterday in an interview on local radio show The Capitol Pressroom, Cuomo said that his decision will come by the end of the year.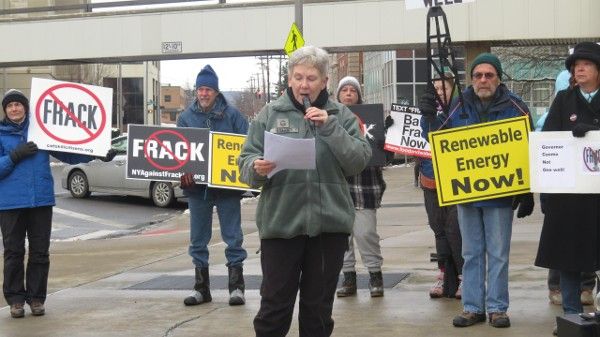 "By the end of the year we should have positions on both [the other issue is casino licenses] that are clear and we'll start the new year with some major decisions under our belt, so to speak," he said.
"Just last week, scientists and health professionals from around the state released reports finding that the vast majority of independent, peer-reviewed studies conclude that fracking is bad for people's health, the water we drink and the air we breathe," said John Armstrong of Frack Action. "New Yorkers expect Governor Cuomo to protect our public health and safety from this toxic industry."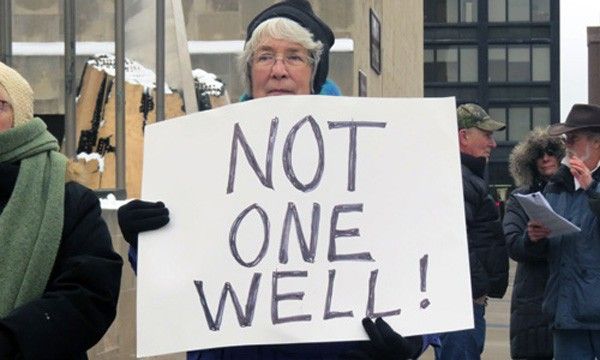 Fracking has been banned in New York since 2008. But the natural gas industry has hungrily eyed the state's Southern Tier west of the Catskills, which adjoins gas-rich Pennsylvania where fracking is booming, So far, Cuomo has stalled on a decision on whether to lift the ban as opposition has grown, especially in the Southern Tier which would bear the brunt of its impacts. A poll this past summer showed that voters in the region oppose fracking 51 percent to 35 percent, and area residents have mounted regular rallies outside the governor's public events.
"An overwhelming number of studies show the considerable risks fracking will pose to our health, our environment and our natural resources—especially for those of us who live in Southern Tier," said Scott Lauffer, chair of the Sierra Club Susquehanna Group. "If Governor Cuomo is seriously committed to protecting our health and keeping New Yorkers safe, he will ban fracking and make sure that not one well is built within our borders."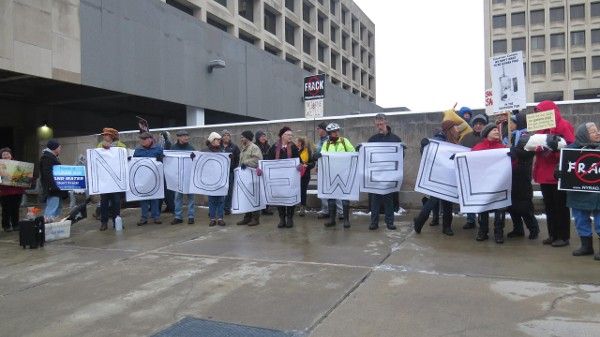 Last month, a coalition of environmental groups launched the Not One Well campaign, which held an emergency rally Sunday in Binghamton. About 60 people attended to reintroduce the Pledge to Resist Fracking in New York State, already signed by thousands of New Yorkers, and to listen to speakers like Southern Tier resident Colleen Boland who warned, "When the science is ignored, when our political leaders fail to protect us and our right to clean water and instead do the bidding of the gas industry, people rise up."
Referencing the protests at the Crestwood methane gas storage facility in the Finger Lakes region, she said, "1,000 people signed the Pledge to Protect Seneca Lake. So far, 92 of them, from age 19 to 90, have honored that pledge and have been arrested at the gates of Crestwood. Having taken that pledge to heart myself and being mindful of my past oath [as a veteran] to protect against all enemies, foreign and domestic, I was one of the arrestees. And we're not done. The We Are Seneca Lake bench is deep. Many more arrests are coming."
"Using the time-honored, nonviolent tools of Gandhi and MLK, we will fight you," she said. "We will stand in the way of heavy duty equipment. We will fight for our children and we will defend our right to clean water and clean air. Retreat and surrender is not an option."
In addition, a coalition of 850 elected officials from all 62 counties throughout the state, Elected Officials to Protect New York, are demanding that the moratorium on fracking be extended for another three to five years. They held a news conference in Syracuse today to present "significant evidence of harm, including hundreds of recent peer-reviewed studies on the impacts of drilling and fracking" and a letter to Governor Cuomo asking him to keep the door closed on fracking in New York.
"We share a sacred responsibility with Governor Cuomo to protect the health and wellbeing of our constituents, which is why we're calling for a minimum three to five year moratorium on fracking as the science demands," said Jean Kessner, Syracuse City Councilor At-Large and co-coordinator of Elected Officials to Protect New York, at the press conference today. "We all depend on clean water, clean air and a clean environment for our health and economy. Let's make sure New York stays that way."
YOU MIGHT ALSO LIKE
Hundreds of New Yorkers Rally Against Fracking, Call for Renewable Energy
6 Jailed, 9 Arrested in Ongoing Fight Against Methane Gas Storage
EcoWatch Daily Newsletter
Pxhere
By Richard Denison
Readers of this blog know how concerned EDF is over the Trump EPA's approval of many dozens of new chemicals based on its mere "expectation" that workers across supply chains will always employ personal protective equipment (PPE) just because it is recommended in the manufacturer's non-binding safety data sheet (SDS).
By Grant Smith
From 2009 to 2012, Gregory Jaczko was chairman of the Nuclear Regulatory Commission, which approves nuclear power plant designs and sets safety standards for plants. But he now says that nuclear power is too dangerous and expensive — and not part of the answer to the climate crisis.
A lake in Rocky Mountain National Park. Brett Walton / Circle of Blue
By Brett Walton
When Greg Wetherbee sat in front of the microscope recently, he was looking for fragments of metals or coal, particles that might indicate the source of airborne nitrogen pollution in Rocky Mountain National Park. What caught his eye, though, were the plastics.
Gabriele Holtermann Gorden / Pacific Press / LightRocket / Getty Images
In a big victory for animals, Prada has announced that it's ending its use of fur! It joins Coach, Jean Paul Gaultier, Giorgio Armani, Versace, Ralph Lauren, Vivienne Westwood, Michael Kors, Donna Karan and many others PETA has pushed toward a ban.
This is a victory more than a decade in the making. PETA and our international affiliates have crashed Prada's catwalks with anti-fur signs, held eye-catching demonstrations all around the world, and sent the company loads of information about the fur industry. In 2018, actor and animal rights advocate Pamela Anderson sent a letter on PETA's behalf urging Miuccia Prada to commit to leaving fur out of all future collections, and the iconic designer has finally listened.
Amer Ghazzal / Barcroft Media / Getty Images
If people in three European countries want to fight the climate crisis, they need to chill out more.
That's the conclusion of a new study from think tank Autonomy, which found that Germany, the UK and Sweden all needed to drastically reduce their workweeks to fight climate change.
Amazon Employees for Climate Justice held a press conference after the annual shareholder meeting on May 22. Amazon Employees for Climate Justice
An artist's rendering of the recomposition facility. MOLT Studios
Washington became the first U.S. state to legalize human composting Tuesday, offering residents a more environmentally friendly way to dispose of their remains, AFP reported.
Mr.TinDC / Flickr / CC BY-ND 2.0
Many nutrients are essential for good health.