This website uses cookies to ensure you get the best experience while browsing it. By clicking 'Got It' you're accepting these terms.
Governments Spend $1.4 Billion Per Day to Destabilize Climate
Jan. 19, 2012 08:49PM EST
Climate

We distort reality when we omit the health and environmental costs associated with burning fossil fuels from their prices. When governments actually subsidize their use, they take the distortion even further. Worldwide, direct fossil fuel subsidies added up to roughly $500 billion in 2010. Of this, supports on the production side totaled some $100 billion. Supports for consumption exceeded $400 billion, with $193 billion for oil, $91 billion for natural gas, $3 billion for coal and $122 billion spent subsidizing the use of fossil fuel-generated electricity. All together, governments are shelling out nearly $1.4 billion per day to further destabilize the earth's climate.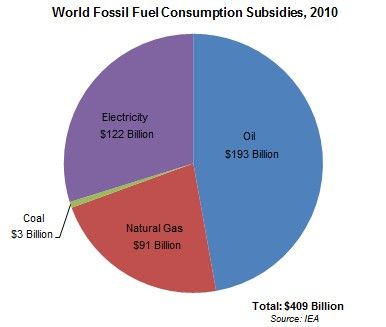 The government of Iran spent the most on promoting fossil fuel consumption in 2010, doling out $81 billion in subsidies. This equaled more than 20 percent of the country's gross domestic product. Saudi Arabia was a distant second at $44 billion. Rounding out the top five were Russia ($39 billion), India ($22 billion) and China ($21 billion).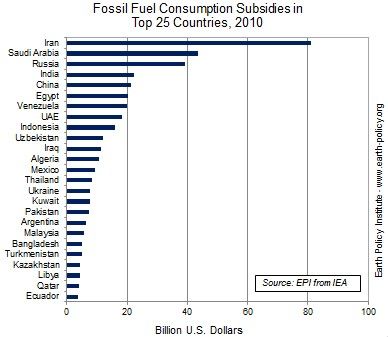 Kuwait's fossil fuel subsidies were highest on a per capita basis, with $2,800 spent per person. The United Arab Emirates and Qatar followed, each spending close to $2,500 per person.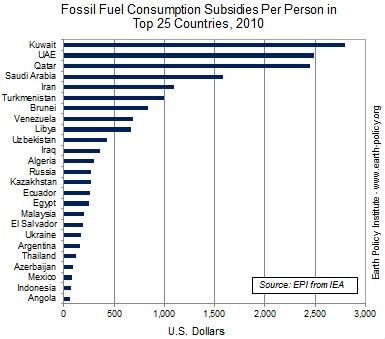 Carbon emissions could be cut in scores of countries by simply eliminating fossil fuel subsidies. Some countries are already doing this. Belgium, France and Japan have phased out all subsidies for coal, for example. As oil prices have climbed, a number of countries that held fuel prices well below world market prices have greatly reduced or eliminated their motor fuel subsidies because of the heavy fiscal cost. Among those reducing subsidies are China and Indonesia. Even Iran, which was pricing gasoline at one fifth its market price, dramatically reduced its gasoline subsidies in December 2010 as part of broader energy subsidy reforms.
In contrast to the $500 billion in fossil fuel supports in 2010, renewable energy received just $66 billion in subsidies—two thirds for electricity generation from wind, biomass and other sources, and one third for biofuels. Not only do fossil fuel subsidies dwarf those for renewables today, but a long legacy of governments propping up oil, coal and natural gas has resulted in a very uneven energy playing field.
A world facing economically disruptive climate change can no longer justify subsidies to expand the burning of coal and oil. The International Energy Agency projects that a phaseout of oil consumption subsidies by 2020 would cut oil use by 3.7 million barrels per day in that year. Eliminating all fossil fuel consumption subsidies by 2020 would cut global carbon emissions by nearly 5 percent while reducing government debt. Shifting subsidies to the development of climate-benign energy sources such as wind, solar and geothermal power will help stabilize the earth's climate.
--------
This data highlight is adapted from World on the Edge by Lester R. Brown. For more data and discussion, see the full book at www.earth-policy.org.
EcoWatch Daily Newsletter
Artist's conception of solar islands in the open ocean. PNAS
Millions of solar panels clustered together to form an island could convert carbon dioxide in seawater into methanol, which can fuel airplanes and trucks, according to new research from Norway and Switzerland and published in the Proceedings of the National Academy of Sciences journal, PNAS, as NBC News reported. The floating islands could drastically reduce greenhouse gas emissions and dependence on fossil fuels.
Marcos Alves / Moment Open / Getty Images
More than 40 percent of insects could go extinct globally in the next few decades. So why did the U.S. Environmental Protection Agency (EPA) last week ok the 'emergency' use of the bee-killing pesticide sulfoxaflor on 13.9 million acres?
EcoWatch teamed up with Center for Biological Diversity via EcoWatch Live on Facebook to find out why. Environmental Health Director and Senior Attorney Lori Ann Burd explained how there is a loophole in the The Federal Insecticide, Fungicide, and Rodenticide Act under section 18, "that allows for entities and states to request emergency exemptions to spraying pesticides where they otherwise wouldn't be allowed to spray."
Simple swaps that cut down on kitchen trash.
Sponsored
By Kayla Robbins
Along with the bathroom, the kitchen is one of the most daunting areas to try and make zero waste.
View of downtown Miami, Florida from Hobie Island on Feb. 2, 2019.
Michael Muraz / Flickr
The Democratic candidates for president descended upon Miami for a two-night debate on Wednesday and Thursday. Any candidate hoping to carry the state will have to make the climate crisis central to their campaign, as The New York Times reported.
By Sharon Kelly
On Monday, the Wall Street Journal featured a profile of Scott Sheffield, CEO of Pioneer Natural Resources, whose company is known among investors for its emphasis on drawing oil and gas from the Permian basin in Texas using horizontal drilling and hydraulic fracturing, or fracking.
Pexels
By Craig K. Chandler
The federal government has available to it, should it choose to use them, a wide range of potential climate change management tools, going well beyond the traditional pollution control regulatory options. And, in some cases (not all), without new legislative authorization.
Denis Poroy / Getty Images
By Dan Gray
Processed foods, in their many delicious forms, are an American favorite.
But new research shows that despite increasing evidence on just how unhealthy processed foods are, Americans have continued to eat the products at the same rate.
By Sarah Steffen
With a profound understanding of their environmental surroundings, indigenous communities around the world are often cited as being pivotal to tackling climate change.