This website uses cookies to ensure you get the best experience while browsing it. By clicking 'Got It' you're accepting these terms.
Government Shutdown Would Close Public Lands
Sep. 30, 2013 12:44PM EST
Energy
If there is not a last minute deal for a temporary budget extension passed by midnight, the U. S. government will partially shut down. "Essential services" will continue without a budget. However, the public lands will be shuttered to public access wherever feasible. Personnel to protect the resources of these lands are deemed essential and will stay at work. Visitors will be given 48 hours to leave.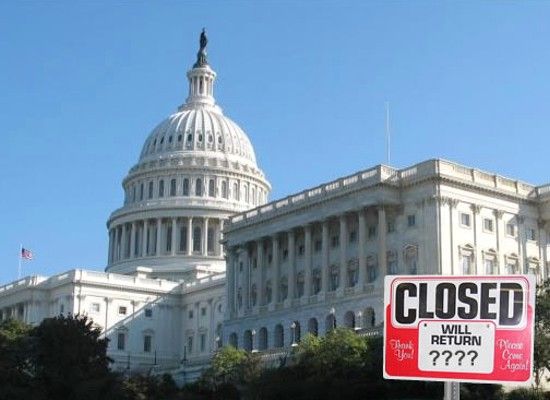 The cause of what is now likely—a shutdown—is the attempt to defund the Affordable Care Act (ACA) by holding up the rest of the budget until supporters of the ACA give in. House Republicans so far are unanimous in pursuing their strategy and Senate Democrats appear unanimous, or nearly so, in opposing it. Were the Democrats not, the President says he would veto a ACA-defunded budget regardless.
The next fiscal year for the U.S. government begins Oct. 1. Congress is supposed to have passed all the appropriations bills for the next year by then. In practice this doesn't often happen. To avoid a shutdown, Congress routinely passes one or more temporary continuing resolutions of the old budget. Then it continues to work on appropriations until they are complete.
This year an unprecedented strategy is being tried by the House Republicans. They are attempting to repeal a bill they hate not by gaining a majority to repeal it, but by holding almost everything else up until supporters of the ACA and/or opponents of the GOP strategy fold. Critics of the Republican plan call it "hostage taking." It does conform to the logic of hostage taking. Ironically, much of the ACA is not subject to annual appropriations—in fact, nationwide signup for ACA insurance begins Oct. 1 with much fanfare from its supporters.
Obviously closures of the public lands will be more effective at chokepoints. These are more common in national parks and national wildlife refuges than national forests or BLM administered lands. National park and forest closures will have economic consequences to nearby communities. In addition to closures, the public employees will not be paid. While some proponents of a shutdown have dismissed this as "no big deal if the Washington Monument is closed," many understand that the public lands are a substantial portion of the Western U.S.
In addition to closures to the public, permits for various public land activities will not be issued during the shutdown. For example, the Bureau of Land Management (BLM) will not be able to process new oil and gas permits.
Here is the complete introduction to the BLM's shutdown rules:
In the event that Congress is unable to enact appropriations for FY 2014 or a continuing resolution, essentially all activities of the BLM will be halted with the exception of law enforcement and emergency response functions. Without appropriated funds, there is no authority to incur obligations, including obligations for salaries, except in situations involving orderly shutdown of the bureau or to protect life and property. In the event that a shutdown occurs, the BLM will notify bureaus to begin an orderly shutdown of unfunded functions. This will require the furlough of a majority of BLM employees. Voluntary services from employees will not be accepted.
The last government shutdown took place Nov. 14-19, 1995 and Dec. 16-Jan. 6, 1996. It was President Clinton versus the Republican congress. Eventually the President won after public opinion turned on the Republicans, especially Republican Speaker of the House Newt Gingrich.
It is an open question how much anarchy will prevail on the public lands. During the 1995-1996 shutdown, the Western Watersheds Project has learned that in some areas cattle operators immediately turned their livestock out on public lands for an illegal helping of public forage.
While the shutdown will have a growing effect as time passes, most consequential is the possible default on the national debt payments that might take place on or before Oct. 17 if the debt limit is not raised by Congress. That too is being held as bargaining collateral—or extortion—depending on one's view.
Visit EcoWatch's PUBLIC LANDS page for more related news on this topic.
——–

EcoWatch Daily Newsletter
By Anita Desikan
The Trump administration is routinely undermining your ability — and mine, and everyone else's in this country — to exercise our democratic rights to provide input on the administration's proposed actions through the public comment process. Public comments are just what they sound like: an opportunity for anyone in the public, both individuals and organizations, to submit a comment on a proposed rule that federal agencies are required by law to read and take into account. Public comments can raise the profile of an issue, can help amplify the voices of affected communities, and can show policymakers whether a proposal has broad support or is wildly unpopular.
Alena Gamm / EyeEm / Getty Images
Picture this: a world where chocolate is as rare as gold. No more five-dollar bags of candy on Halloween. No more boxes of truffles on Valentine's day. No more roasting s'mores by the campfire. No more hot chocolate on a cold winter's day.
Who wants to live in a world like that?
Fabian Krause / EyeEm / Getty Images
Water protectors of all persuasions gathered in talking circles at Borderland Ranch in Pe'Sla, the heart of the sacred Black Hills, during the first Sovereign Sisters Gathering. At the center are Cheryl Angel in red and white and on her left, Lyla June. Tracy Barnett
By Tracy L. Barnett
Sources reviewed this article for accuracy.
For Sicangu Lakota water protector Cheryl Angel, Standing Rock helped her define what she stands against: an economy rooted in extraction of resources and exploitation of people and planet. It wasn't until she'd had some distance that the vision of what she stands for came into focus.
Hedges, 2019 © Hugh Hayden. All photos courtesy of Lisson Gallery
By Patrick Rogers
"I'm really into trees," said the sculptor Hugh Hayden. "I'm drawn to plants."
BruceBlock / iStock / Getty Images
Thanks to their high concentration of powerful plant compounds, foods with a natural purple hue offer a wide array of health benefits.