Gov. Jerry Brown Discusses Role of Climate Change in California's 10 Wildfires in the Past Week
May. 19, 2014 09:13AM EST
Climate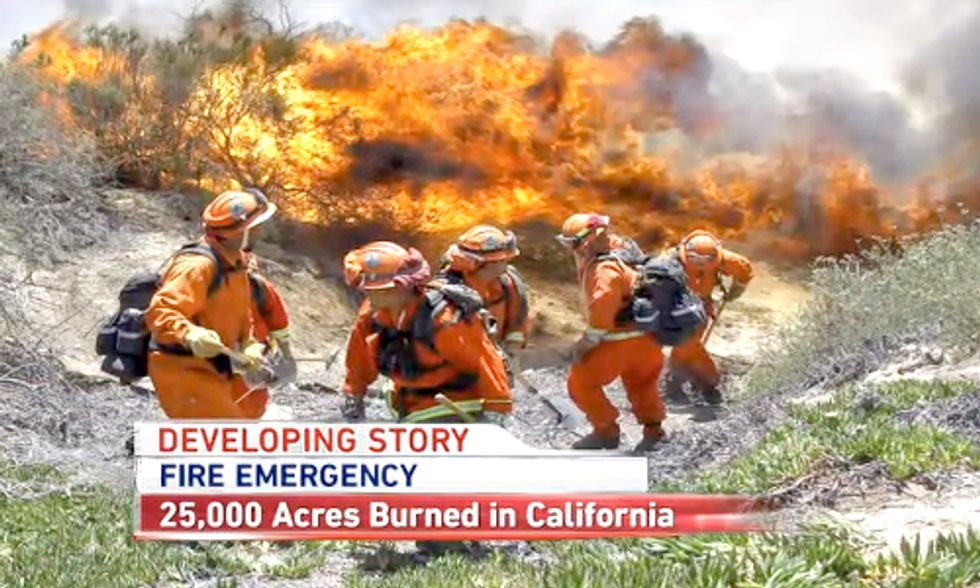 Ten wildfires in San Diego County, CA last week compounded the state's brutal, historic, three-year dry season.
About 25,000 acres of land were scorched by the fires, causing nearly $20 million in damage. State firefighters have responded to more than 1,500 wildfires this year.
Gov. Jerry Brown spoke about the grave situation Sunday on ABC's This Week. He didn't mince words when discussing how climate change has influenced the blazes.
"As we send billions and billions of tons of heat-trapping gases [into the atmosphere], we get heat and we get fires and we get what we are seeing," he said. "We're going to deal with nature as best we can, but humanity is on a collision course with nature, and we're just going to have to adapt to it the best we can."
According to ABC, there have been twice as many fires this year as the average over the past five years. Brown said the situation is under control "for the moment," but conceded that this season was more serious than he has seen in the past. Many evacuees in San Diego County were expected to be allowed to return to their homes Sunday night, but many are coming back to nothing.
The state spent about $600 million responding to the dry season and needs to add "thousands more" to the 5,000 or so firefighters it already has, Brown said.
"In California, for 10,000 years, our population was about 300,000—now, it's 38 million," the governor said. "We have more structures, more activity, more sparks, more combustible activity, and we've got to gear up for it. As the climate changes, this is going to be a radically different future than our historic past."
Brown also provides enlightening answer when host George Stephanopoulos asks him about climate denial and if the state can adapt while politicians fail to get on the same page. He added that state officials will "do more" to respond to the drought despite already having what he deems as the best program to reduce greenhouse gases in the country.
"Until then, we have to fight all these damn fires," Brown said.
——–
YOU ALSO MIGHT LIKE
Hundreds of California Businesses Band Together in Face of Devastating Drought
8 Foods That California's Drought Will Make More Costly
White House's Alarming Climate Change Study Calls For 'Urgent Action'
——– 
EcoWatch Daily Newsletter