This website uses cookies to ensure you get the best experience while browsing it. By clicking 'Got It' you're accepting these terms.
Gov. Christie Tries Again to Pull New Jersey Out of Greenhouse Gas Initiative
Jul. 10, 2014 02:29PM EST
New Jersey Governor Chris Christie is doing whatever he can to prevent his state from supporting clean energy jobs and climate action. On Monday, Gov. Christie again took the path of big polluters by pulling New Jersey out of the Regional Greenhouse Gas Initiative (RGGI)—an innovative and proven program in which northeastern states are working together to reduce carbon pollution while boosting the clean energy economy. And it's not the first time Gov. Christie's tried to turn back the clock. In March, an earlier RGGI rollback was slapped down when a court found Gov. Christie's Administration violated the law in attempting to pull the state out of the regional agreement.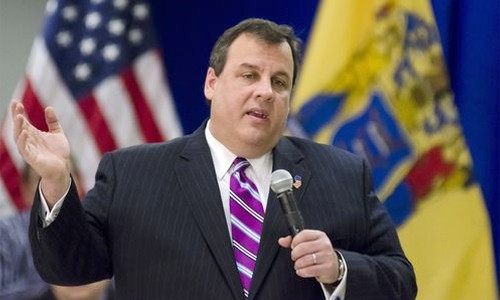 RGGI has already helped create thousands of jobs in New Jersey while curbing carbon pollution from power plants—and it'd be a key way in which the state could meet the new carbon standards established by President Obama's Clean Power Plan.
"People of New Jersey demand action on climate change and want our state to reduce air pollution, for our state to be more resilient, and to support growing our economy through new technology and clean energy jobs," New Jersey Sierra Club Director Jeff Tittel said. "Especially after Hurricane Sandy, the public supports action on climate change. New Jersey needs to reduce greenhouse gases—and RGGI is one of the ways to do it."
During New Jersey's participation in the initiative, the state achieved its greenhouse gas reduction goal of 10 percent within the first three years, boosted the economy by $151 million, and created 1,772 jobs throughout the state. So that begs the question—why would the state pull out in light of its substantial success?
"We believe that the Governor pulled out of RGGI because he cares more about his national political ambition than the environment and people of New Jersey," Tittel said.
As Gov. Christie keeps his eyes on a potential Presidential run in 2016, the big polluters and special interests that back Republican candidates are attacking any and all efforts to create clean energy jobs and act on the climate crisis. Front organizations backed by the oil-rich Koch Brothers have pushed legislators to sign a pledge to refuse climate action while polluter front groups are dumping millions into efforts to smear the Clean Power Plan and its supporters. So, Republicans with national ambitions like Christie are positioning themselves now to be on the side of polluters.
This isn't the first time Gov. Christie has put New Jersey's communities and economy in jeopardy for the sake of his political standing. Since taking office, the Christie Administration has gutted about $1 billion from clean energy funding initiatives. With Christie's support, a New Jersey Clean Energy Fund could have created 5,000 local jobs, billions of dollars in economic activity and cut air pollution by 100 million tons.
"With RGGI we can protect our environment, reduce carbon pollution and move our state forward economically. RGGI is a win-win for New Jersey, and Gov. Christie is a lose-lose when it comes to protecting our environment and reducing the impacts of climate change," said Tittel. "The Governor would rather side with the fossil fuel lobby in Washington than clean energy jobs in New Jersey."
& the Many Health Benefits
zeljkosantrac / E+ / Getty Images
Medically reviewed by Hrefna Palsdottir, MS
Oats are considered to be one of the healthiest grains on earth. Find out why and how to incorporate this breakfast staple into your morning routine.
Youth activists ages 11-18 learn to fight plastic pollution at the inaugural Ocean Heroes Bootcamp. Ocean Heroes Bootcamp
By 2018 Ocean Heroes: Claire MacQueen (13 years old), Sabine Thomas (13) and Ava Inskeep (14)
We despise single-use plastics. We want to keep our oceans and our beaches clean. Early last year I (Claire) lived in India for several months and became curious about plastic waste, as it was much more visible in India than back home in the U.S. Seeing all the plastic waste while I was visiting helped me to understand that much of the trash produced by the U.S. actually ends up in developing countries, like India, which does not have a proper waste management system like we do at home, which causes a ton of trash to end up in waterways and the ocean.
Sen. Bernie Sanders speaks at a Martin Luther King Jr. Day event in South Carolina on Jan. 21. Sean Rayford / Getty Images
Degraded coral reefs at Kahekili Beach Park in west Maui, Hawaii. Peter Swarzenski / Usgs
In a case watched closely both by polluting industries and clean water advocates across the nation, the U.S. Supreme Court agreed to take up an appeal of a Clean Water Act case out of Hawaii concerning treated sewage flowing into the Pacific Ocean from injection wells.
A woman works at a distrubiton station at the 855,000-square-foot Amazon fulfillment center in Staten Island, one of the five boroughs of New York City, on Feb. 5. JOHANNES EISELE / AFP / Getty Images
Amazon will strive to cut carbon emissions from its shipments in half by 2030, the e-commerce giant said Monday. The retailer's plan calls for an increase in the use of electric delivery vehicles and renewable energy as well as pressuring suppliers to use less packaging.