Gov. Brown Joins International Leaders in Signing Landmark Agreement to Fight Climate Change
May. 20, 2015 08:52AM EST
Climate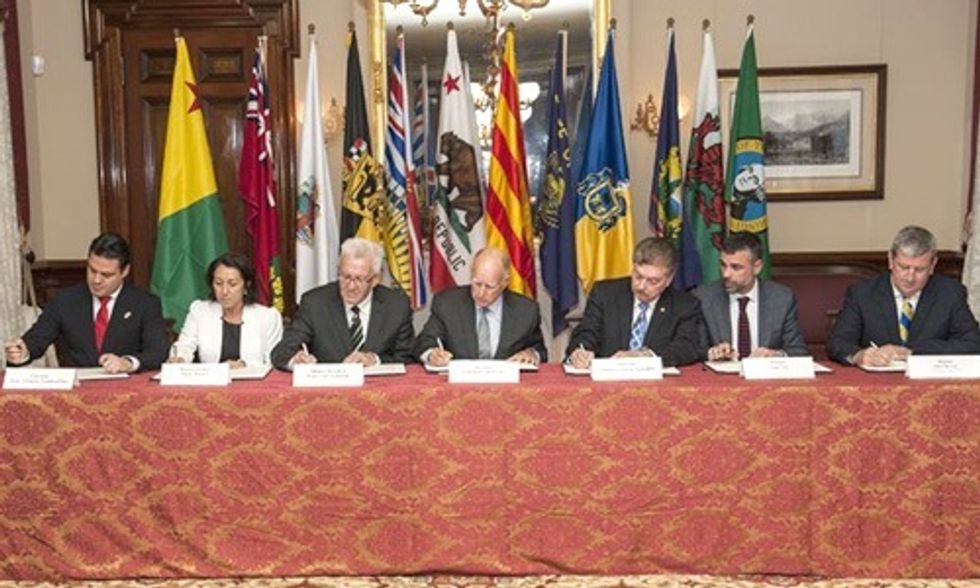 If California is the bellwether state, diving in first where other states eventually follow, then things may be looking up for the climate. Gov. Jerry Brown, along with the state legislature, has already taken a host of steps to reduce pollution and carbon emissions, and decrease the state's contribution to climate change.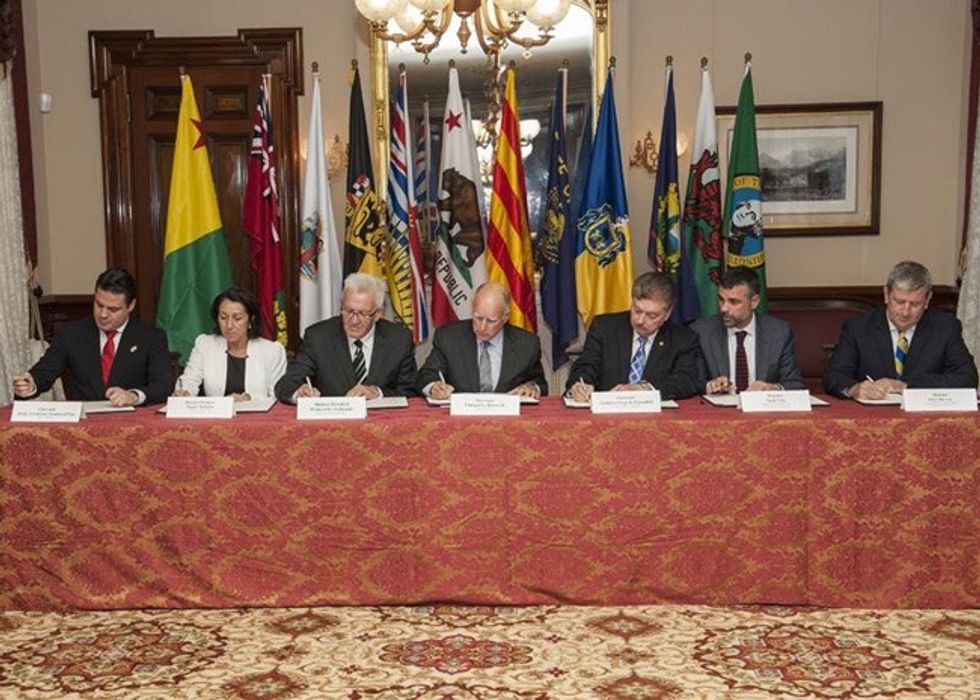 Last month, for instance, he announced an executive order to reduce greenhouse gas (GHG) emissions 40 percent by below 1990 by 2030. And in his inaugural address he set a goals of getting a third to half of the state's electricity from renewable sources, cut gas use by vehicles in half, double the energy efficiency of existing buildings and more—all within the next 15 years.
Gov. Brown took another huge step Tuesday when he convened government leaders from 11 states and provinces around the world in Sacramento to announce a landmark climate change agreement. It's the culmination of his aggressive work in reaching out to both domestic and foreign leaders on a local level to make such deals.
"Climate change presents worldwide challenges and risks to environment and economies, impacting human health, increasing extreme weather events, threatening natural resources and triggering forced migration of populations," said the Memorandum of Understanding (MOU). "Governments at all levels need act now to reduce GHG emissions in order to achieve long-term climate balance."
Among those involved in Tuesday's non-binding pact were the states of Oregon, Vermont and Washington, British Columbia and Ontario in Canada, Baja California and Jalisco in Mexico, Catalonia in Spain, Acre in Brazil, Baden-Württemberg in Germany and the UK country of Wales. Brown has already signed agreements with Peru, Israel, Japan, China, Mexico and Quebec, as well as Oregon, Washington and British Columbia to share information and research and develop projects together to fight the impacts of climate change. But this is the first such agreement between California and the other regional governments to set specific GHG reduction targets.
"This global challenge requires bold action on the part of governments everywhere," said Brown. "It's time to be decisive. It's time to act."
The signatories committed to either reducing greenhouse gas emissions 80-95 percent below 1990 levels by 2050 or achieving a per capita annual emission target of less than two metric tons by 2050 to limit the increase in global average temperature to below two degrees Celsius. Under the agreement each government can tailor a plan to suit regional needs. California's goal to reduce greenhouse gas emissions by 80 percent over 1990 levels by 2050 was set by executive order in 2005 by the state's previous governor, Arnold Schwartzenegger.
"There is no greater challenge than climate change," said Vermont Governor Peter Shumlin. "From disastrous flooding in Vermont to devastating drought in California, we are already seeing the disruptive effects of changing weather on our lands, in our communities and on our economy. Vermont is making this commitment because we know that states and regional governments have to work together for solutions on the ground to make a real difference. We must get this right for our kids and grandkids."
"This international agreement is an example of how pioneering governments in the fight against climate change, who truly believe that global warming must be one of the main concerns of the international community, are able to join efforts, take the lead and foster an ambitious agreement," said Catalonia's Minister of Territory and Sustainability Santi Vila. "It will always be easier and smarter to adapt to than to react to the impact of climate change. By signing this Memorandum of Understanding today, we take one more step forward towards this goal: we are increasingly aware of what the problem is, and we are fully convinced that what we need is to continue on implementing ambitious environmental policies to protect future generations."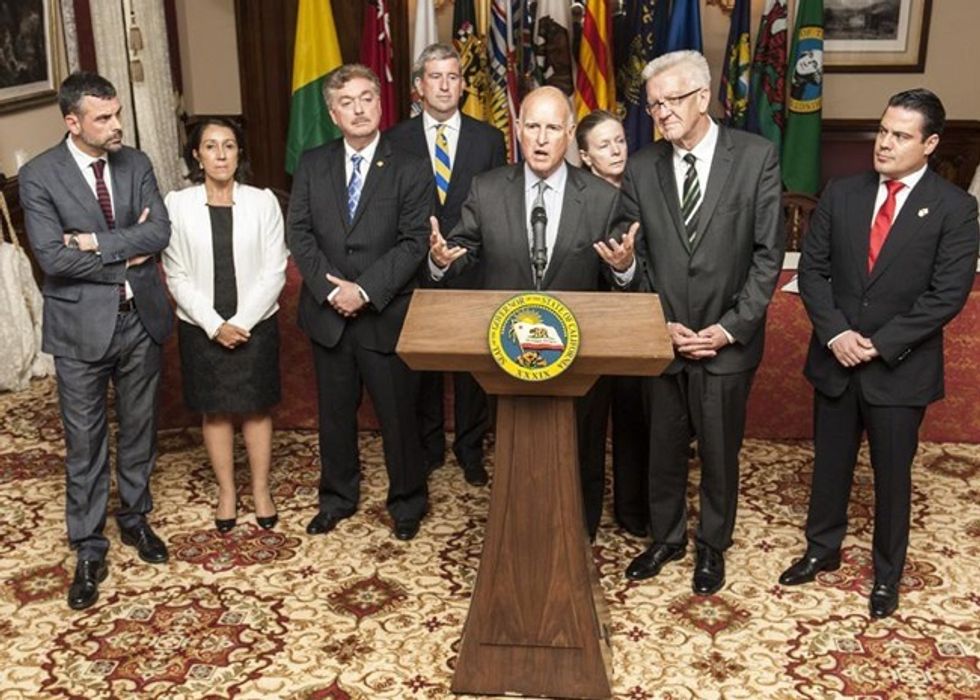 In  order to achieve their greenhouse gas reduction targets, the parties agreed to take steps such as sharing technology and research on energy efficiency and renewable energy; work together to expand use of zero-emission vehicles; and work to ensure consistent monitoring and reporting of greenhouse gas emissions. They also committed to recruiting additional regional governments prior to the UN Climate Change Conference in Paris in December, which Brown has already been aggressively doing. Brown's office says other governments have already expressed interest in joining the pact.
Environmental leaders praised the MOU and emphasized the value of regional governments taking steps to address climate issues.
"As these states and provinces know so well, change begins at home," said Natural Resources Defense Council President Rhea Suh. "Regional leadership is an essential ingredient in the global response to climate change. Today's announcement will help galvanize the groundswell of climate actions that is growing from every corner of the world."
"This agreement is further proof that states, provinces and cities are forging ahead with climate solutions, not waiting for others to act," said Environmental Defense Fund President Fred Krupp. "By taking this bold step, California and the other partners will not only secure significant emissions reductions but also demonstrate that climate action and prosperity go hand in hand. As we look ahead to the climate conference in Paris at the end of the year, today's announcement sets a strong example for countries to follow."
YOU MIGHT ALSO LIKE
California Governor Calls for 50 Percent Renewable Energy by 2030
Can Gov. Brown Use Elon Musk's Secret Sauce to Solve Epic Drought?
Thousands Call on Gov. Brown to Stand Up to Big Oil and Support 100% Renewable Energy
EcoWatch Daily Newsletter
Related Articles from EcoWatch
Recent Stories from EcoWatch