Gov. Brown Asks GOP Presidential Candidates: What Are You Going to Do About Climate Change?
Aug. 06, 2015 08:38AM EST
Climate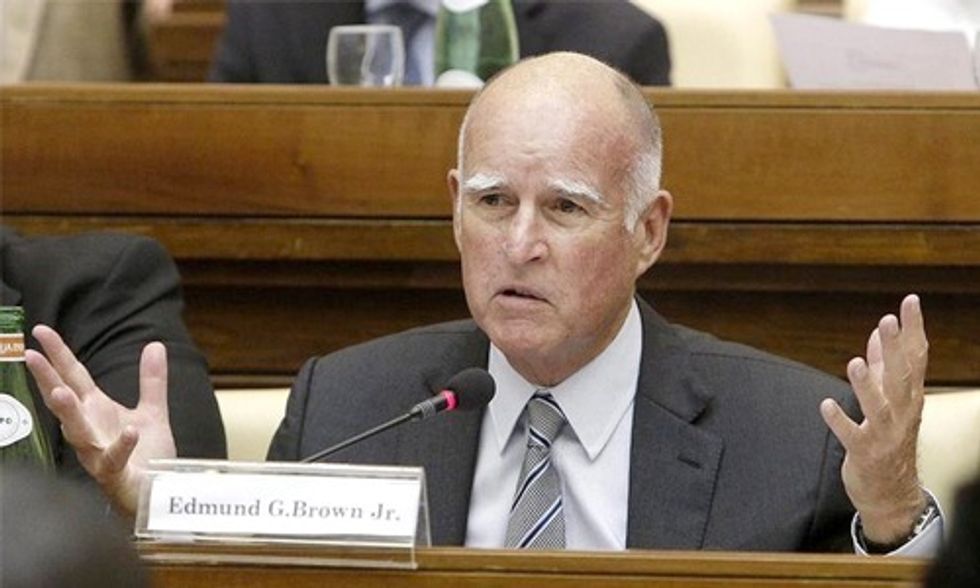 California Gov. Jerry Brown sent a letter yesterday to the 2016 GOP presidential candidates ahead of the first Republican primary debate in Cleveland, Ohio tomorrow night. The letter was addressed to Donald Trump, the frontrunner, but meant for all of the candidates. In the letter, Brown invokes his state's now "year-round" fire season and its epic drought as proof that climate change is not some "abstract" and far off threat. It's real, it's here and it's here to stay, says Brown.
Gov. Jerry Brown wants GOP candidates to explain what they plan to do about climate change http://t.co/nNCSmSeVuk pic.twitter.com/CKK6Pwb94I

— Los Angeles Times (@latimes) August 5, 2015
"This is the new normal. The climate is changing," Brown says. "Given the challenge and the stakes, my question to you is simple: What are you going to do about it? What is your plan to deal with the threat of climate change?" Brown also submitted this question to the Fox News Facebook page, where people were asked to upload questions that might be featured during the debate.
None of the top GOP presidential candidates have taken a strong stance on climate change. Several have flat-out denied that it's occurring, calling it a hoax or invoking the absurd "I'm not a scientist" argument. Climate change "held almost no weight in the presidential race in 2012," reports the Sacramento Bee. That is expected to change this time around, especially with the release of President Obama's clean power plan earlier this week.
"Continuing to question the science and hurl insults at 'global warming hoaxsters' and 'apostles of this pseudo-religion' won't prevent severe damage to our health and economic well-being," says Brown, who is encouraging bipartisanship on this issue. "Americans, their children and generations to come deserve—and demand—better."
Citing his recent visit to the Vatican, Brown points out that the rest of the world is moving forward on this issue and the U.S. needs to step up and be a leader. The California governor highlights the bold steps his own state plans to take to address climate change, including reducing greenhouse gas emissions 40 percent below 1990 levels, increasing from one-third to 50 percent the electricity derived from renewable sources and reducing petroleum use in cars and trucks by up to 50 percent all in the next 15 years. And he made sure to point out that California still outpaced the rest of the country in job growth in the past year.
Ending his letter, Brown warns, "As the fires continue to burn here in California, don't wait for the smoke to clear. It's time to act."
YOU MIGHT ALSO LIKE
Hillary's Horror Video Bashes GOP Climate Deniers
Jason Mraz: Stand With Farmers, Fight the Drought, Help Reverse Climate Change
Neil deGrasse Tyson: Politicians, Stop 'Cherry-Picking Science' for Political Gain
EcoWatch Daily Newsletter
Related Articles from EcoWatch
Recent Stories from EcoWatch