Gotham Greens + Method = World's Largest Rooftop Greenhouse Coming to Chicago
Jul. 29, 2015 01:26PM EST
Food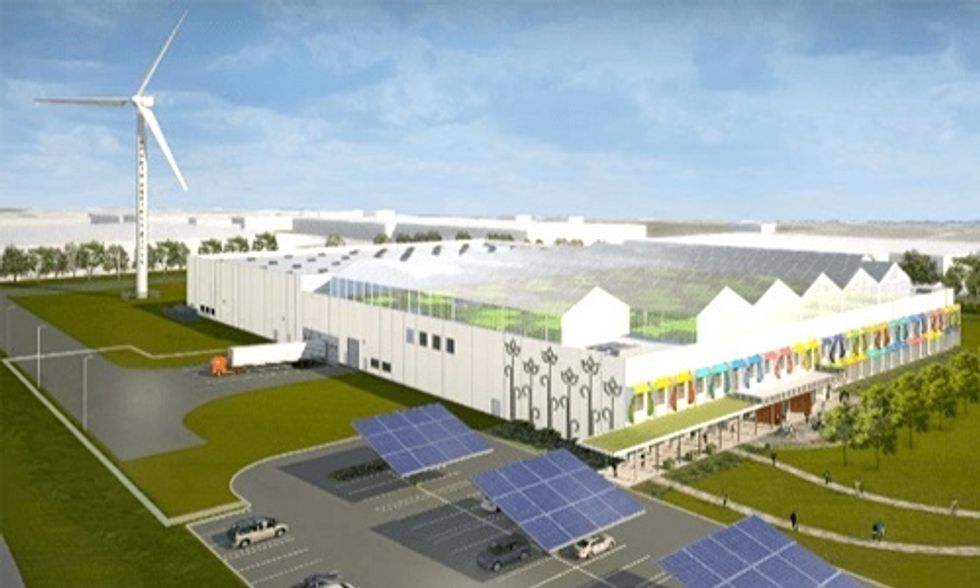 Chicago probably isn't the first place that comes to mind when you think of farming, but the city's Pullman Park district will soon be home to the largest rooftop greenhouse in the world. Once construction is complete, the behemoth 75,000 square foot green space, built and operated by Gotham Greens, will be larger than a football stadium and even some city blocks.
Greenhouse? More like greenmansion! Check out this 75,000 sq ft greenhouse coming to Chicago! http://t.co/ih8e0ork2m pic.twitter.com/WCiyzOGOgn

— Rimol Greenhouses (@RimolGreenhouse) October 11, 2014
As Business Insider puts it, "For some perspective on the size of the greenhouse: the average size of a city block in many parts of the U.S.—including Portland, Oregon and Houston, Texas—is 67,600 square feet. An NFL football field is 57,600 square feet. This greenhouse is larger than all of these things."
According to Gotham Greens, the greenhouse will produce up to 1 million pounds of sustainably grown, pesticide-free produce annually. The harvest will also be distributed through local retailers, restaurants, farmer's markets and community groups. Since the greens are grown locally, it eliminates the carbon emissions and miles that food traditionally travels to get to Chicago's plates.
"This is an exciting opportunity to bring fresh, healthy produce year-round to Pullman, which is underserved for food, and going through an exciting resurgence in economic development," Gotham Greens CEO Viraj Puri told DNAInfo. The rooftop farm is also expected to hire 40 workers to help grow the produce, the site reported.
The greenhouse features a slew of innovative farming technologies. With its soil-free hydroponic system, "Gotham Greens' irrigation methods use 20 times less land and 10 times less water and eliminate the need for pesticide use and fertilizer runoff," the company said. A computer-controlled system also regulates temperatures, irrigation needs and other variables, Business Insider noted.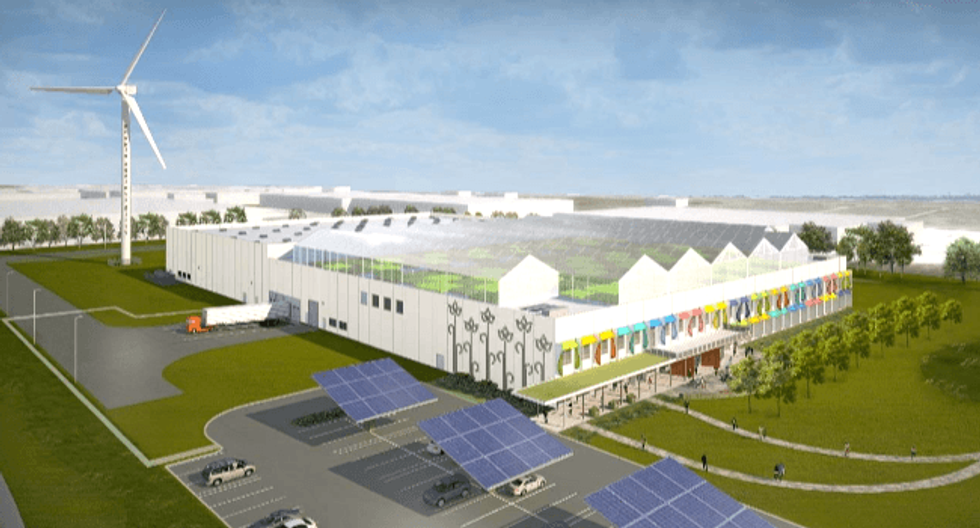 What's interesting is that Chicago's new greenhouse will sit on top of an already environmentally friendly factory occupied by eco-soap company Method. Designed by Cradle to Cradle company William McDonough + Partners, the $30 million building is the nation's first LEED Platinum manufacturing plant in this sector.
Read page 1
Method's so-called South Side Soapbox, contains a 230-foot wind turbine as well as three 35 x 35-foot solar tracking trees that follows the sun's path to maximize energy generation. According to Business Insider, this clean energy helps generate "a third" of the building's energy needs.
"Gotham Greens shares our goal of using business as a force for social and environmental good," Drew Fraser, CEO of Method, said in the press release. "We are thrilled to partner with a like-minded organization, who has demonstrated that the innovative, adaptive use of urban space can make a significant impact on local communities."
When the greenhouse is finally built, it will also help insulate the building to keep costs down even further, improve urban air quality and reduce stormwater runoff.
"We need to use our urban spaces more efficiently," Method's chief greenskeeper Saskia Van Gendt told Business Insider. "Rooftop greenhouses are a representation of a model of doing that."
Sunday Shenanigans at our rooftop #greenhouse in #Chicago with @methodtweet. #urbanfarming #Pullman #GothamGreens pic.twitter.com/wOHSPi2LQL

— Gotham Greens (@gothamgreens) July 5, 2015
It's a stroke of genius to bring these eco-minded companies together. As EcoWatch previously reported, Gotham Greens now has four state of the art greenhouses where its workers grow organic greens year round. Its flagship greenhouse in Greenpoint, Brooklyn, was built back in 2010 and was the first commercial scale rooftop greenhouse in the U.S, according to the company. Method, known for its colorfully pleasing soap bottles and for introducing the world's first bottle made of ocean waste, formulates its products with naturally derived, biodegradable ingredients.
Chicago mayor Rahm Emanuel only had nice words to say about the partnership. "Method has been instrumental in supporting the revitalization happening in Pullman, and the addition of this sustainable greenhouse means that more Chicago residents will have access to fresh, healthy foods grown in the neighborhood," Emanuel said in the release. "I commend both Method and Gotham Greens on their commitment to Pullman and look forward to seeing the results of this partnership come to fruition."
YOU MIGHT ALSO LIKE
1o Countries Taking the 'LEED' in Green Building
World's Largest Indoor Vertical Farm Breaks Ground in Newark, New Jersey
EcoWatch Daily Newsletter
Related Articles from EcoWatch
Recent Stories from EcoWatch