This website uses cookies to ensure you get the best experience while browsing it. By clicking 'Got It' you're accepting these terms.
GoSun Portable Stove Reinvents Solar Cooking
Jan. 20, 2015 01:45PM EST
Business
You've probably heard someone remark on a steamy summer day that it's so hot you could fry an egg on the sidewalk. That might not be such a good idea even if it were possible. But harnessing the sun for cooking isn't far-fetched at all. It's already being done.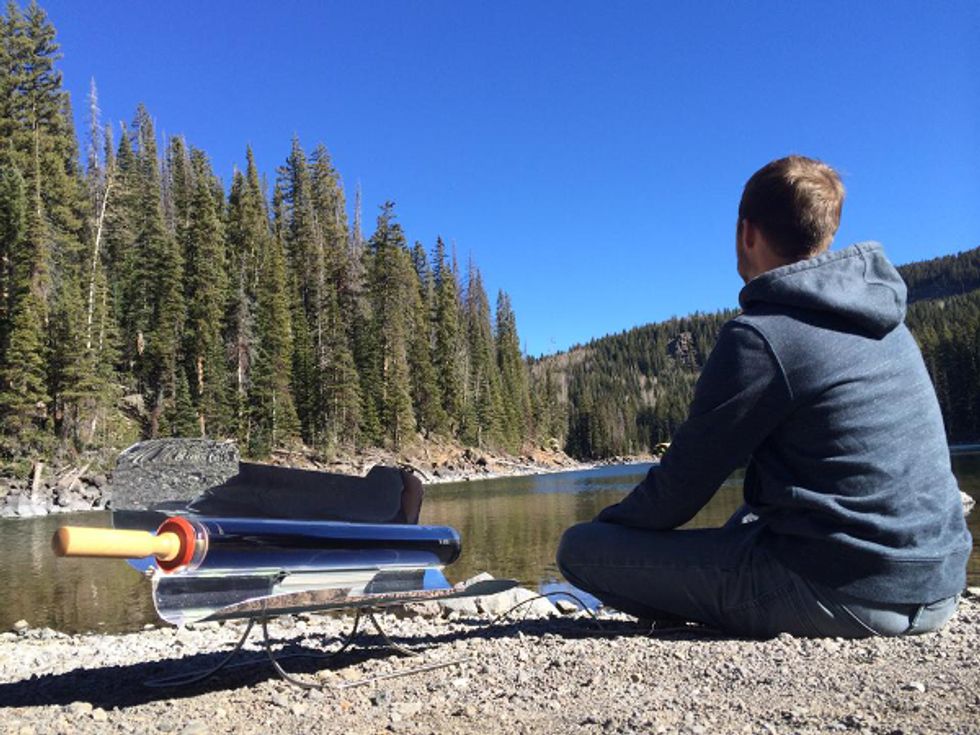 Cooking with solar power solves a host of problems. One is the availability and cost of cooking fuels, which can be prohibitive in developing regions. Another is the sustainability of the fuels. Some are fossil-fuel based, impacting the environment and driving climate change, while the bio-based fuels used in many poor countries lead to deforestation and soil erosion and depletion, impacting agriculture and food availability.  Still another is the safety and health impact of cooking with these fuels, which can give off toxic byproducts. There's the ever-present danger of fire as well, a concern for campers since one leading cause of wildfires is campfires that were insufficiently extinguished.
So some enterprising companies are thinking, if the sun can be harnessed to produce energy, why not cook with it? One of those is GoSun, whose lightweight, durable GoSun stove debuted last year. The stove was created by solar designer/installer Patrick Sherwin as an offshoot of his experiences traveling to remote locations and living off the grid. They opened his eyes to the enormous potential of solar cooking as well as the shortcomings of existing solar ovens.
"Today nearly three billion people cook with dirty fuel sources, such as wood, dung or charcoal," says Sherwin. "As a result, the second leading cause of death on Earth is smoke inhalation-related illness. In addition, fuel wood scarcity drives families around the world to spend many hours collecting and transporting heavy loads of fuel wood, often to the detriment of already endangered ecosystems."
The GoSun stove addresses issues of how to concentrate solar rays using mirrors and other reflective surfaces to trap rays coming from all directions and raise them to temperatures sufficient for cooking, then holding onto that heat while remaining cool to the touch. The process is basically a controlled greenhouse effect. "When sun is absorbed by the GoSun's evacuated tube, it's transformed into heat, and that heat is then trapped inside the cooking chamber," says Sherwin. "We're maximizing the greenhouse effect to help minimize the greenhouse effect."
The GoSun Sport stove, which retails for $249, reaches temperatures of 550 degrees and can cook a meal in 20 minutes, although the length of cooking time depends on what's being cooked and the amount of sunlight. It can do some cooking in relatively sun-free conditions. There's a portable mini version that sells for $65 for those who want to travel light. There's even the elaborate GoSun Station, a solar cooker for professional kitchens, designed to produce 64 meals per hour and as many as 500 per day. That one is almost $4,000 but it's as tricked out as you'd expect a stove designed for restaurant or catering use to be.
While dedicated campers and adventurers—people often concerned about health and the environment—may want to add the GoSun stove to their arsenal of gear, paying those relatively reasonable prices isn't so easy for those for whom the need is greatest. So GoSun partners with organizations like the Global Alliance for Clean Cookstoves and local groups in countries like Haiti and Honduras to underwrite the cost of the stoves.
"Every GoSun sold subsidizes the sale of a GoSun to the people who can benefit the most in the developing world," says Sherwin. "The GoSun solar cooking technology leapfrogs solid fuels completely, providing a safe, fast and affordable alternative to the status quo."
YOU MIGHT ALSO LIKE
Developing Countries Invest in Renewables Twice the Pace of Industrialized Nations
9 Ways to Cook for One With Zero Waste
EcoWatch Daily Newsletter
A Starbucks barista prepares a drink at a Starbucks Coffee Shop location in New York. Ramin Talaie / Corbis via Getty Images
By Cathy Cassata
Are you getting your fill of Starbucks' new Almondmilk Honey Flat White, Oatmilk Honey Latte, and Coconutmilk Latte, but wondering just how healthy they are?
By Sharon Kelly
Back in April last year, the Trump administration's Environmental Protection Agency decided it was "not necessary" to update the rules for toxic waste from oil and gas wells. Torrents of wastewater flow daily from the nation's 1.5 million active oil and gas wells and the agency's own research has warned it may pose risks to the country's drinking water supplies.
Swedish climate activist Greta Thunberg takes part in a "Friday for Future" youth demonstration in a street of Davos on Jan. 24, 2020 on the sideline of the World Economic Forum annual meeting. FABRICE COFFRINI / AFP via Getty Images
Treasury Secretary Steven Mnuchin pretended not to know who Greta Thunberg is, and then he told her to get a degree in economics before giving world leaders advice, as The Guardian reported.
The Visible Infrared Imaging Radiometer Suite on the Suomi NPP satellite acquired this image of forest fire smoke hovering over North America on Aug. 15, 2018. NASA Earth Observatory
New York City isn't known for having the cleanest air, but researchers traced recent air pollution spikes there to two surprising sources — fires hundreds of miles away in Canada and the southeastern U.S.
If temperatures continue to rise, the world is at risk from global
sea-level rise
, which will flood many coastal cities as seen above in Bangladesh. NurPhoto / Contributor / Getty Images
The mounting climate emergency may spur the next global financial crisis and the world's central banks are woefully ill equipped to handle the consequences, according to a new book-length report by the Bank for International Settlements (BIS), as S&P Global reported. Located in Basel, Switzerland, the BIS is an umbrella organization for the world's central banks.