GoSun Grill: The Only Solar Cooker That Cooks Day or Night
Apr. 23, 2015 11:35AM EST
Business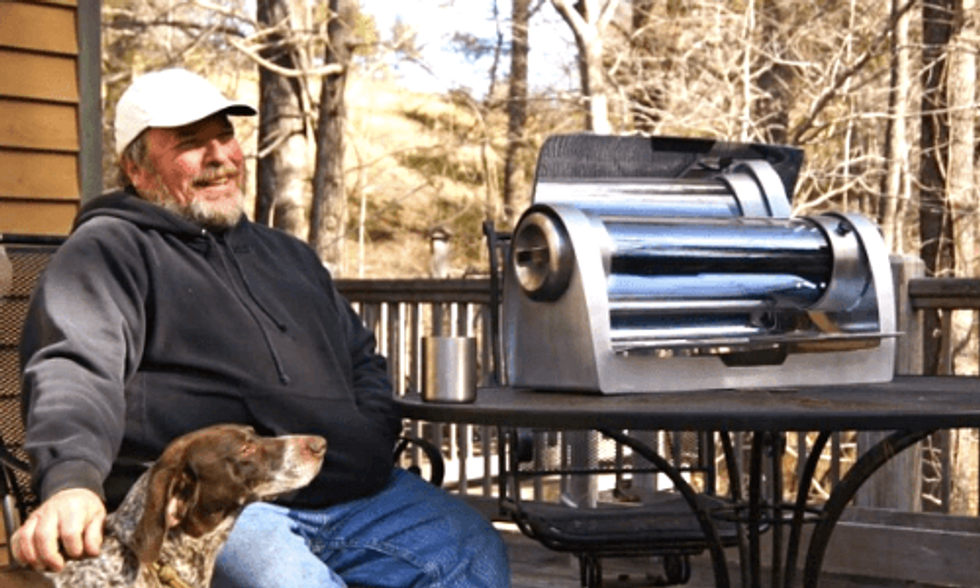 Earlier this year, we featured the GoSun Stove, a compact fuel-free cooker powered by nothing more than the sun's rays. Now, the forward-thinking company is trying to launch their GoSun Grill—a larger and perhaps improved version of the cooker since it feeds many more people.
The GoSun Grill on @kickstarter it's the only solar cooker that COOKS AT NIGHT. 80K 1st day http://t.co/TXDiY8XROe pic.twitter.com/6oPUZZU1u1

— GoSun Stove (@GoSunStove) April 22, 2015
GoSun social designer Matt Gillespie told EcoWatch that the solar cooker can roast a meal for eight as fast as a grill. And since it has a thermal battery, users can cook whenever they want to, even if it's cloudy.
"We see it as a complete redesign of what the modern grill can be," he said.
Unlike a regular grill, food is "steam-fried" inside a tubed-shaped chamber that captures heat from the sun, making it perfect for roasting vegetables and meats and even baking bread. It reaches temperatures of 550 degrees and can cook a meal in 20 minutes, depending on what's being cooked and the amount of sunlight.
Another way of looking at it? It's simply an ingenious modification to a solar water heater. This eureka moment came from GoSun inventor and solar energy expert Patrick Sherwin who realized while taking apart a solar water heater that the vacuum tubes inside the device could also heat up his lunch.
Different iterations of GoSun's stoves can currently be purchased online, from the portable $65 mini that could be used for camping to the $4,000 industrial-sized version for much larger groups. The GoSun Grill, which is currently crowdsourcing on Kickstarter, is an in-between size stove that would be great for family gatherings.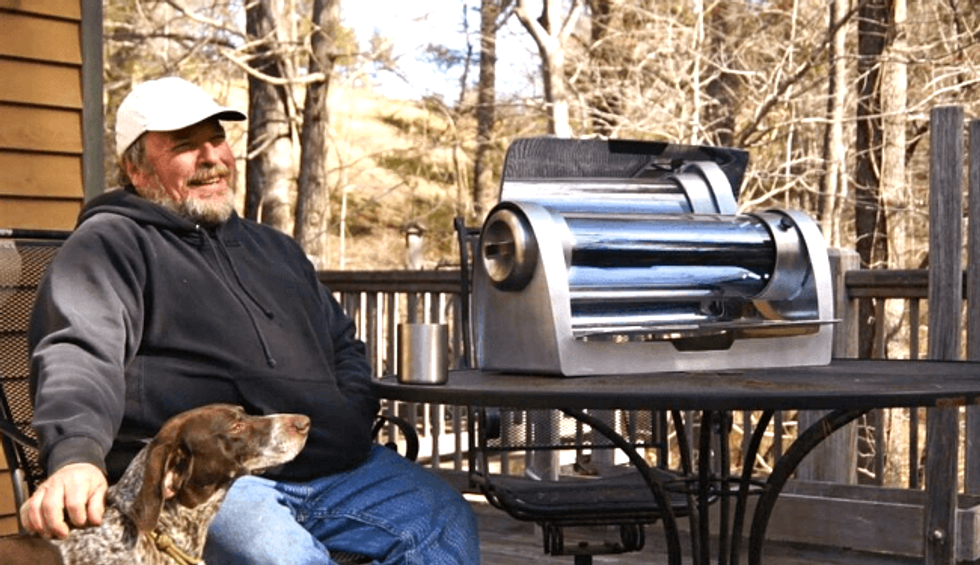 As we previously mentioned, cooking with solar power replaces the cost of cooking fuels, which can be prohibitively expensive in developing regions. Additionally, since some cooking fuels are fossil-fuel based, it pollutes the environment, drives climate change and causes devastating health issues.
"Today around 3 billion people cook with dirty fuel sources, such as wood, dung or charcoal," the company said. "As a result, smoke inhalation related illness ranks with malaria and AIDs as one of the great greatest problems facing the world. In addition, fuel wood scarcity drives families around the world to spend many hours collecting and transporting heavy loads of fuel wood, often to the detriment of already endangered ecosystems. If fire wood is purchased it often makes a sizeable portion of the family's income."
That's why GoSun is working with the Global Alliance for Clean Cookstoves to help reduce reliance on dirty cooking fuels. Gillespie said that GoSun is redesigning a model for developing markets and is close to launching their social enterprise. "The stove has been proven to save time, money and forest in Guatemala, and is poised to launch in 2015," he said.
The GoSun Grill should be available on the company's product line soon, as it's on track to meet its $140,000 crowdfunding goal. Watch how the cooker works in the video below.
GoSun Grill launches on #Kickstarter: A Break-Through Solar Oven that Cooks at Night https://t.co/dPhQr07sZl @GoSunStove #cookstoves

— Clean Cookstoves (@cookstoves) April 20, 2015
YOU MIGHT ALSO LIKE
How You Can Go Solar Without Even Owning a Single Panel
Solar-Powered 3D Printers a Game-Changer for Developing Countries
EcoWatch Daily Newsletter