GOP Agenda Promises Worst Attack on Environmental Protections in Decades
Last year, it often seemed like we were fighting attacks on the environment from all sides. But those of us pushing back against pollution and climate change enjoyed some significant victories in 2014, including the People's Climate March in New York in September—said to be the largest environmental march in history—the dimming prospects for drilling in the Arctic, and of course, the fracking ban in New York state.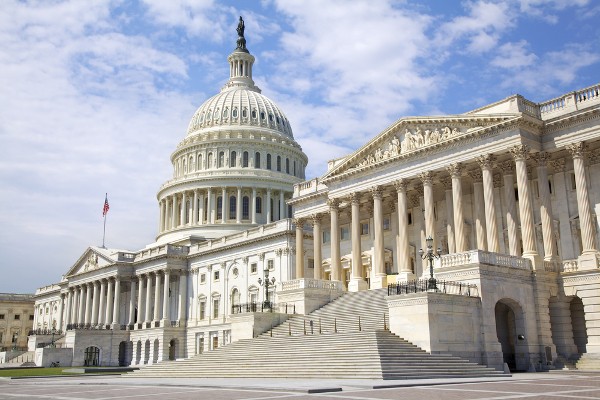 Photo credit: Shutterstock
2015 is shaping up to be a year of even bigger environmental battles, with a new Republican majority in the Senate and a larger Republican majority in the House, as well as statehouses and governor's mansions dominated by supporters of fossil fuels. And cities and towns are looking at pushing back against polluting industries for the right to make decisions locally about issues that impact their own water, air and soil. Here are the major battles we need to prepare for.
Federal
On the federal level, the first fight will be over the Keystone XL pipeline. That's already been promised by Republican leaders in the House and the Senate. Incoming Senate majority leader Mitch McConnell said in December when the attempt to pass approval of the pipeline failed by one vote in the Senate that passing it would be his first item of business. This time it's sure to pass. And while three progressive Democrats last week wrote to House Speaker John Boehner, urging him to put the approval bill through the regular committee process, he certainly could rush it through, eager to get it to President Obama's desk. With the near-certainty of congressional approval, all eyes will be on Obama, who has strongly suggested he will veto it. Can Congress override his veto?
The other big federal battle will be over the authority of the U.S. Environmental Protection Agency (EPA), whose wings the new congressional leaders are eager to clip. Their friends at conservative lobby group the American Legislative Exchange Council (ALEC) have the total elimination of the EPA at the top of their wish list. While that's not likely to happen, Congress will to try to do everything in its power to make sure that the new carbon emissions standards Obama announced in June do not take effect, that new ozone rules are not implemented and that renewable fuel standards are blocked. Their friends in Big Coal are counting on them. They're forming a new oversight subcommittee specifically to oversee the EPA, and it'll be headed by Wyoming's Cynthia Lummis, who has a long anti-environmental record and a lifetime score of just 7 percent from the League of Conservation Voters (LCV)—0 percent in 2013.
State
Another ALEC dream item is the repeal of renewable energy standards. Their dreams came true in Ohio this past July when Governor John Kasich signed SB 310, making Ohio the first state in the country to walk backwards on clean, sustainable energy. Meanwhile utility companies are appealing to the Public Utilities Commission of Ohio (PUCO) to let them stick Ohio energy consumers with the cost of upgrading and keeping in service obsolete coal-fueled plants, probably not a coincidence. Ohio was the first successful attempt to sabotage the rapid growth of the wind and solar sectors and shore up the fading coal industry. The bill has been cropping up other state legislatures so activists across the country should keep an eye out for it.
Another state issue that could appear again is the effort by consumer groups to force food companies to label genetically modified products—GMOs. This past November, such measures were defeated in Colorado and Oregon, with chemical and industrial food companies massively outspending consumer-oriented groups. Despite that, the Oregon measure failed by less than 1,000 votes—and that was only with 4,000 ballots not counted due to errors. This could surface again, particularly as the opponents of labeling are suing to block Vermont's legislatively passed labeling bill, leaving more consumers wondering what they're fighting  so hard to conceal.
Local
Despite the unexpected victory in New York over fracking, look for the battles over the environment-ravaging form of oil and gas extraction to be fought mostly on the local level. In November, eight counties across the country had fracking bans on the ballot, and four passed, again despite huge spending by fossil fuel interests. One was in Denton, Texas, often considered the birthplace of fracking, where the big extraction companies angered citizens by refusing to work with them on sensible regulations to protect residents' homes and businesses. With lucrative oil and coal deposits locked in that shale, the industry has responded with lawsuits and intimidation, wanting fossil fuel-friendly state governments to be able to overrule local bans. Citizen groups are framing it as a home-rule issue: do citizens or corporate interests get to lay down the rules for the environment that citizens have to live with? Stay tuned.
YOU MIGHT ALSO LIKE
Keystone XL Debate to Take Center Stage in New Congress
ALEC Gives Congressional Climate Deniers Their 2015 Marching Orders
Fracking Bans Pass in Denton, Texas, Two California Counties and One Ohio Town
Will Rose / Greenpeace
Eleven peaceful activists from the Greenpeace ship Arctic Sunrise have taken to the water in inflatable boats with handheld banners to oppose the Statoil Songa Enabler oil rig, 275 km North off the Norwegian coast, in the Arctic Barents sea.
The banners say: "People Vs. Arctic Oil" and are directed at Statoil and the Norwegian government, which has opened a new, aggressive search for oil in the waters of the Barents Sea.
Keep reading...
Show less
Jul. 21, 2017 10:34AM EST
Dominion Pipeline Monitoring Coalition
The Federal Energy Regulatory Commission (FERC) paved the way Friday for the 600-mile, 42-inch fracked gas Atlantic Coast Pipeline to proceed when it issued the final environmental impact statement (FEIS). A joint project of utility giants Duke Energy and Dominion Energy, the Atlantic Coast Pipeline would move fracked gas from West Virginia into Virginia and North Carolina.
In April, the Sierra Club submitted more than 500 pages of legal and technical comments on FERC's draft EIS, which were joined by more than 18,000 individual comments detailing opposition to the project. The pipeline has been met with widespread opposition, with more than 1,000 people participating in public hearings across the three affected states. The Sierra Club recently requested that FERC issue a new environmental review document analyzing information that came in after or late in, the public comment process.
Keep reading...
Show less
Jul. 21, 2017 08:25AM EST
Greenpeace / PolluterWatch
By Jessica Corbett
"It's time Rex Tillerson step down or be removed," said Gigi Kellett of Corporate Accountability International, following an announcement on Thursday that ExxonMobil will pay $2 million for violating U.S. sanctions against Russian officials while the now-secretary of state was the company's CEO.
"ExxonMobil demonstrated reckless disregard for U.S. sanction requirements," according to enforcement filing released by the Treasury Department's Office of Foreign Assets Control (OFAC), which issued the penalty. Though the fine is reportedly the maximum penalty allowed, it's pittance to one of the world's most profitable and powerful corporations, which last year reported a profit of $7.8 billion.
Keep reading...
Show less
Jul. 21, 2017 11:15AM EST
New analysis from Amory B. Lovins debunks the notion that highly unprofitable, economically distressed nuclear plants should be further subsi­dized to meet financial, security, reliability and climate goals. The analysis, which will appear shortly in The Electricity Journal, shows that closing costly-to-run nuclear plants and reinvesting their saved operating costs in energy efficiency provides cheaper elec­tricity, increases grid reliability and security, reduces more carbon, and preserves (not distorts) market integrity—all without subsidies.

Keep reading...
Show less
Jul. 21, 2017 08:44AM EST
Oil Change International / Twitter
By Christian Detisch and Seth Gladstone
In the wake of Senate Republicans' ever-deepening debacle over their flailing attempts to strip health insurance from 22 million people, Majority Leader Mitch McConnell is desperate to do something—anything—to show that he can get legislation passed. To this end, he's bypassing the standard committee review process to push a complex 850+ page energy bill straight to the full Senate floor. Perhaps not surprisingly, this legislation, the Energy and Natural Resources Act of 2017, would be a disaster for public health and our climate.
Keep reading...
Show less
Jul. 21, 2017 08:11AM EST
Rooftop solar panels on a beach house in southern Florida. TAI VIINIKKA / CC BY-NC-ND 2.0
A new law passed this week in South Miami will require all new homes built in the city to install solar panels. The measure, which was inspired by a proposal from a teenage climate activist, will go into effect in September.
The text of the ordinance details the climate impacts facing South Miami.
Keep reading...
Show less
Jul. 21, 2017 10:27AM EST
www.youtube.com
Keep reading...
Show less
Jul. 21, 2017 08:49AM EST
iStock
By Katherine Paul and Ronnie Cummins
A recent series of articles by a Washington Post reporter could have some consumers questioning the value of the U.S. Department of Agriculture's (USDA) organic seal. But are a few bad eggs representative of an entire industry?
Consumers are all for cracking down on the fraudulent few who, with the help of Big Food, big retail chains and questionable certifiers give organics a bad name. But they also want stronger standards, and better enforcement—not a plan to weaken standards to accommodate "Factory Farm Organic."
Keep reading...
Show less