Google X Announces Revolutionary Flying Wind Turbines at SXSW
Mar. 18, 2015 01:59PM EST
Business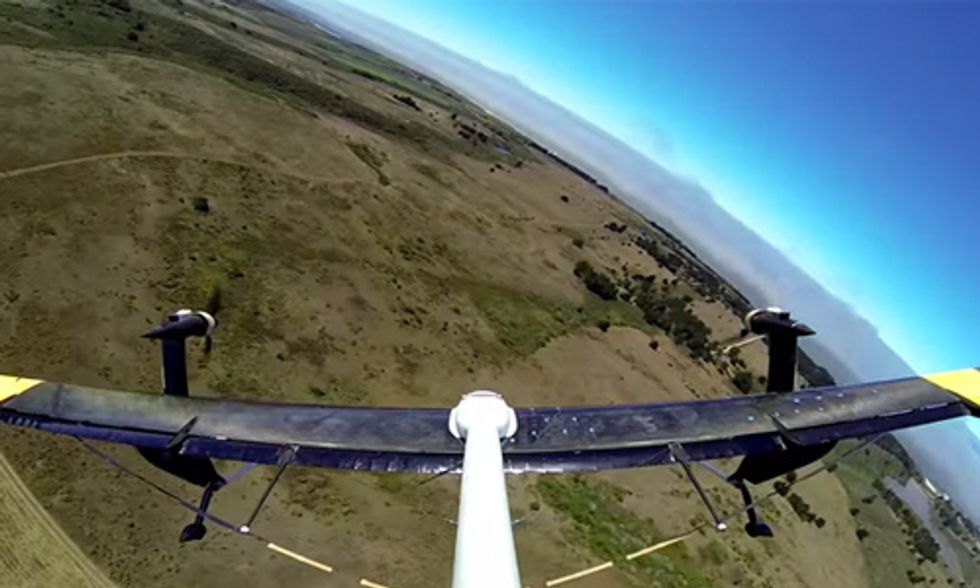 Wind currently makes up a small percentage of global power, but that is quickly changing. Over time, wind turbines have become taller, heavier and more expensive in order to generate more power. According to Google, "These large structures are expensive and complex to construct and can only be installed where the winds routinely reach speeds of between 5-8 meters per second." Less than 15 percent of land around the world meets that criteria, so a new approach is needed, says Google.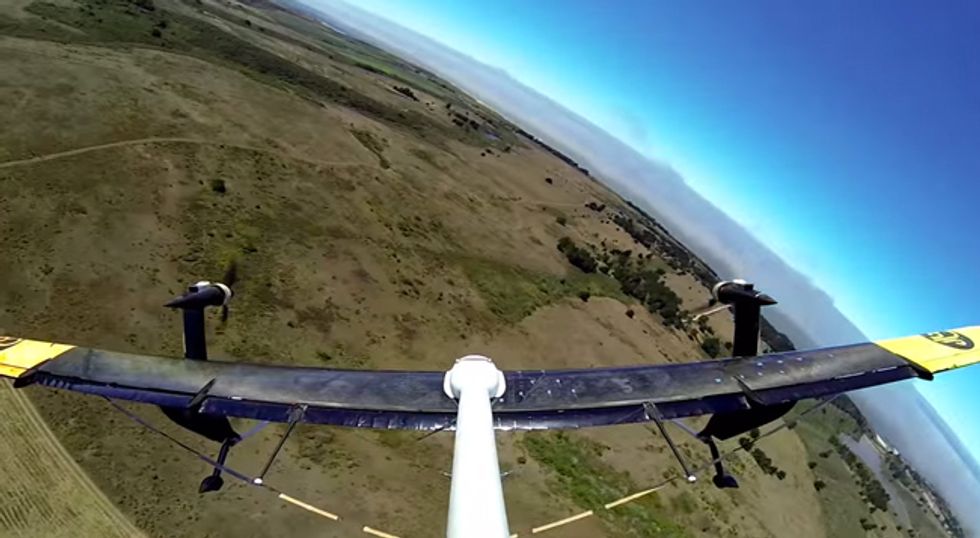 That's why Google has announced that it will begin taking its large-scale wind turbines airborne next month, according to the International Business Times. Astro Teller, the head of Google X, announced the news to a crowd at South by Southwest (SXSW) during a keynote address that capped off the Interactive portion of the major tech festival. Google X, a project of Google that is dedicated to making major technological advancements, is calling the massive kite-like turbines Project Makani. Up until now, Google has only tested smaller scale, 28-feet long models, but now the company will test a full-scale model.
Flying wind turbines might sound like another outlandish Google project, but Teller told SXSW attendees that "There's an enormous benefit to going up higher." The wind turbines could "generate 50 percent more energy by accessing stronger winds at higher altitudes, while eliminating 90 percent of the materials used in conventional wind turbines," according to Project Makani's website.
"The Project Makani kites look like the wingspan of a large airplane minus the cabin in the middle," said the International Business Times. "Each kite has eight propellers that it uses to take off and a tether that keeps it attached to the ground. After the kite ascends to the limit of the tether, which is more than 1,400 feet, the propellers stop climbing. At that point, they begin serving as flying wind turbines and the kite starts doing large circles in the sky. Combined, this generates 600 Kilowatts of energy that is continuously sent down the tether."
"If this works as designed it would meaningfully speed up the global move to renewable energy," said Teller. The project's website says "incremental improvements to existing technologies are not enough to make clean energy globally significant." Google's wind turbines use the same aerodynamic principles as conventional wind turbines, "but replaces tons of steel with lightweight electronics, advanced materials and smart software," says Makani. The Makani kites can produce more power at any given wind speed and they can be sited in more locations while requiring less ground space, according to the website.
To test the turbines, the team went to one of the windiest places in North America: Pigeon Point in Pescadero, California. "The speed of the wind can change by 20 miles per hour in a second, and the direction of the wind can change by 90 degrees in a second," Teller said according to the Verge. The Google team was hoping that in picking such a difficult location they would fail, so they could learn from their failure. But the turbines didn't crash. "We failed to fail," said Teller. "We didn't crash, not once."
Here's a video of one of the tests showing how the turbine works:
YOU MIGHT ALSO LIKE
Huge Barriers Remain in Rapid Shift to Renewables, But Solution Is at Hand
Wind Could Be Leading Source of Electricity by 2050, Says US Dept of Energy Report
EcoWatch Daily Newsletter