This website uses cookies to ensure you get the best experience while browsing it. By clicking 'Got It' you're accepting these terms.
A petite woman from Peru has been honored with a huge award, the 2016 Goldman Environmental Prize, for years of principled resistance to the Colorado-based gold-seeking conglomerate Newmont Mining Company.
"During my struggle I felt very sad, like I was alone, but now I know I am not alone," Máxima Acuña de Chaupe told a small group at a pre-ceremony reception Saturday night in San Francisco's historic Mission District. Nearby her grandson Maximo squealed and chased a miniature soccer ball in happy ignorance of the seriousness of the subject.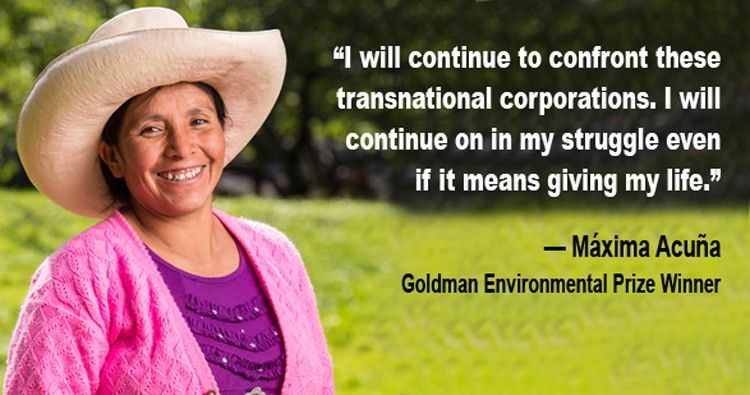 Clearly emotional and a bit overwhelmed by the attention of so many people in a bustling city thousands of miles from her highland home, upon which Newmont has staked a claim on a very large gold deposit, her tone hardened as she finished her thought: "People are becoming aware and understand what I'm fighting for: the land, water and life, not only my own, but the population in general."
Celebrated globally for her courageous refusal to sell or cede the land her family uses to raise animals and vegetables to Newmont for its proposed Conga gold mine, Acuña de Chaupe and her family have survived lawsuits filed by the company and endured harassment and beatings at the hands of a security force alleged to be on the company payroll.
Adam Shapiro of Ireland-based human rights NGO Front Line Defenders has been following and documenting these events and said this week that when he was visiting the area recently, there was another incident. "The security company hired by the mine operator arranged for locals from nearby villages to come and tear up vegetables that had been planted by Máxima's son. This was part of a pattern of such attacks against the family," he said. "The security company maintains a presence allowing for 24 hour surveillance of the home and the farm and there are always guards watching as well as controlling traffic on the road."
Under such circumstances, Máxima is not alone. In the short time that Shapiro was there, he reported that a land rights defender in a nearby town received death threats.
This pattern is playing out across South and Central America, where environmentalists and land rights defenders challenging mining companies and other megaprojects put themselves at risk. The example foremost in conversations at the Saturday reception was 2015 Goldman Prize winner Berta Cáceres, murdered last month apparently for opposing a dam project in Honduras.
Another NGO that has been tracking developments in Peru closely is Earthworks, whose Mining Program Director, Payal Sampat, stated that the award is further proof that this lamentable state of affairs is finally changing. "Mining companies cannot ride roughshod over community wishes—such bad behavior may have been standard operating practice 20 years ago, but is not something that communities will tolerate or that shareholders will turn a blind eye to," she said. "Trampling community wishes comes with consequences to the bottom line."
For evidence, Sampat pointed to the idling of the Conga proposal for years due to the resistance of Acuña de Chaupe and her community and the fact that Newmont appears to have now taken it off their list of current assets, as outlined in a press release her group just released: "The world's second largest gold mining company, Denver-based Newmont's 2016 10-K SEC filing declared: "Under the current social and political environment, the company does not anticipate being able to develop Conga for the foreseeable future." Newmont will hold its annual shareholders' meeting in Delaware on April 20."
While a spokesman for the company, Omar Jabara, countered that that the Goldman Prize "does not have balanced or complete information about the land dispute," despite Newmont losing in court three times, including the country's Supreme Court according to Acuña de Chaupe's lawyer, Mirtha Vasquez, he confirmed the company's recent statement about the project's idle status, which in light of this week's news will probably be a topic of conversation when the company's investors meet again soon.
For her part, Máxima says that she does not know what to expect when she returns to Peru, but that she remains steadfast in her stance and knows the world will be watching. So as the sun set over San Francisco this past weekend, she closed her statements by saying, "I will continue to confront these transnational corporations. I will continue on in my struggle even if it means giving my life."
YOU MIGHT ALSO LIKE
Meet the 2016 Goldman Environmental Prize Winners
300+ Arrested in Mass Civil Disobedience Protests at the Nation's Capitol
Dalai Lama, Archbishop Tutu Among 250 Faith Leaders Urging Immediate Action on Climate Change
Danger, Will Robinson: Oil Industry Knew CO2-Climate Link in '68
EcoWatch Daily Newsletter
Oil palm plantations in northeastern Borneo, state of Sabah, Malaysia. Recently planted oil palms can be seen in the bright green grassy areas and a tiny bit of natural rainforest still struggles for survival farther away. Vaara / E+ / Getty Images
A fuel truck carries fuel into a fracking site past the warning signs Jan. 27, 2016 near Stillwater, Oklahoma. J Pat Carter / Getty Images
By Jessica Corbett
For more than three decades, the U.S. government has mismanaged toxic oil and gas waste containing carcinogens, heavy metals and radioactive materials, according to a new Earthworks report — and with the country on track to continue drilling and fracking for fossil fuels, the advocacy group warns of growing threats to the planet and public health.
European Union blue and gold flags flying at the European Commission building in Brussels, Belgium. 35007/ iStock / Getty Images Plus
Newly adopted guidelines set forth by the European Commission Tuesday aim to tackle climate change by way of the financial sector. The move comes to bolster the success of the Sustainable Action Plan published last year to reorient capital flows toward sustainable investment and manage financial risks from climate change, environmental degradation and social issues.
Prime Minister Justin Trudeau delivering remarks to supporters at a Liberal Climate Action Rally in Toronto, Ontario on March 4. Arindam Shivaani / NurPhoto / Getty Images
Canadian Prime Minister Justin Trudeau announced Tuesday that his government would once again approve the expansion of the Trans Mountain pipeline, which would triple the amount of oil transported from Alberta's tar sands to the coast of British Columbia (BC).
An exhausted polar bear wanders the streets of Norilsk, a Siberian city hundreds of miles from its natural habitat. IRINA YARINSKAYA / AFP / Getty Images

An exhausted, starving polar bear has been spotted wandering around the Siberian city of Norilsk, Reuters reported Tuesday. It is the first time a polar bear has entered the city in more than 40 years.
Bumblebees flying and pollinating a creeping thyme flower. emeliemaria / iStock / Getty Images
It pays to pollinate in Minnesota.