This website uses cookies to ensure you get the best experience while browsing it. By clicking 'Got It' you're accepting these terms.
A petite woman from Peru has been honored with a huge award, the 2016 Goldman Environmental Prize, for years of principled resistance to the Colorado-based gold-seeking conglomerate Newmont Mining Company.
"During my struggle I felt very sad, like I was alone, but now I know I am not alone," Máxima Acuña de Chaupe told a small group at a pre-ceremony reception Saturday night in San Francisco's historic Mission District. Nearby her grandson Maximo squealed and chased a miniature soccer ball in happy ignorance of the seriousness of the subject.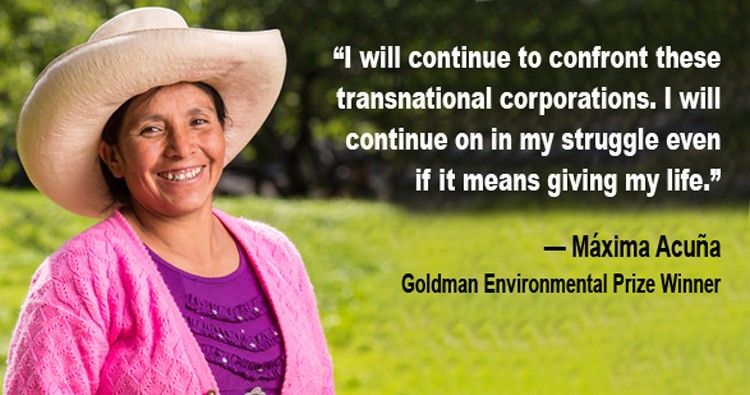 Clearly emotional and a bit overwhelmed by the attention of so many people in a bustling city thousands of miles from her highland home, upon which Newmont has staked a claim on a very large gold deposit, her tone hardened as she finished her thought: "People are becoming aware and understand what I'm fighting for: the land, water and life, not only my own, but the population in general."
Celebrated globally for her courageous refusal to sell or cede the land her family uses to raise animals and vegetables to Newmont for its proposed Conga gold mine, Acuña de Chaupe and her family have survived lawsuits filed by the company and endured harassment and beatings at the hands of a security force alleged to be on the company payroll.
Adam Shapiro of Ireland-based human rights NGO Front Line Defenders has been following and documenting these events and said this week that when he was visiting the area recently, there was another incident. "The security company hired by the mine operator arranged for locals from nearby villages to come and tear up vegetables that had been planted by Máxima's son. This was part of a pattern of such attacks against the family," he said. "The security company maintains a presence allowing for 24 hour surveillance of the home and the farm and there are always guards watching as well as controlling traffic on the road."
Under such circumstances, Máxima is not alone. In the short time that Shapiro was there, he reported that a land rights defender in a nearby town received death threats.
This pattern is playing out across South and Central America, where environmentalists and land rights defenders challenging mining companies and other megaprojects put themselves at risk. The example foremost in conversations at the Saturday reception was 2015 Goldman Prize winner Berta Cáceres, murdered last month apparently for opposing a dam project in Honduras.
Another NGO that has been tracking developments in Peru closely is Earthworks, whose Mining Program Director, Payal Sampat, stated that the award is further proof that this lamentable state of affairs is finally changing. "Mining companies cannot ride roughshod over community wishes—such bad behavior may have been standard operating practice 20 years ago, but is not something that communities will tolerate or that shareholders will turn a blind eye to," she said. "Trampling community wishes comes with consequences to the bottom line."
For evidence, Sampat pointed to the idling of the Conga proposal for years due to the resistance of Acuña de Chaupe and her community and the fact that Newmont appears to have now taken it off their list of current assets, as outlined in a press release her group just released: "The world's second largest gold mining company, Denver-based Newmont's 2016 10-K SEC filing declared: "Under the current social and political environment, the company does not anticipate being able to develop Conga for the foreseeable future." Newmont will hold its annual shareholders' meeting in Delaware on April 20."
While a spokesman for the company, Omar Jabara, countered that that the Goldman Prize "does not have balanced or complete information about the land dispute," despite Newmont losing in court three times, including the country's Supreme Court according to Acuña de Chaupe's lawyer, Mirtha Vasquez, he confirmed the company's recent statement about the project's idle status, which in light of this week's news will probably be a topic of conversation when the company's investors meet again soon.
For her part, Máxima says that she does not know what to expect when she returns to Peru, but that she remains steadfast in her stance and knows the world will be watching. So as the sun set over San Francisco this past weekend, she closed her statements by saying, "I will continue to confront these transnational corporations. I will continue on in my struggle even if it means giving my life."
YOU MIGHT ALSO LIKE
Meet the 2016 Goldman Environmental Prize Winners
300+ Arrested in Mass Civil Disobedience Protests at the Nation's Capitol
Dalai Lama, Archbishop Tutu Among 250 Faith Leaders Urging Immediate Action on Climate Change
Danger, Will Robinson: Oil Industry Knew CO2-Climate Link in '68
EcoWatch Daily Newsletter
A vegan diet can improve your health, but experts say it's important to keep track of nutrients and protein. Getty Images
By Dan Gray
Research shows that 16 weeks of a vegan diet can boost the gut microbiome, helping with weight loss and overall health.
A healthy microbiome is a diverse microbiome. A plant-based diet is the best way to achieve this.
It isn't necessary to opt for a strictly vegan diet, but it's beneficial to limit meat intake.
New research shows that following a vegan diet for about 4 months can boost your gut microbiome. In turn, that can lead to improvements in body weight and blood sugar management.
Students gathered at the National Mall in Washington DC, Sept. 20. NRDC
By Jeff Turrentine
Nearly 20 years have passed since the journalist Malcolm Gladwell popularized the term tipping point, in his best-selling book of the same name. The phrase denotes the moment that a certain idea, behavior, or practice catches on exponentially and gains widespread currency throughout a culture. Having transcended its roots in sociological theory, the tipping point is now part of our everyday vernacular. We use it in scientific contexts to describe, for instance, the climatological point of no return that we'll hit if we allow average global temperatures to rise more than 2 degrees Celsius above preindustrial levels. But we also use it to describe everything from resistance movements to the disenchantment of hockey fans when their team is on a losing streak.
samael334 / iStock / Getty Images
Berries are small, soft, round fruit of various colors — mainly blue, red, or purple.
A glacier is seen in the Kenai Mountains on Sept. 6, near Primrose, Alaska. Scientists from the U.S. Geological Survey have been studying the glaciers in the area since 1966 and their studies show that the warming climate has resulted in sustained glacial mass loss as melting outpaced the accumulation of new snow and ice. Joe Raedle / Getty Images
By Mark Mancini
On Aug. 18, Iceland held a funeral for the first glacier lost to climate change. The deceased party was Okjökull, a historic body of ice that covered 14.6 square miles (38 square kilometers) in the Icelandic Highlands at the turn of the 20th century. But its glory days are long gone. In 2014, having dwindled to less than 1/15 its former size, Okjökull lost its status as an official glacier.
Members of Chicago Democratic Socialists of America table at the Logan Square Farmers Market on Aug. 18. Alex Schwartz
By Alex Schwartz
Among the many vendors at the Logan Square Farmers Market on Aug. 18 sat three young people peddling neither organic vegetables, gourmet cheese nor handmade crafts. Instead, they offered liberation from capitalism.
Hackney primary school students went to the Town Hall on May 24 in London after school to protest about the climate emergency. Jenny Matthews / In Pictures / Getty Images
Bird watching in the U.S. may be a lot harder than it once was, since bird populations are dropping off in droves, according to a new study.