Going Solar Just Got Easier
Sep. 22, 2015 01:38PM EST
Business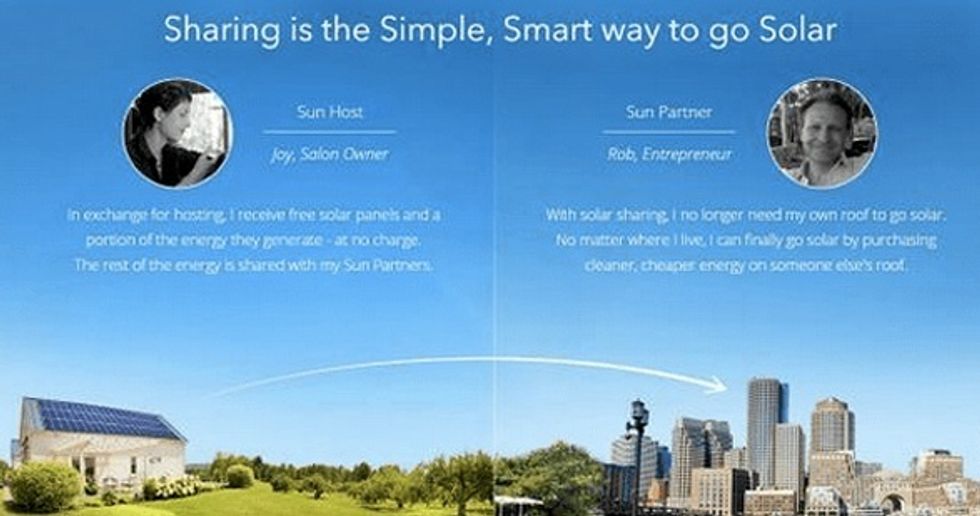 Yeloha, the Boston-based startup that allows customers to go solar without owning a single panel, was already a game-changer when it first debuted in June. But its latest move could alter the energy landscape even further.
#Vermont We can't wait to bring #solar to you w @GreenMtnPower @FastCompany @btschiller http://t.co/DE1F0eWZAQ http://t.co/uvtSdN3Gz3

— Yeloha Solar (@Yeloha Solar)1442929396.0
Yeloha, which has been dubbed the Airbnb of solar, has teamed up with its first utility, Green Mountain Power (GMP), which provides electricity to more than three-quarters of Vermont.
"This partnership marks the first utility-adopted Sharing Economy platform to offer its customers the opportunity to generate their own energy and share it with other residents online. The initiative represents a beacon of change for energy nationwide," said Amit Rosner, Yeloha co-founder and CEO.
GMP is a well-regarded energy provider itself. For instance, it's the first utility in the world to receive B Corp certification, and one of the first energy companies in the country to offer Tesla's new home battery.
Disruptive partnership: @YelohaSolar & utility @GreenMtnPower partner to unlock "Power to the People by the People" http://t.co/dokfWpaaLk

— Amit Rosner (@Amit Rosner)1442864693.0
Solar energy, which is on track for another record-breaking year, is something that many Americans want but, unfortunately, can't have. Not everyone owns their own home, and for those who do, photovoltaic panels might not be an affordable reality, or their roofs might not be suitable if it's blocked by shade. That's why this partnership between Yeloha and GMP could change the status quo.
The companies are basically making it possible for Vermonters without panels, such as renters and apartment dwellers, to purchase (cheaper and cleaner) solar off another homeowner's or business' roof. On the flip side, Vermonters who do have a suitable roof will be offered to host the panels free of charge in exchange for sharing some of their solar power.
The service seems like a win-win-win for hosts, partners and our clean energy future alike.
"This is a unique opportunity to empower more people to be able to harness the power of the sun," said GMP president and CEO Mary Powell. "We see a tremendous opportunity in leveraging more rooftops around Vermont for the benefit of all those who may currently be renters, or own homes that are not well suited for solar."
"As Vermont's energy company of the future, we are transforming the old grid system into one where power is generated and consumed closer to the home or community where it is needed," she continued. "This partnership with Yeloha will help accelerate this revolution in distributed power."
Powell admitted to Fast Company that the grid today is highly inefficient, citing how GMP needs to maintain two, expensive and rarely used diesel-powered "peaker plants" that generally run only when energy demands are high. She envisions a future in which the grid is merely a backup for local networks.
She also admitted that GMP, which hasn't lost significant revenue due to solar yet, could in the future. According to Fast Company, to make up for possible revenue losses, GMP plans to "[reduce] investment in long-range transmission and distribution, and by being a partner to customers as they upgrade their homes and businesses. Utilities can share in the revenue going to third-party contractors installing solar and associated equipment, she believes."
Rosner envisions expanding Yeloha to other utilities beyond Vermont. "Although utility partnerships are not a requirement for our expansion into new territories, by partnering directly with GMP, the process can be greatly accelerated and can become more flexible," he told Fast Company.
"What we're in the business of doing is trying to accelerate a consumer revolution." says @MaryGPowell #vt http://t.co/GeiUbxBC8l

— Green Mountain Power (@Green Mountain Power)1442931020.0
The GMP-Yeloha pilot program will kick off in the Vermont cities of Rutland and Barre.
"We are thrilled to have this new option for our residents who rent or live where solar isn't possible," said Barre Mayor Thom Lauzon. "Bringing the value and benefits of solar to more Vermonters is a great step forward and will help economically here and across the state."
YOU MIGHT ALSO LIKE
Solar-Powered Beach Mat Charges Your Phone and Chills Your Beverages
Is Your Retirement Invested in Fossil Fuels?
Tesla + Airbnb Pave Way for Cross-Country Supercharger Network
EcoWatch Daily Newsletter
Related Articles from EcoWatch
Recent Stories from EcoWatch