This website uses cookies to ensure you get the best experience while browsing it. By clicking 'Got It' you're accepting these terms.


The best of EcoWatch, right in your inbox. Sign up for our email newsletter!
Go Jump in a Lake
Jan. 24, 2012 08:54PM EST
By Krystyn Tully
So, seven years ago, a team of staff and volunteers at Lake Ontario Waterkeeper set out to answer the question, "Is it safe to swim in Lake Ontario?" The first thing we discovered was that reliable facts and figures about beach water quality were hard to come by. So we started compiling our own.
For five years, we tracked which beaches were open and posted them on scraps of paper and clunky spreadsheets and generated an annual report for the Lake Ontario watershed. Each year we expanded our beach report to include more beaches in more parts of Southern Ontario and upstate New York.
It was interesting for us as researchers but it wasn't very helpful to beach-goers. What we really needed was some tool that would tell you where the beaches are and which ones are safe for swimming right now.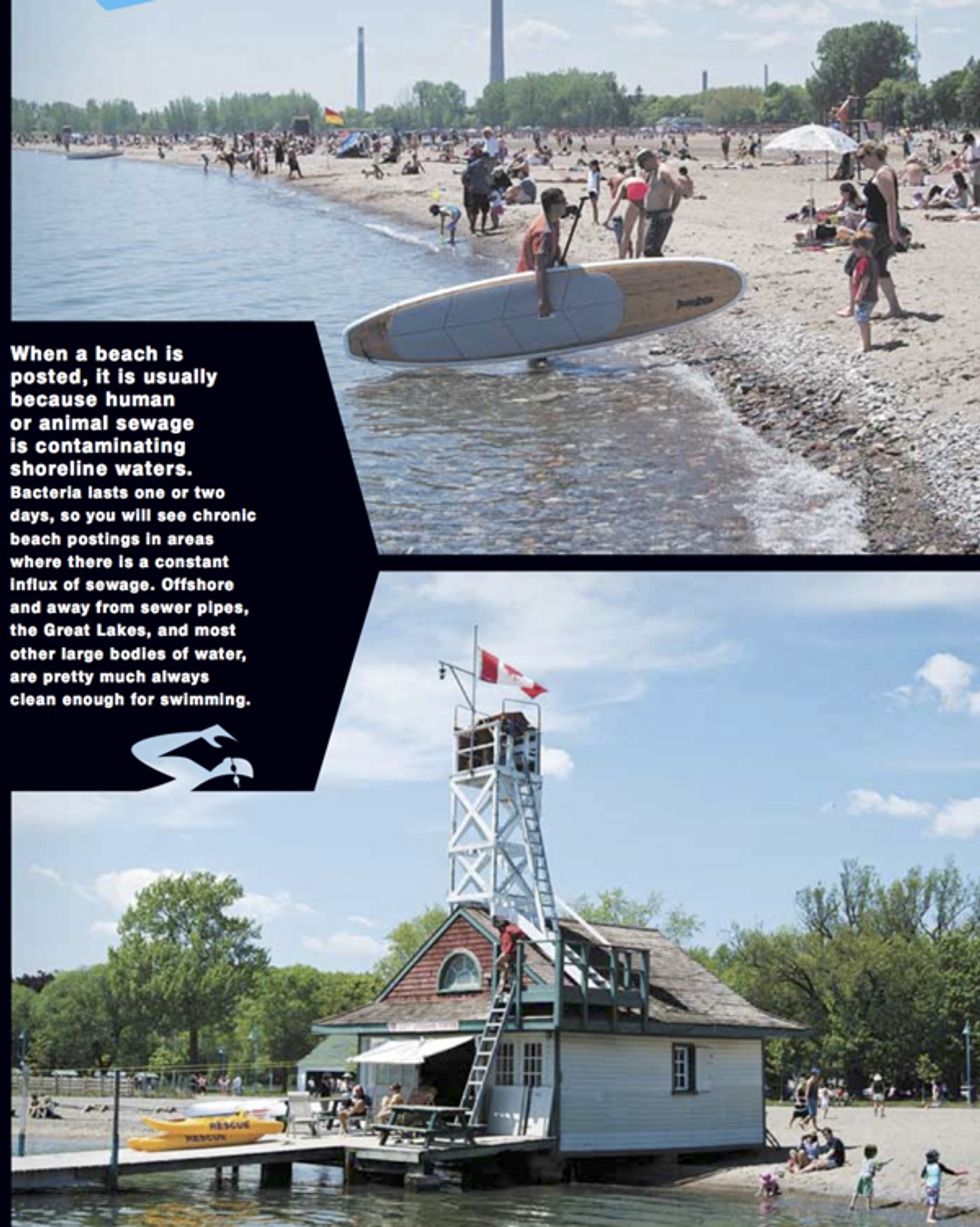 Two years ago, we decided to make that tool. First, we built a Swim Guide engine so that every day we could phone or visit the websites of scores of beach monitoring agencies and enter the information into our custom-built database.
Seven years and thousands of hours after we first posed the question of Lake Ontario being safe to swim in, we could finally crunch the numbers and answer: "Yes, usually."
Of course, answering that question was only step one. Our next challenge was figuring out how to give people easy-to-read beach quality information whenever they wanted it, wherever they wanted it.
That was no easy task. This summer, for example, we checked-in with about 70 different sources that monitor about 800 beaches every day. We recorded about 70,000 different points of data in the Swim Guide database. Then we converted that information into a format that meant something to potential beachgoers: here is where it is safe to swim, and this is how you get there.
The Swim Guide is a free mobile application for smartphones or you can visit the website at www.theswimguide.org. This free app helps people find the closest beaches, know at a glance which ones are safe for swimming and share their love of beaches with their friends.
This last part—sharing a love of beaches—is really important to us. We can't restore and protect the world's greatest beaches without you and your friends.
In the spirit of sharing, Lake Ontario Waterkeeper went and added all of the beaches on the Great Lakes to Swim Guide because we know that people who live near one Great Lake also love to visit parks and beaches in different watersheds.
We also invited other Waterkeeper organizations to join the Swim Guide team. Fraser Riverkeeper now tracks beaches in the Vancouver area. North Saskatchewan Riverkeeper tracks beaches in the Edmonton area. Biscayne Bay Waterkeeper does the same for beaches in the Miami area.
Swim Guide includes original descriptions and photographs of hundreds of beaches in Ontario, British Columbia, New York State, Ohio, Michigan, Wisconsin, Illinois, Minnesota, Alberta and the Miami area. "In a few years, we hope there's a Swim Guide in every major beach community in North America," says Mark Mattson, who heads Lake Ontario Waterkeeper, as he shows off the app.
It shows you where the beaches closest to you are, gives you real-time status updates, and lets you compare your local beach to other beaches in Canada and the United States. "We made the Swim Guide because safe recreational water contact is one of the hallmarks of an environmentally strong community," says Mattson. "Swimming is an important environmental, cultural and economic issue—that's why every important environmental law in North America tries to protect beaches."
The Swim Guide is fun and easy to use, but the need for clean beaches is no light matter to Lake Ontario Waterkeeper or to the nearly 200 other Waterkeeper organizations around the world. Clean beaches are not luxuries. They satisfy some very basic, fundamental needs in our communities. Beaches provide a free, accessible respite for people on hot days. They provide gathering places for families and friends. They are immensely valuable natural assets for local economies.
Beaches are also excellent indicators of how our democratic institutions are holding up. If you cannot safely swim in your area, chances are that someone is breaking the rules. Chances are that bad decisions were made in the past, meaning good decisions need to be made in the future.
In its simplest form, a beach is a strip of shoreline accessible to the general public that facilitates access to a body of water which every one of us has the right to use and enjoy. When pollution claims a beach, it makes it unavailable to you for safe enjoyment, and your beach is lost. Taken away.
The Swim Guide helps to win back those lost beaches by highlighting the ones with chronic pollution problems and comparing one region to another. The Swim Guide also helps to protect and celebrate the clean beaches, the ones waiting for you next summer.
Reprinted with permission from Waterkeeper Magazine. To read the winter issue of the Waterkeeper Magazine, click here.
EcoWatch Daily Newsletter
Pexels
By Danielle Nierenberg and Katherine Walla
As the holiday season ramps up for many across the world, Food Tank is highlighting 15 children's books that will introduce young eaters, growers and innovators to the world of food and agriculture. Authors and organizations are working to show children the importance — and fun — of eating healthy, nutritious and delicious food, growing their own produce, and giving food to others in need.
Pixabay
Purple cabbage, also referred to as red cabbage, belongs to the Brassica genus of plants. This group includes nutrient-dense vegetables, such as broccoli, Brussels sprouts, and kale.
Pexels
By Lauren Wolahan
For the first time ever, the UN is building out a roadmap for curbing carbon pollution from agriculture. To take part in that process, a coalition of U.S. farmers traveled to the UN climate conference in Madrid, Spain this month to make the case for the role that large-scale farming operations, long criticized for their outsized emissions, can play in addressing climate change.
Pexels
In recent years, acai bowls have become one of the most hyped-up health foods on the market.
They're prepared from puréed acai berries — which are fruits grown in Central and South America — and served as a smoothie in a bowl or glass, topped with fruit, nuts, seeds, or granola.
Investing in grid infrastructure would enable utilities to incorporate modern technology, making the grid more resilient and flexible. STRATMAN2 / FLICKR
By Elliott Negin
The Royal Swedish Academy of Sciences' recent decision to award the 2019 Nobel Prize in Chemistry to scientists who developed rechargeable lithium-ion batteries reminded the world just how transformative they have been. Without them, we wouldn't have smartphones or electric cars. But it's their potential to store electricity generated by the sun and the wind at their peak that promises to be even more revolutionary, reducing our dependence on fossil fuels and protecting the planet from the worst consequences of climate change.