This website uses cookies to ensure you get the best experience while browsing it. By clicking 'Got It' you're accepting these terms.
Go From Bike to eBike in Under a Minute With the GeoOrbital
May. 06, 2016 08:35AM EST
Business
Electric bikes are a great way to get around with less pedal power and research shows that they make people cycle longer and more frequently. Still, e-bikes are a niche market, and many people don't want to buy a new ride when their standard pedal-bike works perfectly fine.
But now, thanks to a team of Cambridge, Massachusetts inventors, you can simply upgrade old faithful with the GeoOrbital wheel that turns your existing bicycle into an e-bike in less than 60 seconds and without any tools. A thumb-activated throttle is then clipped onto the bike's handlebars.
The Verge described how it works:
Instead of spokes, the wheel contains a sort of triangular housing with three smaller wheels that rest against the inside of the rim. Like a set of gears, those smaller wheels grab the rim and turn the bike wheel, propelling you forward by using the 500W motor and 36V battery found inside the housing.
The inventors, who used to work at Ford, SpaceX and helped build micro-businesses with the Peace Corps, say that their orbital, or spoke-less, wheel was inspired by the sci-fi flick TRON:
An Orbital wheel is a wheel with no center–it "orbits" around an empty area, rather than spinning as a result of being connected to a "hub." For example have you seen the movie TRON? The wheels on those motorcycles are examples of Orbital Wheels (or Hubless wheels and Centerless wheels). The GeoOrbital wheel is an evolution of the Orbital wheel platform, where instead of orbiting around an empty space, the center of the wheel contains components that make the wheel function as an "all-in-one" vehicle propulsion system. We call this central mass a "Geo."
Instead of the standard inflatable tube and tire, the GeoOrbital wheel has a solid foam tire, which acts the same as a regular tire and also means "you never have to worry about getting a flat or even checking tire pressure," the developers say.
Impressively, after many earlier prototypes and customer feedback, the latest version of the GeoOrbital wheel comes with a built-in USB port so you can charge your devices such as a smartphone or a speaker perhaps. It also has a removable and lockable lithium-ion battery that acts as a portable power bank.
All told, after installing the 20-pound wheel, a rider can achieve speeds of up to 20 miles per hour on flat surfaces with a 50 mile range.
"The more you choose to pedal the more range you can expect, and you can always take a spare battery with you for longer rides," the designers note.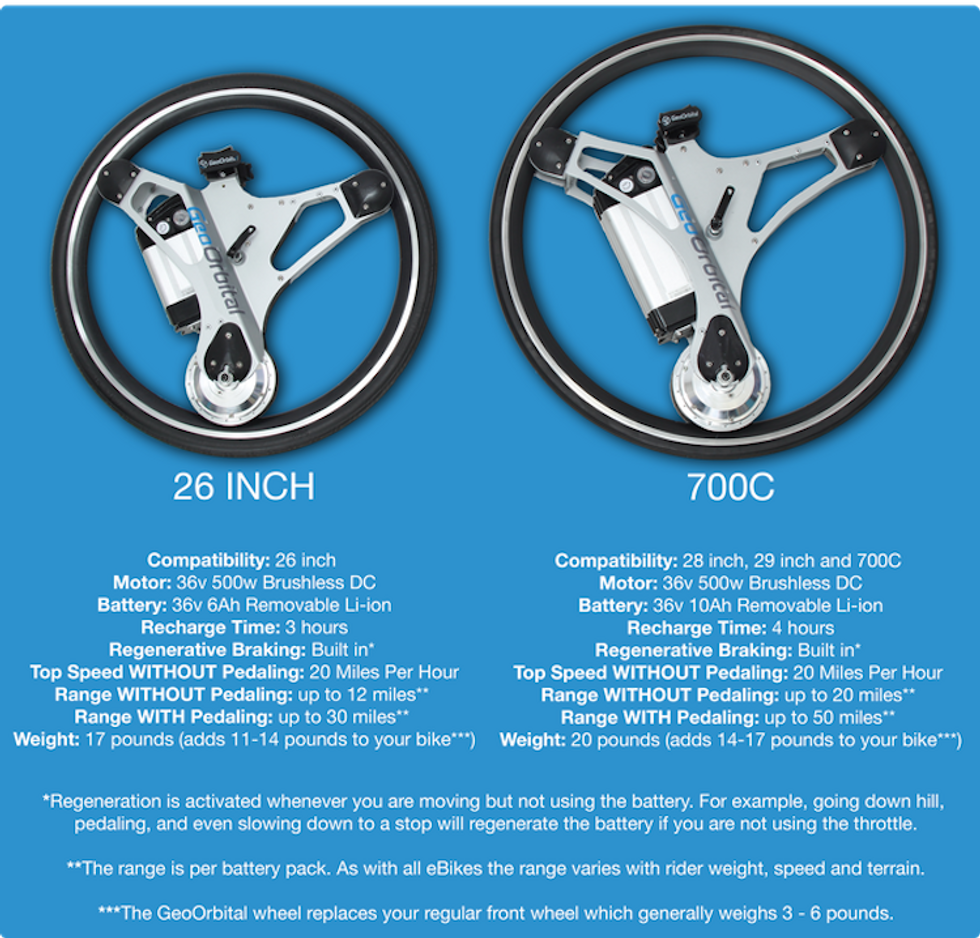 In case you're wondering how it rides, Skip Ferderber at GeekWire gave the e-bike a test spin:
So how does it feel when riding it? I tested the bike wheel on the grounds of the Seattle Center. Because its power source is on the front, the bike initially felt slightly heavier and less flexible than a standard bike. Once I thumb-activated the throttle the bike felt both easy to navigate and powerful. It took less than two minutes to become accustomed to the bike powering me instead of me pedaling. In my final (but short test), I drove it up the short hill to the west of Key Arena and was pleasantly surprised at how easily it powered me up hill. I am not precisely a featherweight.
The patent pending product has easily zipped past its $75,000 Kickstarter goal with nearly 500 backers putting in more than $350,000. The market price will be roughly $900, which is less than many other e-bikes out there.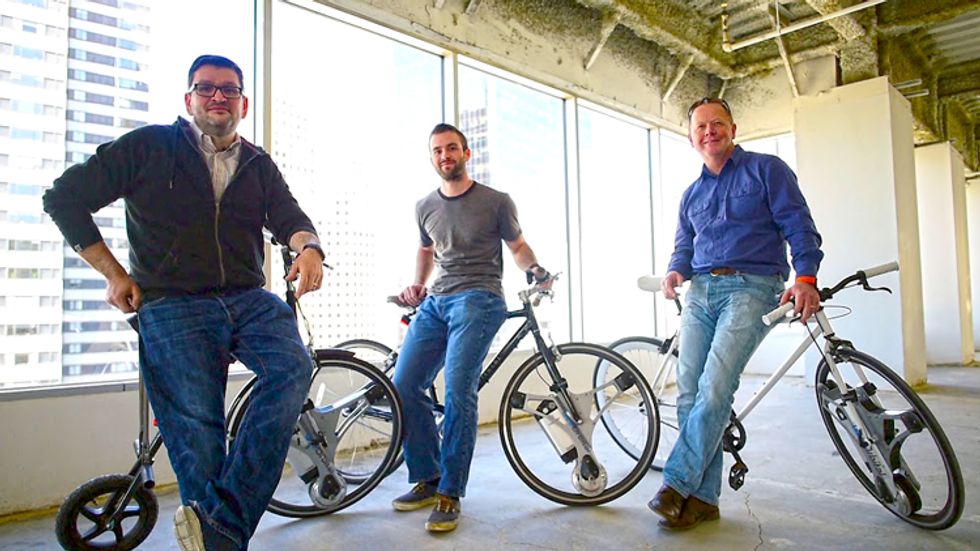 The Verge noted that there are similar products on the market such as Evelo's Omni wheel and the Superpedestrian that is currently taking preorders.
YOU MIGHT ALSO LIKE
Elon Musk: We Must Revolt Against the Unrelenting Propaganda of the Fossil Fuel Industry
Top 25 American Cities With the Best Public Transit
The Ultimate in Off-Grid Transportation: Mini-Fleet-in-a-Box
EcoWatch Daily Newsletter
Pexels
By Tim Lydon
Climate-related disasters are on the rise, and carbon emissions are soaring. Parents today face the unprecedented challenge of raising children somehow prepared for a planetary emergency that may last their lifetimes. Few guidebooks are on the shelves for this one, yet, but experts do have advice. And in a bit of happy news, it includes strategies already widely recognized as good for kids.
Pexels
Be it Nina Simone and James Brown for civil rights, Joni Mitchell and Marvin Gaye for the environment, or Jackson Browne and Buffalo Springfield for nuclear disarmament, musicians have long helped push social movements into the limelight.
Yulia Lisitsa / iStock / Getty Images Plus
Collagen is the most abundant protein in your body.
It is the major component of connective tissues that make up several body parts, including tendons, ligaments, skin, and muscles.
Greenpeace activists unfurl banners after building a wood and card 'oil pipeline' outside the Canadian High Commission, Canada House, to protest against the Trudeau government's plans to build an oil pipeline in British Colombia on April 18, 2018 in London. Chris J Ratcliffe / Getty Images
By Jessica Corbett
In an open letter to Canadian Prime Minister Justin Trudeau and Deputy Prime Minister Chrystia Freeland, 42 Nobel laureates implored the federal government to "act with the moral clarity required" to tackle the global climate crisis and stop Teck Resources' proposed Frontier tar sands mine.
Mapping Urban Heat through Portland State University /
video
Concrete and asphalt absorb the sun's energy. So when a heat wave strikes, city neighborhoods with few trees and lots of black pavement can get hotter than other areas — a lot hotter.