This website uses cookies to ensure you get the best experience while browsing it. By clicking 'Got It' you're accepting these terms.
Go Dirty for the Drought
Sep. 26, 2014 01:06PM EST
It's been nine months since Gov. Brown announced a state of emergency as California is experiencing its worst drought in recorded history. We haven't had nearly enough rain to make an impact, and Angelinos are still using an average of 122- 129 gallons of water a day.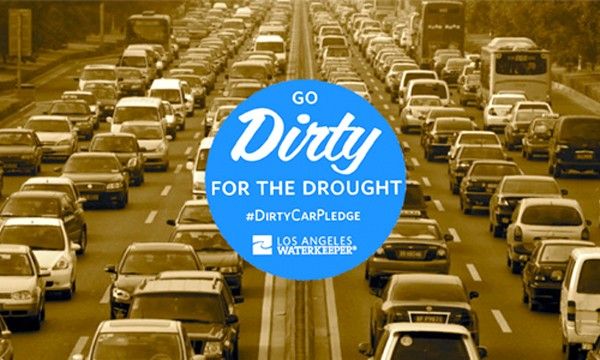 The costs of the drought are visible as nearly 100 percent of California continues to suffer severe drought conditions: Bone-dry lakes, wildfires burning thousands of acres and an expected 2.2 billion dollar loss from agriculture by the end of 2014. It's time we take the drought seriously, and do our part to conserve water before it's too late.
Los Angeles has a population of close to 4 million people. With hundreds of thousands of cars sitting in traffic on a daily basis, and streets lined with a Benz per block. LA is known for its car-obsessed culture. In this city, many say you are what you drive.
Let's be real, no one wants to take the time or spend the money to wash their car every week, but image can overpower laziness and finances. It shouldn't, however, overpower water conservation. Imagine how much water could be saved if 10,000 people didn't wash their car for 60 days. The average at-home car wash uses 85 gallons of water, and the average commercial car wash uses 56 gallons of water, so if 10,000 people who normally wash their car every two weeks waited two months instead, Los Angeles would save about 2.8 million gallons of water. And during this state of emergency, every drop counts.
So, go dirty. Los Angeles Waterkeeper's campaign "Go Dirty for the Drought" asks Angelinos to pledge to not wash their car for 60 days. While saving a few million gallons of water is no small feat, the bigger impact is getting people to think about the drought and prioritize water conservation in our everyday lives. When you take the Dirty Car Pledge, you'll get a static-cling sticker to put on the inside of your car window, which serves as proof of a good excuse for a dirty car, and also helps spread the word about water conservation while you're driving throughout the city and sharing it on social media. If you really are what you drive, then going dirty for the drought makes you an informed, empowered citizen doing your part to conserve water.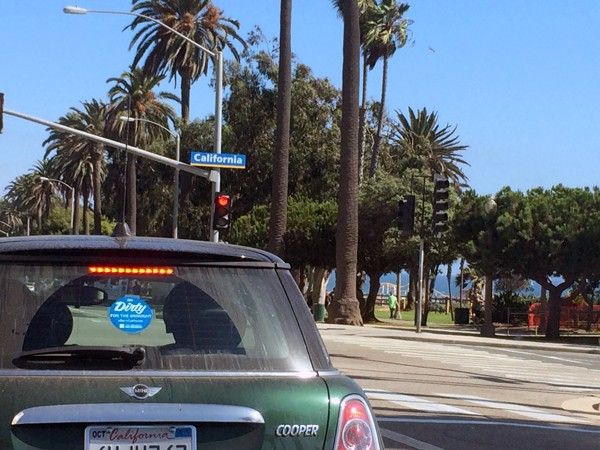 And it doesn't have to stop there. Take shorter showers, remove your grass lawn and replace it with water-efficient plants, and urge state and local agencies to prioritize water conservation, reuse and recycling before options like water imports and desalination. Also be aware of your city's water conservation ordinances. The City of LA limits outside watering to specific days of the week, and restaurants are no longer allowed to serve water unless requested by a customer.
The State Water Resources Control Board has authorized municipalities to fine residents and businesses for water wasting activities like home car washing without a shut-off valve and washing down sidewalks and driveways. Though enforcement of these regulations is lacking, it is important that we adhere to them and take simple steps like going dirty for the drought to raise awareness about water conservation.
YOU MIGHT ALSO LIKE
Fracking Makes California's Drought Worse
California Experiencing Most Severe Drought Ever Recorded
EcoWatch Daily Newsletter
DESIREE MARTIN / AFP / Getty Images
Wildfires raging on Gran Canaria, the second most populous of Spain's Canary Islands, have forced around 9,000 people to evacuate.
Wolves in Mount Rainier, Washington. Ron Reznick / VW Pics / Universal Images Group via Getty Images
The last four members of an embattled wolf pack were killed in Washington State Friday, hours before the court order that could have saved them.
Plateau Creek near De Beque, Colorado, where land has been leased for oil and gas production. Helen H. Richardson / The Denver Post / Getty Images
By Randi Spivak
Slashing two national monuments in Utah may have received the most attention, but Trump's Interior Department and U.S. Forest Service have been quietly, systematically ceding control of America's public lands to fossil fuel, mining, timber and livestock interests since the day he took office.
Aerial view of lava flows from the eruption of volcano Kilauea on Hawaii, May 2018. Frizi / iStock / Getty Images
Hawaii's Kilauea volcano could be gearing up for an eruption after a pond of water was discovered inside its summit crater for the first time in recorded history, according to the AP.
Global SO2 Emission Hotspot Database / Greenpeace
A new report by Greenpeace International pinpointed the world's worst sources of sulfur dioxide pollution, an irritant gas that harms human health. India has seized the top spot from Russia and China, contributing nearly 15 percent of global sulfur dioxide emissions.
The huge surge this year in Amazon deforestation is leading some European countries to think twice about donations to the Amazon Fund. LeoFFreitas / Moment / Getty Images
By Sue Branford and Thais Borges
Ola Elvestrun, Norway's environment minister, announced Thursday that it is freezing its contributions to the Amazon Fund, and will no longer be transferring €300 million ($33.2 million) to Brazil. In a press release, the Norwegian embassy in Brazil stated:
Gina Lopez, the Philippine secretary of the environment, at a meeting with residents affected by a mine tailing disaster. Keith Schneider
Gina Lopez, a former Philippine environment secretary, philanthropist and eco-warrior, died on Aug. 19 from brain cancer. She was 65.
Trump speaks to contractors at the Shell Chemicals Petrochemical Complex on Aug. 13 in Monaca, Pennsylvania. Jeff Swensen / Getty Images
Thousands of union members at a multibillion dollar petrochemical plant outside of Pittsburgh were given a choice last week: Stand and wait for a speech by Donald Trump or take the day off without pay.