GMOs Will Not Feed the World, New Report Concludes
By the year 2050, the Earth's population will reach more than 9 billion people. With so many mouths to feed, agribusiness giants have argued that genetically modified crops are the answer to global food security as these plants have been spliced and diced to resist herbicides and pesticides and (theoretically) yield more crops.
However, a new analysis from the Environmental Working Group (EWG) slams this conventional agribusiness argument—and recommends much more sustainable solutions to feed the world.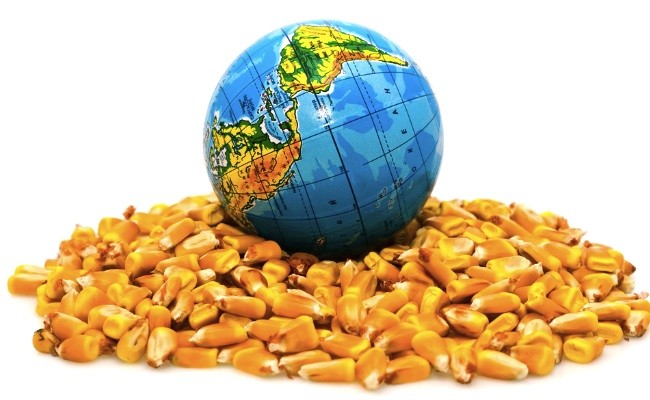 Photo credit: Shutterstock
The report, Feeding the World Without GMOs, argues that genetically engineered crops (also known as GE or GMOs) have not significantly improved the yields of crops such as corn and soy. Emily Cassidy, an EWG research analyst who authored the report, found that in the last 20 years, yields of both GE corn and soy have been no different from traditionally bred corn and soy grown in western Europe, where GE crops are banned. Additionally, a recent case study in Africa found that crops that were crossbred for drought tolerance using traditional techniques improved yields 30 percent more than GE varieties, she wrote.
The report also said that in the two decades that GE crops have been a mainstay in conventional agriculture, they "have not substantially improved global food security" and have instead increased the use of toxic herbicides and led to herbicide-resistant "superweeds." (FYI: superweeds have spread to more than 60 million acres of U.S. farmland, wreaking environmental and economic havoc along the way).
She pointed out that while corn and soybeans take up the vast majority (about 80 percent) of global land devoted to growing GE crops, they are not even used to feed people but instead as animal feed or fuel.
Unfortunately, this practice is unlikely to change in light of increased consumption of meat around the world, as well as U.S. biofuel policy requiring production of millions of gallons of corn ethanol to blend into gasoline, Cassidy observed. "Seed companies' investment in improving the yields of GMOs in already high-yielding areas does little to improve food security; it mainly helps line the pockets of seed and chemical companies and producers of corn ethanol," she said. "The world's resources would be better spent focusing on strategies to actually increase food supplies and access to basic resources for the poor, small farmers who need it most."
Gary Hirshberg, chairman of Just Label It, an organization advocating for federal labeling of GMO foods that also provided funding for the EWG report added, "Biotech companies and their customers in chemical agriculture have been attempting to sell the benefits of GMOs for two decades. Between exaggerated claims about feeding the world and a dramatic escalation in the use of toxic pesticides, it is no wonder consumers are increasingly skeptical."
Fortunately, as Cassidy noted, there are ways out of this mess that will not only produce enough food for the world's burgeoning population but will also make minimal impacts on our environment. It comes down to four main approaches: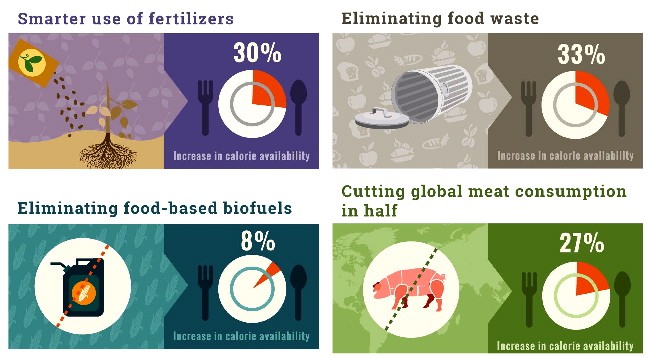 Cassidy concluded that investment in genetic engineering is no substitute for solving the real causes of food insecurity and poverty, such as improving access to basic resources and infrastructure in developing countries.
"The alternative strategies of smarter resource use, improving the livelihoods of small farmers, reducing food waste and changing diets could double calorie availability and reduce the environmental burden of food production, all without relying on GE foods," she wrote.
We wonder what Bill Nye thinks about this?
YOU MIGHT ALSO LIKE
Monsanto Demands World Health Organization Retract Report That Says Roundup Is Linked to Cancer
GMO Labeling: Nation's 'Biggest Food Fight' Hits DC
Monsanto's Roundup — Most Popular Weed Killer in U.S. — 'Probably' Causes Cancer, WHO Report Says
Laurie Woolever
By James O'Hare
There are 20 million people in the world facing famine in South Sudan, Somalia, Nigeria and Yemen. In developed nations, too, people go hungry. Venezuela, for instance, is enduring food insecurity on a national level as a result of economic crisis and political corruption. In the U.S., the land of supposed excess, 12.7 percent of households were food insecure in 2015, meaning they didn't know where their next meal would come from.
Keep reading...
Show less
Melwater, Greenland ice sheet. Diane Tuft
Artists are taking the climate crisis into frame and the results are emotional, beautiful and stirring.
So you've seen the best climate change cartoons and shared them with your friends. You've showed your family the infographics on climate change and health, infographics on how the grid works and infographics about clean, renewable energy. You've even forwarded these official National Oceanic and Atmospheric Administration graphs that explain the 10 clear indicators of climate change to your colleagues at the office.
Keep reading...
Show less
May. 27, 2017 01:11PM EST
As the Trump administration moves full speed ahead on boosting the oil and fossil fuel industry, opposition to increased pipeline construction is cropping up in different communities around the country.
Keep reading...
Show less
May. 27, 2017 01:02PM EST
Minke whale stranding near Havergate Island in Suffolk. MCGA.
By Simon Evans
Last Saturday, two dead whales washed up on the coast of Suffolk, in eastern England, and a third was spotted floating at sea.
What happened next illustrates how news can spread and evolve into misinformation, when reported by journalists rushing to publish before confirming basic facts or sourcing their own quotes.
Keep reading...
Show less
May. 27, 2017 01:22PM EST
By Monica Amarelo and Paul Pestano
Sun safety is a crucial part of any outdoor activity for kids, and sunscreen can help protect children's skin from harmful ultraviolet rays. Kids often get sunburned when they're outside unprotected for longer than expected. Parents need to plan ahead and keep sun protection handy in their cars or bags.
Keep reading...
Show less
May. 27, 2017 01:02PM EST
By Joe McCarthy
A lot of people take part in community clean-up efforts—spending a Saturday morning picking up litter in a park, mowing an overgrown field or painting a fence.
Keep reading...
Show less
May. 26, 2017 03:22PM EST
Rink Glacier in western Greenland, with a meltwater lake visible center. NASA/OIB
Scientists have had their eyes on Greenland as its iconic glaciers have begun disappearing due to a warming climate. But, what they didn't expect to see was a whole new type of melting.
Keep reading...
Show less
May. 26, 2017 03:40PM EST
A coalition of conservation groups and others announced Thursday that a historic number of comments and petitions of support have been submitted to the U.S. Department of the Interior in support of Bears Ears National Monument. Despite the entirely inadequate 15-day comment period ending on May 26, more than 685,000 comments in support of Bears Ears National Monument have been collected.
Keep reading...
Show less


Get EcoWatch in your inbox