This website uses cookies to ensure you get the best experience while browsing it. By clicking 'Got It' you're accepting these terms.
GMOs Will Not Feed the World, New Report Concludes
Mar. 31, 2015 12:41PM EST
Food
By the year 2050, the Earth's population will reach more than 9 billion people. With so many mouths to feed, agribusiness giants have argued that genetically modified crops are the answer to global food security as these plants have been spliced and diced to resist herbicides and pesticides and (theoretically) yield more crops.
However, a new analysis from the Environmental Working Group (EWG) slams this conventional agribusiness argument—and recommends much more sustainable solutions to feed the world.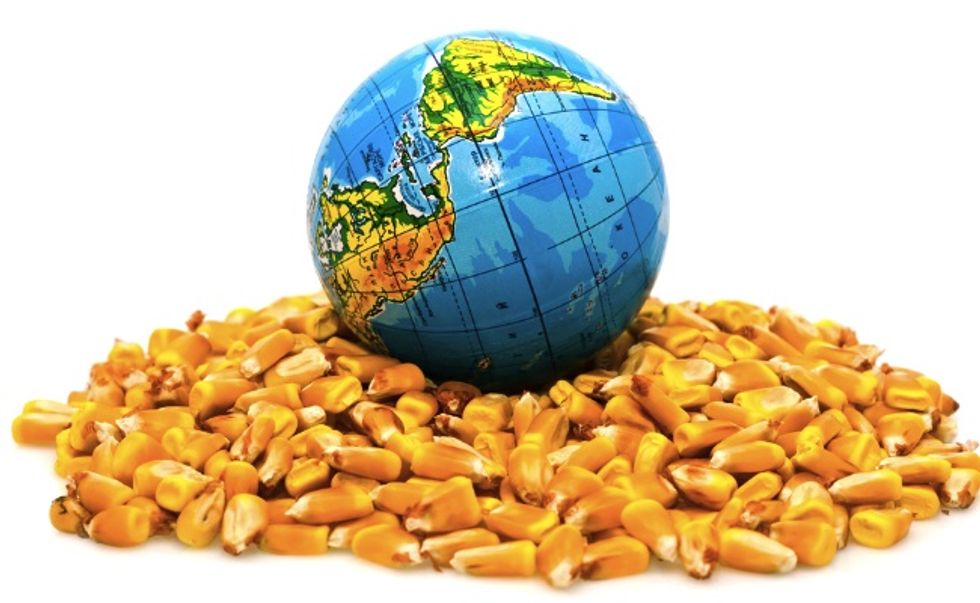 Photo credit: Shutterstock
The report, Feeding the World Without GMOs, argues that genetically engineered crops (also known as GE or GMOs) have not significantly improved the yields of crops such as corn and soy. Emily Cassidy, an EWG research analyst who authored the report, found that in the last 20 years, yields of both GE corn and soy have been no different from traditionally bred corn and soy grown in western Europe, where GE crops are banned. Additionally, a recent case study in Africa found that crops that were crossbred for drought tolerance using traditional techniques improved yields 30 percent more than GE varieties, she wrote.
The report also said that in the two decades that GE crops have been a mainstay in conventional agriculture, they "have not substantially improved global food security" and have instead increased the use of toxic herbicides and led to herbicide-resistant "superweeds." (FYI: superweeds have spread to more than 60 million acres of U.S. farmland, wreaking environmental and economic havoc along the way).
She pointed out that while corn and soybeans take up the vast majority (about 80 percent) of global land devoted to growing GE crops, they are not even used to feed people but instead as animal feed or fuel.
Unfortunately, this practice is unlikely to change in light of increased consumption of meat around the world, as well as U.S. biofuel policy requiring production of millions of gallons of corn ethanol to blend into gasoline, Cassidy observed. "Seed companies' investment in improving the yields of GMOs in already high-yielding areas does little to improve food security; it mainly helps line the pockets of seed and chemical companies and producers of corn ethanol," she said. "The world's resources would be better spent focusing on strategies to actually increase food supplies and access to basic resources for the poor, small farmers who need it most."
Gary Hirshberg, chairman of Just Label It, an organization advocating for federal labeling of GMO foods that also provided funding for the EWG report added, "Biotech companies and their customers in chemical agriculture have been attempting to sell the benefits of GMOs for two decades. Between exaggerated claims about feeding the world and a dramatic escalation in the use of toxic pesticides, it is no wonder consumers are increasingly skeptical."
Fortunately, as Cassidy noted, there are ways out of this mess that will not only produce enough food for the world's burgeoning population but will also make minimal impacts on our environment. It comes down to four main approaches: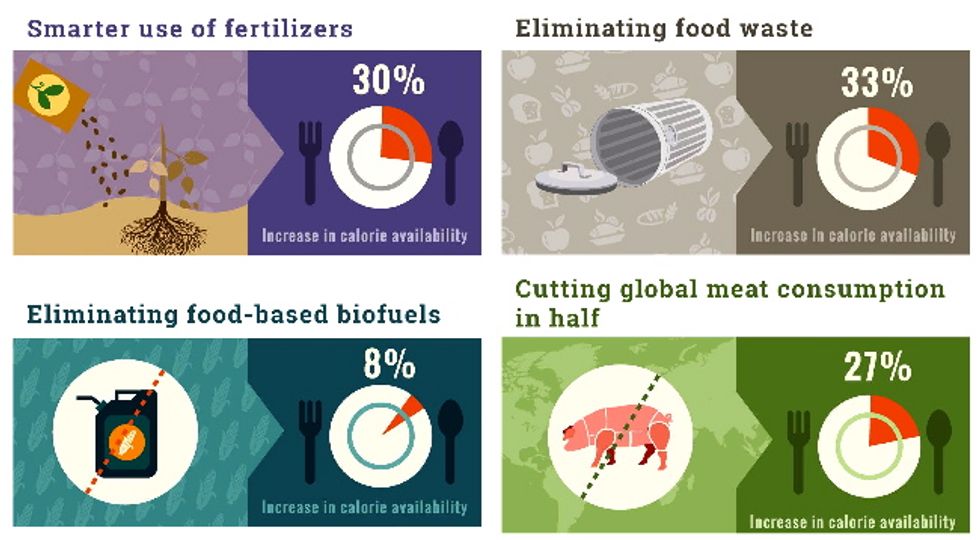 Cassidy concluded that investment in genetic engineering is no substitute for solving the real causes of food insecurity and poverty, such as improving access to basic resources and infrastructure in developing countries.
"The alternative strategies of smarter resource use, improving the livelihoods of small farmers, reducing food waste and changing diets could double calorie availability and reduce the environmental burden of food production, all without relying on GE foods," she wrote.
We wonder what Bill Nye thinks about this?
YOU MIGHT ALSO LIKE
Monsanto Demands World Health Organization Retract Report That Says Roundup Is Linked to Cancer
GMO Labeling: Nation's 'Biggest Food Fight' Hits DC
Monsanto's Roundup — Most Popular Weed Killer in U.S. — 'Probably' Causes Cancer, WHO Report Says
EcoWatch Daily Newsletter
Protesters holding signs in solidarity with the Wet'suwet'en Nation outside the Canadian Consulate in NYC. The Indigenous Peoples Day NYC Committee (IPDNYC), a coalition of 13 Indigenous Peoples and indigenous-led organizations gathered outside the Canadian Consulate and Permanent Mission to the UN to support the Wet'suwet'en Nation in their opposition to a Coastal GasLink pipeline scheduled to enter their traditional territory in British Columbia, Canada. Erik McGregor / LightRocket / Getty Images
Tensions are continuing to rise in Canada over a controversial pipeline project as protesters enter their 12th day blockading railways, demonstrating on streets and highways, and paralyzing the nation's rail system
Horseshoe Bend (seen above) is a horseshoe-shaped meander of the Colorado River in Page, Arizona.
didier.camus
/ Flickr /
public domain
Millions of people rely on the Colorado River, but the climate crisis is causing the river to dry up, putting many at risk of "severe water shortages," according to new research, as The Guardian reported.
An alarming sign of an impending drought is the decreased snowpack in the Sierra Nevada Mountain range, as seen here in Christmas Valley, South Lake Tahoe, California on Feb. 15, 2020.
jcookfisher
/
CC BY 2.0
California is headed toward drought conditions as February, typically the state's wettest month, passes without a drop of rain. The lack of rainfall could lead to early fire conditions. With no rain predicted for the next week, it looks as if this month will be only the second time in 170 years that San Francisco has not had a drop of rain in February, according to The Weather Channel.
New and recent books explore how we can effectively respond to climate change while enhancing our health and happiness. Kei Uesugi / DigitalVision / Getty Images
A warm day in winter used to be a rare and uplifting relief.

Now such days are routine reminders of climate change – all the more foreboding when they coincide with news stories about unprecedented wildfires, record-breaking "rain bombs," or the accelerated melting of polar ice sheets.
Where, then, can one turn for hope in these dark months of the year?