This website uses cookies to ensure you get the best experience while browsing it. By clicking 'Got It' you're accepting these terms.
GMO Mushroom Sidesteps USDA Regulations
Apr. 19, 2016 10:03AM EST
Food
The U.S. Department of Agriculture (USDA) said it will not regulate the potential cultivation and sale of a genetically modified (GMO) mushroom the same way it regulates conventional GMOs because the mushroom was made with the genome-editing tool CRISPR-Cas9.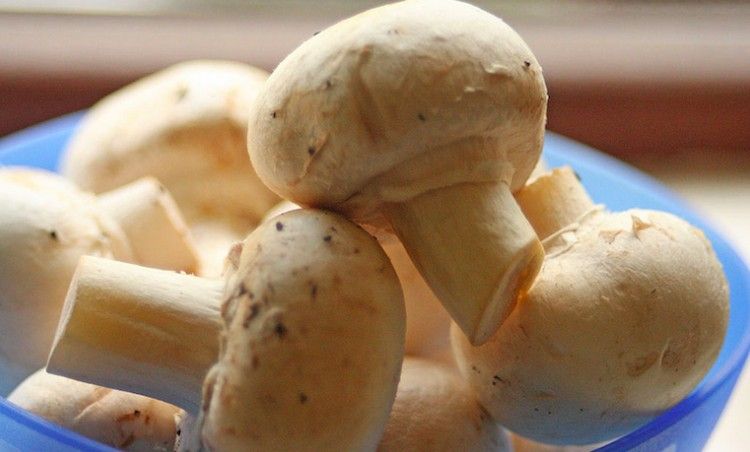 Thanks to a new gene-editing tool, the common white button mushroom has been genetically altered to resist browning. Photo credit: Flickr
This is the first time the U.S. government has cleared a food product edited with the new and controversial technique.
The USDA announced in a letter last week that it had approved Pennsylvania State University plant pathologist Yinong Yang's common white button mushroom (Agaricus bosporus) that's engineered to be more resistant to browning. As the USDA's Animal and Plant Health Inspection Service (APHIS) wrote on April 13:
The anti-browning trait reduces the formation of brown pigment (melanin), improving the appearance and shelf life of mushroom, and facilitating automated mechanical harvesting.
Based on the information cited in your letter, APHIS has concluded that your CRISPR/Cas9-edited white button mushrooms as described in your letter do not contain any introduced genetic material. APHIS has no reason to believe that CRISPR/Cas9-edited white button mushrooms are plant pests.
According to Nature, the mushroom was created by targeting the family of genes that encodes the enzyme polyphenol oxidase that causes browning. "By deleting just a handful of base pairs in the mushroom's genome, Yang knocked out one of six PPO genes—reducing the enzyme's activity by 30 percent," Nature reported.
So why has this deliberately genetically modified "frankenfungi" escaped USDA scrutiny? Well, instead of the conventional method in which foreign DNA is spliced into a seed (i.e. Bt corn), genetic modification of Yang's mushroom was achieved by altering its own genetic material.
As Quartz explained, a CRISPR-created product falls under a certain loophole:
Despite being directly and purposely genetically modified, USDA has allowed Yang's mushroom to sidestep the regulatory system. The reason? Yang's method does not contain "any introduced genetic material" from a plant pest such as bacteria or viruses. Conventional GMOs, the ones that the USDA's rules are designed to deal with, are created by introducing foreign genes—for example, those of a bacteria might be introduced to give the crop some pest resistance.
Ultimately, the GMO mushroom could be the first of many new CRISPR-edited food products.
"The research community will be very happy with the news," Caixia Gao, a plant biologist at the Chinese Academy of Sciences's Institute of Genetics and Developmental Biology in Beijing, who was not involved in developing the mushroom, told Nature. "I am confident we'll see more gene-edited crops falling outside of regulatory authority."
Quartz reported that there are already several CRISPR projects in development, including DuPont's drought-resistant wheat and corn, a banana that can resist a fungus threatening that's threatening its extinction and a herbicide-resistant oilseed from the biotech company Cibus.
GMO-opponents have already criticized the USDA's move.
"The USDA decision is a perfect illustration of how weak regulations for evaluating genetically engineered crops are," Patty Lovera of Food & Water Watch, told Quartz.
The U.S. does not have a government body that specifically regulates GMOs. The
Washington Post
 noted that the U.S. Environmental Protection Agency only regulates GMOs designed for pest control and the Food and Drug Administration considers all GMOs to be safe.
Yang told Nature he is considering whether or not to bring the mushroom to market.
"I need to talk to my dean about that," he said. "We'll have to see what the university wants to do next."
Yang, however, told MIT Technology Review that even the company that helped fund the research, Giorgio Mushroom Co. of Pennsylvania, isn't sure if they want the mushroom in a store near you given the public's overwhelming skepticism of GMOs.
"[The] marketing people at Giorgio are more interested in organic mushrooms and are afraid of negative response regarding GMO from consumers," Yang said.
A 2015 Pew Research Poll revealed that 57 percent of U.S. adults believe that GMO-foods are "generally unsafe" to eat.
YOU MIGHT ALSO LIKE
Glyphosate Found in Popular Breakfast Foods
What Will Happen When Genetically Engineered Salmon Escape Into the Wild?
Africa's Traditional Crops Under Threat as Big Ag, Gates Foundation 'Donate' GMO Technology
Monsanto CEO Says 'Roundup Is Not A Carcinogen' But 94 Scientists From Around the World Disagree
EcoWatch Daily Newsletter
David Gilmour performs at Anfiteatro Scavi di Pomei on July 7, 2016 in Pompei, Italy. Francesco Prandoni / Redferns / Getty Images
David Gilmour, guitarist, singer and songwriter in the rock band Pink Floyd, set a record last week when he auctioned off 126 guitars and raised $21.5 million for ClientEarth, a non-profit environmental law group dedicated to fighting the global climate crisis, according to CNN.
U.S. Secretary of Agriculture Sonny Perdue speaks during a forum April 18, 2018 in Washington, DC. Alex Wong / Getty Images
The Trump administration ratcheted up its open hostility to climate science in a move that may hide essential information from the nation's farmers.
Simple swaps that cut down on kitchen trash.
Sponsored
By Kayla Robbins
Along with the bathroom, the kitchen is one of the most daunting areas to try and make zero waste.
Protestors and police stand on ether side of railway tracks. dpa / picture-alliance
Police have cleared 250 climate activists who stayed overnight at the Garzweiler brown coal mine in western Germany, officials said Sunday.
Cecilie_Arcurs / E+ / Getty Images
By Megan Jones and Jennifer Solomon
The #MeToo movement has caused profound shake-ups at organizations across the U.S. in the last two years. So far, however, it has left many unresolved questions about how workplaces can be more inclusive and equitable for women and other diverse groups.

Cigarette butts are the most-littered item found at beach clean ups. John R. Platt
By Tara Lohan
By now it's no secret that plastic waste in our oceans is a global epidemic. When some of it washes ashore — plastic bottles, plastic bags, food wrappers — we get a stark reminder. And lately one part of this problem has been most glaring to volunteers who comb beaches picking up trash: cigarette butts.

Andrea Rodgers, second from the right, takes notes during a hearing in the Juliana v. U.S. case before the 9th Circuit Court of Appeals in Portland, Oregon on June 4. Colleague Elizabeth Brown sits to her left, while colleague Julia Olson sits on her right, with co-council Philip Gregory on Julia's right. Robin Loznak / Our Children's Trust
By Fran Korten
On June 4, Andrea Rodgers was in the front row of attorneys sitting before a three-judge panel of the 9th Circuit Court. The court session, held in Portland, Oregon, was to determine whether the climate change lawsuit (Juliana v. United States) brought by 21 young plaintiffs should be dismissed, as requested by the U.S. government, or go on to trial.
Seventy Extinction Rebellion protesters were arrested outside The New York Times building Saturday.
SCOOTERCASTER / YouTube screenshot