This website uses cookies to ensure you get the best experience while browsing it. By clicking 'Got It' you're accepting these terms.

Monsanto and Scotts have begun testing the first genetically engineered (GE) grass, intended for both consumer and commercial use.
 
Scotts Roundup-Ready Kentucky Bluegrass, genetically engineered to withstand massive amounts of Monsanto's Roundup herbicide, is unregulated, will not be labeled "GMO" (genetically modified organisms), and because of the ease with which grass spreads, could in short order contaminate lawns, parks, golf courses and pastures everywhere.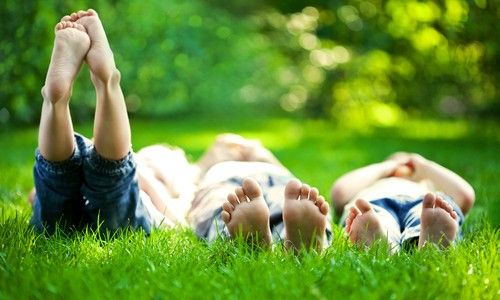 Photo courtesy of Shutterstock
Because Roundup will kill everything except the grass engineered to stand up to it, lawns all over the country will be green, lush—and toxic.
And you won't know it.
"As these seeds spread and more and more grass takes up that genetic trait, we'll find organic farmers who want to grass feed their beef, can't do it because their grass is genetically modified, which is prohibited in organic standards," said Bill Duesing of the Northeast Organic Farming Association, in an article in CT News Junkie. "GMOs are pollution with a life of its own."
In July 2011, Scotts Company and Monsanto convinced the U.S. Department of Agriculture (USDA) to give the companies a free pass to market Roundup-Ready Kentucky Bluegrass. No testing required.
How did they circumvent the system? GE crops are regulated by the USDA under rules pertaining to plant pests. These rules were created in the 1950s to give the USDA some muscle to constrain the introduction of organisms that would inflict harm to plants. Because genetically modified crops use DNA material derived from natural plant pathogens, they technically qualify as "plant pests."
 
Scotts got around this level of restriction because they avoided using plant pests in the development of the Kentucky Bluegrass. Instead, the glyphosate-resistant gene originated from other plants that were not considered pathogens. Furthermore, the gene was fired in with a gene gun, instead of being carried by a plant pest bacterium. By avoiding the use of plant pests in the engineering process, Scotts has also avoided that regulation trigger.
The second mechanism the USDA could have used to regulate GMO grass is the noxious weed provision under the Plant Protection Act of 2000. It's well known that bluegrass spreads easily, because its light pollen can be carried for miles on the wind. Inevitably, genetically modified bluegrass will transfer its genes to established conventional bluegrass.
 
That's one reason Scotts Roundup-Ready grass is so dangerous—it threatens to contaminate every lawn, park, roadside and field in sight, including the pastures used by organic farmers to graze their cattle. This not only puts organic farmers at risk of losing their certification, but it puts the animals at risk of eating GMO grass. Research shows that GMO grain has a devastating impact on the health of animals raised for slaughter. Will GMO grass also be hazardous to animal health, including cattle raised for meat—and people's prized horses?
Beyond its ability to spread quickly, beyond its potential impact on organic farmers, even more troubling is the fact that once Scotts Roundup Ready grass hits the market, it will lead to a dramatic increase in the use of Roundup, already the most widely used—and potentially harmful—herbicide in the world.
And much of that Roundup will be lurking in places where kids play.
Glyphosate, the active ingredient in Roundup herbicide has recently been described by researchers as, "the most biologically disruptive chemical in our environment." It's been linked to a litany of health disorders and diseases including Parkinson's, cancer and autism.
Studies have revealed a connection between the use of glyphosate and birth defects in frog and chicken embryos. A more recent study shows that the toxic herbicide was found in the breast milk of American women.
This month, employees of Scotts begin testing the new product at their homes. Scotts' CEO told shareholders his goal is to have the GMO ready for commercial applications in 2015, and on the consumer market in 2016.
Scotts, which is Monsanto's exclusive agent for the marketing and distribution of consumer Roundup, has much to gain by releasing its frankengrass into the marketplace. According to The Columbus Dispatch, CEO Hagedorn in January told shareholders the market opportunity for Roundup-Ready Bluegrass is substantial. "If you look at the grass-seed category, it's probably significantly north of $500 million and probably less than $1 billion." 
The company is determined to protect its projected revenue. When Connecticut came close to passing a statewide ban on GMO grass, Hagedorn reportedly sent a letter to Gov. Dannel Malloy (D-CT) stating that any renewed effort to ban or place a moratorium on the new seed could result in Hagedorn questioning "whether continuing to invest in Connecticut is in the best long-term interests of my company and its stockholders."  
Monsanto and Scotts are both members of the Grocery Manufacturers Association, which has spent millions to defeat GMO labeling laws and bans, and plans to sue Vermont to overturn its recently passed law requiring mandatory labeling of foods containing GMOs. The Organic Consumers Association has called for a boycott of all products marketed by members of the Grocery Manufacturers Association.
We also urge consumers everywhere to contact Hagedorn and other executives at Scotts to inform them that they will boycott all Scotts products unless the company drops plans to market its Roundup-Ready Kentucky Bluegrass. You can take action here.
Charlotte Warren is a media and communications consultant to the Organic Consumers Association.
Ronnie Cummins is the national director for the Organic Consumers Association.
——–
YOU MIGHT ALSO LIKE
Monsanto's Roundup Found in 75% of Air and Rain Samples
5 Reasons Monsanto's 'Science' Doesn't Add Up
7 Ways to Fight Back Against Monsanto and Other Corporate Bullies of the GMA
——–
EcoWatch Daily Newsletter
Ryan Hagerty / USFWS
It's become a familiar story with the Trump administration: Scientists write a report that shows the administration's policies will cause environmental damage, then the administration buries the report and fires the scientists.
A coalition of some of the largest environmental groups in the country joined forces to file a lawsuit in federal court challenging the Trump administration's maneuver to weaken the Endangered Species Act.
beyond foto / Getty Images
By Kimberly Holland
Children who eat a lot of gluten in their earliest years may have an increased risk of developing celiac disease and gluten intolerance, according to a new study published in JAMATrusted Source.
Joe Raedle / Getty Images
By Jake Johnson
Calling the global climate crisis both the greatest threat facing the U.S. and the greatest opportunity for transformative change, Sen. Bernie Sanders unveiled today a comprehensive Green New Deal proposal that would transition the U.S. economy to 100 percent renewable energy and create 20 million well-paying union jobs over a decade.
The Parties to CITES agreed to list giraffes on Appendix II of the Convention on International Trade in Endangered Species (CITES) today at the World Wildlife Conference or CoP18 in Geneva. Such protections will ensure that all giraffe parts trade were legally acquired and not sourced from the poached giraffes trade and will require countries to make non-detriment findings before allowing giraffe exports. The listing will also enable the collection of international trade data for giraffes that might justify greater protections at both CITES and other venues in the future.

The WHO stressed that more research is needed on the potential health risks of microplastic ingestion. luchschen / iStock / Getty Images Plus
The UN's health agency on Thursday said that microplastics contained in drinking water posed a "low" risk at their current levels.
However, the World Health Organization (WHO) — in its first report on the potential health risks of microplastic ingestion — also stressed more research was needed to reassure consumers.
Brazil's right-wing President Jair Bolsonaro is giving President Trump a run for his money in the alternative facts department.
Washington Gov. Jay Inslee, who made solving the climate crisis the center of his presidential campaign, is dropping out of the 2020 Democratic primary race.