Food
Sep. 29, 2014 03:22PM EST
GMO Crops Accelerate Herbicide and Insecticide Use While Mainstream Media Gets It Wrong
Michael Specter's recent articles bashing Vandana Shiva and the labeling of genetically engineered foods in the New Yorker (Seeds of Doubt and The Problem with G.M.O. Labels) are the latest high-profile pro-GMO articles that fail to engage with the fundamental critique of genetically engineered food crops in U.S. today. Rather than reduce pesticide inputs, GMOs are causing them to skyrocket in amount and toxicity.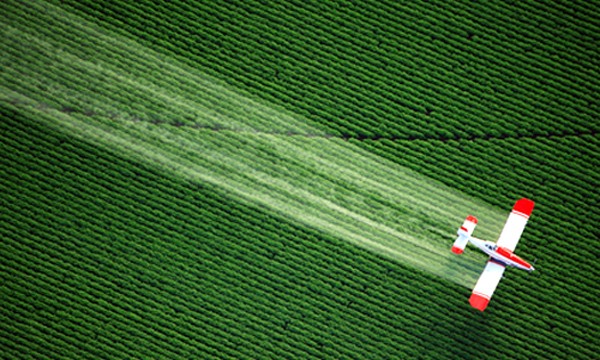 Photo credit: Shutterstock
Setting the record straight, Dr. Ramon J. Seidler, Ph.D., former Senior Scientist at the U.S. Environmental Protection Agency (EPA), has recently published a well-researched article documenting the devastating facts, Pesticide Use on Genetically Engineered Crops, in Environmental Working Group's online AgMag. Dr. Seidler's article cites and links recent scientific literature and media reports, and should be required reading for all journalists covering GMOs, as well as for citizens generally to understand why their right to know if food is genetically engineered is so important. The short discussion below summarizes the major points of his five-page article.
More than 99 percent of GMO acreage is engineered by chemical companies to tolerate heavy herbicide (glyphosate) use and/or produce insecticide (Bt) in every cell of every plant over the entire growing season. The result is massive selection pressure that has rapidly created pest resistance—the opposite of integrated pest management where judicious use of chemical controls is applied only as necessary. Predictably, just like overuse of antibiotics in confined factory farms has created resistant "supergerms" leading to animals being overdosed with ever more powerful antibiotics, we now have huge swaths of the country infested with "superweeds" and "superbugs" resistant to glyphosate and Bt, meaning more volume of more toxic pesticides are being applied.
For example, the use of systemic insecticides, which coat GMO corn and soy seeds and are incorporated and expressed inside the entire plant, has skyrocketed in the last ten years. This includes use of neonicotinoids (neonics) which are extremely powerful neurotoxins that contaminate our food and water and destroy non-target pollinators and wildlife such as bees, butterflies and birds. In fact, two neonics in widespread use in the US are currently banned in the EU because of their suspected link to Colony Collapse Disorder in bees.
Mainstream pro-GMO media also fail to discuss the ever-increasing amount of older much more toxic herbicides like 2,4 D and Dicamba being sprayed along with huge volumes of Glyphosate to deal with superweeds. Most importantly and egregiously, this biased reporting does not mention the imminent approval of the pesticide industry's next generation herbicide-tolerant crops that are resistant not only to glyphosate, but also high doses of 2,4 D and Dicamba, that will lead to huge increases of these toxic chemicals sprayed on our food and farming communities.
U.S. Department of Agriculture and EPA are in the process of rubber-stamping these into our farming communities (and unlabeled onto our dinner plates) this fall, yet pro-GMO media consistently fails to discuss their imminent approval even as the lower-toxicity profile of glyphosate is touted. Such reporting gives a pass to the chemical pesticide industry that pours millions into lobbying government and media elites and defeating voter ballot initiatives to require labeling of GMO foods.
Hopefully Dr. Seidler's article will be widely read and disseminated, so reporters can learn the facts and check their biases against industry-fed distortions.  Citizens and consumers need to hear the fundamental concern that GMOs are doubling down on, not freeing us from, the pesticide treadmill that contaminates our food and water while lining the pockets of the chemical companies that make both the GMOs and the pesticides used on them.
David Bronner is president of Dr. Bronner's Magic Soaps, the top-selling brand of natural soaps in North America. He graduated with a degree (B.A.) in Biology from Harvard University in 1995. A leader in the fight to label GMO foods in the U.S., Dr. Bronner's dedicates resources to progressive issues on behalf of the company's mission to use profits to help make a better world.
YOU MIGHT ALSO LIKE
Häagen-Dazs Says No to 'Extreme' Genetic Engineering Techniques
Protecting Organic Seeds From GMO Contamination
Why Mark Bittman Needs to Reconsider His Opinion Piece on GMOs in the NY Times
Will Rose / Greenpeace
Eleven peaceful activists from the Greenpeace ship Arctic Sunrise have taken to the water in inflatable boats with handheld banners to oppose the Statoil Songa Enabler oil rig, 275 km North off the Norwegian coast, in the Arctic Barents sea.
The banners say: "People Vs. Arctic Oil" and are directed at Statoil and the Norwegian government, which has opened a new, aggressive search for oil in the waters of the Barents Sea.
Keep reading...
Show less
Jul. 21, 2017 10:34AM EST
Dominion Pipeline Monitoring Coalition
The Federal Energy Regulatory Commission (FERC) paved the way Friday for the 600-mile, 42-inch fracked gas Atlantic Coast Pipeline to proceed when it issued the final environmental impact statement (FEIS). A joint project of utility giants Duke Energy and Dominion Energy, the Atlantic Coast Pipeline would move fracked gas from West Virginia into Virginia and North Carolina.
In April, the Sierra Club submitted more than 500 pages of legal and technical comments on FERC's draft EIS, which were joined by more than 18,000 individual comments detailing opposition to the project. The pipeline has been met with widespread opposition, with more than 1,000 people participating in public hearings across the three affected states. The Sierra Club recently requested that FERC issue a new environmental review document analyzing information that came in after or late in, the public comment process.
Keep reading...
Show less
Jul. 21, 2017 08:25AM EST
Greenpeace / PolluterWatch
By Jessica Corbett
"It's time Rex Tillerson step down or be removed," said Gigi Kellett of Corporate Accountability International, following an announcement on Thursday that ExxonMobil will pay $2 million for violating U.S. sanctions against Russian officials while the now-secretary of state was the company's CEO.
"ExxonMobil demonstrated reckless disregard for U.S. sanction requirements," according to enforcement filing released by the Treasury Department's Office of Foreign Assets Control (OFAC), which issued the penalty. Though the fine is reportedly the maximum penalty allowed, it's pittance to one of the world's most profitable and powerful corporations, which last year reported a profit of $7.8 billion.
Keep reading...
Show less
Jul. 21, 2017 11:15AM EST
New analysis from Amory B. Lovins debunks the notion that highly unprofitable, economically distressed nuclear plants should be further subsi­dized to meet financial, security, reliability and climate goals. The analysis, which will appear shortly in The Electricity Journal, shows that closing costly-to-run nuclear plants and reinvesting their saved operating costs in energy efficiency provides cheaper elec­tricity, increases grid reliability and security, reduces more carbon, and preserves (not distorts) market integrity—all without subsidies.

Keep reading...
Show less
Jul. 21, 2017 08:44AM EST
Oil Change International / Twitter
By Christian Detisch and Seth Gladstone
In the wake of Senate Republicans' ever-deepening debacle over their flailing attempts to strip health insurance from 22 million people, Majority Leader Mitch McConnell is desperate to do something—anything—to show that he can get legislation passed. To this end, he's bypassing the standard committee review process to push a complex 850+ page energy bill straight to the full Senate floor. Perhaps not surprisingly, this legislation, the Energy and Natural Resources Act of 2017, would be a disaster for public health and our climate.
Keep reading...
Show less
Jul. 21, 2017 08:11AM EST
Rooftop solar panels on a beach house in southern Florida. TAI VIINIKKA / CC BY-NC-ND 2.0
A new law passed this week in South Miami will require all new homes built in the city to install solar panels. The measure, which was inspired by a proposal from a teenage climate activist, will go into effect in September.
The text of the ordinance details the climate impacts facing South Miami.
Keep reading...
Show less
Jul. 21, 2017 10:27AM EST
www.youtube.com
Keep reading...
Show less
Jul. 21, 2017 08:49AM EST
iStock
By Katherine Paul and Ronnie Cummins
A recent series of articles by a Washington Post reporter could have some consumers questioning the value of the U.S. Department of Agriculture's (USDA) organic seal. But are a few bad eggs representative of an entire industry?
Consumers are all for cracking down on the fraudulent few who, with the help of Big Food, big retail chains and questionable certifiers give organics a bad name. But they also want stronger standards, and better enforcement—not a plan to weaken standards to accommodate "Factory Farm Organic."
Keep reading...
Show less