Glyphosate in Monsanto's Roundup Is Linked to Cancer, But Big Ag Wants it in Your Food Anyway
Sep. 16, 2015 01:21PM EST
Food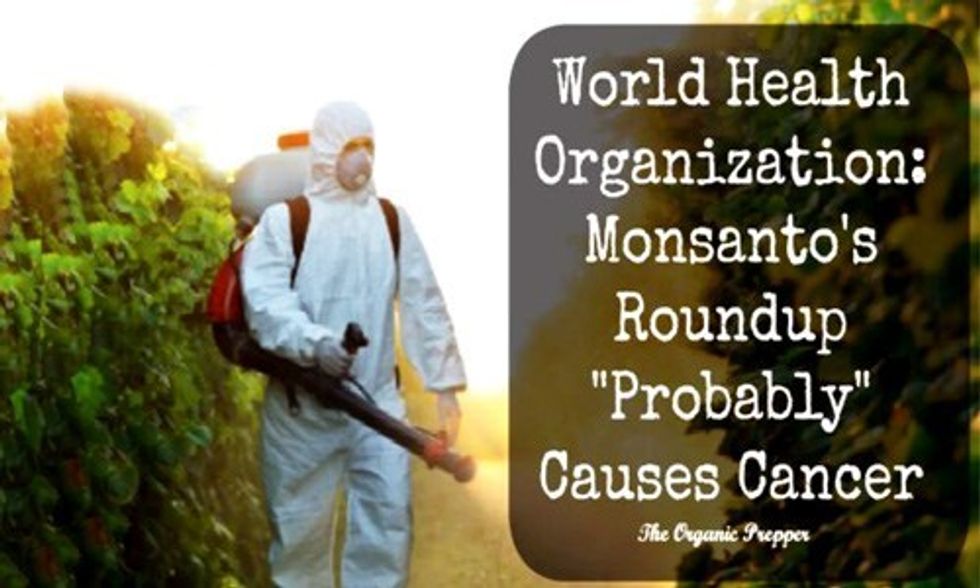 In Europe, the amount of pesticide residues that are allowed on food is determined by recommendations from the Food and Agriculture Organization of the United Nations (FAO) and the World Health Organization (WHO) at a Joint Meeting on Pesticide Residues (JMPR). Right now their big discussions are all about glyphosate. Glyphosate is the most widely used herbicide in the world and is the main ingredient in the weed killer Roundup, which is applied to more than 150 food and non-food crops. In addition to its agriculture uses, glyphosate is also commonly used on lawns, gardens and parks where pets and kids play.
#Monsanto's beloved #Glyphosate Soon 2Join #Cali #Cancer List: #GMO https://t.co/99fp4yrrcQ http://t.co/bpU0RdkrFO http://t.co/dNfjDhJxBx

— Organic Live Food (@Organic Live Food)1442352441.0
Unfortunately, glyphosate is linked to cancer (Group 2A 'probable' human carcinogen) by the International Agency for Research on Cancer (IARC), the prestigious cancer assessment arm of the WHO. But, cancer-causing chemicals have friends in high places. Monsanto is the world's leading producer of glyphosate, with annual sales of Roundup netting about two billion U.S. dollars. Unsurprisingly, the company quickly fired back with a statement on how the company is "outraged" at IARC's "agenda-driven bias" in its "irresponsible" decision-making. [As a side, since IARC announced its decision, a group of U.S. citizens have filed a class action lawsuit against Monsanto for falsifying safety claims and a group of Chinese citizens have filed a lawsuit against the Chinese government for hiding Monsanto's toxicity studies from the public].
In Europe, if a chemical is linked to cancer, then absolutely none of the chemical is allowed to remain as residue on our food. Zero tolerance. That seems reasonable—like zero tolerance for cancer. So, JMPR has assembled a task force to reevaluate IARC's assessment and advise whether or not JMPR's assessment from 2011 should be revised. Natural Resources Defense Council (NRDC) and colleagues sent a letter to JMPR raising two main concerns:
First, JMPR should not over-turn or attempt to re-do IARC's cancer assessment. IARC's conclusions were the result of an international panel of experts that conducted a comprehensive scientific review of evidence from laboratory animal studies, mechanistic cell studies and epidemiological evidence of cancers in people (see details in a previous blog). IARC found links between non-Hodgkin lymphoma and glyphosate exposure.

Second, JMPR advisory panel members have financial ties to Big Ag. According to publicly available documents, three of eight panel members have financial and professional ties to the chemical industry, including Monsanto.
Our concerns are further detailed in our letter, which was mailed to the WHO and shared with the public (see press release) on June 29. Unfortunately, our concerns seem to have fallen on deaf ears. The WHO sent us a five paragraph response letter that does little more than acknowledge the receipt of our letter and remind us that the WHO systematically "evaluates any declared interest carefully." No explanation was given to us as to whether or how our particular concerns were taken into consideration.
#Monsanto 😡1st time ever #glyphosate #Roundup willB listed known2cause cancer 👍🏻 #Sacramento http://t.co/dFgH2HEj9j http://t.co/PN2iqI7fwM

— They Live News (@They Live News)1442373235.0
JMPR's advisory panel is due to report back to JMPR later this month. How could the financial conflicts of interest not cloud the panel's evaluation of glyphosate's cancer classification? That's why NRDC is concerned that the panel's recommendation to JMPR could seriously undermine IARC's conclusions and result in the continued exposure of the public to glyphosate.
Glyphosate is a non-selective herbicide that kills any plant it comes into contact with, regardless of whether it is a weed or a crop. "Roundup ready" crops, including soy, corn and cotton have been genetically modified to tolerate glyphosate, meaning that farmers can apply as much of the herbicide as they want without worrying about hurting their crops. As a result, glyphosate use has increased tenfold since it was last approved by U.S. Environmental Protection Agency in the early 90s. With the use of glyphosate steadily increasing, it is imperative that JMPR acts to protect the public from being exposed to this probable human carcinogen in their food.
Erik Olson, the director of NRDC's Health Program, nicely sums this all up with the following quote:
"The WHO is highly respected for protecting public health around the world and it should move forward immediately to safeguard people from being harmed by glyphosate. At the same time, the WHO should make absolutely sure that its expert review panel is free of conflicts of interest so it can make science-based evaluations of herbicide and pesticide residues on food and advise what levels are safe for people to be exposed to."
YOU MIGHT ALSO LIKE
Monsanto's Tobacco Files: University Scientists Caught Conspiring With Biotech Industry to Manipulate Public Opinion on GMOs
French Court Finds Monsanto Guilty of Chemical Poisoning
California Becomes First State to Label Monsanto's Roundup as a Carcinogen
EcoWatch Daily Newsletter