Popular
May. 29, 2016 12:59PM EST
Glyphosate Found in Urine of 93 Percent of Americans Tested
Glyphosate, the most used herbicide in the world, has been found in the urine of 93 percent of the American public during a unique testing project that started in 2015.
Glyphosate, labeled a "probable human carcinogen" by the World Health Organization's cancer agency IARC in 2015, has now been revealed to be ubiquitous in the first ever comprehensive and validated LC/MS/MS testing project to be carried out across America.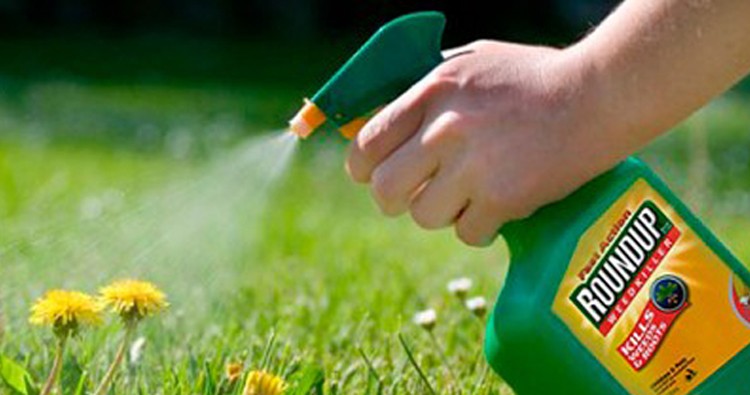 The European Union is currently in the process of putting restrictions on the use of glyphosate due to health concerns, with Member States so far unable to agree on the re-approval of the chemical beyond June 2016.
Glyphosate-containing herbicides are sold under trademarks such as Monsanto's Roundup.
Urine and Water Testing Results
In a unique public testing project carried out by a laboratory at the University of California San Francisco (UCSF), glyphosate was discovered in 93 percent of urine samples during the early phase of the testing in 2015.
The urine and water testing was organized by The Detox Project and commissioned by the Organic Consumers Association.
The unique project, which has already provided more urine samples for testing than any other glyphosate bio-monitoring urine study ever in America, was supported by members of the public, who themselves paid for their urine and water samples to be analyzed for glyphosate residues by the UCSF lab.
The data released in a presentation by the UCSF lab only covers the first 131 people tested. Further data from this public bio-monitoring study, which is now completed, will be released later in 2016.
The Detox Project will be working alongside a new larger lab later this year to enable the public to once again test their urine for glyphosate residues.
"These results show that both the U.S. regulators have let down consumers in America," Henry Rowlands, director of The Detox Project, said. "Independent science shows that glyphosate may be a hormone hacker at these real-life exposure levels found in the food products. The safe level of glyphosate ingestion is simply unknown despite what the EPA and Monsanto would have everyone believe.
"The Detox Project which organized this testing is a research platform that brings awareness to the public by testing for toxic chemicals in our bodies and in our food at a very personal level. We believe everyone has the right to know what man-made toxic chemicals are in our bodies and in our food."
The UCSF full presentation of these initial results can be found here.
The Results
Glyphosate was found in 93 percent of the 131 urine samples tested at an average level of 3.096 parts per billion (PPB). Children had the highest levels with an average of 3.586 PPB.
The regions with the highest levels were the West and the Midwest with an average of 3.053 PPB and 3.050 PPB respectively.
Glyphosate residues were not observed in any tap water samples during the early phase of the project, most likely due to phosphorus removal during water treatment.
The results from the UCSF urine testing in America showed a much higher frequency and average glyphosate level than those observed in urine samples in the European Union in 2013. The average level in Europe was around 1 PPB with a frequency of detection of 43.9 percent.
"If consumers had any doubt about the extent to which they are being poisoned by Monsanto's Roundup, these tests results should put those doubts to rest," Ronnie Cummins, international director of Organic Consumers Association, said.
"These test results highlight the massive failure of U.S. regulatory agencies, including the EPA, USDA and FDA, to protect us even as they continue to perpetuate the myth that low-level exposure to glyphosate is harmless. We must bring down this poison-for-profit model and build in its place a food and farming system that regenerates and heals, before it's too late."
The Method
Glyphosate (N-(phosphonomethyl)glycine ) is directly analyzed using liquid chromatography- tandem mass spectrometry (LC-MS/MS). Water and urine samples are prepared for analysis by solid phase extraction using an ion exchange column. Extracted samples are injected to the LC-MS/MS and the analyte is separated using an Obelisc N column (SIELC Technologies, Prospect Heights, IL) through isocratic elution. Ionization of glyphosate is achieved using an electrospray ionization source operated in negative polarity. The analyte is detected by multiple reaction monitoring using a 13C-labelled glyphosate as internal standard. Quantification of the analyte is done by isotope dilution method using an eight-point calibration curve.
The assay has a limit of quantification of 0.5 ng/mL. The intra- and inter-day precision observed are 6-15% in concentrations that range 0.5-80 ng/mL. Recoveries for glyphosate range 70-80% at concentrations within the assay's linear dynamic range.
Is Glyphosate Safe at Real-Life Exposure Levels?
Glyphosate has never been studied by regulators or the chemical industry at levels that the human population in the U.S. is being exposed to (under 3 mg/kg body weight/day). This is a huge hole in the risk assessment process for glyphosate, as evidence suggests that low levels of the chemical may hack hormones even more than high levels—a higher dose does not necessarily mean a more toxic, hormone disruptive effect.
Industry funded science from the dark ages suggested that the higher the dose of a chemical the more dangerous it was. However, modern independent science has discovered that many toxic chemicals have as much or even more of an influence on our health at low doses—these chemicals are known as hormone hackers (endocrine disruptors).
A study from March 2015 stated that the health costs to the European Union of just some hormone hacking chemicals, in connection with a subset of illnesses known to be linked to hormone interference, is over EUR 150 Billion per year. The study stated that lower IQ, adult obesity and 5 percent or more of autism cases are all linked to exposure to endocrine disruptors.
Glyphosate is likely to be one of these hormone hacking chemicals at real-life exposure levels down to 0.1 ppb or below, according to independent science. Regulators and the chemical industry have simply not studied the toxic effects of glyphosate at real-life exposure levels.
"With increasing evidence from laboratory studies showing that glyphosate based herbicides can result in a wide range of chronic illnesses through multiple mechanisms, it has become imperative to ascertain the levels of glyphosate in food and in as large a section of the human population as possible," Dr. Michael Antoniou, a molecular geneticist in London, said.
"Thus the information gathered by the glyphosate public testing service being offered by the Detox Project is most timely and will provide invaluable information for the consumer and scientists like myself evaluating the toxicity of real world levels of exposure to this most widely used pesticide."
YOU MIGHT ALSO LIKE
Taiwan Recalls Quaker Oats Products Imported From U.S. After Detecting Glyphosate
Bayer 'Confident' It Can Still Strike Deal with Monsanto, Merger Could Spell Disaster for Farmers and Global Food Supply
More Big Retailers Say 'No' to GMO Salmon
Vandana Shiva: Small Farmers Are Foundation to Food Security, Not Corporations Like Monsanto
Will Rose / Greenpeace
Eleven peaceful activists from the Greenpeace ship Arctic Sunrise have taken to the water in inflatable boats with handheld banners to oppose the Statoil Songa Enabler oil rig, 275 km North off the Norwegian coast, in the Arctic Barents sea.
The banners say: "People Vs. Arctic Oil" and are directed at Statoil and the Norwegian government, which has opened a new, aggressive search for oil in the waters of the Barents Sea.
Keep reading...
Show less
Jul. 21, 2017 10:34AM EST
Dominion Pipeline Monitoring Coalition
The Federal Energy Regulatory Commission (FERC) paved the way Friday for the 600-mile, 42-inch fracked gas Atlantic Coast Pipeline to proceed when it issued the final environmental impact statement (FEIS). A joint project of utility giants Duke Energy and Dominion Energy, the Atlantic Coast Pipeline would move fracked gas from West Virginia into Virginia and North Carolina.
In April, the Sierra Club submitted more than 500 pages of legal and technical comments on FERC's draft EIS, which were joined by more than 18,000 individual comments detailing opposition to the project. The pipeline has been met with widespread opposition, with more than 1,000 people participating in public hearings across the three affected states. The Sierra Club recently requested that FERC issue a new environmental review document analyzing information that came in after or late in, the public comment process.
Keep reading...
Show less
Jul. 21, 2017 08:25AM EST
Greenpeace / PolluterWatch
By Jessica Corbett
"It's time Rex Tillerson step down or be removed," said Gigi Kellett of Corporate Accountability International, following an announcement on Thursday that ExxonMobil will pay $2 million for violating U.S. sanctions against Russian officials while the now-secretary of state was the company's CEO.
"ExxonMobil demonstrated reckless disregard for U.S. sanction requirements," according to enforcement filing released by the Treasury Department's Office of Foreign Assets Control (OFAC), which issued the penalty. Though the fine is reportedly the maximum penalty allowed, it's pittance to one of the world's most profitable and powerful corporations, which last year reported a profit of $7.8 billion.
Keep reading...
Show less
Jul. 21, 2017 11:15AM EST
New analysis from Amory B. Lovins debunks the notion that highly unprofitable, economically distressed nuclear plants should be further subsi­dized to meet financial, security, reliability and climate goals. The analysis, which will appear shortly in The Electricity Journal, shows that closing costly-to-run nuclear plants and reinvesting their saved operating costs in energy efficiency provides cheaper elec­tricity, increases grid reliability and security, reduces more carbon, and preserves (not distorts) market integrity—all without subsidies.

Keep reading...
Show less
Jul. 21, 2017 08:44AM EST
Oil Change International / Twitter
By Christian Detisch and Seth Gladstone
In the wake of Senate Republicans' ever-deepening debacle over their flailing attempts to strip health insurance from 22 million people, Majority Leader Mitch McConnell is desperate to do something—anything—to show that he can get legislation passed. To this end, he's bypassing the standard committee review process to push a complex 850+ page energy bill straight to the full Senate floor. Perhaps not surprisingly, this legislation, the Energy and Natural Resources Act of 2017, would be a disaster for public health and our climate.
Keep reading...
Show less
Jul. 21, 2017 08:11AM EST
Rooftop solar panels on a beach house in southern Florida. TAI VIINIKKA / CC BY-NC-ND 2.0
A new law passed this week in South Miami will require all new homes built in the city to install solar panels. The measure, which was inspired by a proposal from a teenage climate activist, will go into effect in September.
The text of the ordinance details the climate impacts facing South Miami.
Keep reading...
Show less
Jul. 21, 2017 10:27AM EST
www.youtube.com
Keep reading...
Show less
Jul. 21, 2017 08:49AM EST
iStock
By Katherine Paul and Ronnie Cummins
A recent series of articles by a Washington Post reporter could have some consumers questioning the value of the U.S. Department of Agriculture's (USDA) organic seal. But are a few bad eggs representative of an entire industry?
Consumers are all for cracking down on the fraudulent few who, with the help of Big Food, big retail chains and questionable certifiers give organics a bad name. But they also want stronger standards, and better enforcement—not a plan to weaken standards to accommodate "Factory Farm Organic."
Keep reading...
Show less