This website uses cookies to ensure you get the best experience while browsing it. By clicking 'Got It' you're accepting these terms.
Global Warming Slowdown Attributed to Phase-Out of CFCs
Nov. 11, 2013 12:35PM EST
Climate
By Tim Radford
What appears to be a slowdown in the rate of atmospheric warming this century may have a simple explanation, Mexican scientists say. It could be the consequence of protecting the ozone layer.
Scientists who looked at the whole history of climate in the twentieth century have come up with a new possible explanation for the apparent slowdown in global warming. It is because, they say, of the Montreal Protocol that banned chlorofluorocarbons (CFCs) and saved the ozone layer.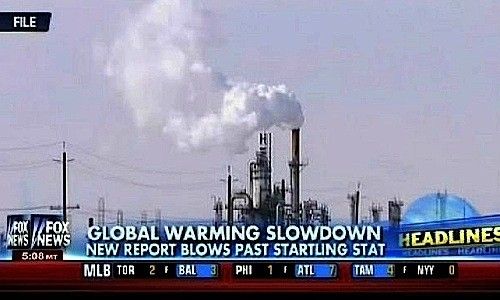 The ozone layer was the second great atmospheric crisis of the late twentieth century (the first involved the urban smog and acid rain that triggered clean air legislation in Europe and the U.S.). CFCs were the safe, enduring gases used as refrigerants: their only problem was that—once they reached the stratosphere—they unexpectedly began to destroy the ozone layer that screens out harmful ultraviolet light.
Within four years of the dramatic discovery of a huge "hole" in the ozone layer over the Antarctic, these gases were phased out, in a rare act of international agreement, by the 1989 Montreal Protocol.
But CFCs had a second unexpected property. They were greenhouse gases of unusual potency: molecule for molecule, one of them was rated at more than 17,000 times more effective at trapping infrared radiation than carbon dioxide. CFCs were released only in comparatively tiny quantities, but they were calculated to account for up to 24 percent of global warming.
Francisco Estrada of the National Autonomous University of Mexico and colleagues report in Nature Geoscience that they spotted the signal of the missing CFCs when they used statistical analysis to examine average temperature records in the two hemispheres from 1880 to 2010.
Tentative Results, Clear Pattern
Exercises such as these are not simple: the scientists had to find a way of eliminating natural cycles that keep the weather in a permanent pattern of change, and identify long-term trends that could be identified as evidence of human activity.
In the first place, for a mix of reasons, rates of change in the two hemispheres are out of step; in the second place there are natural cycles linked to ocean and atmospheric circulation such as the Atlantic Multidecadal Oscillation that are associated with extended periods of warming and cooling; in the third place things like greenhouse gas emissions are tied into cycles of economic growth, and affected again in many cases by legislation, perhaps to reduce the aerosols that make citizens cough and splutter, but that also block sunlight and have a mild cooling effect.
And to get the results that they did, the researchers had to use advanced statistical methods (for example, they say, the "Perron-Yabu testing procedure, valid with integrated or stationary noise") that would baffle most of the human race.
So like all research results, the findings are tentative and published to provoke more research. But even so, the graphs in Nature Geoscience show a pattern of human influence in global average temperatures.
In the last century, the planet warmed overall by 0.8 degrees Celsius. In the trend discernible in the sometimes dramatic oscillations of temperature, there is evidence of a slowdown in this warming during two world wars, and the Great Depression of the 1930s, when world trade came to a standstill, factories closed everywhere and chimneys stopped smoking.
The authors see a pronounced rise in both greenhouse gas emissions and in global temperatures in the 1960s—the start of sustained global warming. But they also see a distinct slowdown that begins in the 1990s in response to the Montreal Protocol, which began the phase-out of the CFCs and the slow restoration of the ozone screen.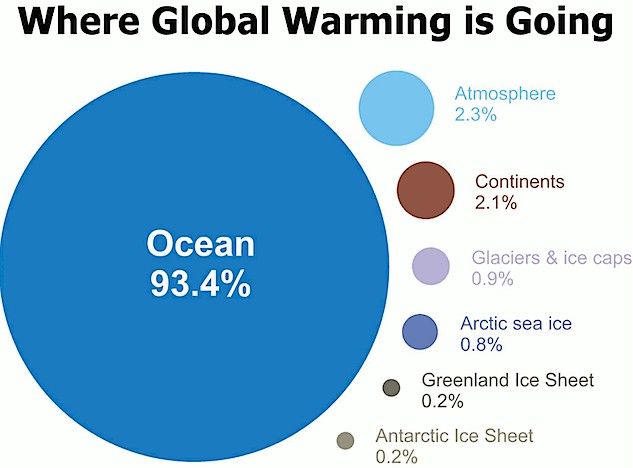 Slowdown Caused by Humans
The Montreal Protocol is not the only possible explanation for the apparent slowdown. There is also evidence that at least one sector of deep ocean is warming 15 times faster than at any time in the last 10,000 years, which suggests that ocean circulation may be carrying away the heat that meteorologists expected to record in the atmosphere.
Two scientists in October proposed that the slowdown in the rate of global warming could possibly be explained by a much longer-term natural cycle that nobody had yet identified: a climate signal could propagate across the northern hemisphere in a self-organising way, just as the so-called "stadium wave" propagates around a sports arena as excited spectators stand and sit down again.
They say in Climate Dynamics that such a phenomenon could be linked to a brake-and-accelerator pattern of influence of northern sea ice on atmosphere and ocean circulation.
If this pattern exists, it would explain why climate modellers had not predicted the present lull or slowdown in global warming. But the wave itself would have nothing to do with global warming, the two authors say. It would just offer a new perspective for climate science.
The Nature Geoscience paper, however, does once again confirm the link between average temperatures and greenhouse gas emissions. "Paradoxically the recent decrease in warming, presented by global warming skeptics as proof that humankind cannot affect the climate system, is shown to have a direct human origin," the authors conclude.
Visit EcoWatch's CLIMATE CHANGE page for more related news on this topic.

EcoWatch Daily Newsletter

Jose A. Bernat Bacete / Moment / Getty Images
By Bridget Shirvell
On a farm in upstate New York, a cheese brand is turning millions of pounds of food scraps into electricity needed to power its on-site businesses. Founded by eight families, each with their own dairy farms, Craigs Creamery doesn't just produce various types of cheddar, mozzarella, Swiss and Muenster cheeses, sold in chunks, slices, shreds and snack bars; they're also committed to becoming a zero-waste operation.

By Jessica A. Knoblauch
Summers in the Midwest are great for outdoor activities like growing your garden or cooling off in one of the area's many lakes and streams. But some waters aren't as clean as they should be.
That's in part because coal companies have long buried toxic waste known as coal ash near many of the Midwest's iconic waterways, including Lake Michigan. Though coal ash dumps can leak harmful chemicals like arsenic and cadmium into nearby waters, regulators have done little to address these toxic sites. As a result, the Midwest is now littered with coal ash dumps, with Illinois containing the most leaking sites in the country.

picture-alliance / AP Photo / NOAA Pacific Islands Fisheries Science Center
The Group of 20 major economies agreed a deal to reduce marine pollution at a meeting of their environment ministers on Sunday in Karuizawa, Japan.
Pope Francis holds his General Weekly Audience in St. Peter's Square on Aug. 29, 2018 in Vatican City, Vatican. Giulio Origlia / Getty Images
Pope Francis declared a climate emergency Friday as he met with oil industry executives and some of their biggest investors to urge them to act on the climate crisis.
A vegetarian bowl with quinoa fritters. Westend61 / Getty Images
By Ketura Persellin
You've likely heard that eating meat and poultry isn't good for your health or the planet. Recent news from Washington may make meat even less palatable: Pork inspections may be taken over by the industry itself, if a Trump administration proposal goes into effect, putting tests for deadly pathogens into the hands of the industry.
Florida's Deerfield Beach International Fishing Pier, where the record-breaking beach cleanup took place Saturday. Jeffrey Greenberg / Universal Images Group via Getty Images
More than 600 people gathered on a Florida beach Saturday to break the world record for the largest underwater cleanup of ocean litter.
Juvenile hatchery salmon flushed from a tanker truck in San Francisco Bay, California. Ben Moon
That salmon sitting in your neighborhood grocery store's fish counter won't look the same to you after watching Artifishal, a new film from Patagonia.