This website uses cookies to ensure you get the best experience while browsing it. By clicking 'Got It' you're accepting these terms.
Global Warming Pushes Native Plants to New Habitats Leaving Dependent Species at Risk
Feb. 17, 2014 03:33PM EST
By Tim Radford
By 2100, vegetation patterns will be shifting in almost half the land area of the planet, according to new research in the journal Global and Planetary Change.
Song Feng of the University of Arkansas in the U.S. and colleagues in Nebraska, China and South Korea have taken a long cool look at what the projected patterns of warming are likely to do to the planet's mosaic of climate types. And they predict dramatic changes.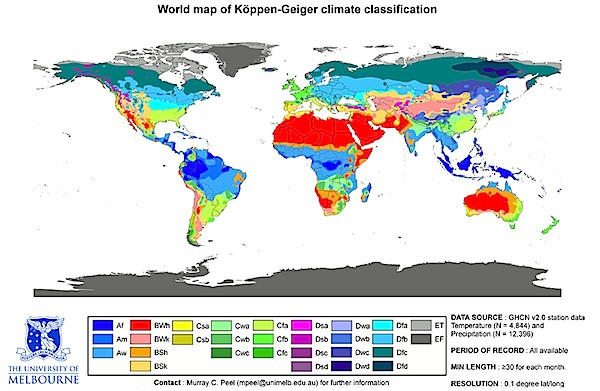 Climate type is a century-old idea useful for making sense of geographical zones: regions are grouped according to the type of vegetation they support. Since a global map of native vegetation types can also deliver useful information about altitude, rainfall, soil type, prevailing weather and latitude, geographers regard the Köppen-Geiger classification —and an updated version known as Köppen-Trewartha—as a helpful way of describing the world.
Feng and his colleagues decided to see what projected changes in temperature would do to climate types. He wasn't the first to do so; scientists from the U.S. National Oceanic and Atmospheric Administration reported in 2013 in Nature Climate Change on the probable speed of change in such zones.
But science advances by challenge and replication, and the Arkansas team began looking for themselves at the details of simulated change under the notorious "business as usual scenario"—the one in which global fossil fuel use continues to increase and higher levels of carbon dioxide and other greenhouse gases concentrate in the atmosphere.
The Intergovernmental Panel on Climate Change has made a series of predictions of rising global average temperatures, but plants, of course, don't care about global average temperatures: they are however distinctly vulnerable to local extremes of frost and heat.
The Feng scenario projected an increase of between three degrees Celsius and 10 degrees Celsius; the team analyzed observations made between 1900 and 2010, and then ran computer simulations from 1900 to 2100.
Drastic Changes Ahead
In the last three decades of the twenty-first century, for instance, northern winter temperatures are likely to rise by between three degrees and 12 degrees Celsius; Arctic coastal temperatures are likely to rise by eight degrees Celsius; warming in mid-latitudes is likely to be between five degrees Celsius and seven degrees Celsius, the tropics and the southern hemisphere around five degrees Celsius.
The Arctic will shrink. Sub-polar vegetation is expected to advance by five degrees of latitude and the temperate zones will push northwards too. Arid and semi-arid climate zones are expected to expand by somewhere between 3.3 and 6.6 million square kilometers in the last three decades of this century.
What this does to native vegetation types is hard to predict in detail but some projections have been made. In the Qinling mountain region of China, for instance, somewhere between 80 percent and 100 percent of the bamboo forests on which the giant pandas depend could disappear, because the rising temperature would be "no longer feasible for bamboo growth."
In the south-western U.S. higher temperatures and drier conditions could lead to more forest fires, and pest outbreaks could lead to changes in forest structure and composition.
As the plants change, the animal species that evolved with the vegetation types could be increasingly at risk. Altogether, up to 46.3 percent of the planet's land area could shift to warmer or drier climate types.
"Climates are associated with certain types of vegetation," Feng explained. "If the surface continues to get warmer, certain native species may no longer grow well in their climate, especially in higher latitudes."
"They will give their territory to other species," he concluded. "That is the most likely scenario." 
Visit EcoWatch's CLIMATE CHANGE and BIODIVERSITY pages for more related news on this topic.

Plus, learn if there's one that's best for your health.
Catherine Falls Commercial / Moment / Getty Images
An invasive Amynthas worm, also known as a crazy snake worm, Asian jumping worm and Alabama jumper Tom Potterfield / Flickr
By Jason Bittel
My wife and I built a house two years ago on a few acres of woodland outside of Pittsburgh. The backyard is full of maples, poplars, briars and common spicebush. Two-lined salamanders and grumpy-looking crayfish wade among the rocks in the small stream that runs down the edge of the property. Deer, raccoon and opossum tracks appear regularly in the snow and mud. Sometimes, my trail-cam even catches a pair of gray foxes as they slink through the night.
AleksandarNakic / Getty Images
By Kate Murphy
No matter the time of year, there's always a point in each season when my skin decides to cause me issues. While these skin issues can vary, I find the most common issues to be dryness, acne and redness.

David Woodfall / The Image Bank / Getty Images
By Sam Nickerson
The U.S. Environmental Protection Agency (EPA) in April 2018 proposed relaxing standards related to how it assesses the effects of exposure to low levels of toxic chemicals on public health.
Now, correspondence obtained by the LA Times revealed just how deeply involved industry lobbyists and a controversial, industry-funded toxicologist were in drafting the federal agency's proposal to scrap its current, protective approach to regulating toxin exposure.
Steve Irwin poses with a three foot long alligator at the San Francisco Zoo on June 26, 2002. Justin Sullivan / Getty Images
February 22 is the birthday of conservationist and beloved TV personality "Crocodile Hunter" Steve Irwin, who would have been 57 years old today.
Irwin's life was tragically cut short when the barb from a stingray went through his chest while he was filming in 2006, but his legacy of loving and protecting wildlife lives on, most recently in a Google Doodle today honoring his birthday.