Global Twitterstorm to End Fossil Fuel Subsidies at Rio+20 Begins
Jun. 18, 2012 01:26PM EST
Climate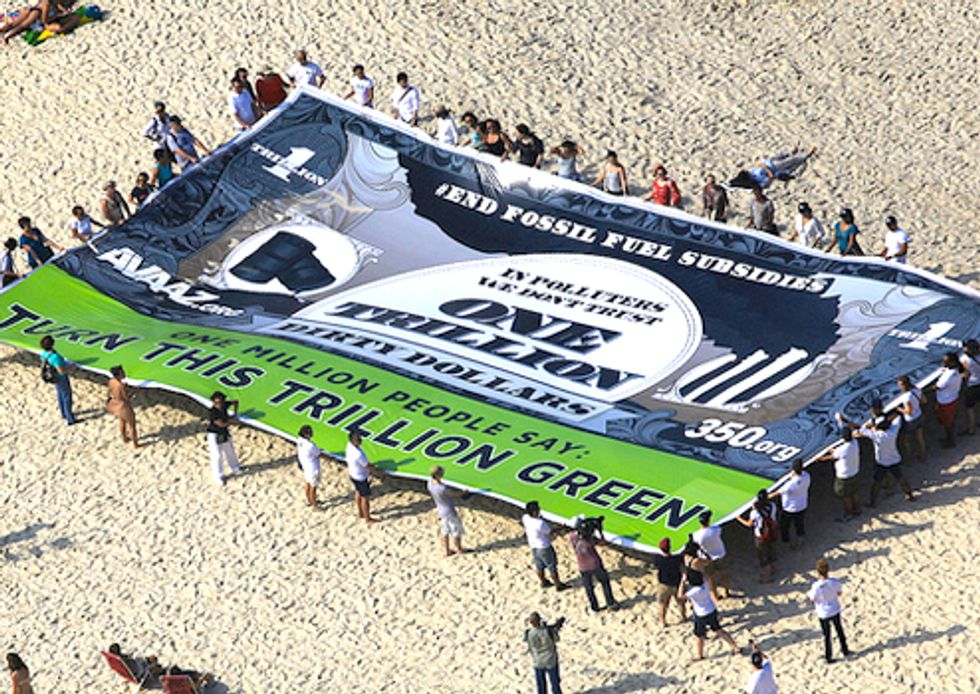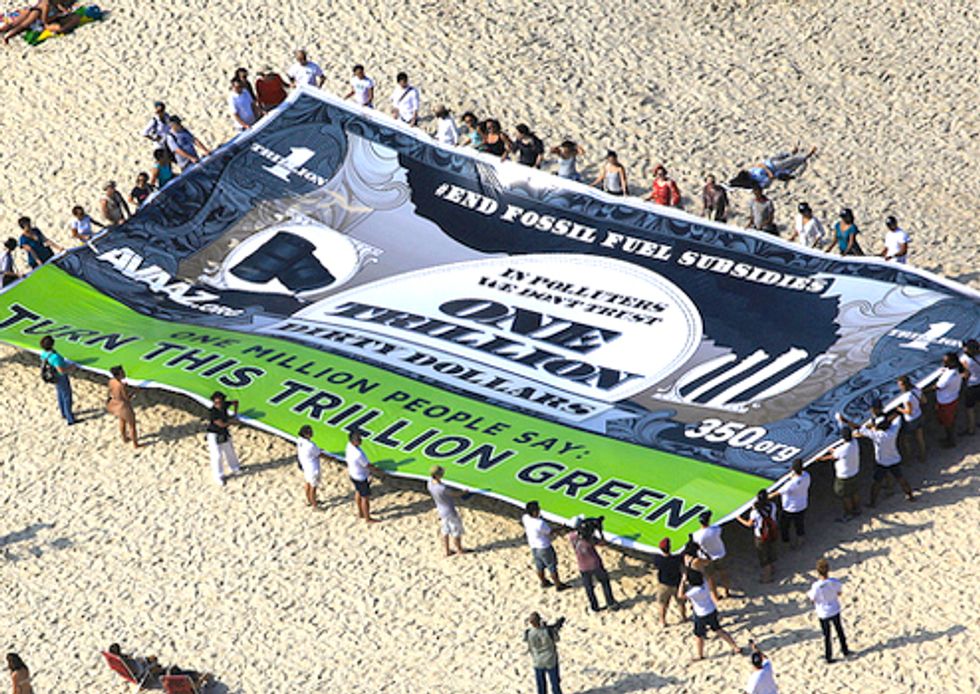 A global 24-hour "Twitterstorm" kicked off on the social network this morning to increase pressure on world leaders to agree to cut nearly $1 trillion in fossil fuel subsidies at the Rio+20 Earth Summit.
"This world has a few problems where a trillion dollars might come in handy—and we'd have a few less problems if we weren't paying the fossil fuel industry to wreck the climate," said 350.org founder Bill McKibben. "This is the public policy no-brainer of all time."
The event began online at 08:00 GMT, as tens of thousands of people began to tweet the same hashtag: #EndFossilFuelSubsidies. At the same time, activists in Australia (18:00 local time) hit the switch on a projector that will broadcast tweets from around the world near the Sydney Opera House. Hours later the projection will continue in New Delhi, London and inside negotiating halls at Rio+20.
The Twitterstorm is part of a coordinated campaign by civil society groups to build momentum for ending fossil fuel subsidies at this week's G20 and Rio+20 summits. On June 17, activists in Rio unfurled a giant $1 trillion bill on the beach in Copacabana. This morning, the global campaign Avaaz.org will deliver a petition to G20 leaders in Los Cabos with 750,000 signatures demanding action.
The current draft of the Rio+20 agreement released on June 16 includes a paragraph on ending fossil fuel subsidies, but negotiations now hang in the balance as oil exporting countries led by Saudi Arabia and Venezuela attempt to delete any references to the proposal. The final decision is likely to come down to Brazil, who hold sway as the host country.
"Leaders in Rio need to listen to this rising public call to action," Natural Resources Defense Council President Frances Beinecke wrote in a blog post promoting the Twitterstorm. "We know we can energize our nations without propping up fossil fuel companies with taxpayer money."
The Twitterstorm can be tracked at endfossilfuelsubsidies.org. Supporting organizations for endfossilfuelsubsidies.org include: 350.org, Avaaz, Climate Reality Project, Earth Day Network, Friends of the Earth International, Global Exchange, Green For All, Greenpeace International, Greenpeace New Zealand, Natural Resource Defense Council, Oil Change International, Quercus, SumOfUs, Wild Aid and World Wildlife Fund.
Visit EcoWatch's CLIMATE CHANGE page for more related news on this topic.
EcoWatch Daily Newsletter
Related Articles from EcoWatch
Recent Stories from EcoWatch