This website uses cookies to ensure you get the best experience while browsing it. By clicking 'Got It' you're accepting these terms.
Global Report: Wind Power Surges to New Record
Apr. 19, 2013 09:12AM EST
Renewable Energy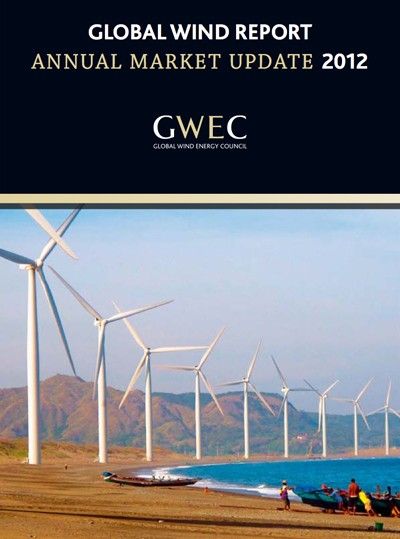 The Global Wind Energy Council (GWEC) released its Annual Market Update this week, with a comprehensive snapshot of the global wind industry at the end of 2012, along with a five year forecast out to 2017. Although policy uncertainty in the main Organisation for Economic Co-operation and Development (OECD) markets is a cause for concern, strong markets in China, India and Brazil, as well as in new markets in Latin America, Africa and the rest of Asia will drive global growth during the period.
"Wind power may be variable, but the greatest threat to the continued stable growth of the industry is the variability and unpredictability of the politicians who set the frameworks for the energy sector," said Steve Sawyer, GWEC secretary general. "However, all of the fundamentals which have driven wind power to date are still in place: energy security, price stability, local economic development, climate change mitigation and local air and water pollution issues; and wind is now competitive in an increasing number of markets, despite fossil fuel subsidies which last year amounted to an incentive to emit CO2 of about $110/tonne."
Record installations in the U.S. and Europe led global installations of 44.8 gigawatts (GW) of new wind power globally in 2012, 10 percent more than was installed in 2011. Global installed capacity has now reached 282.5 GW, a cumulative increase of almost 19 percent. The forecast is for a modest downturn in 2013, however, followed by a recovery in 2014 and beyond; with global capacity growing at an average rate of 13.7 percent out to 2017, and global capacity nearly doubling to 536 GW.
The U.S. regained the number one spot for global markets in 2012 for the first time since 2009, eking out China by 164 megawatts (MW). However, the late extension of the U.S. Production Tax Credit on January 1 means that the U.S. market will drop precipitously in 2013, although with substantial recovery expected in 2014. Europe's record installations in 2012 are unlikely to be repeated in 2014, as a result of policy uncertainty and backtracking.
"European governments are driving up the cost of meeting their 2020 renewable energy targets by making policy changes that undermine investor confidence," said Thomas Becker, CEO of the European Wind Energy Association. "An ambitious and binding 2030 renewable energy target would hugely reduce uncertainty. It would create jobs and exports and boost Europe's world-leading wind industry."

After a year of market consolidation in China, the world's largest market with over 75 GW of installed capacity, Chinese authorities are calling for 18 GW of installations in 2013; and after a year-long policy hiatus in India, the market is expected to recover and return to growth in 2014. Brazil continues to lead the Latin American market, and may surpass 2 GW of annual installations in 2013; and both Mexico and Canada are expected to grow substantially over the period.
There are also hundreds of MW under construction in South Africa, with another 500 MW expected to come to financial close this year, leading a surge in installations in sub-Saharan Africa which began in Ethiopia in 2012. In Asia, Pakistan, Mongolia, the Philippines and Thailand are all expected to see significant installations in 2013 and beyond.
Visit EcoWatch's RENEWABLES and ENERGY pages for more related news on this topic.
——–
Click here to tell Congress to Expedite Renewable Energy.

EcoWatch Daily Newsletter
By Anita Desikan
The Trump administration is routinely undermining your ability — and mine, and everyone else's in this country — to exercise our democratic rights to provide input on the administration's proposed actions through the public comment process. Public comments are just what they sound like: an opportunity for anyone in the public, both individuals and organizations, to submit a comment on a proposed rule that federal agencies are required by law to read and take into account. Public comments can raise the profile of an issue, can help amplify the voices of affected communities, and can show policymakers whether a proposal has broad support or is wildly unpopular.
Alena Gamm / EyeEm / Getty Images
Picture this: a world where chocolate is as rare as gold. No more five-dollar bags of candy on Halloween. No more boxes of truffles on Valentine's day. No more roasting s'mores by the campfire. No more hot chocolate on a cold winter's day.
Who wants to live in a world like that?
Fabian Krause / EyeEm / Getty Images
Water protectors of all persuasions gathered in talking circles at Borderland Ranch in Pe'Sla, the heart of the sacred Black Hills, during the first Sovereign Sisters Gathering. At the center are Cheryl Angel in red and white and on her left, Lyla June. Tracy Barnett
By Tracy L. Barnett
Sources reviewed this article for accuracy.
For Sicangu Lakota water protector Cheryl Angel, Standing Rock helped her define what she stands against: an economy rooted in extraction of resources and exploitation of people and planet. It wasn't until she'd had some distance that the vision of what she stands for came into focus.
Hedges, 2019 © Hugh Hayden. All photos courtesy of Lisson Gallery
By Patrick Rogers
"I'm really into trees," said the sculptor Hugh Hayden. "I'm drawn to plants."
BruceBlock / iStock / Getty Images
Thanks to their high concentration of powerful plant compounds, foods with a natural purple hue offer a wide array of health benefits.