This website uses cookies to ensure you get the best experience while browsing it. By clicking 'Got It' you're accepting these terms.
Global Impacts of Germany's Renewable Energy Transformation
Sep. 18, 2014 11:47AM EST
Insights + Opinion

The New York Times has finally broken away from the old narrative that renewable power is simply too expensive to be really competitive, with a ground-breaking if incomplete piece on the global and spreading impacts of the German energiewende (energy transformation).
Photo credit: Shutterstock
The article points out that by creating a secure, ring-fenced market for renewable electricity, Germany not only built up its own manufacturing capacities to make solar and wind cheaper, but lured the Chinese into the market at such a dramatic scale that renewables are now slicing off increasing segments of the global electricity market—and eating market share in ways that are disproportionately disruptive of the existing utility model and the centralized fossil fuel architecture that underlies it.
The reporter, Justin Gillis, warns that "A reckoning is at hand, and nowhere is that clearer than in Germany. Even as the country sets records nearly every month for renewable power production, the changes have devastated its utility companies, whose profits from power generation have collapsed."
He identifies one leverage point: solar panels generates the maximum electrons precisely when load peaks—on hot afternoons—the hours in which many electricity sector players make most or all of their profits. In California, as shown below, although less than 2 percent of total electricity is solar, that 2 percent has essentially eliminated the afternoon peak, and as Gillis points out, threatened the cash cow that many electricity players count on.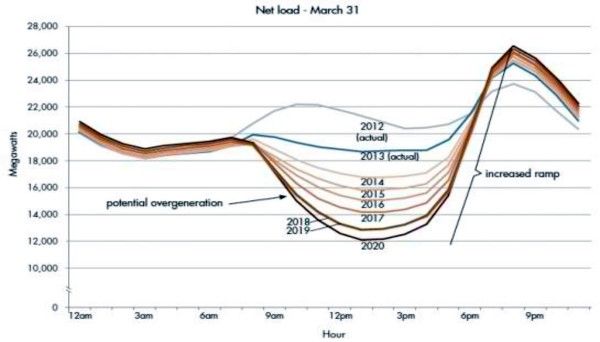 But he misses another—by echoing the conventional wisdom that "The Achilles' heel of renewable power is that it is intermittent." Well it's true that utilities and electricity planners don't like intermittency, because electricity is not a true market. The fundamental structure of our utility system was that intrinsically unstorable electrons were produced in surplus by monopoly generating companies, who took the risks of volatility and maintained reserve supply in exchange for guaranteed profits. Intermittent electrons make electricity act more like a spot market. And as Gillis points out, coal plants in particular do not like to be turned on and off—so not only are solar electrons crunching utility profits, wind electrons (which track consumption less closely than solar) are squeezing the operating life of utility generating assets. This has caused German utilities to consider shutting them down altogether—bad for utility planners, but in a market sense a disruptive advantage for wind entrepreneurs. The more renewable power is deployed, the more advantageous it is to replace the remaining fossil resources with clean energy.
The biggest shortfall in the Times piece is that it focuses, like the conventional wisdom, almost entirely on generating assets—power plants and solar panels—and very little on the grid itself, the network which fundamentally comprises the heart of modern electrification. How does a 21st century grid meet the reliability goals of the traditional utility model without incurring the exorbitant costs, waste and pollution of the current system?  Well, as Gillis says, "More high-voltage power lines could link wind farms and solar panels in disparate locations, smoothing out the variations. This is politically difficult, but some such lines are being built in both the United States and Germany." But in reality countries like China are pouring massive capital into exactly such long distance transmission lines, and the Northeastern U.S. already pays billions of excess fees every summer for its inability to import cheap, if remote, renewable electrons. The grid will be built out—and as it is the advantages of clean energy over fossil fuel just keep getting bigger.
And once the utility revolution is linked to the cresting electric vehicle future, those "unstoreable" electrons will suddenly be stored in hundreds of millions of vehicles, changing the fundamental challenge on which the entire utility monopoly system was built. It will indeed, be "wrenching." But also liberating, and incredibly profitable for innovators, and innovative societies.
A veteran leader in the environmental movement, Carl Pope spent the last 18 years of his career at the Sierra Club as CEO and chairman. He's now the principal advisor at Inside Straight Strategies, looking for the underlying economics that link sustainability and economic development. Pope is co-author—along with Paul Rauber—of Strategic Ignorance: Why the Bush Administration Is Recklessly Destroying a Century of Environmental Progress, which the New York Review of Books called "a splendidly fierce book."
YOU ALSO MIGHT LIKE
You Must See This Movie: Pump the Movie
Fasten Your Seat Belts: Low Carbon Energy Headed Your Way
Responding to Bill Gates and Jigar Shah on Powering World's Poorest Economies
EcoWatch Daily Newsletter
David Gilmour performs at Anfiteatro Scavi di Pomei on July 7, 2016 in Pompei, Italy. Francesco Prandoni / Redferns / Getty Images
David Gilmour, guitarist, singer and songwriter in the rock band Pink Floyd, set a record last week when he auctioned off 126 guitars and raised $21.5 million for ClientEarth, a non-profit environmental law group dedicated to fighting the global climate crisis, according to CNN.
U.S. Secretary of Agriculture Sonny Perdue speaks during a forum April 18, 2018 in Washington, DC. Alex Wong / Getty Images
The Trump administration ratcheted up its open hostility to climate science in a move that may hide essential information from the nation's farmers.
Simple swaps that cut down on kitchen trash.
Sponsored
By Kayla Robbins
Along with the bathroom, the kitchen is one of the most daunting areas to try and make zero waste.
Protestors and police stand on ether side of railway tracks. dpa / picture-alliance
Police have cleared 250 climate activists who stayed overnight at the Garzweiler brown coal mine in western Germany, officials said Sunday.
Cecilie_Arcurs / E+ / Getty Images
By Megan Jones and Jennifer Solomon
The #MeToo movement has caused profound shake-ups at organizations across the U.S. in the last two years. So far, however, it has left many unresolved questions about how workplaces can be more inclusive and equitable for women and other diverse groups.

Cigarette butts are the most-littered item found at beach clean ups. John R. Platt
By Tara Lohan
By now it's no secret that plastic waste in our oceans is a global epidemic. When some of it washes ashore — plastic bottles, plastic bags, food wrappers — we get a stark reminder. And lately one part of this problem has been most glaring to volunteers who comb beaches picking up trash: cigarette butts.

Andrea Rodgers, second from the right, takes notes during a hearing in the Juliana v. U.S. case before the 9th Circuit Court of Appeals in Portland, Oregon on June 4. Colleague Elizabeth Brown sits to her left, while colleague Julia Olson sits on her right, with co-council Philip Gregory on Julia's right. Robin Loznak / Our Children's Trust
By Fran Korten
On June 4, Andrea Rodgers was in the front row of attorneys sitting before a three-judge panel of the 9th Circuit Court. The court session, held in Portland, Oregon, was to determine whether the climate change lawsuit (Juliana v. United States) brought by 21 young plaintiffs should be dismissed, as requested by the U.S. government, or go on to trial.
Seventy Extinction Rebellion protesters were arrested outside The New York Times building Saturday.
SCOOTERCASTER / YouTube screenshot