This website uses cookies to ensure you get the best experience while browsing it. By clicking 'Got It' you're accepting these terms.
Giant Solar Floating Farm Could Produce 8,000 Tons of Vegetables Annually
May. 26, 2015 01:01PM EST
The world is less than 40 years away from a serious problem: producing enough food for 9 billion mouths. But with climate change cutting more than a quarter of crop yields by 2050, innovators must devise strategies to confront dwindling global food supplies.
Enter Forward Thinking Architecture.
The Barcelona-based design company's Smart Floating Farms (SFF) concept is a sustainable, solar-powered vertical farm that floats on pontoons, making it possible to grow food off a coast, in the open sea or just about any large body of water. The designers estimate that SFF can produce an estimated 8,152 tonnes of vegetables and 1,703 tonnes of fish annually.
The farm is comprised of three levels and features innovative agricultural technologies that are already in use around the globe. It can be modified or stacked in different ways to suit the needs of respective locations.
The top level incorporates rainwater collectors for irrigation needs, photovoltaic panels for electricity and skylight openings to provide natural light for plants. It's also possible to integrate other renewable power technologies such as micro wind turbines or wave energy converter systems.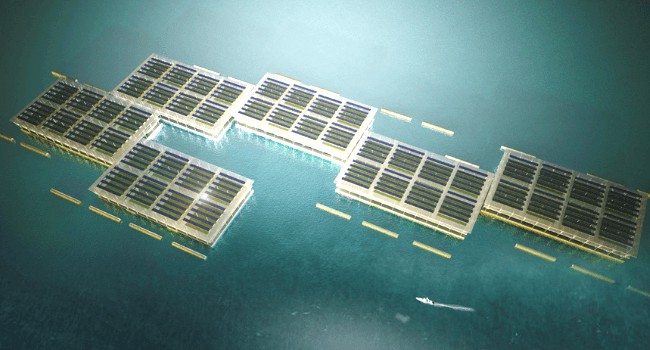 These solar-powered floating farms could cut the reliance on imported food and reduce number of miles that food has to travel to get to our plates.Forward Thinking Architecture
The second level features a greenhouse and hydroponic systems (which allows crops to grow year round in any weather and without soil).
"Because it does not require natural precipitation or fertile land in order to be effective, it presents people who are living in arid regions and others with a means to grow food for themselves and for profit," the designers said.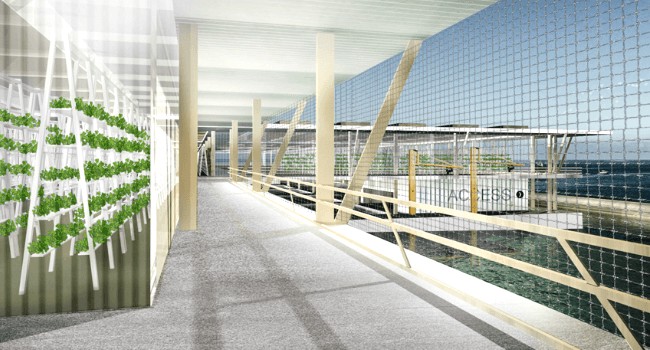 The second level features hydroponics, which is a method of growing crops without soil. Forward Thinking Architecture
Lastly, the ground level is designated for offshore aquaculture. According to the designers, this cage fishing method takes place in the open sea and eliminates the exposure to wind and waves.
This level also includes a hatchery where fish eggs are incubated and hatched, a nursery for growing fish, a slaughterhouse and a storage room to hold the fish before they are ready for the market.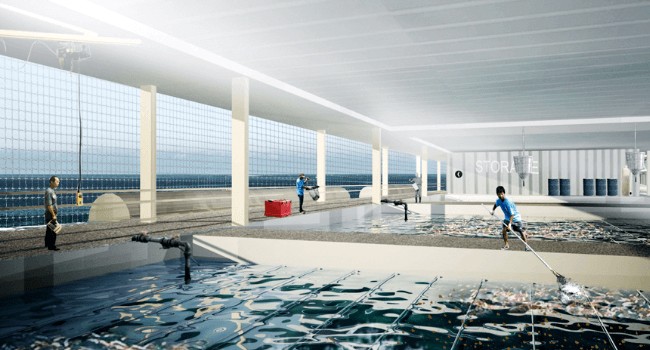 Workers on the bottom level catch fish and other seafood in an enclosed farm. Forward Thinking Architecture
"Facing the current challenges of cities growing, land consumption and climate change, I believe projects like the Smart Floating Farms can help change some of the existing paradigms which have led us to the present situation and open new possibilities which can improve the quality of human life and the environment," said SFF project director Javier F. Ponce on the company's website.
The designers said the farm is ideal for many large cities or densely populated areas with access to water, such as Los Angeles, New York, Chicago, Seattle, Tokyo, Singapore, Mumbai, Jakarta, Cairo, Hong Kong, Shangai, Sao Paulo, Osaka, Bangkok, Shenzen, Istanbul, Montreal, Seoul, Karachi, Sydney and more.
With more people moving away from farms and into cities, advancements in urban agriculture is more important than ever.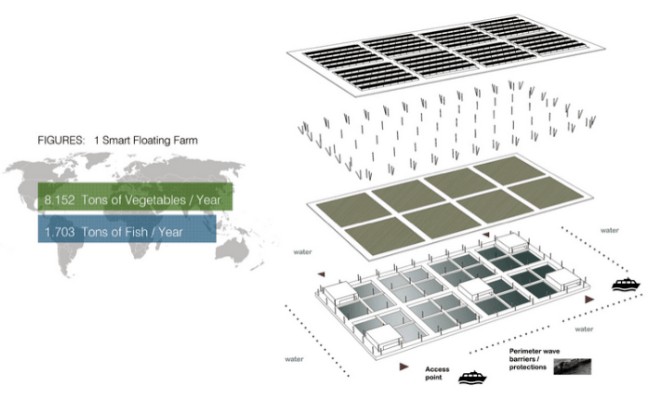 The company says the project design is flexible enough to adapt to local food production needs and can be located close to many mega-cities or dense populated areas with water access.Forward Thinking Architecture
Electric vehicle sales took off in 2018, with a record two million units sold around the world, according to a new Deloitte analysis.
What's more, the accounting firm predicts that another 21 million electric cars will be on the road globally over the next decade due to growing market demand for clean transportation, government subsidies, as well as bans on fossil fuel cars.
Teenager Alex Weber and friends collected nearly 40,000 golf balls hit into the ocean from a handful of California golf courses.
Alex Weber /
CC BY-ND
Sunoco's controversial Mariner East pipeline project in Pennsylvania is beginning 2019 on unstable ground, literally. A sinkhole opened in the suburban development of Lisa Drive in Chester County Sunday, exposing the old Mariner East 1 pipeline built in the 1930s.
Southwest Greenland had the most consistent ice loss from 2003 to 2012. Eqalugaarsuit, Ostgronland, Greenland on Aug. 1, 2018.
Rob Oo / CC BY 2.0
Greenland is melting about four times faster than it was in 2003, a new study published Monday in the Proceedings of the National Academy of Sciences found, a discovery with frightening implications for the pace and extent of future sea level rise.
"We're going to see faster and faster sea level rise for the foreseeable future," study lead author and Ohio State University geodynamics professor Dr. Michael Bevis said in a press release. "Once you hit that tipping point, the only question is: How severe does it get?"
By Marlene Cimons
Most Europeans know the great tit as an adorable, likeable yellow-and-black songbird that shows up to their feeders in the winter. But there may be one thing they don't know. That cute, fluffy bird can be a relentless killer.
The great tit's aggression can emerge in gruesome ways when it feels threatened by the pied flycatcher, a bird that spends most of the year in Africa, but migrates to Europe in the spring to breed. When flycatchers arrive at their European breeding grounds, they head for great tit territory, knowing that great tits—being year-round European residents—know the best nesting sites.
Most people have heard of the Amazon, South America's famed rainforest and hub of biological diversity. Less well known, though no less critical, is the Pantanal, the world's largest tropical wetland.
Like the Amazon, the Pantanal is ecologically important and imperiled. Located primarily in Brazil, it also stretches into neighboring Bolivia and Paraguay. Covering an area larger than England at more than 70,000 square miles, the massive wetland provides irreplaceable ecosystem services that include the regulation of floodwaters, nutrient renewal, river flow for navigability, groundwater recharge and carbon sequestration. The wetland also supports the economies of the four South American states it covers.
The fire that erupted after a pipeline explosion in Mexico Friday. FRANCISCO VILLEDA / AFP / Getty Images
By Brian Mastroianni
Is it hard to motivate yourself to get off the couch and go exercise?
By Patrick Rogers
If you have ever considered making the switch to an environmentally friendly electric vehicle, don't drag your feet. Though EV prices are falling, and states are unveiling more and more public charging stations and plug-in-ready parking spots, the federal government is doing everything it can to slam the brakes on our progress away from gas-burning internal combustion engines. President Trump, likely pressured by his allies in the fossil fuel industry, has threatened to end the federal tax credits that have already helped put hundreds of thousands of EVs on the road—a move bound to harm not only our environment but our economy, too. After all, the manufacturing and sale of EVs, hybrids, and plug-in hybrids supported 197,000 jobs in 2017, according to the most recent U.S. Energy and Employment Report.
U.S. Army member helps clear debris from Tyndall Air Force Base following Hurricane Michael.
U.S. Army
Protesters interrupt the confirmation hearing for Andrew Wheeler on Capitol Hill Jan. 16 in Washington, DC. Chip Somodevilla / Getty Images
This week, people across the country are joining environmental leaders to speak out against the nomination of former coal lobbyist Andrew Wheeler to lead the the U.S. Environmental Protection Agency (EPA). As Scott Pruitt's hand-picked successor, Wheeler has continued to put polluters over people, most recently by using the last of his agency's funding before it expired in the government shutdown to announce plans to allow power plants to spew toxic mercury and other hazardous pollution into the air.