This website uses cookies to ensure you get the best experience while browsing it. By clicking 'Got It' you're accepting these terms.
Giant Solar Floating Farm Could Produce 8,000 Tons of Vegetables Annually
May. 26, 2015 01:01PM EST
Food
The world is less than 40 years away from a serious problem: producing enough food for 9 billion mouths. But with climate change cutting more than a quarter of crop yields by 2050, innovators must devise strategies to confront dwindling global food supplies.
Enter Forward Thinking Architecture.
The Barcelona-based design company's Smart Floating Farms (SFF) concept is a sustainable, solar-powered vertical farm that floats on pontoons, making it possible to grow food off a coast, in the open sea or just about any large body of water. The designers estimate that SFF can produce an estimated 8,152 tonnes of vegetables and 1,703 tonnes of fish annually.
The farm is comprised of three levels and features innovative agricultural technologies that are already in use around the globe. It can be modified or stacked in different ways to suit the needs of respective locations.
The top level incorporates rainwater collectors for irrigation needs, photovoltaic panels for electricity and skylight openings to provide natural light for plants. It's also possible to integrate other renewable power technologies such as micro wind turbines or wave energy converter systems.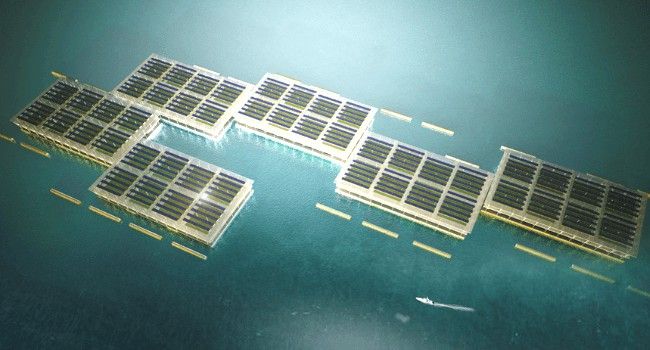 These solar-powered floating farms could cut the reliance on imported food and reduce number of miles that food has to travel to get to our plates.Forward Thinking Architecture
The second level features a greenhouse and hydroponic systems (which allows crops to grow year round in any weather and without soil).
"Because it does not require natural precipitation or fertile land in order to be effective, it presents people who are living in arid regions and others with a means to grow food for themselves and for profit," the designers said.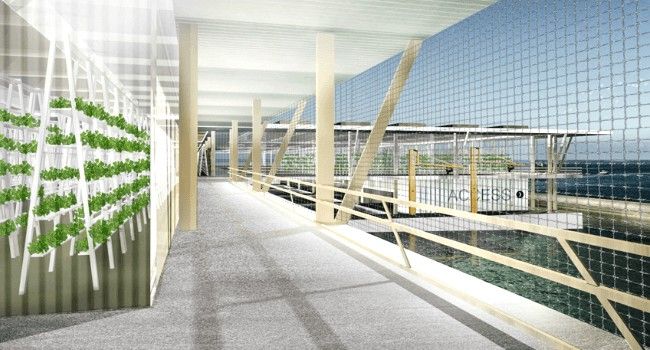 The second level features hydroponics, which is a method of growing crops without soil. Forward Thinking Architecture
Lastly, the ground level is designated for offshore aquaculture. According to the designers, this cage fishing method takes place in the open sea and eliminates the exposure to wind and waves.
This level also includes a hatchery where fish eggs are incubated and hatched, a nursery for growing fish, a slaughterhouse and a storage room to hold the fish before they are ready for the market.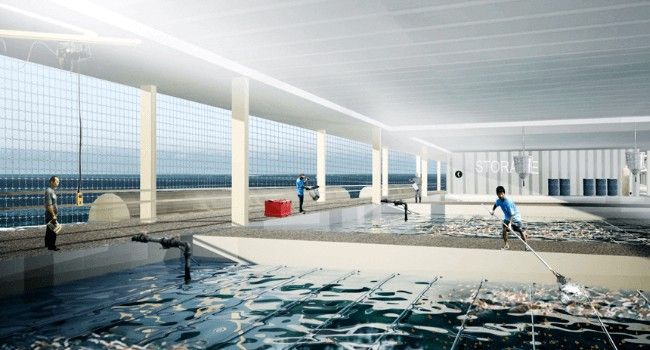 Workers on the bottom level catch fish and other seafood in an enclosed farm. Forward Thinking Architecture
"Facing the current challenges of cities growing, land consumption and climate change, I believe projects like the Smart Floating Farms can help change some of the existing paradigms which have led us to the present situation and open new possibilities which can improve the quality of human life and the environment," said SFF project director Javier F. Ponce on the company's website.
The designers said the farm is ideal for many large cities or densely populated areas with access to water, such as Los Angeles, New York, Chicago, Seattle, Tokyo, Singapore, Mumbai, Jakarta, Cairo, Hong Kong, Shangai, Sao Paulo, Osaka, Bangkok, Shenzen, Istanbul, Montreal, Seoul, Karachi, Sydney and more.
With more people moving away from farms and into cities, advancements in urban agriculture is more important than ever.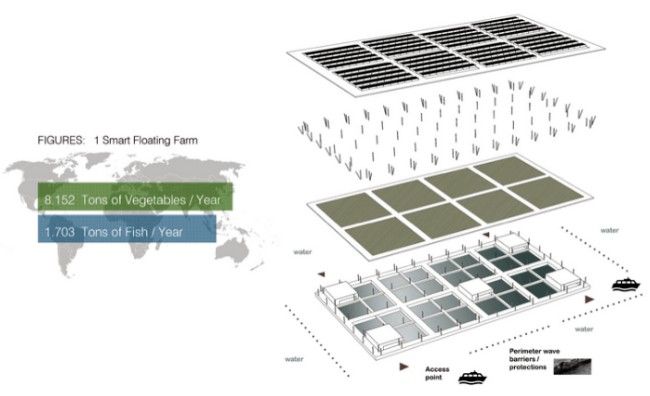 The company says the project design is flexible enough to adapt to local food production needs and can be located close to many mega-cities or dense populated areas with water access.Forward Thinking Architecture
EcoWatch Daily Newsletter
Oil palm plantations in northeastern Borneo, state of Sabah, Malaysia. Recently planted oil palms can be seen in the bright green grassy areas and a tiny bit of natural rainforest still struggles for survival farther away. Vaara / E+ / Getty Images
A fuel truck carries fuel into a fracking site past the warning signs Jan. 27, 2016 near Stillwater, Oklahoma. J Pat Carter / Getty Images
By Jessica Corbett
For more than three decades, the U.S. government has mismanaged toxic oil and gas waste containing carcinogens, heavy metals and radioactive materials, according to a new Earthworks report — and with the country on track to continue drilling and fracking for fossil fuels, the advocacy group warns of growing threats to the planet and public health.
European Union blue and gold flags flying at the European Commission building in Brussels, Belgium. 35007/ iStock / Getty Images Plus
Newly adopted guidelines set forth by the European Commission Tuesday aim to tackle climate change by way of the financial sector. The move comes to bolster the success of the Sustainable Action Plan published last year to reorient capital flows toward sustainable investment and manage financial risks from climate change, environmental degradation and social issues.
Prime Minister Justin Trudeau delivering remarks to supporters at a Liberal Climate Action Rally in Toronto, Ontario on March 4. Arindam Shivaani / NurPhoto / Getty Images
Canadian Prime Minister Justin Trudeau announced Tuesday that his government would once again approve the expansion of the Trans Mountain pipeline, which would triple the amount of oil transported from Alberta's tar sands to the coast of British Columbia (BC).
An exhausted polar bear wanders the streets of Norilsk, a Siberian city hundreds of miles from its natural habitat. IRINA YARINSKAYA / AFP / Getty Images

An exhausted, starving polar bear has been spotted wandering around the Siberian city of Norilsk, Reuters reported Tuesday. It is the first time a polar bear has entered the city in more than 40 years.
Bumblebees flying and pollinating a creeping thyme flower. emeliemaria / iStock / Getty Images
It pays to pollinate in Minnesota.