This website uses cookies to ensure you get the best experience while browsing it. By clicking 'Got It' you're accepting these terms.


The best of EcoWatch, right in your inbox. Sign up for our email newsletter!
Giant Solar Floating Farm Could Produce 8,000 Tons of Vegetables Annually
May. 26, 2015 01:01PM EST
Food
The world is less than 40 years away from a serious problem: producing enough food for 9 billion mouths. But with climate change cutting more than a quarter of crop yields by 2050, innovators must devise strategies to confront dwindling global food supplies.
Enter Forward Thinking Architecture.
The Barcelona-based design company's Smart Floating Farms (SFF) concept is a sustainable, solar-powered vertical farm that floats on pontoons, making it possible to grow food off a coast, in the open sea or just about any large body of water. The designers estimate that SFF can produce an estimated 8,152 tonnes of vegetables and 1,703 tonnes of fish annually.
The farm is comprised of three levels and features innovative agricultural technologies that are already in use around the globe. It can be modified or stacked in different ways to suit the needs of respective locations.
The top level incorporates rainwater collectors for irrigation needs, photovoltaic panels for electricity and skylight openings to provide natural light for plants. It's also possible to integrate other renewable power technologies such as micro wind turbines or wave energy converter systems.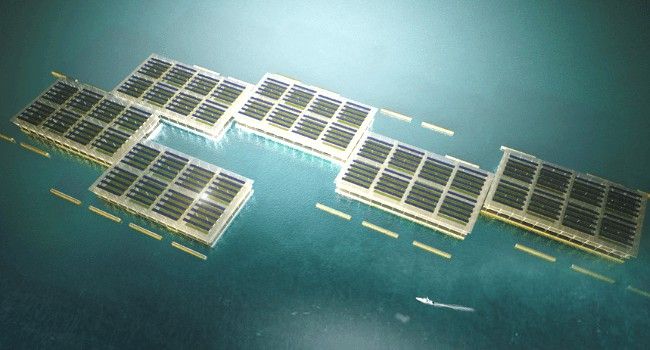 These solar-powered floating farms could cut the reliance on imported food and reduce number of miles that food has to travel to get to our plates.Forward Thinking Architecture
The second level features a greenhouse and hydroponic systems (which allows crops to grow year round in any weather and without soil).
"Because it does not require natural precipitation or fertile land in order to be effective, it presents people who are living in arid regions and others with a means to grow food for themselves and for profit," the designers said.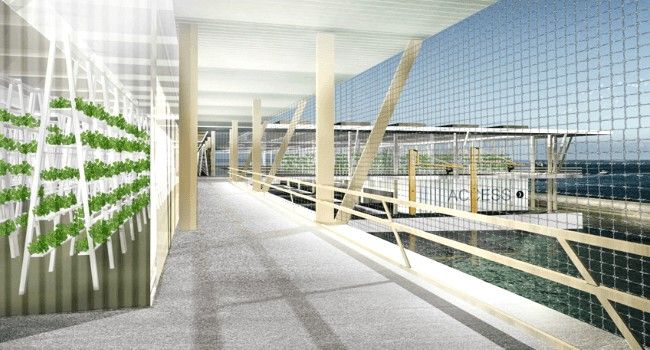 The second level features hydroponics, which is a method of growing crops without soil. Forward Thinking Architecture
Lastly, the ground level is designated for offshore aquaculture. According to the designers, this cage fishing method takes place in the open sea and eliminates the exposure to wind and waves.
This level also includes a hatchery where fish eggs are incubated and hatched, a nursery for growing fish, a slaughterhouse and a storage room to hold the fish before they are ready for the market.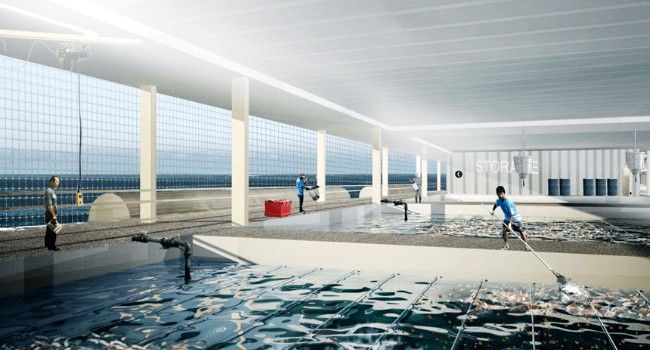 Workers on the bottom level catch fish and other seafood in an enclosed farm. Forward Thinking Architecture
"Facing the current challenges of cities growing, land consumption and climate change, I believe projects like the Smart Floating Farms can help change some of the existing paradigms which have led us to the present situation and open new possibilities which can improve the quality of human life and the environment," said SFF project director Javier F. Ponce on the company's website.
The designers said the farm is ideal for many large cities or densely populated areas with access to water, such as Los Angeles, New York, Chicago, Seattle, Tokyo, Singapore, Mumbai, Jakarta, Cairo, Hong Kong, Shangai, Sao Paulo, Osaka, Bangkok, Shenzen, Istanbul, Montreal, Seoul, Karachi, Sydney and more.
With more people moving away from farms and into cities, advancements in urban agriculture is more important than ever.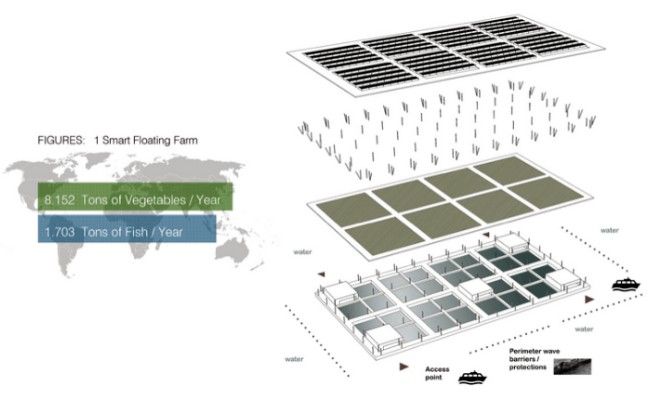 The company says the project design is flexible enough to adapt to local food production needs and can be located close to many mega-cities or dense populated areas with water access.Forward Thinking Architecture
EcoWatch Daily Newsletter
jenifoto / iStock / Getty Images
Many people consider granola bars a convenient and healthy snack and enjoy their flavor and versatility.
A common green darners (Anax junius). Judy Gallagher / Flickr
By Jason Bittel
It's that time of year again: Right now, monarch butterflies are taking wing in the mountains of northwestern Mexico and starting to flap their way across the United States.
fstop123 / iStock / Getty Images Plus
At EcoWatch, our team knows that changing personal habits and taking actions that contribute to a better planet is an ongoing journey. Earth Day, happening on April 22, is a great reminder for all of us to learn more about the environmental costs of our behaviors like food waste or fast fashion.
To offer readers some inspiration this Earth Day, our team rounded up their top picks for films to watch. So, sit back and take in one of these documentary films this Earth Day. Maybe it will spark a small change you can make in your own life.
Denali national park. Domen Jakus / Flickr / CC BY-NC 2.0
By Stephanie Gagnon
Happy National Parks Week! This year, between April 20 and 28, escape to the beautiful national parks — either in person or in your imagination — and celebrate the amazing wildlife that calls these spaces home.
Sesame, three months old, at Seal Rescue Irleand.
Screenshot / Seal Rescue Ireland Instagram
On Friday, Seal Rescue Ireland released Sesame the seal into the ocean after five months of rehabilitation at the Seal Rescue Ireland facility. Watch the release on EcoWatch's Facebook.

Beer packs of Guinness will now come in a cardboard box. Diageo

By Jordan Davidson
Guinness is joining the fight against single use plastic. The brewer has seen enough hapless turtles and marine life suffering from the scourge of plastic.
Maskot / Getty Images
People of all ages are spending more of their day looking at their phones, computers and television screens, but parents now have another reason for limiting how much screen time their children get — it could lead to behavioral problems.