Giant Solar Floating Farm Could Produce 8,000 Tons of Vegetables Annually
The world is less than 40 years away from a serious problem: producing enough food for 9 billion mouths. But with climate change cutting more than a quarter of crop yields by 2050, innovators must devise strategies to confront dwindling global food supplies.
Enter Forward Thinking Architecture.
The Barcelona-based design company's Smart Floating Farms (SFF) concept is a sustainable, solar-powered vertical farm that floats on pontoons, making it possible to grow food off a coast, in the open sea or just about any large body of water. The designers estimate that SFF can produce an estimated 8,152 tonnes of vegetables and 1,703 tonnes of fish annually.
The farm is comprised of three levels and features innovative agricultural technologies that are already in use around the globe. It can be modified or stacked in different ways to suit the needs of respective locations.
The top level incorporates rainwater collectors for irrigation needs, photovoltaic panels for electricity and skylight openings to provide natural light for plants. It's also possible to integrate other renewable power technologies such as micro wind turbines or wave energy converter systems.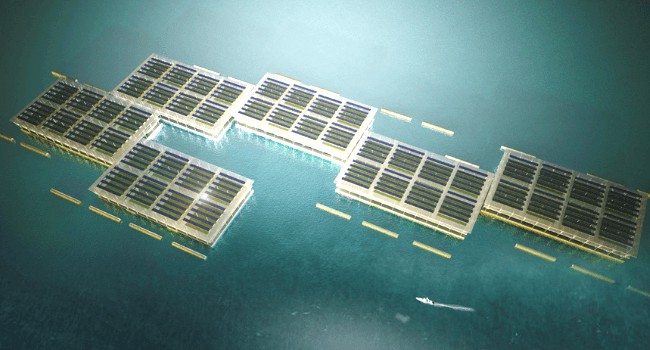 These solar-powered floating farms could cut the reliance on imported food and reduce number of miles that food has to travel to get to our plates.Forward Thinking Architecture
The second level features a greenhouse and hydroponic systems (which allows crops to grow year round in any weather and without soil).
"Because it does not require natural precipitation or fertile land in order to be effective, it presents people who are living in arid regions and others with a means to grow food for themselves and for profit," the designers said.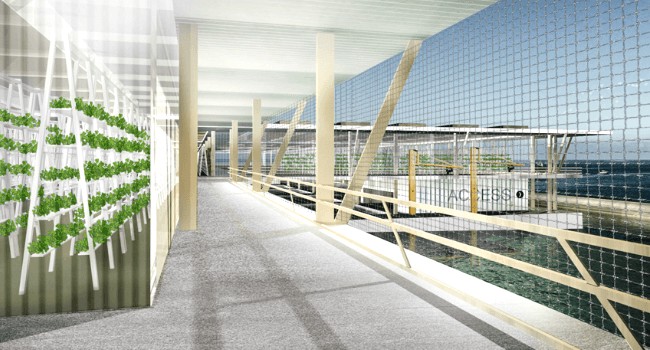 The second level features hydroponics, which is a method of growing crops without soil. Forward Thinking Architecture
Lastly, the ground level is designated for offshore aquaculture. According to the designers, this cage fishing method takes place in the open sea and eliminates the exposure to wind and waves.
This level also includes a hatchery where fish eggs are incubated and hatched, a nursery for growing fish, a slaughterhouse and a storage room to hold the fish before they are ready for the market.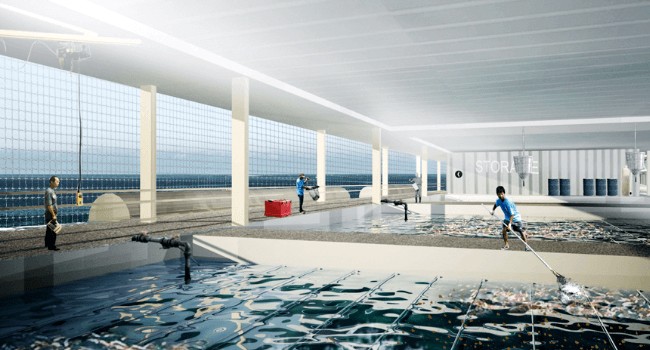 Workers on the bottom level catch fish and other seafood in an enclosed farm. Forward Thinking Architecture
"Facing the current challenges of cities growing, land consumption and climate change, I believe projects like the Smart Floating Farms can help change some of the existing paradigms which have led us to the present situation and open new possibilities which can improve the quality of human life and the environment," said SFF project director Javier F. Ponce on the company's website.
The designers said the farm is ideal for many large cities or densely populated areas with access to water, such as Los Angeles, New York, Chicago, Seattle, Tokyo, Singapore, Mumbai, Jakarta, Cairo, Hong Kong, Shangai, Sao Paulo, Osaka, Bangkok, Shenzen, Istanbul, Montreal, Seoul, Karachi, Sydney and more.
With more people moving away from farms and into cities, advancements in urban agriculture is more important than ever.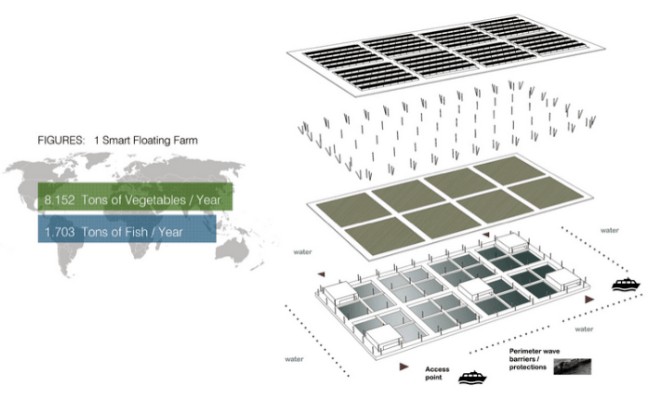 The company says the project design is flexible enough to adapt to local food production needs and can be located close to many mega-cities or dense populated areas with water access.Forward Thinking Architecture
www.youtube.com
By Katie O'Reilly
Two years ago—long before coal became one of the most dominant and controversial symbols of the 2016 presidential election—Bloomberg Philanthropies approached production company RadicalMedia with the idea of creating a documentary exploring the U.S. coal mining industry. Last spring, they brought on Emmy-nominated director Michael Bonfiglio, tasked with forging a compelling story out of the multitudes of facts, statistics and narratives underlying the declining industry.
Keep reading...
Show less
Mayors for 100% Clean Energy
Keep reading...
Show less
www.youtube.com
President Trump visited Cedar Rapids, Iowa on June 21 to speak to a large crowd in the U.S. Cellular Center at a political rally organized by his campaign.
As Trevor Noah noted during The Daily Show episode last night (starts at 2:25), the real reason Trump has these rallies is to "get back in front of his loyal crowds and feed of their energy." Noah believes that "Trump supporters are so on board with their dude he can say anything and they'll come along for the ride."
Keep reading...
Show less
www.youtube.com
By Andy Rowell
Any day now we will truly witness climate change in action. Within days at worst, maybe weeks at best, scientists predict that a huge section of the Larsen C ice shelf in Antarctica will break off into the ocean, in what is called a major "carving" event.
Keep reading...
Show less
www.youtube.com
Thanks to Newsy for their coverage on Thursday's news that the U.S. Fish and Wildlife Service removed grizzly bears in the Greater Yellowstone region from the Endangered Species List.
Watch above as Newsy explains that the decision comes despite serious concerns from the environmental and scientific community, and Tribal Nations about a declining, isolated grizzly bear population with diminishing food resources and record-high mortalities.
Keep reading...
Show less
www.facebook.com
By Francine Kershaw
Seismic airguns exploding in the ocean in search for oil and gas have devastating impacts on zooplankton, which are critical food sources for marine mammals, according to a new study in Nature. The blasting decimates one of the ocean's most vital groups of organisms over huge areas and may disrupt entire ecosystems.
And this devastating news comes on the heels of the National Marine Fisheries Service's proposal to authorize more than 90,000 miles of active seismic blasting. Based on the results of this study, the affected area would be approximately 135,000 square miles.
Keep reading...
Show less
By Jill Richardson
Is coconut oil:
good for you
bad for you
neither good nor bad
scientists don't know
The subject of this question is the source of a disagreement. Initially, the question was thought to be settled decades ago, when scientist Ancel Keys declared all saturated fats unhealthy. Coconut oil, which is solid at room temperature, is a saturated fat.
Keep reading...
Show less
The U.S. Fish and Wildlife Service removed grizzly bears in the Greater Yellowstone region on Thursday from the Endangered Species List. The decision comes despite serious concerns in the scientific community about a declining, isolated population with diminishing food resources and record-high mortalities, as well as strong opposition from an unprecedented number of Tribal Nations.
Keep reading...
Show less
ArborGen pine tree field test site in South Carolina. BJ McManama
By BJ McManama
ArborGen Corporation, a multinational conglomerate and leading supplier of seedlings for commercial forestry applications, has submitted an approval request to the U.S. Department of Agriculture, Animal and Plant Health Inspection Service to deregulate and widely distribute a eucalyptus tree genetically engineered (GE) to be freeze tolerant. This modification will allow this GE variety to be grown in the U.S. Southeast. The reason this non-native and highly invasive tree has been artificially created to grow outside of its tropical environment is to greatly expand production capacity for the highly controversial woody biomass industry.
Keep reading...
Show less


Get EcoWatch in your inbox