This website uses cookies to ensure you get the best experience while browsing it. By clicking 'Got It' you're accepting these terms.


The best of EcoWatch, right in your inbox. Sign up for our email newsletter!
Giant Solar Floating Farm Could Produce 8,000 Tons of Vegetables Annually
May. 26, 2015 01:01PM EST
The world is less than 40 years away from a serious problem: producing enough food for 9 billion mouths. But with climate change cutting more than a quarter of crop yields by 2050, innovators must devise strategies to confront dwindling global food supplies.
Enter Forward Thinking Architecture.
The Barcelona-based design company's Smart Floating Farms (SFF) concept is a sustainable, solar-powered vertical farm that floats on pontoons, making it possible to grow food off a coast, in the open sea or just about any large body of water. The designers estimate that SFF can produce an estimated 8,152 tonnes of vegetables and 1,703 tonnes of fish annually.
The farm is comprised of three levels and features innovative agricultural technologies that are already in use around the globe. It can be modified or stacked in different ways to suit the needs of respective locations.
The top level incorporates rainwater collectors for irrigation needs, photovoltaic panels for electricity and skylight openings to provide natural light for plants. It's also possible to integrate other renewable power technologies such as micro wind turbines or wave energy converter systems.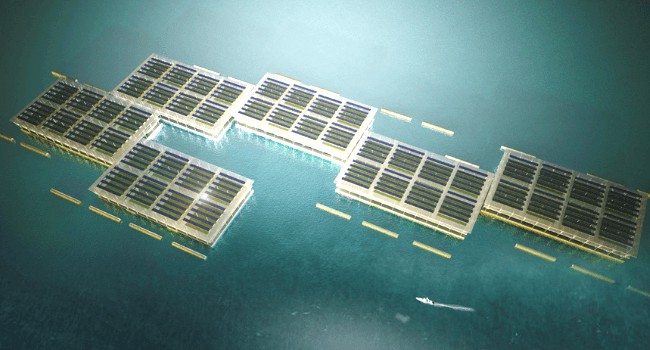 These solar-powered floating farms could cut the reliance on imported food and reduce number of miles that food has to travel to get to our plates.Forward Thinking Architecture
The second level features a greenhouse and hydroponic systems (which allows crops to grow year round in any weather and without soil).
"Because it does not require natural precipitation or fertile land in order to be effective, it presents people who are living in arid regions and others with a means to grow food for themselves and for profit," the designers said.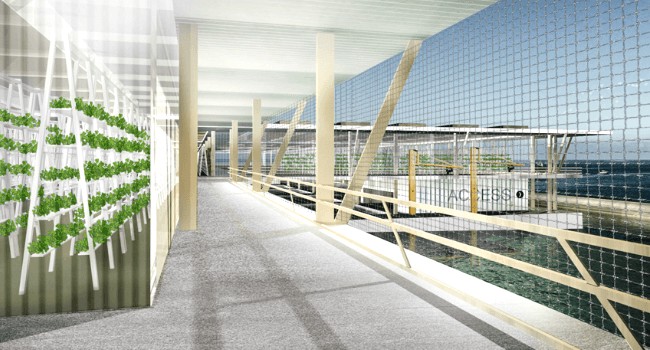 The second level features hydroponics, which is a method of growing crops without soil. Forward Thinking Architecture
Lastly, the ground level is designated for offshore aquaculture. According to the designers, this cage fishing method takes place in the open sea and eliminates the exposure to wind and waves.
This level also includes a hatchery where fish eggs are incubated and hatched, a nursery for growing fish, a slaughterhouse and a storage room to hold the fish before they are ready for the market.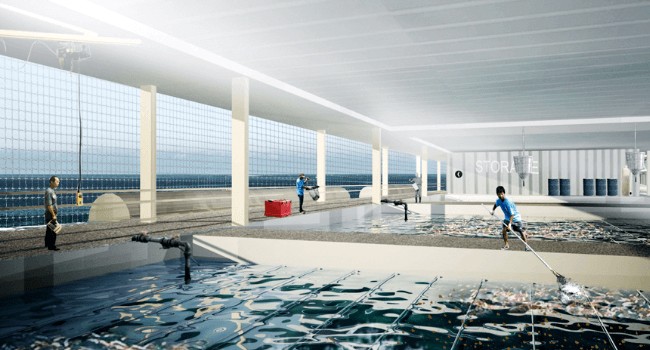 Workers on the bottom level catch fish and other seafood in an enclosed farm. Forward Thinking Architecture
"Facing the current challenges of cities growing, land consumption and climate change, I believe projects like the Smart Floating Farms can help change some of the existing paradigms which have led us to the present situation and open new possibilities which can improve the quality of human life and the environment," said SFF project director Javier F. Ponce on the company's website.
The designers said the farm is ideal for many large cities or densely populated areas with access to water, such as Los Angeles, New York, Chicago, Seattle, Tokyo, Singapore, Mumbai, Jakarta, Cairo, Hong Kong, Shangai, Sao Paulo, Osaka, Bangkok, Shenzen, Istanbul, Montreal, Seoul, Karachi, Sydney and more.
With more people moving away from farms and into cities, advancements in urban agriculture is more important than ever.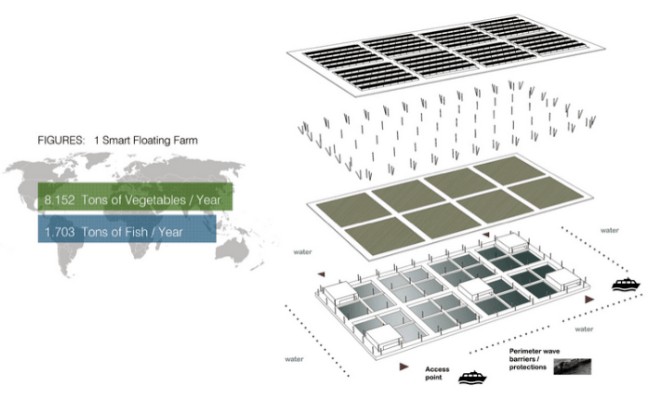 The company says the project design is flexible enough to adapt to local food production needs and can be located close to many mega-cities or dense populated areas with water access.Forward Thinking Architecture
EcoWatch Daily Newsletter
A metal fence marked with the U.S. Border Patrol sign prevents people to get close to the barbed/concertina wire covering the U.S./Mexico border fence, in Nogales, Arizona, on Feb. 9. ARIANA DREHSLER / AFP / Getty Images
D'Bone Collector Museum head Darrell Blatchley shows plastic found inside the stomach of a Cuvier's beaked whale in the Philippines this weekend. - / AFP / Getty Images
Yet another whale has died after ingesting plastic bags. A young male Cuvier's beaked whale was found washed up in Mabini, Compostela Valley in the Philippines Friday, CNN reported. When scientists from the D' Bone Collector Museum in Davao investigated the dead whale, they found it had died of "dehydration and starvation" after swallowing plastic bags―40 kilograms (approximately 88 pounds) worth of them!
Pexels
By Jeff Turrentine
"Be careful what you wish for; you just might get it." This is something that everybody has to learn at some point. Lately, the lesson has hit home for a group of American automakers.
Art direction: Georgie Johnson. Illustrations: Freya Morgan
By Joe Sandler Clarke
"Don't expect us to continue buying European products," Malaysia's former plantations minister Mah Siew Keong told reporters in January last year. His comments came just after he had accused the EU of "practising a form of crop apartheid."

A few months later Luhut Pandjaitan, an Indonesian government minister close to President Joko 'Jokowi' Widodo, warned his country would retaliate if it was "cornered" by the EU.
Torres and his parents walk along the Rio Grande. Luis Torres / Earthjustice
By Luis Torres
For some people who live along the U.S.-Mexico border, President Trump's attempt to declare a national emergency and extend the border wall is worse than a wasteful, unconstitutional stunt. It's an attack on their way of life that threatens to desecrate their loved ones' graves.
Flooding caused by last week's bomb cyclone storm has broken records in 17 places across the state of Nebraska, CNN reported Sunday. Around nine million people in 14 states along the Mississippi and Missouri Rivers were under a flood watch, CNN meteorologist Karen Maginnis said.
A car destroyed by Cyclone Idai in Beira, Mozambique. ADRIEN BARBIER / AFP / Getty Images
At least 150 people have died in a cyclone that devastated parts of Mozambique, Zimbabwe and Malawi over the weekend, The Associated Press reported Sunday. Cyclone Idai has affected more than 1.5 million people since it hit Mozambique's port city of Beira late Thursday, then traveled west to Zimbabwe and Malawi. Hundreds are still missing and tens of thousands are without access to roads or telephones.
"I think this is the biggest natural disaster Mozambique has ever faced. Everything is destroyed. Our priority now is to save human lives," Mozambique's Environment Minister Celso Correia said, as AFP reported.