This website uses cookies to ensure you get the best experience while browsing it. By clicking 'Got It' you're accepting these terms.
Gezi Park: A Battle to Preserve Nature and Democracy
Jun. 13, 2013 11:06AM EST
By Rex Weyler
The citizens of Istanbul now appear in control of Gezi Park, protecting one of the last and most treasured green spaces from conversion to a shopping mall.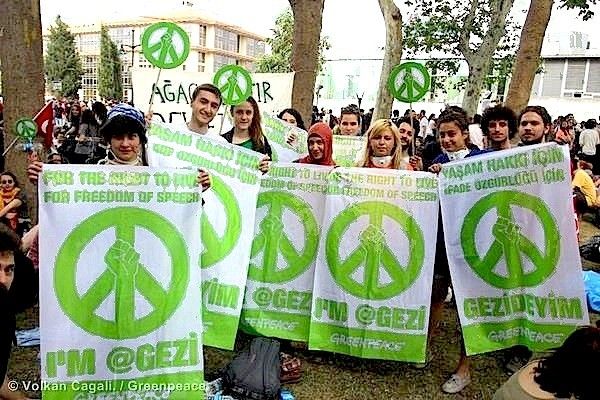 The protest, which began to save the park, became a rally for genuine democracy in Turkey. Prime Minister Recep Tayyip Erdogan's government responded with police violence—beatings, pepper spray, water cannons and tear gas—but could not stop the protests from spreading, exposing Erdogan's persecution of opposition and media censorship. The Gezi Park uprising has become a model of genuine democracy for the world, a line of defiance in the battle to preserve nature and democracy.
When Governments Over-React
Last fall, the Turkish government closed roads into Istanbul center, and announced plans to convert Gezi Park to a shopping mall and military artillery barracks. When construction began in May, Taksim Solidarity activists blockaded bulldozers. Sırrı Süreyya Önder, a Peace & Democracy Party deputy, joined the blockade, invoking parliamentary immunity.
Erdogan dismissed protesters as "marginal extremists."
At dawn on May 30, police raided the park with tear gas and water cannons. They drove about 1,000 citizens from the park, and then burned their tents and possessions.
Calls went out on social media, and 10,000 people arrived at Gezi Park. Police attacked again, injuring hundreds of citizens and three reporters from Reuters, the Hürriyet Daily News and Birgün newspaper. Citizens opened their homes to injured protesters. By evening, 100,000 people had re-occupied the park. That night, the public occupied the historic Bosphorus Bridge that links Europe to Asia.
The uprising spread beyond Istanbul to Ankara, Izmir and more than 70 Turkish cities. Izmir police detained 29 people for sending Twitter messages. The Turkish Doctors' Union reported 4,177 people injured during protests and two deaths.
On Tuesday, June 4, Turkey's Deputy Prime Minister Bülent Arınç apologized for police violence and met with opposition leader Önder, who called the uprising "historic" and announced that "the democratic process would start."
The following day, Arınç met with the original protest group platform, Taksim Solidarity, which delivered the public's demands: Cancel the Gezi park demolition, release arrested citizens, ban tear gas and allow free public assembly and free expression.
Censorship in Turkey
The citizens of Istanbul have now occupied Gezi Park and Taksim Square, staged music and political speakers, and insisted on a new era of genuine democracy in Turkey. Twenty-two year old protester Yesim Polat told Al Jazeera,"Prime Minister Erdogan thinks that he is a sultan. He thinks he can do whatever he wants."
Turkey once represented a modern, secular state that offered religious freedom. Erdogan and his conservative Justice and Development Party (AKP) advocate a return to an Islamic state. Once elected in 2003, Erdogan began arresting opposition voices, Kurdish leaders and journalists and harassing private couples for kissing in public.
Mustafa Akyol, a columnist with the Hürriyet newspaper, told Al Jazeera that journalists are being arrested under an abuse of Turkey's anti-terrorism law. "The great majority of the journalists in jail are people who wrote positive things about the PKK [Kurdish Party]."
In January 2013, Erdogan's police arrested 11 journalists attending an opposition political party meeting, and sentenced five of them to jail, increasing the number of jailed journalists in Turkey to 75. Prior to Gezi Park, freedom of the media had virtually vanished in Turkey.
Parks and People
From Amsterdam's Vondelpark and California's People's Park in the 1960s, to Prague's Wenceslas Square and Beijing's Tiananmen Square in 1989, to Cairo's Tahrir Square in 2011, protecting public parks has provided the backdrop for democracy around the world.
In 1970, a group of citizens in Vancouver, Canada—the "Don't Make a Wave Committee," which later became Greenpeace—rallied to save a park entrance in Vancouver. At that time, the Four Seasons Hotel chain announced a plan to construct six towers at the entrance to Vancouver's magnificent, 400 hectare Stanley Park, a waterfront meadow that opened onto a lagoon, where swans nested in the bulrushes and families gathered for picnics.
The story appeared on Vancouver television and in newspapers. Occupiers demanded a public referendum, and Vancouver citizens voted 56 percent in favor of keeping the park entrance, but the by-law required 60 percent for approval. The stand-off continued until the wealthy father of a protestor offered to purchase the property for $4 million. The entrance to Stanley Park was saved and remains a part of Vancouver and Greenpeace heritage to this day.
Solidarity
The Greenpeace office in Istanbul stands on Istiklal Street, leading to Gezi Park. Police officers confronted demonstrators with tear gas and water cannons directly below the office, which remained open night and day, providing shelter to injured protestors. Doctors and medics arrived to offer medical assistance.
On Saturday, June 8, protesters witnessed an unprecedented expression of solidarity as Turkey's rival football fans—from Fenerbahce, Galatasaray, Besiktas and other sports clubs barred from watching matches together because of stadium violence—walked through Istanbul arm-in-arm, wearing each others' team colors.
Gezi Park and the World
Today, Gezi Park has become a mindbomb for the world. The protest over a park became a referendum for democracy. "We are here for our freedom," Nihan Dinc, a 26-year-old publicist, told Al Jazeera. "We are here for a space to breathe."
Journalist Pepi Escobar explains in an Asia Times story why Gezi Park is significant beyond Turkey. Escobar describes the Syria revolution as a "proxy war" between NATO and a new Russia/China alliance. Turkey sits at a strategic point between Europe and Asia, where NATO and western oil companies want a pipeline from the United Arab Emirates, through Saudi Arabia, Syria and Turkey, into Europe. Escobar explains that NATO and the U.S. want Turkey to support their military efforts in Syria to win the pipeline war.
But Gezi Park is important for another reason: The people of Istanbul have shown the world that citizens can stand up to military and police violence with peaceful solidarity.
EcoWatch Daily Newsletter
Pharmaceutical giant Johnson & Johnson recalled 33,000 bottles of baby powder on Friday after the U.S. Food and Drug Administration (FDA) found trace amounts of asbestos in one of its bottles.
An international group of scientists released a report today detailing how the fossil fuel industry actively campaigned to sow doubt about the climate crisis and what steps need to be taken to undo the damage, as the Los Angeles Times reported.
Justin Trudeau delivers remarks during an election rally in Markham, Ontario, Canada, on Sept. 15. Creative Touch Imaging Ltd. / NurPhoto via Getty Images
By Chloe Farand for Climate Home News
Canadians are voting on Monday in an election observers say will define the country's climate future.
Activists Greta Thunberg (2ndL), Iris Duquesne(C), and Alexandria Villaseñor (3rd R) attend a press conference where 16 children present their official human rights complaint on the climate crisis to the UN Committee on the Rights of the Child at the UNICEF Building on Sept. 23 in NYC. KENA BETANCUR / AFP / Getty Images
Cleanup costs for abandoned oil and gas wells once the producers have moved on could fall heavily on the public.
Susan Vineyard / iStock / Getty Images Plus
By Justin Mikulka
Increasingly, U.S. shale firms appear unable to pay back investors for the money borrowed to fuel the last decade of the fracking boom. In a similar vein, those companies also seem poised to stiff the public on cleanup costs for abandoned oil and gas wells once the producers have moved on.
Blue tarps given out by FEMA cover several roofs two years after Hurricane Maria affected the island in San Juan, Puerto Rico, Sept. 18. RICARDO ARDUENGO / AFP / Getty Images
Top officials at the Department of Housing and Urban Development confirmed to lawmakers last week that they knowingly — and illegally — stalled hurricane aid to Puerto Rico.
Actress Jane Fonda (C) and actor Sam Waterston (L) participate in a protest in front of the U.S. Capitol during a "Fire Drill Fridays" climate change protest and rally on Capitol Hill, Oct. 18. Mark Wilson / Getty Images News
Visitors look at the Aletsch glacier above Bettmeralp, in the Swiss Alps, on Oct. 1. The mighty Aletsch — the largest glacier in the Alps — could completely disappear by the end of this century if nothing is done to rein in climate change, a study showed on Sept. 12. FABRICE COFFRINI / AFP via Getty Images
Switzerland's two Green parties made historic gains in the country's parliamentary elections Sunday, according to projections based on preliminary results reported by The New York Times.